Since I started this blog, I started getting out there and finding more and more skincare professionals, experts, and specialists that share the same passion and opinion as me and are also using their platforms to help people by offering decent and fact-checked skincare advice.
In this article, I will share with you the 5 best skincare YouTube channels you can follow and learn from to get educated on skincare and skincare products in general.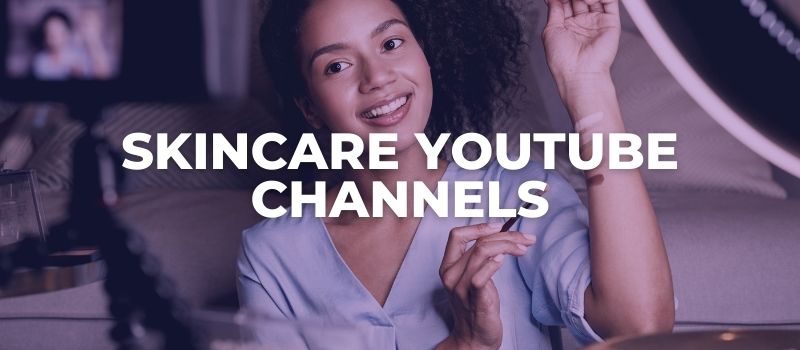 NB:
What if I told you I can show you how to never have acne again?
If you have acne and want it gone
,
read this message
.
Lab Muffin Beauty Science
Lab Muffin Beauty Science is a YouTube channel and blog found by Michelle, a chemistry Ph.D. and science educator.
She focuses on reviewing beauty and skincare products from a scientist's perspective; thus she is big on covering unbiased reviews based on the science behind the ingredients and formulations of cosmetic products rather than the marketing behind them.
Her content is always super interesting, informative, and educational, and one thing I really respect her for is that she will give you facts before everything else.
She is also doing a "myth-busting" series on YouTube where she debunks popular and often false and misleading information surrounding cosmetic ingredients.
Michelle is also super active on Instagram and she puts so much care into each post so you can really see the intellectual love she has for this subject.
Check out Lab Muffin Science Beauty's YouTube, Instagram, and blog.
Dr. Dray
Dr. Andrea Suarez is a dermatologist that has a YouTube channel where she posts a plethora of useful skincare advice. In addition to this, her channel is also a goldmine of educational videos and she posts on there quite regularly, sometimes even twice a day.
She often does Q&A videos where she replies in great detail questions asked by her subscribers on the skincare topic.
She debunks skincare myths, explains ingredients used in skincare products, recommends affordable products for different skin types and skin concerns, and she also explains the "hardcore" medicine type of products (i.e tretinoins) that aestheticians usually stay away from.
The reason why so many people (including myself) love her channel is because she explains complicated things in very "non-doctor" terms so even people that don't know much about skincare can understand what she's talking about and learn from a true professional.
Not to mention that her information is always backed by science, which makes her a knowledgeable and reliable source to draw accurate information from.
Check out Dr. Dray's YouTube channel and Instagram.
Liah Yoo
Liah Yoo is a YouTuber and the founder of the wildly successful Korean skincare line – Krave Beauty. I actually did a review on several products by Krave Beauty which you can also check out if you're interested in the line.
Liah Yoo is known for her simple approach to skincare and this is something she aimed for with creating her skincare line. In my opinion, her approach is the right approach, for a multitude of reasons that go beyond skin health.
Her simple and minimalistic approach is also economical, environmentally and materially conscious, as well as super-efficient, and this is something I truly respect because skincare shouldn't feel like an obligation or something you do because you have to.
Skincare should be fun and efficient and at the same time it should also save us time, effort, and money, and it shouldn't feel overwhelming in any way.
All in all, Liah focuses on what's best for our skin, however, she is also very knowledgeable about ingredients and formulations and I have learned so much from her channel even before I started working in the industry, so I suggest you check her out, too.
Check out Liah Yoo's YouTube channel and Instagram.
Kenna Whitnell
https://www.youtube.com/watch?v=Xpt17ZehmZ8
Kenna Whitnell is a Canadian biochemist, cosmetic formulator, and quality assurance manager.
She is an active research scientist working on sustainable plant bio-actives. She even has her own green beauty company, Altilis Beauty, where she works with different communities to produce breadfruit ingredients, all featured in her products.
Kenna made two very informative videos where she talked about Jaclyn Hill's lipsticks. She even sent her lipsticks off to a lab, along with a couple of other lipsticks from different brands to compare formulations for stabilization and contamination.
She is very active on her YouTube channel as well as other social media such as Instagram and on her channel, you can often find very informative and in-depth videos on product reviews as well as other relevant information about skincare formulations.
Kenna's channel is an excellent source of information and you should really check her out if you want to learn more about the products you're applying on your skin.
Check out Kenna's YouTube channel and Instagram.
Hyram Yarbro
Hyram Yarbro or "Skincare by Hyram" is a wildly popular YouTube content creator and social media influencer recognized for his passion for skincare.
His videos range from product recommendations, product information, picking cosmetic ingredients apart, etc.
Hyram is not a dermatologist, however, he is a skin specialist working in the skincare industry, and from a professional point of view, I can tell you that he knows a heck of a lot more than some beauty therapists and cosmeticians I personally know.
I love his educational videos and I believe that many people can find them useful and learn about the good and bad stuff often present in skincare products but masked by expert marketing.
Hyram rarely holds back and he doesn't have a problem calling out companies that often profit from people's insecurities and vulnerability. This is something I personally stand for, therefore, I really enjoy the content he produces.
He is also an environmentalist who deeply cares about product sustainability as well as how some ingredients and packaging are potentially harmful to our dear planet.
Besides product recommendations and information, Hyram also has a series of reacting on random people's skincare routines and pinpoints potential problematic ingredients and products that may be causing a skin problem for the individual.
In addition to this, he also occasionally makes videos where he rates the skincare routines of his followers and also talks about potential irritants and overall products that may be causing a particular skin concern.
But most importantly, he is big on bashing fragrance, alcohol, and essential oils in skincare products, which… well, I couldn't agree more on that myself!
Check out Hyram's YouTube channel, Instagram, and website.
---
Final Thoughts (& Parting Advice)
Skincare is a very popular topic these days, so much so that it has become a trend in recent years as opposed to being an actual need like it used to back when my mother was a teenager.
Therefore, you see all these brands with cute packagings, colorful marketing, and bold claims of being able to fix the things you've always hated about your skin.
There is a skincare product for everything these days. You name it, someone has come up with it. However, the sad truth is:
Not everything works out for everyone and oftentimes you may find yourself creating a bigger problem than the one you had and wanted to treat in the first place.
This tells us you should always take everything you see online with a grain of salt and do your own research before deciding on purchasing your skincare products.
On the other hand, a more helpful solution to tackle skin concerns is to see a professional so that they can see, touch, and examine your skin, thus be able to recommend something that is going to help you combat that annoying skin condition you've been dealing with.
However, we live in a world where this isn't always possible. A dermatologist appointment can cost you thousands depending on where you live and professional treatments done by aestheticians are rarely cheap.
On top of it all, you also have to pay for (often) pricey products as estheticians don't really work with skincare brands that can be bought at the drugstore.
Admittedly, I am one of them and I have yet to see a fellow esthetician colleague that works with affordable products as opposed to the high-end ones you see on their fancy shelves.
The internet is definitely a useful tool for getting quick information.
But, in many instances that quick information could be coming from sources that don't always have your best interest in mind while trying to give advice on something, especially skincare.
Therefore, I once again urge you to take everything the internet says with a grain of salt and always commit to doing your own research that will help you make an informed decision.
What do you think about the mentioned channels and blogs? Do you follow some of them? Also, please let me know what do you think about this article? I would love to turn this into a mini-series where I can share more information sources for everyone's benefit and education.
Let me know in the comments below.
My name is Simone and I am a certified skin specialist. I created this website to teach my readers how to take great care of their skin and I also like to occasionally share my honest opinions on skincare products I've tried. You can learn more about me here.
The Acne Solution: Your Ultimate Guide To Flawless Complexion
An extensive, no-nonsense course showing you how to never have acne again, from a licensed Esthetician specializing in oily/acne-prone skin.