Raw honey is packed with many components beneficial for your skin, including antioxidants.
It helps balance bacteria on your skin, which makes it an excellent product for acneic surfaces.
Thanks to its anti-inflammatory properties, raw honey can calm and soothe autoimmune skin conditions such as eczema and psoriasis.
Besides that, it also contains regenerative properties which will speed up the healing process of the cells.
Raw honey is also a natural exfoliator.
When mixed with a few other ingredients, it will aid the removal of dry and dull cells on the surface of your skin.
Here are 3 great and simple homemade honey face masks for healthy and glowing skin…
The Honey & Oats Face Mask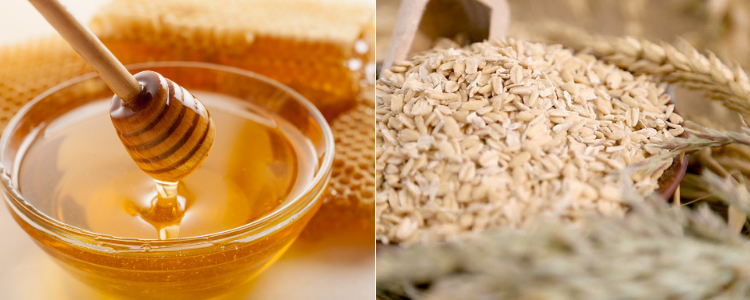 You can combine honey and oats for even more exfoliating potential. The soothing and exfoliating properties of the oats will gently remove dead skin cells while honey will soften the skin.
The ingredients for this are simple:
1 spoon of oats
1 spoon of honey
Additionally, you can include one teaspoon of baking soda to intensify the exfoliating effect. Baking soda is a mildly alkaline ingredient which means it is on the dry side with a pH value of 9. Overusing it might make the skin sensitive.
Apply the thick mixture on your face and leave it on for 10-15 minutes. You might feel a mild tingling sensation if you decide to add baking soda, which is normal.
Massage the paste with your fingers to remove dead skin cells and improve your skin color. The results of this will be smooth and supple skin with visibly refined texture.
The Honey & Spirulina Face Mask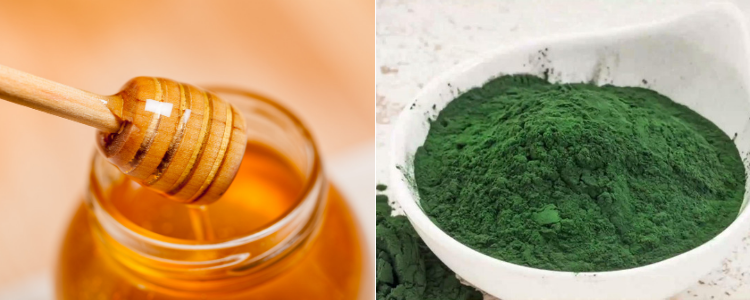 This type of blue-green microalgae are loaded with powerful minerals and antioxidants that will not only boost your immune system and reduce the risk of many health problems such as cholesterol, but it will also do absolute wonders for your skin.
The ingredients you need for this superfood mask are:
¾ tsp spirulina
1 tsp honey
Containing antioxidants that work around the clock to fight free radicals, this miracle powder with a mild, particular smell will detoxify and purify your skin into perfection.
Additionally, you can add a drop of lavender essential oil to make this specific smell more pleasant. Feel free to leave this mixture for up to 20 minutes on your face. Rinse with warm water.
The results are a healthy, glowing complexion and well-hydrated skin.
The Honey & Lemon Face Mask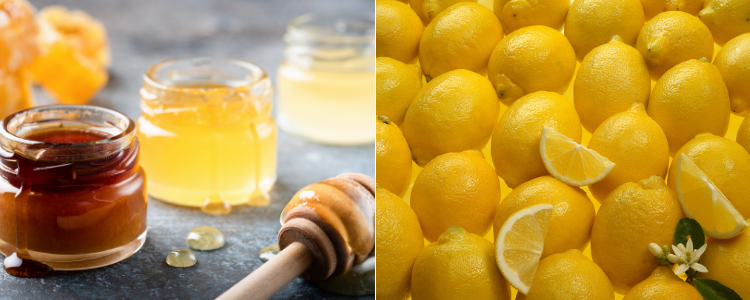 Lemon is a gentle cleansing agent. It relieves dryness and soothes irritation while drying out zits, which makes this simple homemade mask perfect for blemished, acne-prone skin.
This natural honey and lemon mask is suitable for all skin types, including sensitive skin. This brightening agent is leaning towards the acidic side of the pH scale.
That means it acts gently, without disturbing the healthy balance of your skin.
The two main ingredients you need to mix this antioxidant mask are:
1/2 tsp lemon or a few drops of lemon oil
2 tsp of raw, organic honey
Apply the mixture on a perfectly cleansed face and leave it to act for 15-20 minutes. Massage into the skin with warm water before removing it.
The results will be minimized pores, glowing skin, and smooth texture. The vitamin C in this mask which is a powerful antioxidant and natural brightening agent will even out uneven skin tone caused by sun damage, blemishes, and scarring.
"Amazing & Instant Results"
These are some of my favourite honey face masks that take minimal time and effort to do but give amazing and instant results.
Your skin will feel beautifully hydrated and relieved.
The pores are perfectly cleansed and minimized, and the sebum production is balanced.
Don't forget that aftercare is essential, so always follow up with your routine to maintain healthy skin.