If you are a K-beauty fan and are using at least one social media platform, I'm going to assume that you've at least heard about the sunscreen drama that's been going on for a few months now.
As a quick reminder, it all started in December of 2020 when INCIDecoder, an ingredient database founded by a cosmetic chemist, shared lab results that showed the Internet's Favorite Sunscreen – Purito Centella Green Level – to be SPF 19 instead of its purported SPF 50+.
The news spread like wildfire, pushing Purito to issue a conciliatory press release, remove the sunscreen from the shelves, and offer refunds.
But this wasn't all, and the number of Korean sunscreens that didn't meet the SPF index stated on their packaging only kept increasing.
What followed was the downfall of some more cult favorites, including Keep Cool's Soothe Bamboo Sun Essence, Krave's Beet The Sun, and even Klairs Soft UV Airy Essence & Mid Day Blue UV Shield that turned out to have an SPF of 12 – 25 instead of the advertised 50+.
But what was the one thing all these sunscreens had in common besides a false SPF index? That's right. They were all loved by people with acne-prone skins due to their lightweight finish.
But worry not. If you are a K-beauty fan and want to try other acne-safe sunscreens with very similar formulas, I got you there.
Here is my selection of…
The 10 Best Korean Sunscreens For Acne-Prone Skin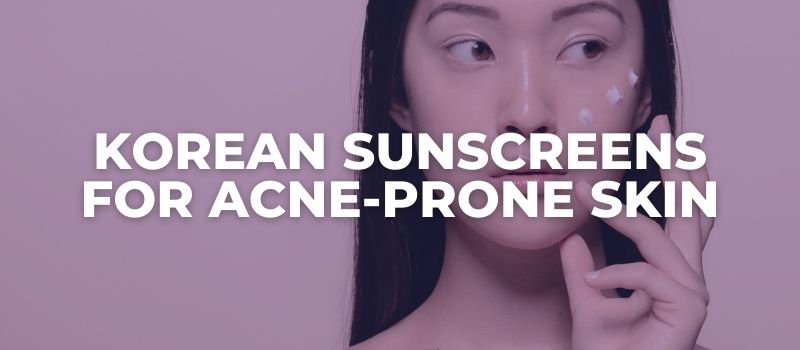 NB:
What if I told you I can show you how to never have acne again?
If you have acne and want it gone
,
read this message
.
[ninja_tables id="7618″]
COSRX – Aloe Soothing Sun Cream SPF 50 – $23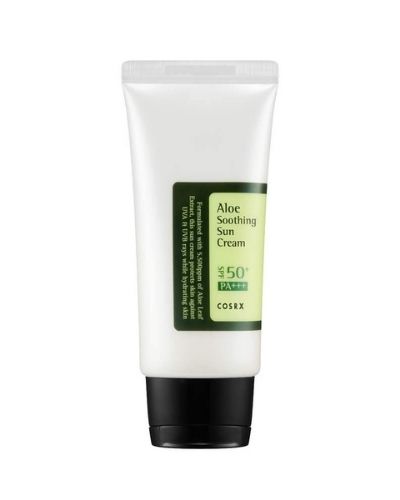 COSRX's Aloe Soothing Sun Cream is the first K-beauty sunscreen I've ever tried, and it was my instant favorite.
The product contains aloe vera leaf extract, a soothing ingredient that can calm redness and irritation when formulated in products.
On the other hand, Raw aloe vera might sound better because it's natural but bear in mind that the raw gel can be a potential allergen as it belongs to the family of Lillies, which are known for their irritating properties.
So, in short, lab-made aloe vera extract is a big yes, but you should definitely avoid applying the raw gel directly from the plant on your skin.
Besides that, COSRX's Aloe Soothing Sun Cream doesn't have other ingredients that impress me, and because I didn't know any better back then, I just bought it and used it without really paying attention to the ingredient list.
If I knew then I know now, I probably wouldn't have bought this product because it contains alcohol, fragrance, and other clogging ingredients such as Cetearyl alcohol and stearic acid.
HOWEVER!
I bought this product while I was going through a series of chemical peels for my acne, and I used it on my raw and irritated skin right after doing each peel, and I didn't have a problem with it at all.
Although the alcohol and fragrance content should've irritated my skin (by default), this didn't happen. I thoroughly enjoyed using this sunscreen as it is super creamy, spreads on the skin with ease, and leaves a beautiful velvety finish.
In my opinion, it has a good balance of emollients that prevent dryness and components like alcohol that give the formula a cosmetically elegant finish.
That being said, if you have a fragrance allergy, you should stay away from this product, but if your skin is normal, oily, and even sensitive (like mine was after a chemical peel), you will be good to go with it.
MISSHA – All Around Safe Block Sun Milk SPF 50 – $16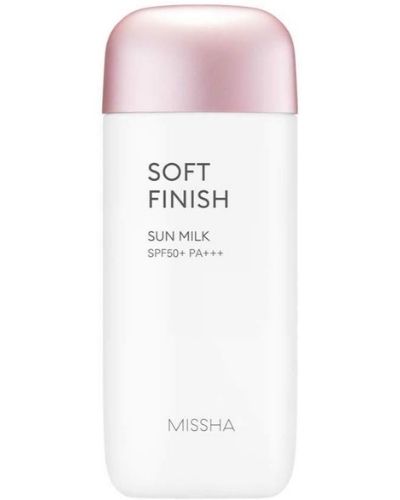 MISSHA's All Around Safe Block Sun Milk SPF 50 is another great Korean sunscreen suitable for oily and acne-prone skin.
This product is extremely runny and spreads on the skin very easily. It also dries quickly and has a very lightweight, soft matte finish that provides a good base for a foundation or any other makeup.
It doesn't feel sticky or greasy in the slightest; however, it has a downside: a prominent pink cast that will definitely put off darker skin tones from truly loving it.
I don't have a big issue with it because I'm pale, and I also cover it up with my NYX Bare With Me tinted moisturizer in Vanilla Nude, but I definitely wouldn't wear it on its own.
Other than that, it has pretty standard ingredients for a sunscreen, including zinc oxide and Bis-Ethyhexyloxyphenol Methoxyphenyl Triazine, which is a new generation, broad-spectrum, and very photostable sunscreen agent with a great safety profile.
MISSHA – Safe Block Aqua Sun Gel SPF 50 – $18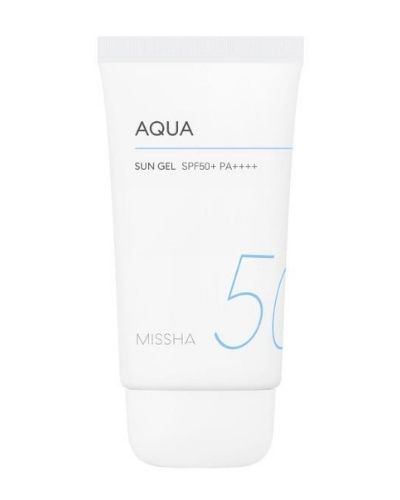 The Safe Block Aqua Sun Gel is another great product by MISSHA with a lighter and more watery consistency.
It comes out of the tube a bit runny, but this is great because it spreads easily over the skin, and it dries very quickly to a totally clear and neutral finish.
It doesn't leave a white cast, and after it's completely set (which is usually after 10 minutes), there won't be any shine left, either.
It also stays matte all day, making it a perfect makeup base, especially for someone with extremely oily skin (such as myself.)
That being said, it can be drying for someone with normal or dry skin, so if that's you, it's best to stay away from it.
Besides being exclusively chemical sunscreen, the Safe Block Aqua Sun Gel contains alcohol and fragrance, which can be felt quite intensely in the beginning but luckily, it fades soon after applying it.
A'PIEU – Super Air Fit Mild Sunscreen Matte SPF 50 – $15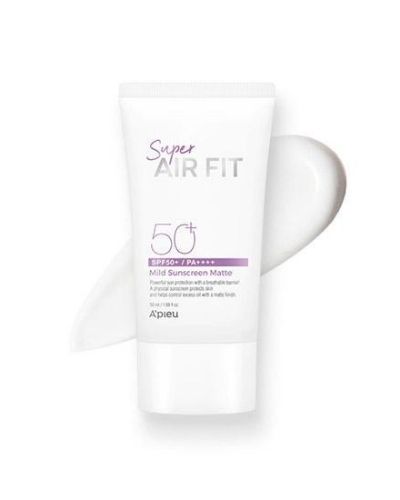 Here's another great Korean sunscreen, but unfortunately, A'PIEU's Super Air Fit Mild Sunscreen SPF 50 is somewhat hard to come by.
It tends to constantly be out of stock on YesStyle and other Korean websites, but it has some great reviews.
Looking at it, it has pretty standard sunscreen ingredients, including zinc oxide and titanium dioxide, making it a mineral sunscreen and probably one that will leave a white cast.
Other than that, it contains soothing and antioxidant ingredients such as Asiatic and Madecassic acid, as well as a few emollients to prevent dryness.
I don't like that it contains ethanol, which can be drying to the skin, so while I'm sure this will have a good matte finish, it may be too drying for someone with normal to dry skin.
Ethanol isn't necessarily an irritating type of alcohol, so you shouldn't have an issue with it unless your skin is already extremely sensitive or irritated.
However, if you notice a bit of dryness, you can always make sure you apply a good base such as a hydrating serum, an essence, and a moisturizer before applying this sunscreen.
A'PIEU – Pure Block Daily Sun Cream SPF 45 – $8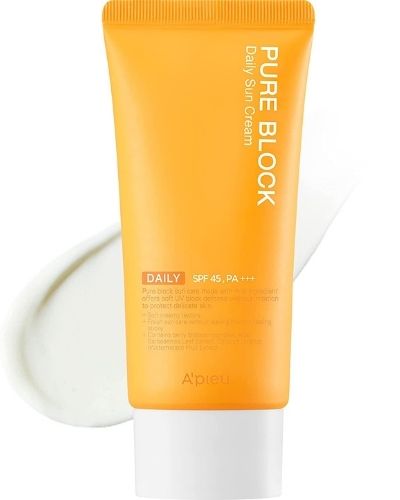 Another great product from A'PIEU is their Pure Block Daily Sun Cream SPF 45, a lightweight sunscreen that uses chemical filters to protect the skin from damaging UV rays.
The product is lightweight and fairly easy to spread over the skin, it leaves no white cast, and it only takes a few minutes to dry down fully.
Once it's dried down, it leaves a sort of dewy finish with an ever-so-slight sheen. This is actually like a moisturizer that feels moist but isn't sticky or greasy.
Besides that, it contains soothing and barrier-repairing ingredients such as panthenol, rice bran extract, apple flower extract, as well as triglycerides which are found in our natural sebum and are important for a healthy skin barrier.
Shangpree – Phyto Essence SPF 50 – $28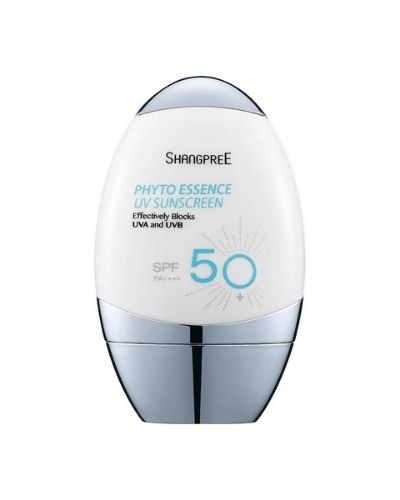 Phyto Essence SPF 50 is a very popular sunscreen in Korea because the brand Shangpree that produces it is actually also one of the most visited spas in the country, with a particular focus on holistic facials, and they have multiple awards under their belt.
The product has a very lightweight gel texture, and it uses chemical filters to absorb UV rays and protect the skin from their negative effects.
It contains emollients to prevent dehydration, as well as antioxidants and soothing ingredients such as aloe vera, Centella Asiatica, green tea extract, licorice extract, etc.
Although it has all these super hydrating ingredients, the sunscreen actually dries down into a velvety finish, and it doesn't feel sticky or look greasy on the skin.
Dr. G – Green Mild Up Sun SPF 50 – $17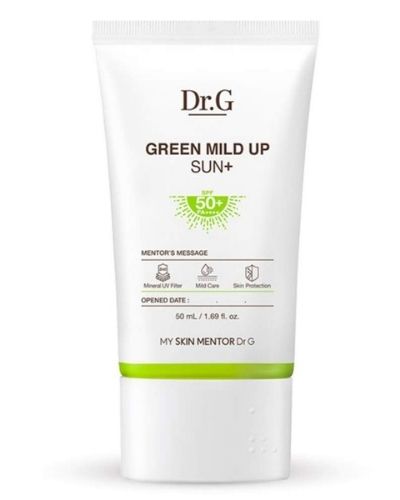 Dr. G's Green Mild Up Sun SPF 50 is another mineral sunscreen with zinc oxide and titanium dioxide as the main protective factors against UV rays.
Additionally, this product is packed with barrier-repairing, antioxidants, and soothing ingredients, including Centella Asiatica and Pycnogenol – a natural plant extract from the bark of the maritime pine with well-researched and potent antioxidant and soothing properties.
It is free of alcohol, but it does include a few fragrant oils, including Bergamot, which can potentially be an irritant for sensitive skin.
The sunscreen has a matte, powdery finish, and since its main active ingredients are zinc and titanium dioxide, it does leave a strong white cast.
The white cast can be covered with makeup, but it will be prominent even on pale skins if worn on its own.
Klairs – Illuminating Supple Blemish Cream – $24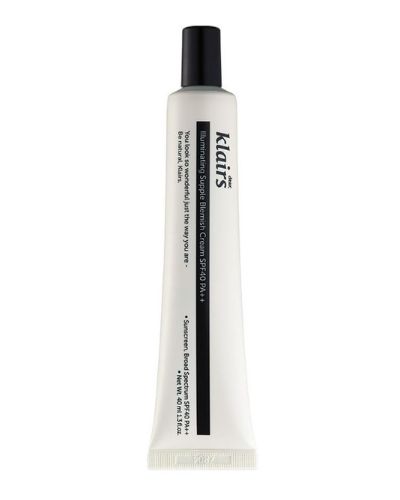 After pulling two of their most popular sunscreens (Soft UV Airy Essence & Mid Day Blue UV Shield) for not meeting the SPF index on the packaging, Klairs is left with another great option that actually exceeded the protective factor on the tube.
The Illuminating Supple Blemish Cream is marketed as an SPF 40, but upon further testing, it turned out to be between 41~44, which is better than expected.
This tinted cream is suitable for acne-prone skin and is specifically formulated to cover up redness, which is why it has a slightly greyish tone that adapts to the natural skin tone of light to medium skins.
Sadly, the product won't work for deeper skin tones, and hopefully, this is something that Klairs will deliver in the future.
That said, the Illuminating Supple Blemish cream has a lightweight and glowy finish which is pretty standard for a BB cream and contains zinc oxide and titanium dioxide as its main agents against UV damage.
Besides that, the BB cream also contains barrier-repairing ingredients such as triglycerides and niacinamide, as well as soothing aloe, Centella Asiatica, and licorice extract.
AXIS – Y – No-Stress Physical Sunscreen SPF 50 – $23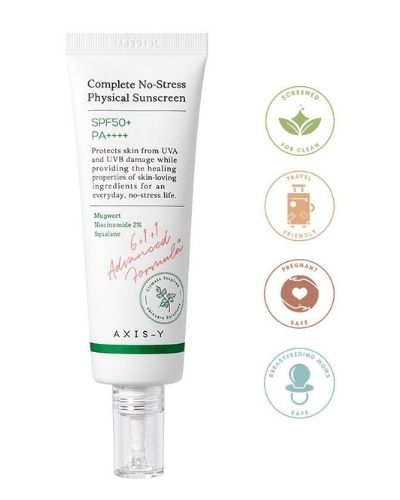 The AXIS – Y – No-Stress Sunscreen SPF 50 is a physical sunscreen suitable for sensitive skin. It contains soothing and barrier-repairing ingredients such as mugwort, niacinamide, squalane, as well as other emollients that help prevent dryness.
It is super lightweight, and it applies over the skin amazingly well, but it is not the ideal option if you are someone who has super oily skin, unless you are going to set it with a powder.
It doesn't fully dry down matte, and it leaves a rather glowy finish, which I personally don't enjoy in sunscreens, but if that works for you, you'll probably like this one.
Shiseido – Anessa Perfect UV Sunscreen Skincare Milk SPF 50 – $35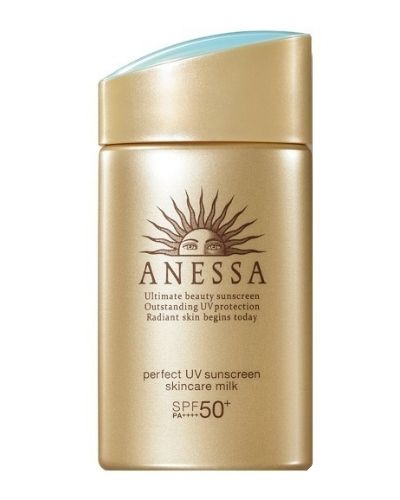 Shiseido is actually a Japanese beauty brand, but after hours of searching for a tenth Korean sunscreen for my list, I gave up, took this one, and decided to run with it.
This is a recommendation by Michelle Wong, better known as LabMuffinBeautyScience on the internet, and it works amazingly well for my oily and acne-prone skin.
The Anessa Perfect UV Sunscreen Skincare Milk SPF 50 is a lightweight sunscreen and the 2020 version of their ultra-popular Mild Milk that comes in a slightly lighter bottle.
I prefer this one because it works well for my oily and acne-prone skin, especially in summer when the humidity where I live is through the roof.
It also doesn't break me out, which is a huge plus and something I am always looking for in sunscreen,
The Anessa Perfect UV Sunscreen Skincare Milk comes in a slightly darker packaging. It has a blue top, so pay attention to that when purchasing this product as they are quite similar to the Mild Milk, which is a more suitable option for someone with dry skin in a dry climate due to its high silicone content.
My name is Simone and I am a certified skin specialist. I created this website to teach my readers how to take great care of their skin and I also like to occasionally share my honest opinions on skincare products I've tried. You can learn more about me here.
The Acne Solution: Your Ultimate Guide To Flawless Complexion
An extensive, no-nonsense course showing you how to never have acne again, from a licensed Esthetician specializing in oily/acne-prone skin.