Paula's Choice was launched back in 1995 as one of the first online beauty brands, and they have been coming out with banger after banger ever since.
Paula Begoun, who is the owner of the brand, has been working in the beauty industry from an early age back in 1975, and over the course of 20 years before launching her very own brand, she worked and learned from top dermatologists about skin issues such as eczema and acne.
But besides being passionate about all things skincare, Paula is also an accomplished writer, and she came out with a few books, including The Complete Beauty Bible that teaches you how to take great care of your skin.
I have been using Paula's Choice products for a few years now and my absolute favorite is the brand's CLEAR line that focuses on acne and sensitive skin.
Therefore, in this article, I will share the ten best Paula's Choice products for acne-prone skin and explain a bit more about them as well as how to use them.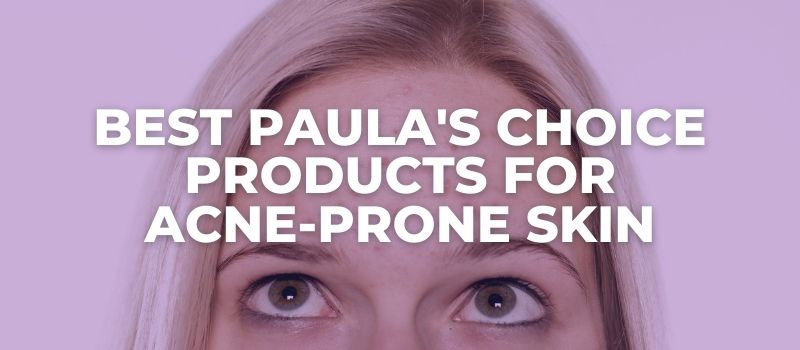 NB:
What if I told you I can show you how to never have acne again?
If you have acne and want it gone
,
read this message
.
[ninja_tables id="7545″]
Daily Skin Clearing Benzoyl Peroxide Treatment – $19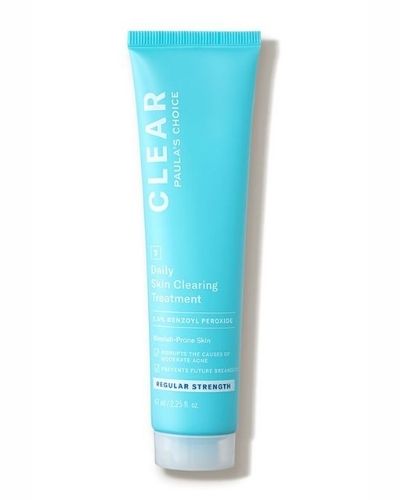 Benzoyl peroxide is a powerful oxidizing agent that has potent antibacterial properties.
This component travels deeper into the layers of your skin to dissolve the build-up of sebum and infuse the pores with oxygen to destroy the airless environment where C. acnes bacteria thrive.
And the best thing about it is that it works incredibly well in concentrations as low as 2.5%, which is an excellent option even for sensitive skin.
Paula's Choice Benzoyl Peroxide Treatment is an excellent product that can help fight mild, moderate, and even severe acne in combination with other actives or on its own.
The treatment comes in two strengths, including 2.5% for milder acne and more sensitive skin and 5% for more stubborn acne and more resilient skin.
It also contains hydrating agents such as propylene glycol as well as soothing agents including bisabolol and allantoin to prevent dryness and nourish the skin.
The only downside to it is that it could potentially bleach your clothes and pillowcases, so be ready for that.
The way I apply, it is in the evenings after my cleanse, and I give it 10-15 minutes to fully dry out before following it up with a moisturizer.
Best for moderate to severe acne.
Redness Relief 1% BHA Lotion Exfoliant – $30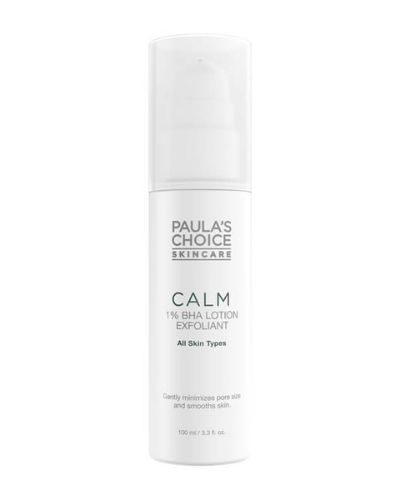 The Paula's Choice Redness Relief 1% BHA is a mild exfoliating product that contains the necessary percentage of salicylic acid to be effective against minor breakouts without irritating your skin.
This won't get rid of severe and persistent acne; however, it is enough to keep it under control if your skin is super sensitive and has difficulty accepting anything stronger.
It's formulated with skin-soothing plant extracts, including allantoin, oat and licorice extract, and green tea that work to calm redness for overly reactive skin and soothe irritation caused by harsh products.
It's so mild that it can even be used on rosacea-prone skin.
Best for sensitive and rosacea skin with mild acne.
2% BHA Liquid Exfoliant – $30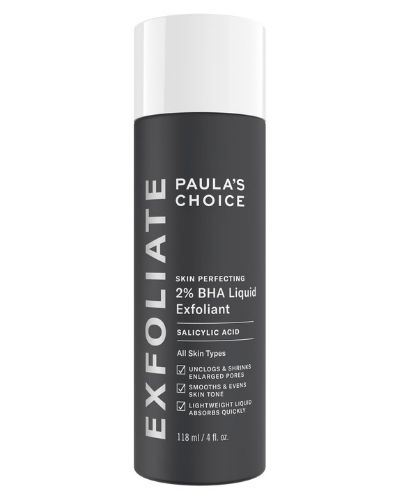 Paula's Choice 2% BHA Liquid Exfoliant has been a continuous bestseller ever since it dropped back in 2000. I can confidently say there isn't an esthetician or a dermatologist in Europe and in the US that hasn't tried and loved this product.
It is a lightweight exfoliating solution containing 2% salicylic acid to clear out the pores from the inside out and soothing green tea extract to calm any redness from pimples and inflammation.
However, although the product itself is amazing, I'm not too fond of the marketing that comes with it.
The BHA Liquid Exfoliant is marketed as a daily toner that can be used once or even twice a day.
But since it's an exfoliating solution, you should know that using it 2-3 times a week is enough, and anything more than that will put your skin at risk of becoming irritated.
So no matter how coarse and resilient your skin is, try to use this product in moderation.
Lastly, due to the ultra-hydrating ingredients, the BHA Liquid Exfoliant may be a little too oily for oily skins, but it is perfect for dry and combo skin with mild acne.
Best for dry, dehydrated, combo skin with mild acne, blackheads, and texture.
2% BHA Gel Exfoliant – $30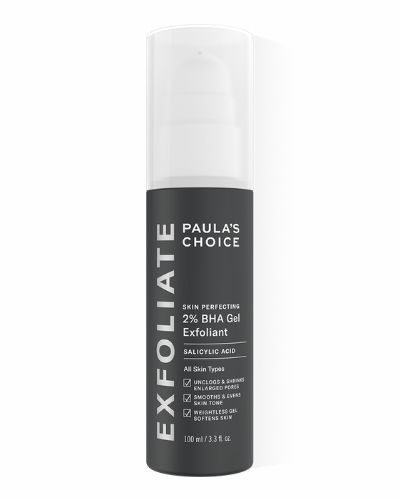 Paula's Choice 2% BHA Gel Exfoliant is a very similar product to the one mentioned above, but instead of a runny lotion, this one has a gel consistency that's more suitable for oily skin types.
Same as the Liquid Exfoliant, the Gel Exfoliant also contains 2% salicylic acid as well as potent antioxidants and soothing ingredients, including green tea extract, willowherb extract, grape seed extract, and bisabolol.
Best for oily skin with mild to moderate acne and blackheads.
Anti-Redness Exfoliating Solution 2% Salicylic Acid – $30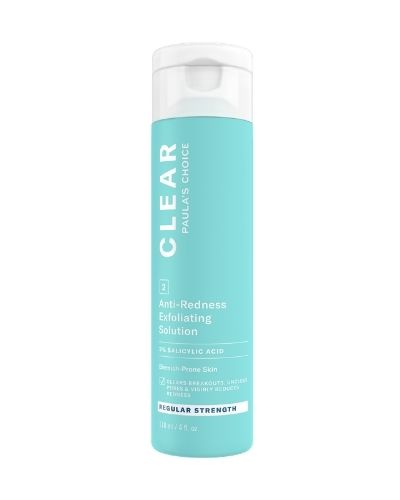 The Anti-Redness Exfoliating Solution with 2% Salicylic Acid is a gentle, leave-on exfoliant that's slightly stronger than the one mentioned above but still gentle enough to be used up to 2-3 times a week.
It contains 2% salicylic acid followed by simpler ingredients that focus on hydration and soothing the skin.
It's a great formula for oily skin types dealing with blackheads, pustules, and even mild cysts here and there.
While it probably won't be enough for more serious acne issues, it's definitely a good place to start, especially if your skin is too sensitive for stronger treatments.
Best for oily skin with mild to moderate acne and blackheads.
Advanced Pore-Refining Treatment 4% BHA – $37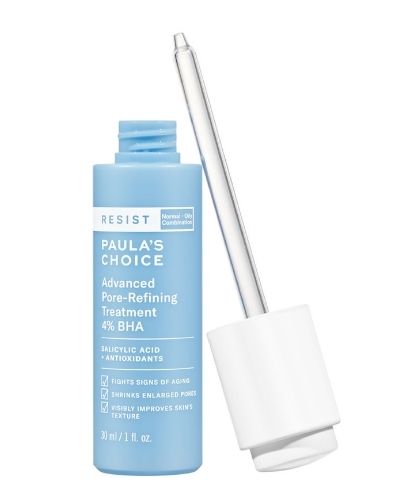 The Advanced Pore-Refining Treatment 4% BHA is slightly stronger than the 2% salicylic acid products I've mentioned above, and it is an excellent choice for mature skin dealing with acne breakouts.
It is a treatment that has a silky smooth texture and can be used 3-4 times a week alone or alongside other products.
Much like all Paula's Choice products, the Advanced Pore-Refining Treatment contains soothing and calming antioxidants, including allantoin, grape seed, green tea, oat bran, dill, and chamomile extracts.
Best for mature skin, moderate acne.
BHA 9 Treatment – $43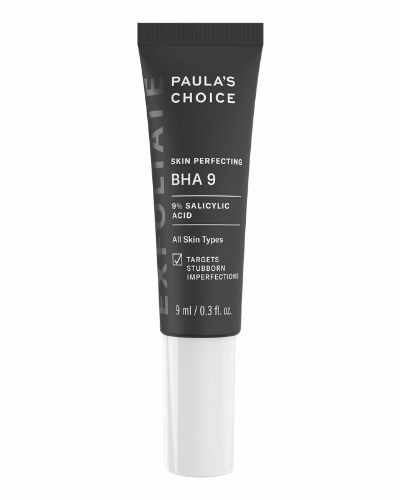 The BHA 9 Treatment is an excellent spot treatment that contains 9% salicylic acid alongside other soothing and hydrating ingredients, including glycerin, arginine, sea whip, and oat extract.
It has a little bit of a greasy texture, but this is exactly what allows it to spread on the skin with ease, and very little goes a long way.
Therefore, when treating spots, you will only need the tiniest amount possible.
Try to apply the BHA 9 Treatment on individual spots or whenever you feel like a spot is forming under the skin. Also, avoid using it more than a few times a week and only use it in the evenings.
10% Azelaic Acid Booster – $36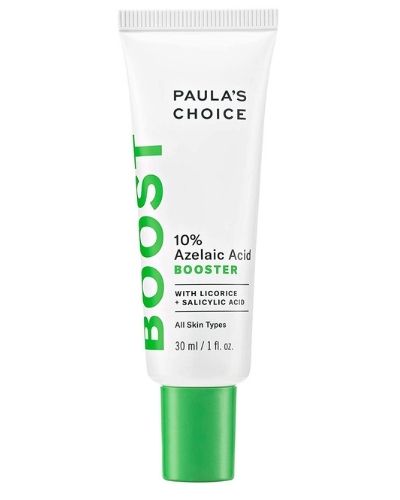 Azelaic acid is an ingredient that can be naturally found in wheat, rye, and barley, but it can also be synthetically made in a lab, which is the case when it comes to being used in skincare products due to its effectiveness and stability.
The dicarboxylic acid can diminish the appearance of skin blemishes, help fade post-acne redness, pigmentation, and other discoloration, refine the skin's surface, and reveal a brighter and more even complexion among other actions.
Paula's Choice 10% Azelaic Acid Booster is an excellent product to be used on days when you are not using exfoliating acids or other acne treatments such as benzoyl peroxide.
It contains 10% azelaic acid and a very small percentage (0.5) of salicylic acid to promote gentle exfoliation.
But besides that, the formula also contains a few soothing and hydrating ingredients, including licorice extract, allantoin, and bisabolol.
The lightweight cream formula spreads on the skin easily and helps moisturize and soften the skin and prevent dehydration.
Best for using on non-exfoliation days or in the mornings.
10% Niacinamide Booster – $44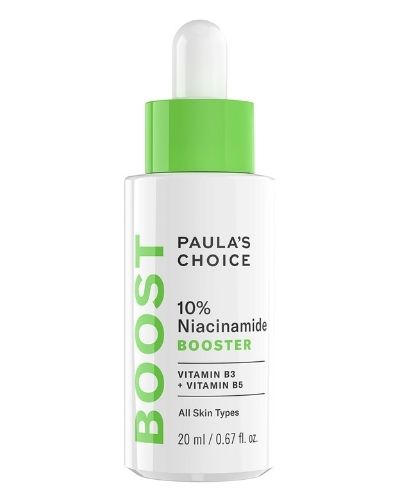 Niacinamide is another great ingredient for people who have issues with oily skin and acne.
This vitamin can help reduce inflammation on the skin, brighten hyperpigmentation and uneven areas, as well as smooth out skin texture.
But the best thing of all is that niacinamide can actually repair and strengthen the skin barrier, which will then help the skin deal better with future inflammation and scarring.
Paula's Choice 10% Niacinamide Booster is one of the best and most popular products in the market as it contains the brand's signature blend of actives, antioxidants, and soothing ingredients.
However, it is a pricey product; therefore, if you want to introduce niacinamide into your skincare routine but don't want to break your bank, here's a list of ten best niacinamide serums under $30.
Other than that, you can use the 10% Niacinamide Booster in combination with other products for acne, including exfoliating acids, benzoyl peroxide, and retinoids.
Best for use in the mornings or in combination with other actives.
Weightless Body Treatment 2% BHA – $28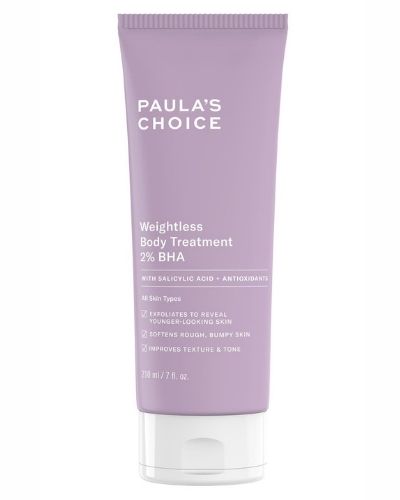 And last on the list is the Weightless Body Treatment with 2% BHA that contains salicylic acid, a blend of antioxidants, and soothing ingredients as well as emollients to help prevent dry skin and a buildup of dead skin cells.
The Weightless Body Treatment is an excellent product to try if you are dealing with breakouts in body areas such as the back or bum, but also if you have keratosis pilaris, which is a benign skin condition that occurs as a result of keratin buildup in the pores.
Keratosis pilaris can be recognized by painless tiny bumps, typically on the upper arms, thighs, cheeks, or buttocks, as well as dry, rough skin in the areas with bumps.
Best for bacne, butt acne, keratosis pilaris.
---
---
My name is Simone and I am a certified skin specialist. I created this website to teach my readers how to take great care of their skin and I also like to occasionally share my honest opinions on skincare products I've tried. You can learn more about me here.
The Acne Solution: Your Ultimate Guide To Flawless Complexion
An extensive, no-nonsense course showing you how to never have acne again, from a licensed Esthetician specializing in oily/acne-prone skin.