While elaborate and complex skincare routines are currently dominating the market and becoming more and more popular, I believe that we can all agree this can sometimes become overwhelming.
You have to be careful with the active ingredients, which one should you mix with the other one, and there are always "the ones" that can unleash all hell on your face if you mix them together.
A lot of people are still apprehensive about skincare due to this, and it is totally understandable.
While I personally love raving about long and complicated skin-care routines, this absolutely doesn't mean that I am completely dismissing the simple 5-step routine and deem it useless.
I am a beauty therapist, so a long and overblown skincare regimen and experimenting with different products is pretty much what I do for a living.
There is no need for you, as a beginner in skincare, to be intimidated from starting to use products and slowly build an adequate routine for your skin.
The truth is that you can absolutely find a cheap and amazingly good product from the pharmacy that will suit your need, treat a particular skin concern, or just improve your overall skin appearance.
So, today I am showing you how to build a simple and minimalist skincare routine suitable for a beginner. Here are…
5 Products You Should Have In Your Skincare Routine (As A Beginner)
A cleanser
A toner
A Vitamin C Serum
A Moisturizer (& sunscreen)
An Exfoliator
To learn why you need these and which products I recommended, keep reading…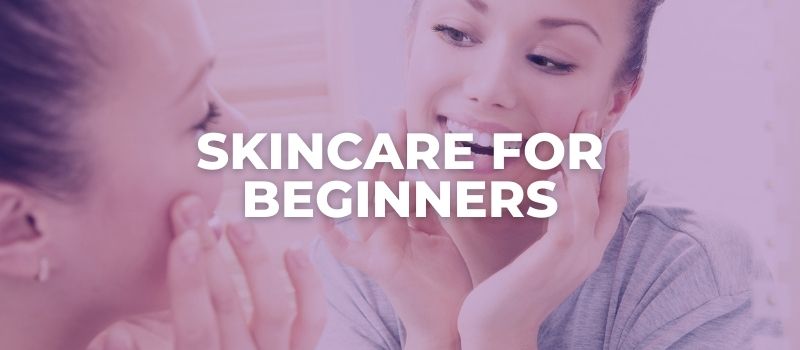 NB:
What if I told you I can show you how to never have acne again?
If you have acne and want it gone
,
read this message
.
1. Cleanser
I would recommend every beginner to build a habit of cleansing twice a day as they go along.
The main reason for cleansing your skin in the morning is to remove any leftover product applied from the night before, and sweat from throughout the night.
Cleansing your skin in the evening is necessary to remove the day's grime, pollution and makeup before applying any other skincare product on your face.
As a beginner, think of opting for a mild and gentle cleanser that will not strip the natural barrier on the surface of your skin and leave it feeling tight and uncomfortable.
It is important to be aware of how your skin reacts to the cleanser you chose to purchase. A cleanser isn't supposed to make your skin red, irritated or leave it feeling itchy.
In case this happens, you may want to consider replacing your cleanser with something gentler.
Cleansing your skin is a preparation for the following products in your routine.
2. Toner
I have read many posts and heard many opinions on how you can ditch toning your skin if you are trying to build a minimalist skincare routine.
Uhmm.
I am not going to agree on this as I firmly believe that toning is an important second step that completes the cleansing process.
In reality, a good toner will remove any remaining bits of oil, dirt, and debris left behind by the cleanser and additionally, and more importantly will help soothe, nourish and hydrate the skin while restoring the pH balance.
Restoring the pH balance of the cleansed skin will prepare the skin and allow better absorption of the following skincare products.
Cleansers and toners are relatively inexpensive and the cleansing/toning process only takes as much as a few minutes.
So, your skin will definitely benefit from adding a toner to your minimalist routine.
3. Vitamin-C serum
Vitamin C is a potent antioxidant that fights against free radicals.
These are the aggressors generated by our bodies when we are exposed to certain conditions that are dangerous and damaging to our skin such as environmental pollution and UV rays.
Free radicals can negatively impact our bodies and cause a variety of damages including disrupting the skin's ability to repair itself.
Vitamin C also helps brighten our skin tone, fights hyperpigmentation, protects against sun damage, and slows down the aging process by boosting collagen production in the skin.
Vitamin C serum comes with different price tags and you can decide to invest in a pricey option if treating yourself is what you have in mind, but there are also amazing and highly efficient vitamin C serums that are ridiculously cheap.
4. Moisturizer & sunscreen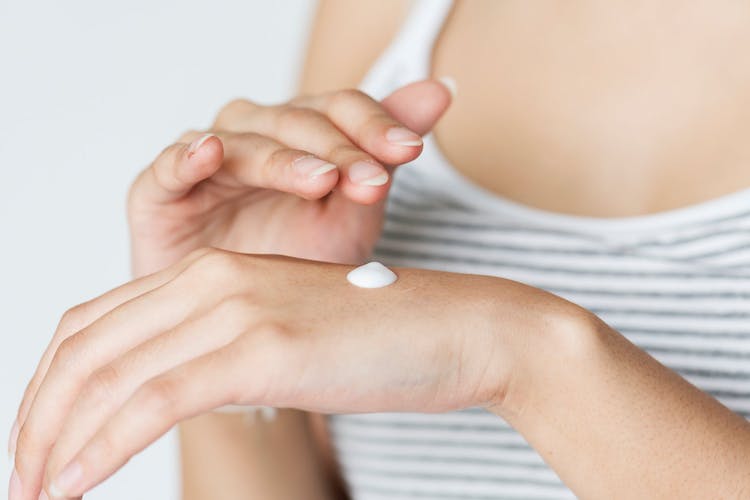 Applying a moisturizer and sun protection is absolutely necessary, even if you have oily skin.
It's a common belief that moisturizers and sunscreens are oily, therefore they will leave your skin looking and feeling like a greaseball and worsen problems like acne and oily skin.
A good moisturizer will provide the necessary hydration and this will, in turn, control excessive oil production.
There are different moisturizers with different purposes, specifically formulated for every possible skin type and skin concern out there.
And then, there are my absolute favorites – a good moisturizing agent with a high sun protection factor.
You can find them in pharmacies for a ridiculously cheap price.
Leave the rich and heavy creams for the evening to sleep in, so your skin receives the necessary hydration and nourishment throughout the night, and opt for a lighter moisturizer with SPF in the morning.
5. Exfoliator
The exfoliating process helps us to remove the barrier of dead skin cells that are sitting tightly packed on the surface of our skin.
The dead skin cells clog our pores and prevent the beneficial ingredients from our moisturizing products from being absorbed into the skin.
By removing them we are also uncovering fresh and new cells below, and this makes our skin appear smoother and brighter.
Exfoliating once a week with a gentle scrub or a chemical exfoliator will improve the general health and appearance of your skin.
You can slowly add on products as you go along, or you don't have to at all because you have the basics covered if you decide to incorporate these 4 simple steps daily (and exfoliating weekly) as your beginner steps into skincare.
---
My name is Simone and I am a certified skin specialist. I created this website to teach my readers how to take great care of their skin and I also like to occasionally share my honest opinions on skincare products I've tried. You can learn more about me here.
The Acne Solution: Your Ultimate Guide To Flawless Complexion
An extensive, no-nonsense course showing you how to never have acne again, from a licensed Esthetician specializing in oily/acne-prone skin.