Retinol is a vitamin A derivative dubbed as the one-stop-shop for all skin concerns.
It can be used to reduce the appearance of acne, reverse sun damage, fade hyperpigmentation, and even shrink pores.
But does retinol actually shrink pores for good? And how does this happen?
I'll answer these and a few more questions in a moment – but first, let's talk about retinol itself.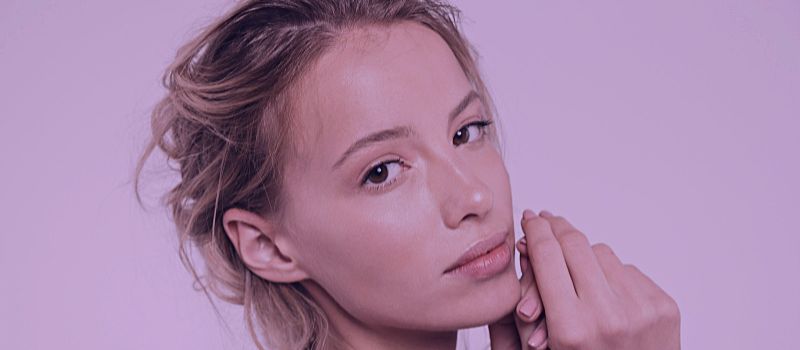 NB:
What if I told you I can show you how to never have acne again?
If you have acne and want it gone
,
read this message
.
How Does Retinol Work?
Retinol is a component that belongs to the family of retinoids, which are vitamin A derivatives.
It is one of the most studied ingredients in skincare, and for a good reason – it's incredibly effective!
All retinoids work to increase collagen production, which helps keep the skin looking plump, smooth, and youthful.
They also help increase cell turnover, which helps unclog the pores and get rid of dead skin cells faster.
Once the pores and clear and unclogged, there will be nothing to prevent the natural skin oil from flowing freely from the sebaceous glands and towards the skin surface.
This means that blemishes on the skin's surface will also be reduced, thanks to retinol's action.
Does Retinol Shrink Enlarged Pores?
Retinol can shrink enlarged pores and make them appear smaller and tighter; however, it doesn't perform the same as exfoliating acids.
Pores are normal openings in the skin that consist of a hair follicle, a sweat gland, and an oil-producing (or sebaceous) gland.
Our skin needs to have these openings to be able to regulate the temperature (such as sweating to cool off when we are too hot) as well as have the skin oil (or sebum) travel from the sebaceous gland and to the skin's surface to keep it moisturized and protected from harmful bacteria and other pathogens.
But besides that, all healthy pores are lined with a certain amount of keratin, which is the protein that makes up your hair, nails, and, of course, the skin.
However, sometimes, the skin's normal functions get altered, which could be due to several reasons, such as hormones, inadequate cleansing, using products that don't work for your skin, etc.
This is when it comes to something that's called hyperkeratinization, a disorder inside the pore where the normal shedding process of the skin cells is interrupted by an excess of the hard, durable protein keratin.
An excess of keratin combined with skin oil will cause dead skin cells to bond together, and instead of naturally sloughing off, they will remain inside the pore along with hardened sebum and contribute to congestion.
This is when the pore usually starts to enlarge in order to accommodate the hardened oil and buildup of cellular debris.
Exfoliating acids, particularly salicylic acid, have the chemical ability to dissolve the hardened sebum and cellular debris inside the pore and clear them from the inside out.
Retinol, on the other hand, will speed up cellular turnover and normalize the life of the skin cells from the bottom layer of the epidermis so that it doesn't come to a clog again.
When Should You Start Using Retinol?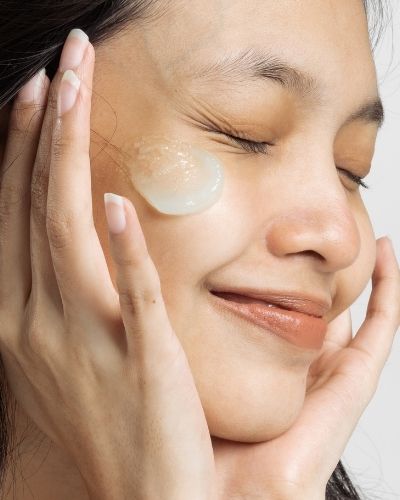 Retinol is a mild type of retinoid that has very few side effects associated with its use.
Therefore, it can be started from the early 20s or even during puberty, especially if you are dealing with acne.
How Often Should You Use Retinol?
When starting a retinol serum or a cream, the best thing to do is introduce it into your routine slowly by using it 2-3 times a week.
Eventually, as your skin starts tolerating the product better, you should slowly increase usage until you can use it every day as a part of your evening routine.
What Are The Main Benefits of Using Retinol?
Retinol offers many benefits for all skin types and the improvement of almost all skin concerns.
Some main benefits of using retinol include:
Reducing acne after a few weeks of use.
Fading hyperpigmentation and discoloration caused by both hormonal issues such as melasma and inflammatory conditions such as acne.
Refining skin texture and improving pitted acne scarring.
Reducing skin redness, including post-inflammatory redness left from old acne.
Improving the appearance of fine lines and deeper wrinkles.
Improving sun damage and discoloration caused by the UV rays.
Strengthening the skin barrier.
What Are Some Side Effects of Using Retinol?
As I already mentioned above, retinol does come with some side effects.
These are usually mild and don't last long.
They also tend to occur when you first introduce retinol into your skincare routine and typically last a few weeks until your skin gets used to the active ingredient.
Some side effects associated with retinol use are:
Mild to moderate irritation and redness.
Peeling and shedding.
Purge.
Best Retinols for Acne
Here are my top three retinol choices for oily, coarse, and acne-prone skin.
Alastin Skincare – Renewal Retinol .5 – $60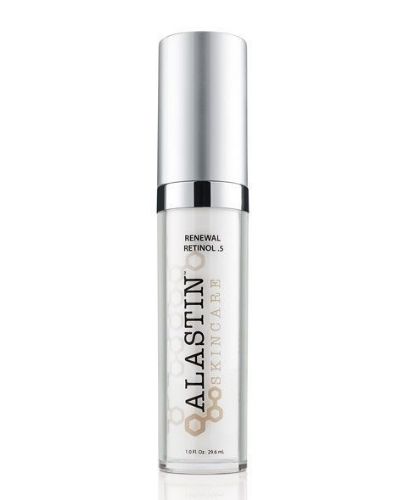 Alastin Renewal Retinol 0.5 is beginner-friendly retinol that helps improve the skin's elasticity, tone, and texture.
It contains encapsulated retinol, which means the active ingredient will be released slowly into the skin and won't cause irritation.
Besides, the product also contains ceramides and niacinamide to strengthen and repair the skin barrier, as well as antioxidants to neutralize free-radical damage, and oat extract, which is a powerful soothing ingredient that prevents irritation.
SkinCeuticals – Retinol 0.5 – $76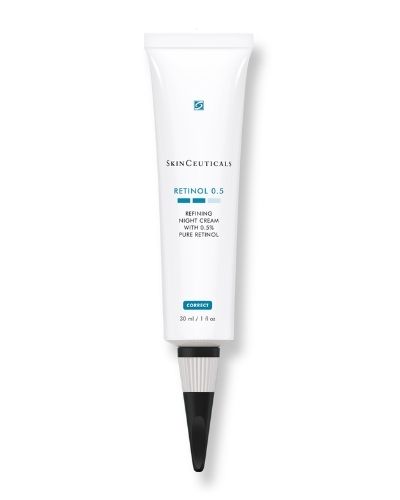 SkinCeuticals Retinol 0.5 is an ideal product for more hearty and resilient skin types dealing with acne breakouts, oiliness, enlarged pores, and maturing skin.
The purpose of this product is to promote peeling and cellular turnover to help skin cells travel to the surface of the skin faster and shed rapidly to achieve a healthier, clear, and evened-out complexion.
Jan Marini – Age Intervention Duality MS – $95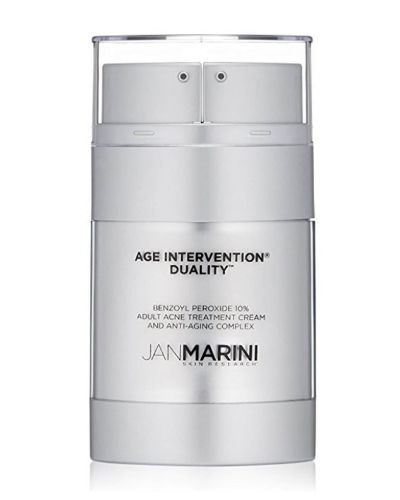 Jan Marini's Age Intervention Duality is a retinol/benzoyl peroxide cream that addresses mild to moderate acne while simultaneously minimizing the appearance of fine lines.
It has a dual-chamber dispensing bottle that combines 10% ultra-micronized benzoyl peroxide and highly concentrated all-trans-retinol.
But besides, the formula also contains soothing green tea extract, anti-aging peptides, hydrating and moisturizing ingredients such as hyaluronic acid and shea butter, as well as antioxidants to eliminate skin damage induced by free radicals.
However, due to the highly concentrated active ingredients, you should avoid overusing the Age Intervention Duality as this can cause some irritation and peeling.
Best Retinols for Hyperpigmentation
Here are my top three retinol choices for fading stubborn hyperpigmentation, brightening discoloration, and unifying the complexion:
Paula's Choice – CLINICAL Discoloration Repair Serum – $46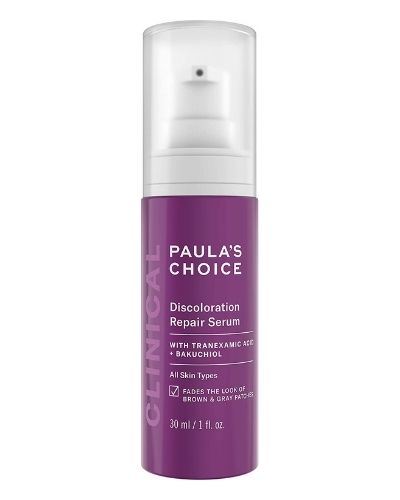 Paula's Choice Discoloration Repair Serum is a potent treatment that targets dark or discolored patches on the skin by using a tranexamic complex with bakuchiol and niacinamide.
Bakuchiol is often dubbed as the natural, pregnancy-safe alternative to retinol, but the studies behind these claims are weak.
However, it has been proven that bakuchiol has some antioxidant properties that help fight against free radical damage.
On the other hand, both tranexamic acid and niacinamide are decent tyrosinase inhibitors that can help reduce and correct hyperpigmentation.
Niacinamide is also a barrier-repairing ingredient that helps strengthen the skin barrier, aiding it to deal better with future inflammation.
Paula's Choice – CLINICAL 1% Retinol Serum – $58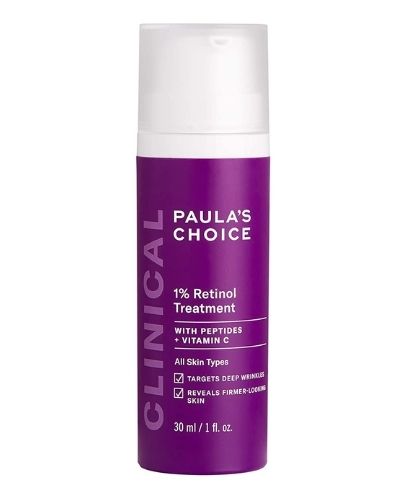 Paula's Choice 1% Retinol Serum from the CLINICAL line is a lightweight, creamy serum that contains the highest percentage of retinol that you can get over the counter.
The retinol in this formula is encapsulated, which means it will refine pore size, diminish the appearance of wrinkles, fine lines, uneven skin tone, and even more stubborn hyperpigmentation.
However, it will be released into the skin over time to prevent irritation and excessive shedding.
Besides that, the formula contains nourishing licorice and oat extracts and other soothing plant extracts to calm and soothe the skin, as well as hyaluronic acid to keep it hydrated.
Vivant Skin Care – Derm-A-Gel Level 1 – $64
Derm-A-Gel Level 1 by Vivant Skincare is a lightweight serum that aims to give your skin a revitalizing dose of a potent vitamin A that diminishes the appearance of fine lines and wrinkles as well as stubborn dark spots, hyperpigmentation caused by hormonal imbalances, and discoloration caused by UV damage.
The lightweight, gel-like formula is ideal for dry and sensitive skin types as it also contains softening lactic acid as well as urea, glycine, moisturizing inositol, and barrier-strengthening niacinamide.
Over time, the Derm-A-Gel will strengthen the skin barrier, promote firmness and elasticity, and lead to a brighter, more unified complexion.
Best Retinols for Dry Skin
Here are my top three retinol choices for dry, mature, and sensitive skin:
CeraVe – Skin Renewing Retinol Serum – $19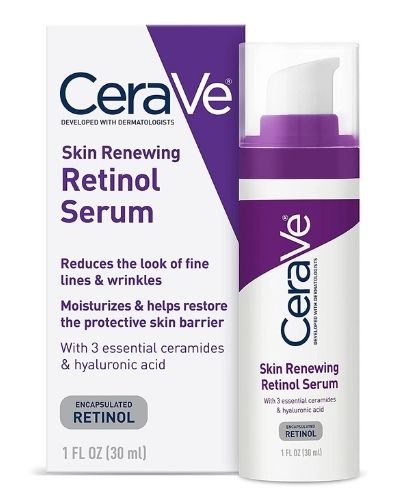 CeraVe's Skin Renewing Retinol Serum is suitable for dry, sensitive, and even eczema-prone skin.
It's a gentle yet effective daily retinol serum that provides a variety of brightening and anti-aging benefits thanks to the blend of barrier-strengthening ceramides, soothing and brightening niacinamide, and hydrating hyaluronic acid.
Besides that, the creamy serum will improve everything from brightening and evening out uneven skin tone to smoothing out rough and bumpy texture. And because it contains slow-release retinol, it likely won't cause any excess dryness, irritation, and discomfort.
SENTÉ – Intensive Bio Complete Cream – $125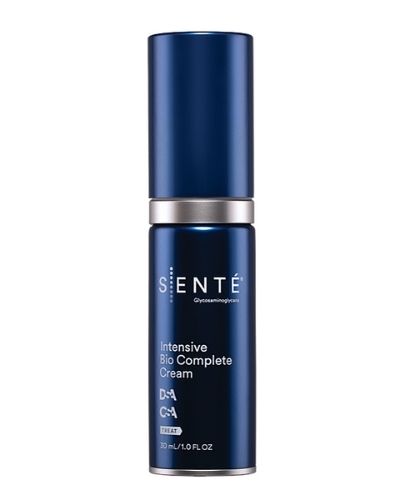 SENTÉ Skincare Intensive Bio Complete Cream is a retinol product containing a .5% true, time-released retinol with two of Sente Skincare's patented Glycosaminoglycans (GAGs): DSA (Dermatan Sulfate Analog) & CSA (Chondroitin Sulfate Analog).
Combining retinol with the unique GAGs can truly do wonders for the complexion since retinol acts as a vehicle to push the glycosaminoglycans deeper into the skin.
Additional benefits due to the GAGs in the serum are the hydrating and soothing effect on the skin to help combat some of the retinol side effects, like irritation and flaking.
Medik8 – R-Retinoate Intense – $265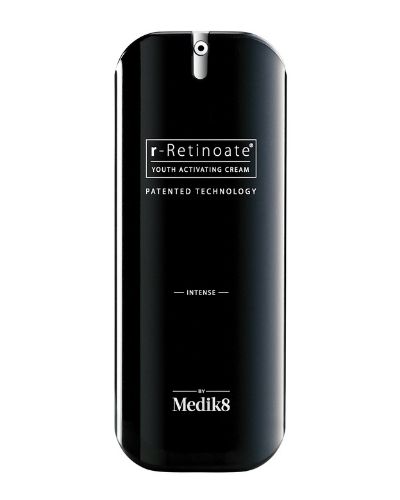 R-Retinoate Intense is a brilliant invention by Medik8 featuring a formula of retinyl retinoate intertwined with crystal-stabilized retinaldehyde to address skin concerns such as fine lines, wrinkles, texture, and dullness.
The best part about it is that although super-efficient, it's also super gentle. You can start using it daily without fearing the usual side effects that occur when starting retinols, such as irritation, dryness, peeling, and sensitivity.
Besides, the formula also contains hyaluronic acid, a humectant to draw moisture into the skin and keep it soft and supple, as well as ceramides, which is the glue holding your skin cells together, creating a barrier to prevent transepidermal water loss and reinforcing the skin's function.
My name is Simone and I am a certified skin specialist. I created this website to teach my readers how to take great care of their skin and I also like to occasionally share my honest opinions on skincare products I've tried. You can learn more about me here.
The Acne Solution: Your Ultimate Guide To Flawless Complexion
An extensive, no-nonsense course showing you how to never have acne again, from a licensed Esthetician specializing in oily/acne-prone skin.