One of the joys of owning a skincare blog is that I get to try an inordinately large number of products without being judged too harshly.
However, as much as I love experimenting with different skincare products and writing all about it, trying all these doesn't come without its occupational hazards.
Sometimes products break me out, make my skin peel, give me pesky little pimples on areas I've never had them, or they simply don't do anything for me which leads to a massive disappointment for the money I've spent.
However, every once in a while, I run across a real skin treat that I can't wait to share my opinion on and hopefully help my readers make the right pick with their next product purchase.
Today, I am going to talk about one of those treats and explain how this particular product helped my skin overcome several annoying spots that looked like they weren't gonna go anywhere if it wasn't for this.
This is my Paula's Choice 2% BHA Liquid review.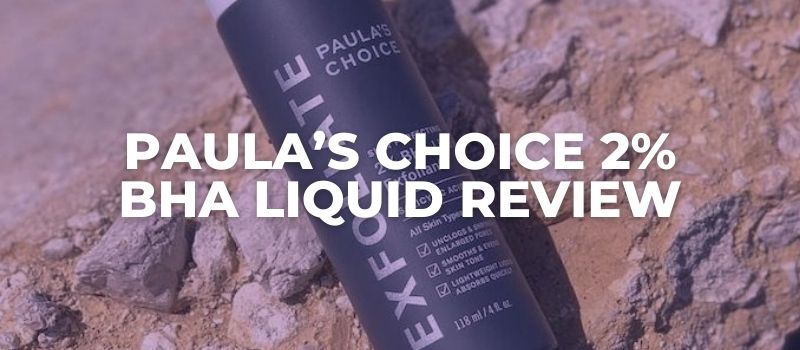 NB:
I can show you how to never have acne again.
If you have acne and want it gone
,
read this message
.
Paula's Choice 2% Skin Perfecting BHA Liquid Exfoliant is an exfoliating solution marketed as a daily facial treatment that promises to treat acne, blackheads, enlarged pores, as well as provide an even skin tone and contribute to a smoother complexion.
I cannot praise this product enough for what it does. When used properly, it can deliver great results which are visible after the very first use. Although I don't use this product every single day, I always look forward to seeing that luminous glow in the mirror the morning after I've applied it to my skin.
And it never fails to amaze me, every single time.
I've seen a lot of people online saying this is a toner, however, I beg to differ.
Exfoliating solutions such as this one is something you typically use after a toner, but it wouldn't be a sin if you skipped the toning part, in my opinion.
What Are The Main Ingredients?
Water, Methylpropanediol (hydrator/penetration enhancer), Butylene Glycol (slip agents/penetration enhancers), Salicylic Acid (beta hydroxy acid/exfoliant), Camellia Oleifera (Green Tea) Leaf Extract (anti-irritant/antioxidant), Polysorbate-20 (solubilizing agent), Sodium Hydroxide (pH balancer), Tetrasodium EDTA (chelating agent)
So, besides plain ol' water and other super-hydrating ingredients such as Methylpropanediol and Butylene Glycol, the two main superstar ingredients in this product are:
Salicylic Acid.
Salicylic acid is a BHA (beta hydroxy acid) that's used as the gold standard in skincare products intended for oily and acne-prone skin.
This is due to the fact that salicylic acid mimics the natural exfoliation process of younger skin by helping it shed extra layers.
Additionally, salicylic acid is an oil-soluble ingredient, which means it can cut through the surface oil to get inside the pores and remove the buildup of sebum, bacteria, dead skin cells, and white blood cells.
Furthermore, it is a very gentle, anti-inflammatory ingredient that is easily tolerated by the skin and it takes very little time to get used to.
Camellia Oleifera (Green Tea) Leaf Extract.
Camellia Oleifera is a type of green tea plant that's mostly known for the oil that comes from its seeds. As for the leaves, it has similar properties as the better known Camellia Sinensis leaves.
Camellia Oleifera has antioxidant and anti-inflammatory properties as well as skin-soothing properties that show a significant promise for improving the appearance of damaged skin, according to research.
According to this study from June of 2013, green tea extract showed to have a prolonged moisturizing effect, reduce skin roughness, as well as the ability improve skin wrinkles.
How Do You Use Paula's Choice BHA Liquid Exfoliant?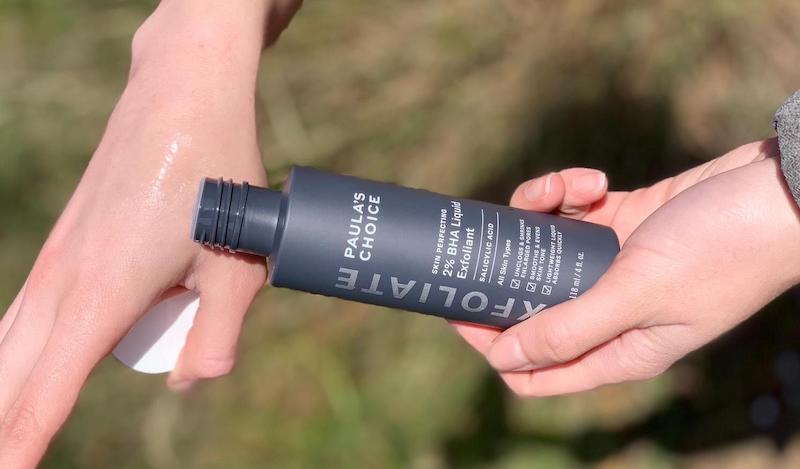 On the official Paula's Choice website it says to:
"Lightly soak a cotton pad and apply over the entire face, including the eye area (avoid lash line and eyelids). Do not rinse. For daytime, follow with a broad-spectrum sunscreen rated SPF 30 or greater."
But, since I am trying to be more environmentally cautious, I totally skipped the cotton pad part and applied it directly onto a slightly damp skin right after rinsing.
I also skipped the toner, since I am currently at the stage where I try not to overwhelm my skin with unnecessary steps in my routine such as a toner and it worked totally fine for me.
I would highly recommend you use this product on damp skin though because you will probably find it slightly less oily and shiny when applied in this manner.
This will also allow the product to absorb better into the skin and does its thing without leaving that annoyingly greasy layer on the surface.
I also reserved the usage of the BHA liquid exfoliant for my nighttime routine and I have never used it in my morning routine as I don't see the need to.
After using it in the evening, I always follow it up with a nice thick layer of sunscreen in the mornings.
How Often Should You Use Paula's Choice BHA Liquid Exfoliant?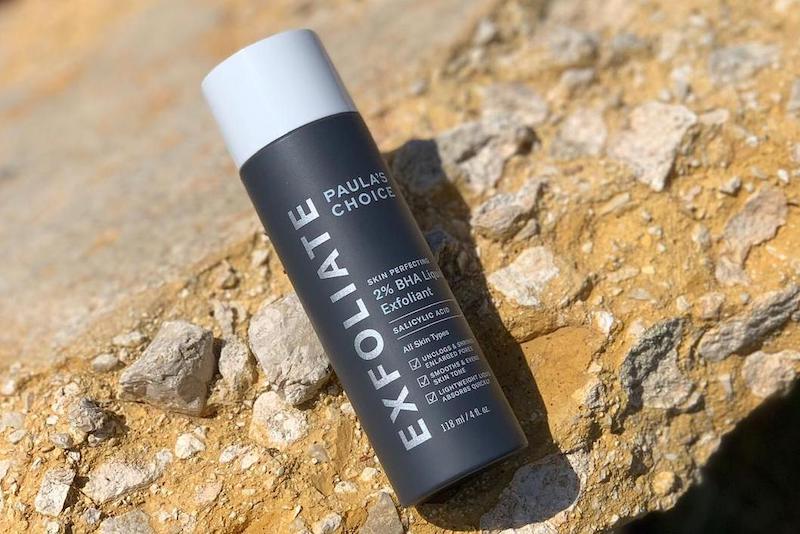 On the official Paula's Choice website it says to:
"Apply it once or twice daily after cleansing and/or toning."
However, I personally think that nobody needs that much exfoliation.
As I already touched upon this in one of my other posts, I will simply repeat that healthy skin, or more specifically a healthy epidermis isn't about how "young" the skin cells are, but how well the cells are able to communicate with other cells across the layers of the epidermis, how well they are able to interface with something called the "skin microbiome', and how well they are able to relate with their immediate environment.
The dead skin cells or "corneocytes" are indispensable in this healthy ecosystem, even though they may technically be considered "dead".
Their maturity, structure, fortified cell walls, and higher surface area allows them to hold the most amounts of what is called the Natural Moisturizing Factors or NMFs.
NMFs are what allows the skin cells to hold on to water and maintain optimal hydration levels within the outermost layer of the epidermis, the stratum corneum.
Young and fresh cells are not able to hold on to much water because they are simply not strong enough to withstand the osmotic pressure of water building up within the cells.
Over exfoliation removes the matured corneocytes, leaving behind the immature cells that may look bright, plump, and radiant, but this also leaves your skin unable to keep itself hydrated.
Therefore, while regular exfoliation should still take place in a good skincare regimen, this is definitely a process that needs to be reserved for no more than 2-3 times a week.
Can I Use Paula's Choice BHA Everyday?
While I don't see any short-term harm from using this product daily, I would still be a little cautious about it. Exfoliation is not something that should be done daily as this can potentially compromise the skin microbiome in the long run.
That being said, if you are currently struggling with moderate to severe acne, you may try and use this on the daily, however, make sure to always give your skin what it needs, not what you want.
How Long Does It Take For BHA To Work?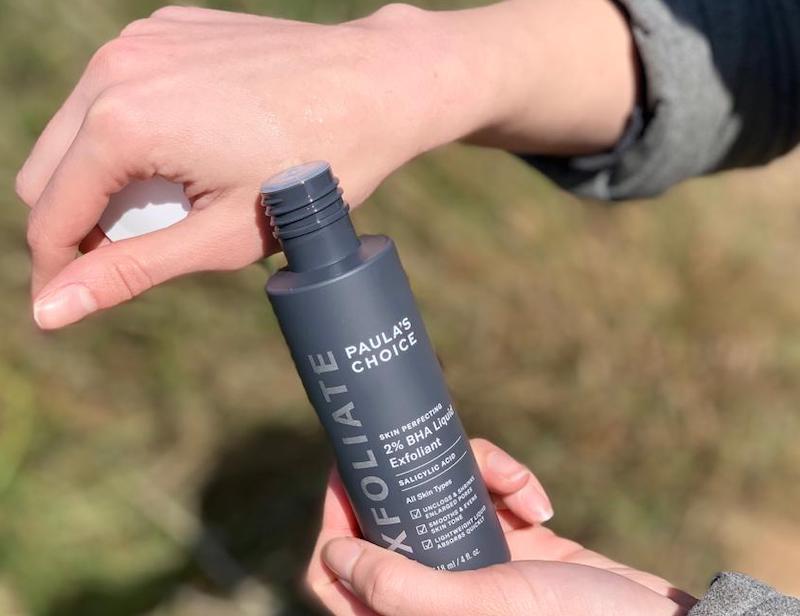 Patience is a virtue, especially when it comes to waiting on your new skincare routine to begin showing results. This pressure and anxiety can totally be amplified if you are dealing with acne breakouts.
Yup, it's totally understandable that you need to evict that annoying acne out of the free real estate which is your skin once and for all.
However, when it comes to skincare, constantly switching it up can do way more harm than good and it can also be incredibly hard to tell which products are working and which ones are making your acne worse.
So let's look at what we know:
It takes 28 for the skin to go through a full cycle. However, depending on the product, your skin concerns, and even your age, it could take even longer.
When it comes to exfoliators, this is slightly more complicated as using ingredients like AHAs and BHAs are very likely to cause a purging phase in the beginning.
That's why I always like to point out that continuous use is most required to achieve and maintain results. While some skin products can show immediate results, it can still take anywhere between one and three months to see the full benefits of using a product.
Therefore, the best solution to this is to tread lightly, purchase one product at a time, and try not to overwhelm your skin with many products and elaborate routines at once.
This habit can make it impossible for you to figure out which products are working for your skin and which ones are aggravating your skin concerns.
My Experiences Using Paula's Choice 2% BHA Liquid
I already had high expectations for this product even before purchasing it as I have read so many excellent reviews and seen so many YouTubers and skin bloggers praise it.
So here are the most prominent things I noticed upon the first use.
Texture.
The texture of this product is slightly oily and overall very rich. It feels like pure decadence when applied to the skin as it coats it with a nice layer of hydration.
As soon as I applied it the first time I immediately got a little worried that it won't work very well for me because my skin is already super-oily, therefore, I feared this rich texture will create that unnecessary layer of grease.
But that wasn't the case, however, there is a trick – a little goes a long way.
We sometimes get carried away with skincare products and we think that the more we apply – the more benefits we will receive, however, this is not a good way to go about any skincare product, and the BHA Liquid Exfoliant isn't an exception.
The skin can only absorb as much, therefore, the less you apply – the better it will absorb.
Smell.
Paula's Choice Skin Perfecting BHA Liquid Exfoliant has no added fragrance, however, it does have a slight smell to it. It's not horrible (unless it drips to the corners of your mouth and you accidentally taste it), but there is a slight "laboratory" type of smell to it.
It smells medicinal, I would say, but also a little bit like the slight smell you notice upon entering a hair salon.
Where To Buy Paula's Choice BHA Liquid Exfoliant?
The official Paula's Choice website is the place to go if you want to further educate yourself on skincare products and their function as well as purchase your desired products.
However, since Paula's Choice (unfortunately) doesn't do product deliveries in my country, I purchased several of the BHA Liquid Exfoliants on Amazon and it was great cause I didn't have to wait for them for longer than a few days and the price is also the same like the one on the official website.
---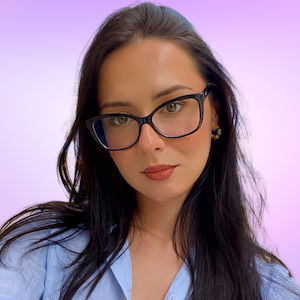 My name is Simone and I am a certified skin specialist. I created this website to teach my readers how to take great care of their skin and I also like to occasionally share my honest opinions on skincare products I've tried. You can learn more about me here.
The Acne Solution: Your Ultimate Guide To Flawless Complexion
An extensive, no-nonsense course showing you how to never have acne again, from a licensed Esthetician specializing in oily/acne-prone skin.