Cleansers are a vital part of any skincare routine, and it's also the product people tend to use wrong most often.
Cleansers aren't treatments because a cleanser only stays on the skin for about a minute and active ingredients that target specific skin concerns need longer than that to work.
However, this doesn't mean you shouldn't be bothered about having a good cleanser.
Cleansers contain ingredients that remove makeup, grime, pollution, and dirt from the skin; however, they also remove the good stuff, such as the acid mantle, which is a thin veil of protection between the skin and environment.
Removing the acid mantle can lead to a compromised skin barrier that can't prevent excess moisture loss.
This can lead to skin dryness, dehydration, and obviously – irritations. Therefore, it is imperative to have a good cleanser in your skincare routine to set the basis for healthy skin. Here are….
7 Esthetician-Approved Cleansers For Clear & Glowing Skin (Reviewed Below)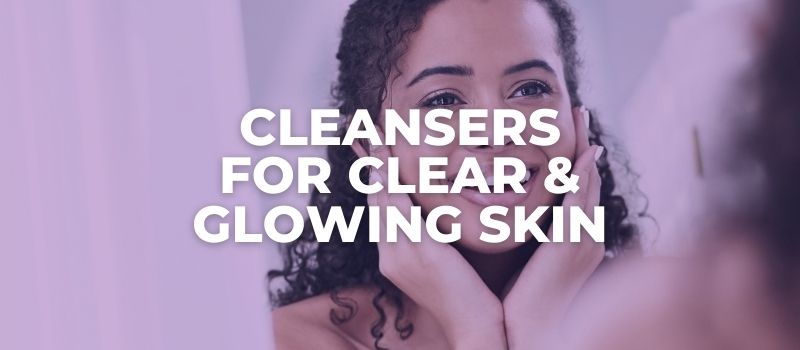 NB:
What if I told you I can show you how to never have acne again?
If you have acne and want it gone
,
read this message
.
[ninja_tables id="6537″]
La Roche Posay – Toleriane Hydrating Gentle Cleanser – $15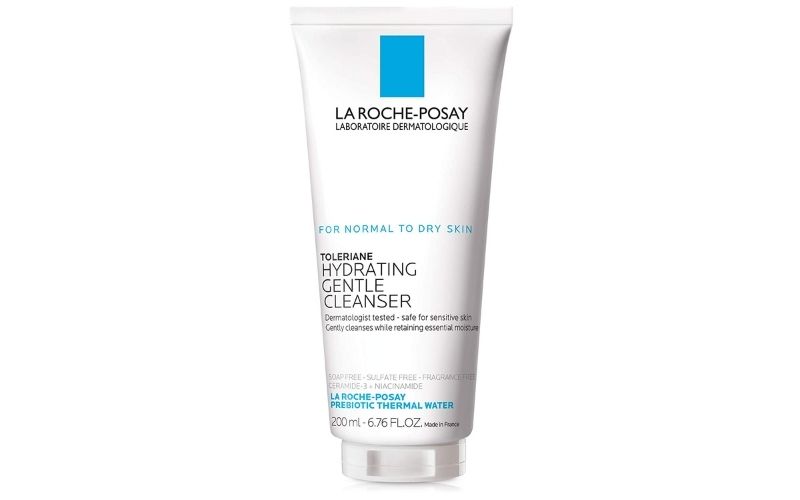 The Hydrating Gentle Cleanser from La Roche Posay's Toleriane range is an excellent cleanser for everyone that struggles with dry and irritated skin.
It is perfect for people going through procedures such as lasers or microneedling and those that are currently getting used to strong prescription treatments such as tretinoin .
Besides that, it can be used as a first cleanser to remove makeup as it is extremely gentle and won't sting the eyes.
The Hydrating Gentle Cleanser contains LRP's exclusive Prebiotic Thermal Water as well as skin-replenishing ceramides, hydrating glycerin, and soothing niacinamide.
It has a milky texture that transforms into a soothing lather when applied and worked on the skin.
Naturium – Nutrient-Rich Cleanser – $16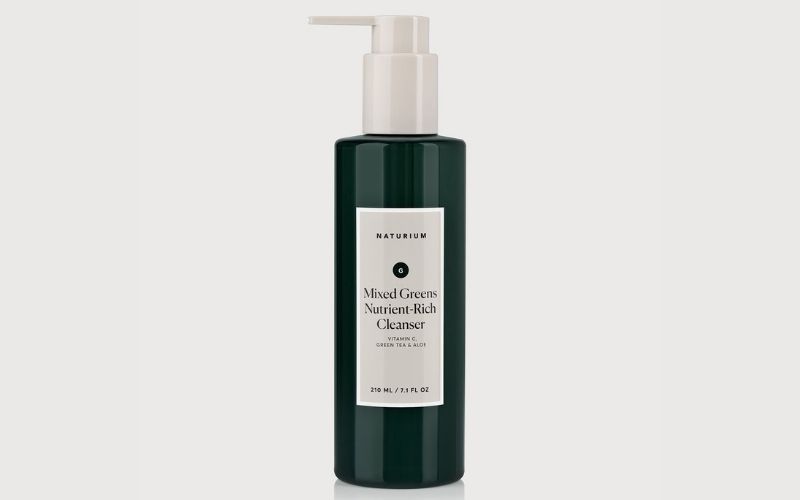 Naturium's Mixed Greens Nutrient-Rich Cleanser is a gel cleanser with a thicker consistency, a nice slip that lightly foams up when water is added, and a light herbal scent due to the mixed greens, vitamin C, and nourishing superfruits it contains.
It can be used as a second cleanse to thoroughly remove any makeup residue left on the skin after the first cleanse; however, due to the rather high pH of 6.0 – 7.0, it can be a little drying to the skin if used too often.
However, since it comes with such an affordable price tag to it, you can definitely make it work by using it once a day (in the evenings) and using just a tiny bit more than a pea-sized amount.
You should then lather it with water between your palms and fingers and rub it gently on the skin.
It should also be noted that this cleanser might be too drying for dry and sensitive skin types; however, oily and coarse skins can benefit from it more.
Dr. Sam's – Flawless Cleanser – $22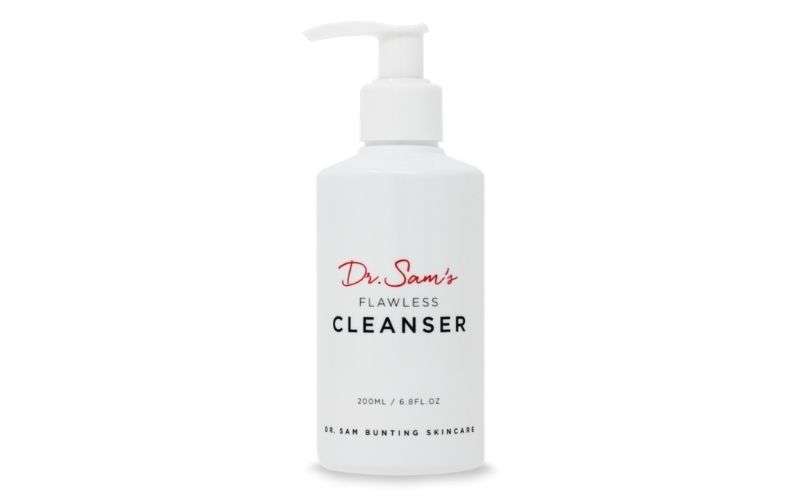 Dr. Sam Bunting is a UK-based dermatologist and YouTuber. I agree with a ton of things she says in her short, 15-20-minute videos as she, like myself, advises a simple approach to skincare.
Therefore, much like her advice, her skincare line also consists of just a few products with a simple, straight-to-the-point action plan and short ingredient lists.
Dr. Sam's Flawless Cleanser is a particularly outstanding product with a texture of a thick gel that doesn't foam up on the skin.
This can be a little strange to get used to at first, but cleansers that don't foam up are much better for dry, irritated, and dehydrated skins dealing with a compromised skin barrier and excessive moisture loss.
The Flawless Cleanser contains skin-replenishing triglycerides, soothing aloe vera, and allantoin, which is a by-product from uric acid extracted from urea, and it has superb skin-soothing and skin-conditioning abilities.
The Flawless Cleanser is gentle and non-comedogenic; therefore, it can be used by all skin types, including sensitive and rosacea-prone skins.
Medik8 – Cream Cleanse – $25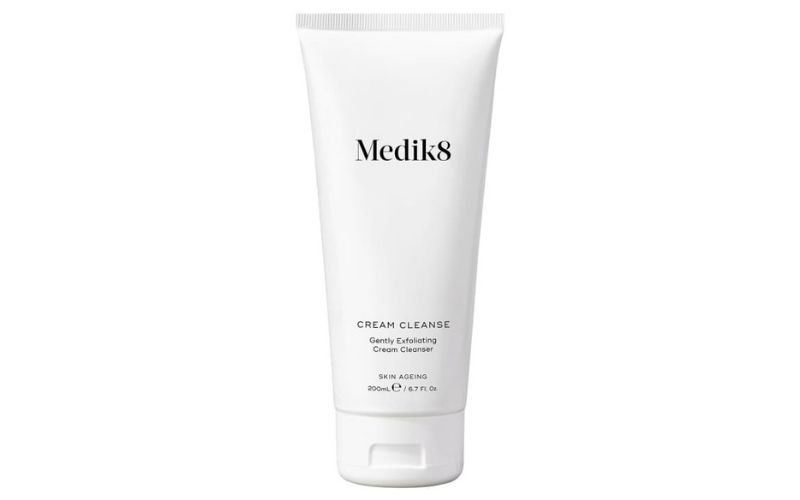 Medik8 skincare products will always have a special place in my heart since this was the first professional skincare brand I've ever worked with as an esthetician.
I no longer collaborate with them because I am testing many new products; however, I still regularly restock a few of their products on my shelf of holy grail skincare.
The Medik8 Cream Cleanse is an extremely gentle cleanser that uses natural shea butter and plant saponins that melt upon contact with the skin to quickly and efficiently break down makeup, grime, pollution, dirt, and everything you have on the skin.
Saponins are one of the most diversified substance classes in nature. The term "saponins" is derived from the Latin word "sapo," which means soap.
Saponins are simultaneously lipophilic and hydrophilic substances, which means they mix well with water and oils and are used as emulsifiers, gentle cleansing agents, and skin conditioning agents in cosmetic products.
The Medik8 Cream Cleanse has an incredibly gentle texture that's solid at first but quickly softens upon contact with water. It glides across the skin with ease, and it doesn't cause any friction, pulling, and tugging.
It is lightly fragrant with a sweet, citrusy scent, and it is suitable to be used as a first and second cleanse by dry, sensitive, irritated, and dehydrated skins.
Oily and acne-prone skins may find it a little bit thick, so they would perhaps benefit more from a second cleanse after using Medik8's Cream Cleanse.
NEOSTRATA – PHA Hydrating Gel Facial Cleanser – $27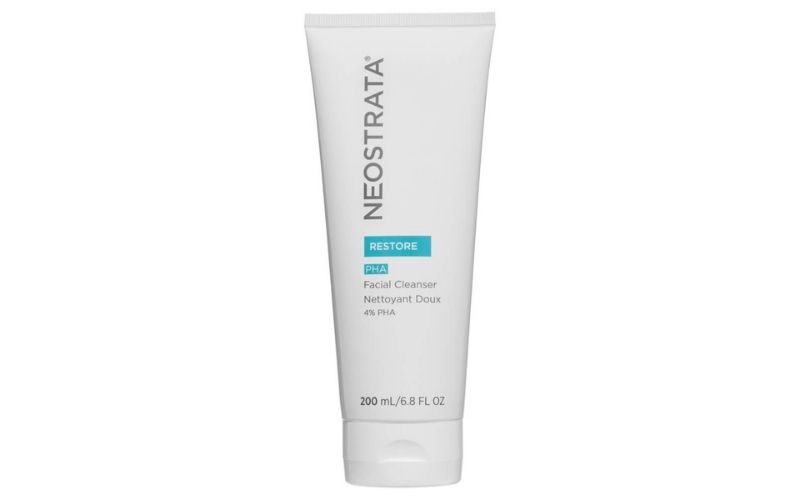 The NEOSTRATA PHA Hydrating Gel Facial Cleanser is a soap-free, non-foaming cleanser that's extremely gentle on the skin.
It is formulated with 4% Gluconolactone, a PHA (poly-hydroxy acid), which is the gentlest exfoliating acid compared to AHAs and BHA.
The cleanser will leave your skin clean, plump, hydrated, lightly exfoliated, and prepped for the next step into your skincare routine.
This cleanser is also suitable for daily use, and sensitive and rosacea-prone skins can use it, too.
EltaMD – Foaming Facial Cleanser – $28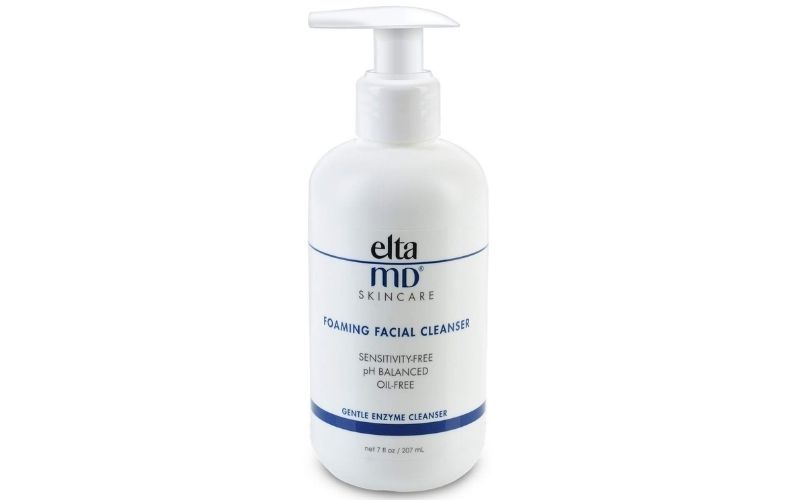 EltaMD Foaming Facial Cleanser is an oil-free and non-irritating daily cleanser that's specially formulated for oily and acne-prone skin.
It foams up quickly in contact with water, meaning you won't need more than a nickel-sized amount to wash your entire face and neck.
The cleanser contains enzymes and a blend of amino acids that help loosen and remove impurities from the skin's surface.
It also contains bromelain, which is an extract from pineapple that contains proteinases demonstrating skin-soothing activities.
The Foaming Facial Cleanser is best suited for oily and acne-prone skins; therefore, dry skin types may find it a little drying.
Skinceuticals – LHA Cleansing Gel – $41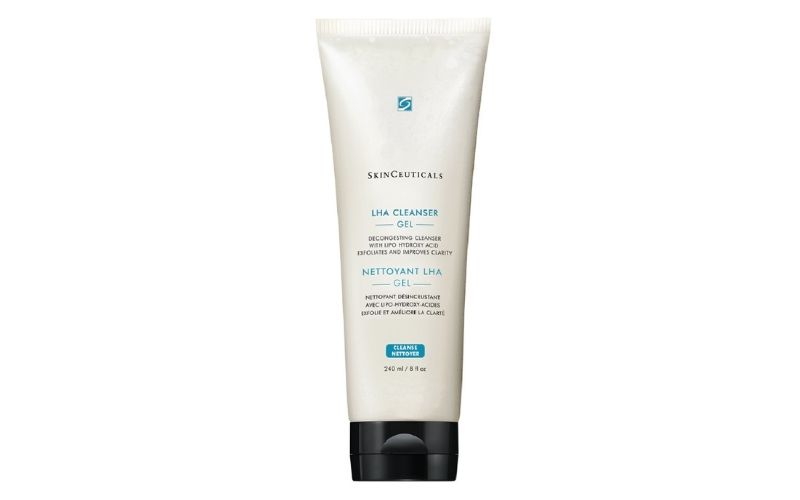 The Skinceuticals LHA Cleansing Gel is a good option for aging and problematic skin.
This thick gel contains a 12% concentration of active ingredients combining lipo-hydroxy, glycolic, and salicylic acids to lift away dirt, excess oil, and any impurities that are clogging the pores and causing breakouts.
Glycolic acid is a great anti-aging ingredient that will leave your complexion smooth, glowing, and hydrated after using the cleanser.
However, since this is an exfoliating cleanser, it is best to use it no more than a few times a week, in the evenings.
It's also a pricey product; however, you get 240 ml (8 fl. oz) of it for $41, and this can last you for a year if you don't use it daily and use it just as a treatment a few times a week.
The only thing I don't like about it is that it contains menthol, which can be sensitizing for the skin, and this is yet another reason why I don't recommend using this cleanser daily.
My name is Simone and I am a certified skin specialist. I created this website to teach my readers how to take great care of their skin and I also like to occasionally share my honest opinions on skincare products I've tried. You can learn more about me here.
The Acne Solution: Your Ultimate Guide To Flawless Complexion
An extensive, no-nonsense course showing you how to never have acne again, from a licensed Esthetician specializing in oily/acne-prone skin.