Launched in 2009, Medik8 is a cosmeceutical skincare brand that provides high-quality products tailored to target major skin concerns including aging, acne, pigmentation, redness, and dryness.
Medik8 pride themselves on using high-quality and well-researched ingredients only found in skincare products for professional salon use.
The products are considered "sensitive green skin cosmeceuticals", which means that Medik8 uses science, efficacy, and high-quality ingredients to formulate each and every product for best results.
There are so many skincare brands to choose from and very often this wide choice can leave the client more confused than informed and this can, unfortunately, lead to picking products that don't match the skin type.
That is why Medik8 products can be recommended and sold exclusively by skincare experts.
In this article, I will be doing a Medik8 skincare review and explain my story and journey as a certified Medik8 therapist.
I will also be listing some of the best Medik8 products for different skin concerns.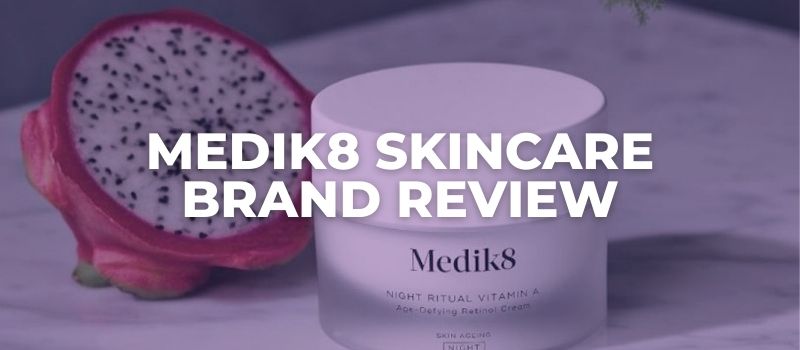 NB:
I can show you how to never have acne again.
If you have acne and want it gone
,
read this message
.
Medik8 Skincare Review (The Best Medik8 Products)
Price

Ingredients

Brand Quality

Customer Reviews
Medik8 Review Summary
Cruelty-free
No synthetic colours
High-quality ingredients
Backed by Science
My Story With Medik8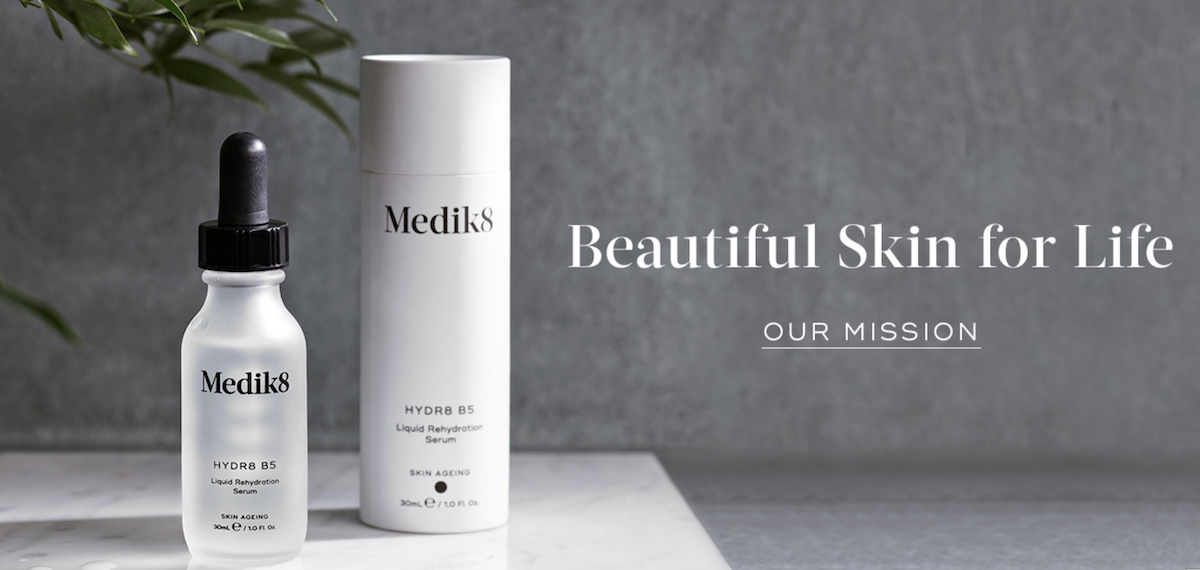 I was introduced to Medik8 when I first started my journey as an aesthetician.
At that time I was struggling with major acne breakouts and I am not only talking about small pustules here and there, but painful cystic nodules over my jawline, cheeks, and forehead.
The only "clear" spot was my nose, and that too was riddled with blackheads.
If I could only choose back then, I would have chosen a face full of blackheads instead of painful cysts that at times were becoming so inflamed I couldn't sleep on the side.
I was packing so much makeup on, and we all know how that helps. And in case you don't know – It doesn't help at all.
My teacher/mentor was extremely sympathetic to my problem and open enough to admit that she suffered through horrible acne problems in her teenage years.
Unfortunately, she didn't have anyone to prescribe Accutane at that time, so she was decently scarred by the time her acne cleared.
A few years and many laser procedures later, she finally recovered from what she calls a "rather unsatisfying reflection in the mirror".
My mentor was the person who recommended that I start using Medik8 products combined with a course of chemical peels.
After the first treatment and using Medik8 products for a month or so by then, my eyes couldn't get used to the dramatic change in my skin.
Mind you; they were still there.
But I knew I was on a good path to finally get rid of them – hopefully for good this time.
I wasted no time and boldly asked the school owner to sign me up for a Medik8 training held by an expert as I couldn't wait to learn more about this brand.
The Medik8 expert who was holding the training was beyond happy to accept me, as like many – I had a story to tell, a journey to share, and results to show.
A few months later, I am a certified Medik8 skincare expert. I am entitled to recommend their products as homecare treatments and carry out professional facial treatments for clients.
What made me fall in love with Medik8 as a therapist is that they are a result-based brand with deeply rooted formulations in science.
My Top Favorite Medik8 Products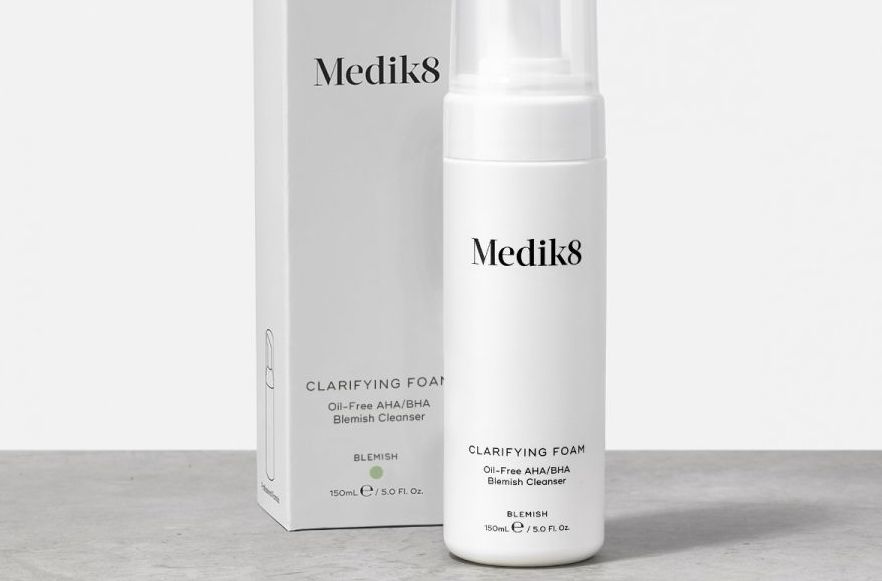 1. Medik8 Clarifying Foam
Previously known as Beta Cleanse, the Clarifying Foam is a cleanser with a carefully balanced pH and is designed for acne-prone skin.
This stayed with me for many months and I am confident that I will not stop recommending it to anyone who has even the mildest, tiniest problem with pustules and oily skin.
The formula is pH balanced, which means that it will remove daily pollution, dirt and any lingering impurities from the surface of your skin without stripping or disrupting its natural protective barrier.
It is completely free from artificial fragrances which was a true blessing for my oily, but overly sensitive and reactive skin from the beginning as fragrances can further aggravate inflammation on the skin.
At the time I had more inflammation than I could even bear with, so anything more would have just been a push to the bottom for my self-esteem.
Instead, this cleanser is deeply purifying and antibacterial with a fresh and pleasant aroma due to containing tea tree oil.
It contains a blend of AHAs and BHAs that work in synergy to gently exfoliate the superficial and deep layer of the skin.
You can read my in-depth Medik8 Clarifying Foam review here.
2. Medik8 Lipid-Balance Cleansing Oil
Something that you probably don't know about me is that I am an extreme makeup lover, and rare are the days where I don't have tons of foundation and contouring done on my face, neck, clavicles, and even ears.
We have to keep that color even, don't we?
Not even a major struggle with acne has ever stopped me from applying crap tons of makeup on my face, layers on layers of foundation and powder.
Moreover, the most messed up part when dealing with acne is that it used to send my self-esteem right down the drain. You'll have to excuse my choice of words on that one.
So I was kind of "forced" to pack tons of makeup on my face, so I can cover the hell that was happening on there and appear presentable at work behind reception.
And by the end of a very long and boring day, this purifying, moisturizing, and revitalizing oil cleanser never failed to remove all the makeup, sebum, pollution, sweat and whatnot from my face.
It works by gently dissolving dirt and impurities as well as waterproof makeup to reveal refreshed skin. My sensitive skin absolutely adored it and it didn't once react to it badly.
Its deeply nourishing formula features an optimized ratio of essential lipids to replenish the skin's natural defense barrier, leaving the complexion soft and supple. And in my case – a little bumpy, but it's wasn't its fault.
The moringa seed extract removes the buildup of grime and daily pollutants and purifies the skin.
Read more in-depth information on the Medik8 Lipid Balance Cleansing Oil here.
3. Daily Radiance Vitamin C
The C-Tetra Antioxidant Cream melts into your skin upon application and will leave it energized and shielded from environmental damage due to the powerful antioxidant protection.
It contains SPF 30 and don't let me hear you say you don't need sun protection. The sun is not your skin's bestie no matter how relaxing laying on the beach all day is.
This radiance-boosting formula will give you that sought-after healthy glow and hyaluronic acid and glycerin are humectants that draw moisture into the skin and keep it locked in tight.
Day by day, your complexion will appear brighter, with future skin aging and sun-induced damage successfully kept at bay. To them, we say – BEGONE.
The only thing I feel I have to point out with this product that came as a surprise when I first opened it was the smell.
It's not pleasant. But as it appears, vitamin C can be extremely difficult to stabilize, and without any artificial fragrances, the natural scent is a bit…yucky.
I eventually found it tolerable after a hot minute, but yeah, expect a funky smell with this product.
4. Medik8 r-Retinoate Intense
https://www.youtube.com/watch?v=5PO3BSwd-KU
BEHOLD as Medik8 introduces us with the mother and father of all retinoids.
r-Retinoate Intense is an all-in-one serum and night cream that leads the skin through the path of dramatic transformation.
It is a revolutionary blend of retinyl retinoate and crystal-stabilized retinaldehyde that took a total of 8 years of research and development work.
So how did this happen?
As much as I would love to bore you to death about how retinol converts into retinoic acid and the effects both have on the skin, I am sure that is not why you are here for.
You just want to know what this product will do for you, right? Gotcha.
The revolutionary molecule retinyl retinoate is a hybrid of traditional retinol and clinical strength retinoic acid.
All forms of vitamin A (retinoids) have to be broken down into retinoic acid so it can have the desired effect on wrinkles, pigmentation, and uneven skin texture.
Retinol takes much longer while retinoic acid is broken down and effective on the skin straight away. This means that the r-Retinoate can act directly on the skin without needing any time to be broken down into parts.
It is also photostable, which means that it can be used during the daytime, but Medik8 experts still advise that you stick to it PM only for best results.
After all, the cells regenerate while we sleep, so we don't really need to use vitamin A in the morning, right?
However, I did find a rather interesting article on all this technicality, so if you feel like falling in the depths of how retinoids are converted, you can go ahead and check here.
Moreover, this product contains:
Drone-Targeted copper peptide – a collagen-supporting copper peptide that dives through the layers of the skin to specifically target and stimulate collagen-producing cells.
Ceramide Complex – ceramides are the glue that holds the skin cells together and their job is to strengthen the skin's protective barrier to shield it from bacteria, germs, pollutants, dirt; and keep moisture locked tight in the skin.
If you have never used retinol, go straight to my other article and find out when you should introduce it to your routine, as well as a bunch of informative facts on this anti-aging powerhouse agent.
5. Medik8 Balance Moisturizer & Glycolic Acid Activator
The Balance Moisturizer contains a powerful blend of prebiotics and probiotics that restore and balance the skin's natural pH.
The combination of pre and probiotics is ideal for treating acne-prone skin as they gently encourage the skin to favor and grow more of the good kind of bacteria over the bad ones.
It is a lightweight, everyday moisturizer that besides controlling excess sebum production, will effectively hydrate and decrease shine on your skin.
It is fantastic for oily and sensitive skins as it contains niacinamide which is a soothing ingredient that controls sebum production and reduces irritation and cinnamon extract which contains natural antibacterial properties and also regulates excess sebum production.
Additionally, there is a 5ml bottle of Glycolic Acid Activator included in the box.
Glycolic acid is the smallest particle of all AHAs (alpha-hydroxy acids) and it is the holy grail of exfoliation.
This AHA serum exfoliates the upper layer of the complexion by breaking down the bonds between dead skin cells on the skin's surface.
Like all Medik8 products, the Glycolic Acid Activator is of clinical strength. Experiencing redness and mild to moderate tingling sensation is normal and depends on your skin's sensitivity.
You can read my Medik8 Balance Moisturizer review here.
Where Are Medik8 Products Produced?
Medik8 is a British company and all their products are manufactured in the UK. Medik8 applies the best practice from both the medical and pharmaceutical industries and in their own manufacturing process.
Medik8 complies with European manufacturing standards to provide consistent and high-quality products. Medik8 is ISO certified for both manufacture standards and quality management standard.
The ISO 9001:2008 is the title of a document that outlines the requirements that an organization must maintain in their quality system.
ISO certification requires that the company periodically audit its quality processes.
Are Medik8 Products Tested on Animals?
Medik8 stands proudly against testing on animals. Both Medik8s finished products and products within development and production are NOT tested on animals.
Medik8 does not ask any other company to test on their behalf and they take the matter of checking their supplier compliance to their cruelty-free rule very seriously.
Where To Buy Medik8
The best place to buy Medik8 products is through their official website, where you can also get information about each product in great detail.
Some of the Medik8 products are also available on several other websites for easier access in different parts of the world.
Medik8 is sold on Amazon and can also be found on the official Medik8 website.
---
As an aesthetician, I have had the great pleasure of working with many skincare brands on the market.
Becoming a certified Medik8 therapist and supporting this result-driven brand that uses science to provide health and harmony for your cherished skin is one of the best choices I have made for myself and my career.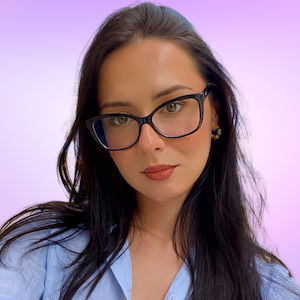 My name is Simone and I am a certified skin specialist. I created this website to teach my readers how to take great care of their skin and I also like to occasionally share my honest opinions on skincare products I've tried. You can learn more about me here.
The Acne Solution: Your Ultimate Guide To Flawless Complexion
An extensive, no-nonsense course showing you how to never have acne again, from a licensed Esthetician specializing in oily/acne-prone skin.