Tretinoin is one of the most researched anti-aging and anti-acne treatments available in today's market.
It's incredibly effective, however, its known side-effect is irritation which can leave you with red, sensitive, inflamed, and peeling skin.
Given that tretinoin is a powerful ingredient on its own, you need to make sure you are not adding fuel to the fire by using skincare products that can potentially exacerbate these known side effects.
And because I have some experience with using this anti-aging and anti-acne powerhouse, I am here to give you the best skincare routine when on tretinoin (Retin-A).
But let's start by giving a little more info on what exactly tretinoin is all about.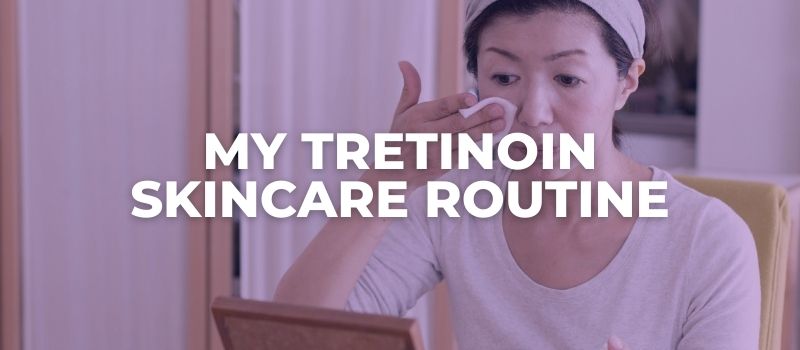 NB:
What if I told you I can show you how to never have acne again?
If you have acne and want it gone
,
read this message
.
What Is Tretinoin?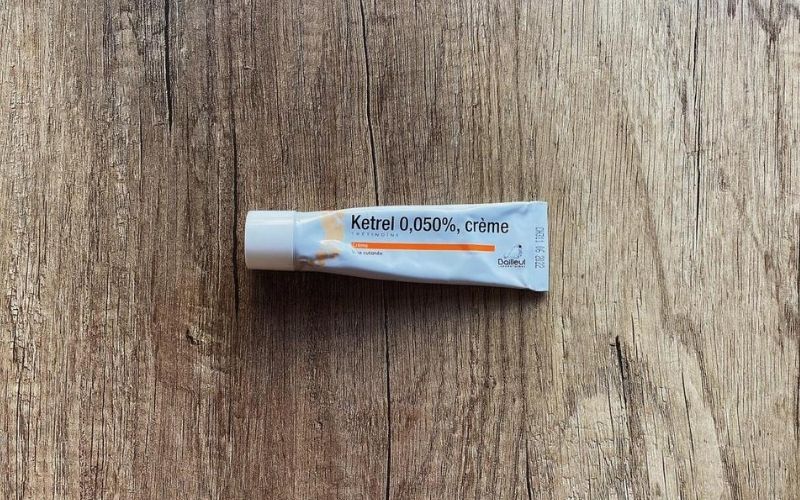 Tretinoin is a topical retinoid or a vitamin A derivative that helps speed up cell turnover (the rate that your skin produces new cells and sheds them from its surface).
Skin cell turnover slows down as you age and causes dead skin cells to accumulate on the surface of your skin. This prevents your skin from reflecting light and can leave you with a 'dull and tired' complexion.
Slow skin cell turnover is also one of the main causes of acne and leads to blocked pores that form whiteheads and blackheads and can become inflamed to form more severe forms of acne.
How Long Does It Take For Tretinoin To Work?
Tretinoin starts to work as soon as it's applied to the skin, however, you will start seeing results from using it anywhere between 6-8 weeks, depending on the skin concern you want to treat.
Complete tretinoin effects can be visible after about 1-2 years of consistent use. By this time, tretinoin usually improves deeper issues such as severe acne, stubborn pigmentation, uneven skin texture, fine lines, and even deep-set wrinkles.
Is There A Difference Between Retin-A and Tretinoin?
No, there isn't any difference between Retin-A and tretinoin because Retin-A is just a brand name for tretinoin used in the US and Canada.
Other countries have their own brand names with the same active ingredient being all-trans retinoic acid (tretinoin).
Since I am from Europe, I have used a french brand named Ketrel, but I have seen many other popular tretinoin brands including Curology and Dermatica to name a couple.
Tretinoin comes in either cream or gel form and different strengths ranging from 0.25% (weakest), 0.5%, 1% (strongest), and micro (which is usually given to more sensitive skins).
When Should You Not Use Tretinoin?
Tretinoin is a prescription medicine, therefore, you will always have a dermatologist's help and guidance when starting to use it.
However, you should never use tretinoin in the mornings because the sun degrades the active ingredient making it ineffective and also avoid using it right after exfoliating your skin.
What Should You Not Use With Tretinoin?
When using tretinoin, your skin is likely to get more sensitive and reactive. Some peeling and flaking may also occur to varying degrees depending on your skin's tolerance.
When using tretinoin, it is important not to use scrubs, exfoliating acids (especially AHAs), and enzymes as well as harsh and drying cleansers that can make your skin burn and feel uncomfortable.
It is also a good idea to switch to a heavier and more occlusive moisturizer while using tretinoin as well as opt for a mineral sunscreen rather than a chemical one.
The Best Skincare Products To Use When On Tretinoin
You don't need to have a comprehensive routine when using tretinoin because this product alone can target multiple skin concerns you would otherwise need to address with multiple different ingredients. Therefore, keeping it simple is the way to go.
Here are the best products to use (when on tretinoin).
Best Oil Cleansers When On Tretinoin
I'm a micellar water type of girl myself, however, my Bioderma Sensibio wasn't cutting it when the purge and peeling first began during my third week of tret.
I had to resort to something gentler to remove my makeup and sunscreen in the evenings because dragging cotton rounds on my sensitive skin felt rather painful.
Here are three oil cleansers I recommend:
Simple, cheap, and easily available are the three words that made me like this oil cleanser. Although it contains Rosemary oil as the last ingredient, it doesn't have an overwhelming scent that particularly bothered me.
It's great for degrading makeup and sunscreen and prepping the skin for a second cleanse. I usually massage it onto my skin lightly for no longer than a minute before following up with my cleanser.
iUNIK Calendula Deep Cleansing Oil
iUNIK's Calendula Deep Cleansing Oil is another simple oil that does a good job degrading makeup and sunscreen, and prepping the skin for a second cleanse.
Its star ingredient is Calendula extract and although this ingredient doesn't have much research to support any proper skin benefits, it is considered to have mild antioxidant and soothing properties.
Rael Oil To Foam Cleanser
Rael's Oil-To-Foam cleanser is my favorite from the three as it has an interesting texture that starts off as oil but turns to lather when in contact with water.
It can be used as both first and second cleanse depending on your skin's needs but I found it useful when I feel like cleansing in the morning or when I'm not wearing makeup during the day.
It has mild cleansing agents such as Decyl Glucoside and Sodium Cocoyl Isethionate which is super gentle because it's based on vegetable fatty acids.
Best Cleansers When On Tretinoin
I also had to switch to a gentler cleanser when I started tretinoin because over the first two weeks of use my skin started becoming increasingly drier, tighter, and more uncomfortable.
These were my cleansing options:
La Roche Posay Toleriane Hydrating Gentle Cleanser
This cleanser is the perfect match for tretinoin and it is always recommended by dermatologists before anything else.
It has a light milky texture and contains hydrating ingredients that don't strip or irritate the skin. It can also be used as a first cleanse to remove makeup and sunscreen.
La Roche Posay Effaclar-H Cleansing Cream
I bought this cleanser by mistake when I was looking for the one I mentioned above but this one agreed with my skin and it turned out to be a good match for my concern back then.
It's a little bit stronger than the Toleriane Hydrating Gentle Cleanser due to the high Sodium Laureth Sulfate content, however, it is not stripping because it has a nice balance of hydrating and emollient ingredients, including barrier-repairing Propanediol.
CeraVe Hydrating Cream-To-Foam Cleanser
This is one of the all-time bestsellers for CeraVe and for a good reason. It is particularly good for people with dry, sensitive, and irritated skin as well as someone that suffers from atopic conditions such as eczema or psoriasis.
That being said, it is also a cheap and excellent option for tretinoin users that are experiencing that initial irritation, flaking, and peeling.
Best Moisturizers When On Tretinoin
As someone with excessively oily skin, I was surprised with my newfound love for thick, occlusive moisturizers when I started using tretinoin.
At first, I was using a thick moisturizer because I had to as my skin was so irritated but once the initial irritation started calming down, I started enjoying these two moisturizers in particular:
La Roche Posay Cicaplast Baume B5
One big disclaimer I have to make about this one is that it will make you oily as hell!
But while using it over the course of a few weeks I started loving it because it was giving me the much-needed relief from the constant stinging caused by tretinoin.
As soon as I apply this balm, my skin feels immediately better and although thick and occlusive, it doesn't have a single ingredient that can clog your pores and cause new breakouts.
PS. Tretinoin is an anti-acne treatment, however, if you keep using clogging ingredients, tretinoin will just keep purging the clogs, therefore, you will still be getting breakouts if you don't have a good skincare routine.
This product contains Zinc which is a known anti-acne ingredient as well as barrier-repairing Panthenol, brightening Niacinamide, hydrating Hyaluronic Acid, and soothing Centella Asiatica.
An absolute winner if you don't mind the greasiness.
Bioderma Sensibio Rich Cream
This is my less favorite one from the couple but it was my initial substitute for the CeraVe moisturizer when I realized it had started causing me to breakout.
Anyhow, it's a thick and occlusive moisturizer that doesn't contain known irritants such as fragrance or essential oils and it was getting the job done when my skin would flare up at times.
I stopped using this when I discovered the LRP Baume, however, it's a good option if you are sensitive to fragrance and want something slightly less greasy.
Best Sunscreens When On Tretinoin
Finding a good sunscreen when on tretinoin was one of the biggest personal struggles.
I like my chemical sunscreens but everything I had on my shelfie was burning and making my skin red as a tomato within a minute of applying it.
I had to start being very careful when choosing sunscreens and I found mineral options much better for me. Here are a few I like:
Paula's Choice Super-Light Wrinkle Defense SPF 30
I love this sunscreen and I've written reviews about it on my blog before so I was very happy when it was one of the least problematic ones for me.
This never made my skin burn or sting when I was on tretinoin but the only flaw it has is that it's SPF 30 and I wish it was a bit higher than that.
Another thing I need to point out about this sunscreen is that it's a good option for someone who lives in hotter and more humid climates rather than cold and dry because it dries out matte and pairing it up with that tretinoin-induced skin dryness may contribute to a tight and uncomfortable feeling.
Paula's Choice Essential Glow SPF 30
This may be a better option if you are using tretinoin and going through dryness and irritation but living in a cold and dry climate.
It won't make your skin sting like chemical sunscreens do and it will give you a blinding glow.
---
---
My name is Simone and I am a certified skin specialist. I created this website to teach my readers how to take great care of their skin and I also like to occasionally share my honest opinions on skincare products I've tried. You can learn more about me here.
The Acne Solution: Your Ultimate Guide To Flawless Complexion
An extensive, no-nonsense course showing you how to never have acne again, from a licensed Esthetician specializing in oily/acne-prone skin.