Adapalene is a topical cream or gel commonly used to treat acne. However, although efficient against deep, cystic acne clusters, can this ingredient also be used as spot treatment?
Unfortunately, adapalene doesn't make up for a good spot treatment because it doesn't work overnight.
And while this is pretty much the most straightforward answer you can get, read along to learn more about how adapalene works and why you shouldn't use it as a spot treatment.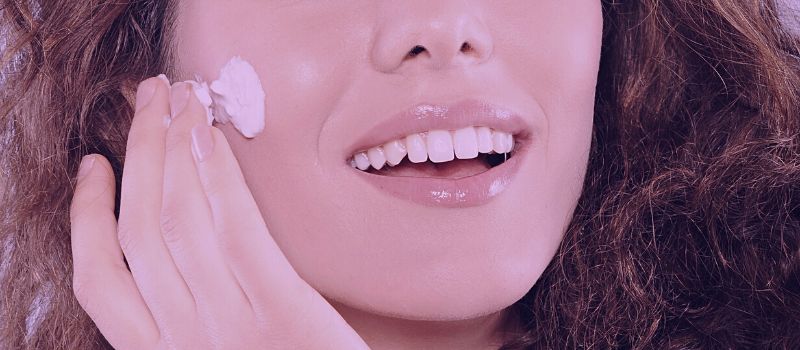 NB:
What if I told you I can show you how to never have acne again?
If you have acne and want it gone
,
read this message
.
What is Adapalene?
Adapalene is a topical retinoid that is used to treat acne.
It works by increasing cellular turnover and preventing the buildup of dead skin cells that mix with oil and cellular debris inside the pores and clog them.
Adapalene is available in over-the-counter gels in 0.1% and prescription-strength gels in 0.3% concentration.
Benefits of Using Adapalene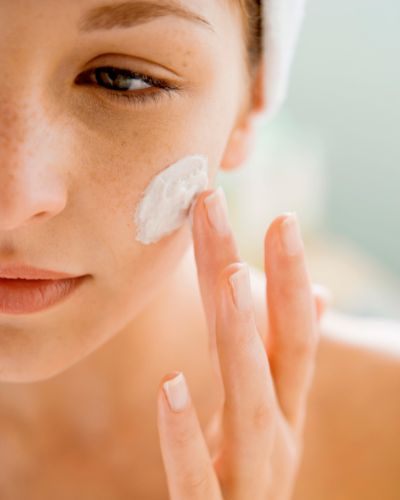 Besides getting rid of moderate to severe acne, adapalene also targets several other skin concerns, including hyperpigmentation, post-inflammatory redness, uneven skin tone and texture, dullness, as well as fine lines and wrinkles.
Therefore, the benefits of using adapalene include:
Reduced acne and clear skin.
Brighter and evened out complexion.
Faded hyperpigmentation and post-inflammatory redness.
Strengthened skin barrier.
Decreased lines and wrinkles.
Side Effects of Using Adapalene
Although adapalene is very efficient in healing active acne, this ingredient has some potential side effects.
The most feared side effect of adapalene is purging, which is a stage of the skin's healing process in which the active ingredient causes an increase in cellular turnover.
This can result in more breakouts that can be moderate to severe and can last anywhere between 4-12 weeks.
Other potential side effects of adapalene include:
Dryness.
Itching.
Redness.
Peeling.
Burning.
Experiencing these side effects isn't uncommon; however, if the discomfort becomes unbearable, it's important to take this as a sign and adjust your adapalene usage and skincare routine.
Switching to a gentle, non-irritating cleanser as well as adding a heavy-duty moisturizer and high SPF as part of your morning routine can help combat some of the drying and irritating effects of using this ingredient.
Can Adapalene be Used as Spot Treatment?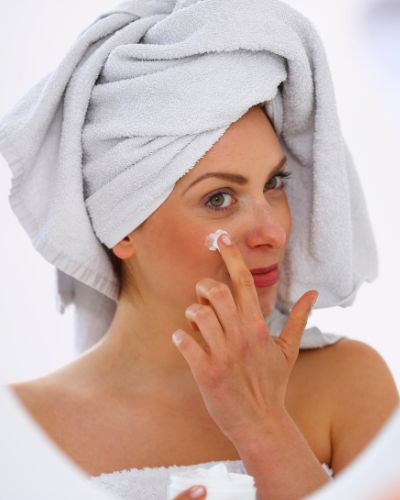 Adapalene won't yield great results when used as a spot treatment because this ingredient doesn't work overnight.
Spot treatments are usually products that contain acne-fighting ingredients such as salicylic acid, benzoyl peroxide, sulfur, and hydrocolloid, which is a moisture-absorbing material that helps the skin heal from the inside out.
These components are known for their quick action and the ability to drastically minimize a single pimple after as little as a few hours.
On the other hand, adapalene is a retinoid that works against acne slowly and gradually by increasing cellular turnover and unclogging pores by purging the cellular debris towards the skin's surface to be turned into a pimple and healed.
This process can take weeks or even months, which is why adapalene takes so long to show visible results, and this is also why it's not the best option for spot treatment.
If you're looking for a spot treatment that will give you overnight results for a pimple or two, it's better to stick to other acne-fighting ingredients.
But if you're willing to be patient and consistent with your skincare routine, then adapalene can be an excellent option for you!
How to Use Adapalene Correctly?
Adapalene should be used once a day as a part of your evening skincare routine, after cleansing, and 15-20 minutes before applying your moisturizer. This is the best way to give your product time to absorb into the skin and not risk moving it around and getting uneven coverage by applying a moisturizer before adapalene fully dries out.
If you're using adapalene for the first time, start by applying it every other day and gradually increase frequency as your skin gets used to it.
When applying adapalene, make sure to use about a pea-sized amount to cover the entire face with a thin layer. Additionally, if you are using adapalene on your neck, add a little bit more but no more than a pea-sized amount.
If your skin is very sensitive and starts getting irritated by adapalene, you can also try the "sandwich method" that involves applying adapalene between two layers of moisturizer to buff out its intensity.
Lastly, apply sunscreen in the morning as adapalene is a retinoid that can make your skin more sensitive to the sun and prone to sunburns and UV damage.
Best Spot Treatments to Zap Pimples Fast
Since adapalene isn't the ideal spot treatment, here are a few other options for when you need to get rid of a pimple fast:
The INKEY List – Succinic Acid Acne Treatment – $9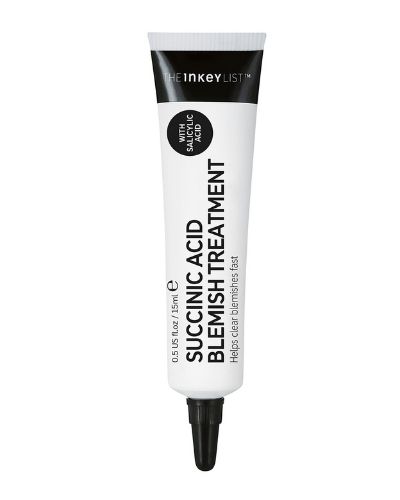 The Succinic Acid Acne Treatment by The INKEY List is an excellent spot treatment for those with sensitive skin as it's gentle yet effective.
The main acne-fighting ingredient in this product is succinic acid, an ingredient that has skin-softening and bacteria-inhibiting properties alongside sulfur and salicylic acid for its anti-inflammatory effect.
Neutrogena – On-the-Spot Acne Treatment – $12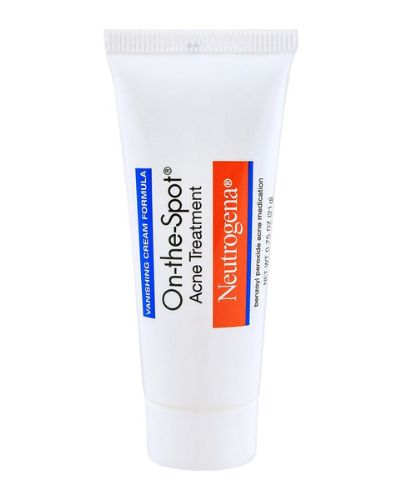 Neutrogena's On-the-Spot Acne Treatment is loaded with benzoyl peroxide, an ingredient with anti-inflammatory and comedolytic properties that neutralize bacterial overgrowth, unclog pores, and soothe the skin.
The clear gel can be used as a mask or a spot treatment when you need a quick fix.
Bliss – Clear Genius Acne Spot Treatment – $15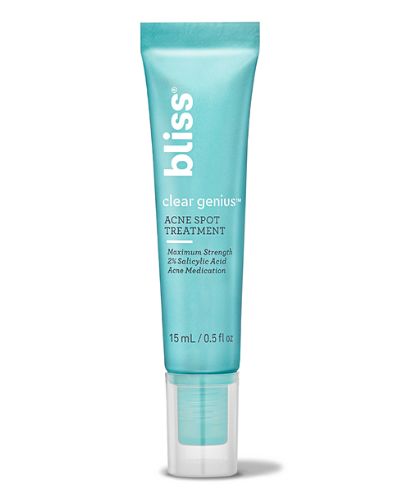 Containing salicylic acid, witch hazel, and niacinamide, the Bliss Clear Genius Acne Spot Treatment is a powerful trifecta that works to decrease inflammation, unclog pores, and fade discoloration.
With the addition of Cica complex, this product is exceptionally soothing, calming, and helpful for those with sensitive skin.
Glytone – Acne Tinted Spot Treatment – $22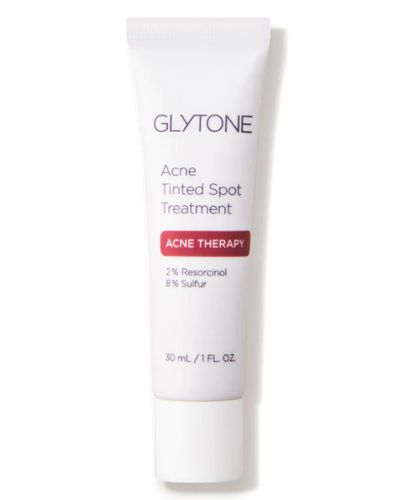 The Glytone Acne Tinted Spot Treatment is an excellent option for those who want a little bit of tinted coverage while treating their acne.
The main ingredient is 8% sulfur, which works to soothe inflammation and inhibit bacterial overgrowth, alongside 2% resorcinol, which is a somewhat controversial ingredient since it was banned in Europe in 2021 due to endocrine disruption concerns.
However, resorcinol is an effective anti-acne ingredient and is also used to treat other skin conditions such as seborrheic dermatitis, eczema, psoriasis, and even corns, calluses, and warts.
And while there are concerns regarding its potential side effects, it's deemed safe to use in small concentrations; therefore, using it in a spot treatment every now and again is definitely not an issue.
Hero Cosmetics – Mighty Patch Original – $13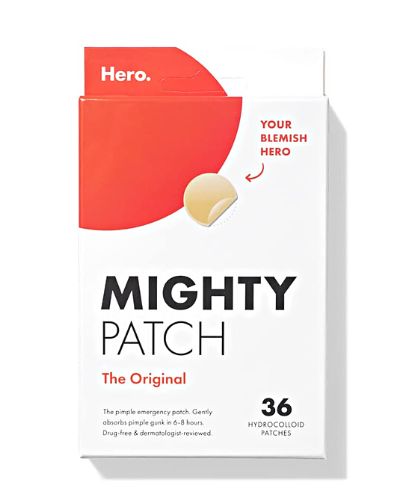 The Hero Original Mighty Patch is a hydrocolloid sticker that works by absorbing pus and oil from pimples, making them flatten and diminish in size.
It's also great for pickers as it will prevent you from squeezing your pimples and causing more inflammation.
Additionally, the stickers have a matte finish and blend well with makeup, making them an excellent option for those who want to conceal their pimples while treating them.
My name is Simone and I am a certified skin specialist. I created this website to teach my readers how to take great care of their skin and I also like to occasionally share my honest opinions on skincare products I've tried. You can learn more about me here.
The Acne Solution: Your Ultimate Guide To Flawless Complexion
An extensive, no-nonsense course showing you how to never have acne again, from a licensed Esthetician specializing in oily/acne-prone skin.