Post-inflammatory redness or erythema are reddish/pink blemishes that appear when the tiny blood vessels under the surface of our skin are damaged or abnormally dilated.
This condition can vary from pink, red to deep purple discoloration, depending on the severity.
A fun fact about post-inflammatory erythema is the terminology for this condition is relatively new, and we only started addressing it as "erythema" instead of hyperpigmentation in 2013.
A not-so-fun fact about it is there aren't many studies and research behind it to show how the condition can be treated due to being new.
We know that it will fade on its own, but it can take a long time since the capillaries will need time to recover from the damage.
But we are not helpless, and fortunately, there are a few ingredients that show promising results when it comes to speeding up healing.
In this article, I will give you my suggestions of the ten best products for post-inflammatory redness (erythema.)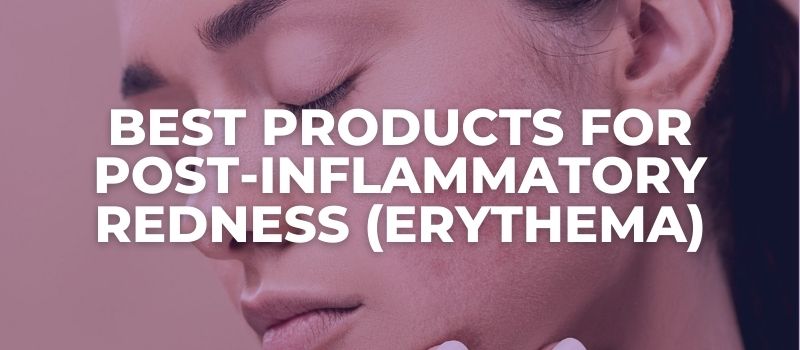 NB:
What if I told you I can show you how to never have acne again?
If you have acne and want it gone
,
read this message
.
The Ordinary – Azelaic Acid Suspension 10% – $8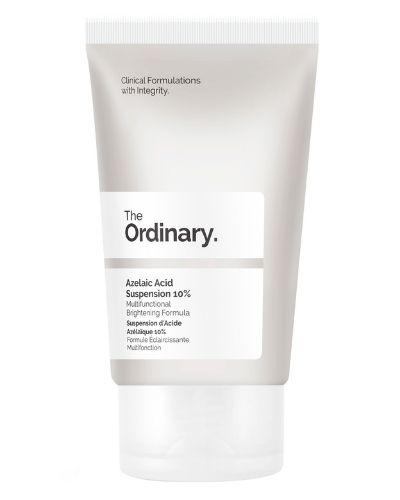 Azelaic acid is one of the few ingredients that has been proven to help with post-inflammatory redness, particularly spots left from acne.
The ingredient comes in 10% strength which can be bought over the counter, and anything from 15-20%, which is prescription strength.
The Azelaic Acid Suspension 10% by The Ordinary is a great product for oily, acne, and rosacea-prone skin, as well as for someone who is dealing with post-inflammatory redness due to previously having acne or contact dermatitis flare-ups.
The product has an instantly mattifying effect once applied to the skin, and it is packed with silicones which can help slow down transepidermal water loss.
Best for all skin types, including sensitive and rosacea-prone skin.
RELATED: Best Products for Acne-Prone Skin by The Ordinary.
Dermatica – Azelaic Acid 20% – $30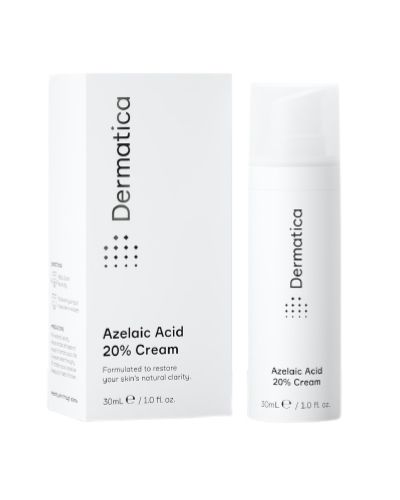 Over-the-counter azelaic acid products usually come in concentrations of up to 10%; therefore, Dermatica's Azelaic Acid 20% is the first over-the-counter azelaic acid with such a strong percentage.
As I already mentioned above, Azelaic acid is an incredible ingredient that can diminish the appearance of skin blemishes, help fade post-acne redness, pigmentation, refine the skin's surface, and reveal a brighter and more even complexion, among other actions.
Dermatica's Azelaic Acid 20% is a lightweight product which can be used in the mornings or evenings and even combined with other actives, such as exfoliating acids and retinol.
However, you have to allow your skin to get used to it initially, and since this is quite a strong product, some initial sensitivity is likely to occur.
Therefore, avoid starting it alongside acids or retinol right off the bat, and let your skin slowly get used to it first before incorporating it into your routine.
Best for all skin types; however, sensitive skins may find it a bit strong in the beginning.
Paula's Choice – 10% Azelaic Acid Booster – $36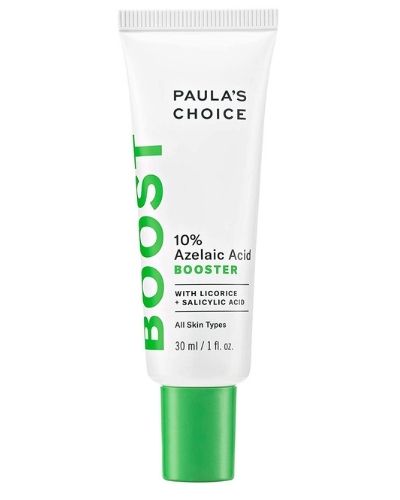 The 10% Azelaic Acid is a booster product containing a mild percentage of salicylic acid, an exfoliating acid, and 10% azelaic acid to neutralize redness and soothe the skin.
The booster is an amazing product best for anyone who is dealing with post-inflammatory redness and mild hyperpigmentation. It's also super gentle on the skin, and it's safe for use during pregnancy and rosacea-prone skins.
RELATED: Paula's Choice vs. The Ordinary Azelaic Acid Comparison Review.
SkinCeuticals – Discoloration Defense – $98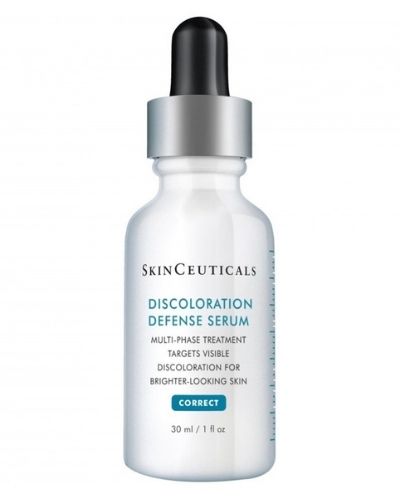 SkinCeuticals Discoloration Defense serum is a very good option if you are dealing with leftover hyperpigmentation, redness, and those purplish-brown spots that you don't know whether they are hyperpigmentation or erythema.
This multipurpose serum is a powerful treatment that uses a combination of tranexamic and kojic acids as well as niacinamide.
Tranexamic acid is another promising ingredient when it comes to diminishing post-inflammatory redness due to its ability to interfere with blood clotting.
The studies are not quite there yet, but it may be worth a try since it's already a great melanin inhibitor that helps brighten dark spots and even out the skin tone.
Additionally, the serum also contains a 5% concentration of HEPES, also called sulfonic acid, to provide even exfoliation, breaking up the dead skin cells on the skin's surface.
SkinMedica – LYTERA 2.0 Pigment Correcting Serum – $154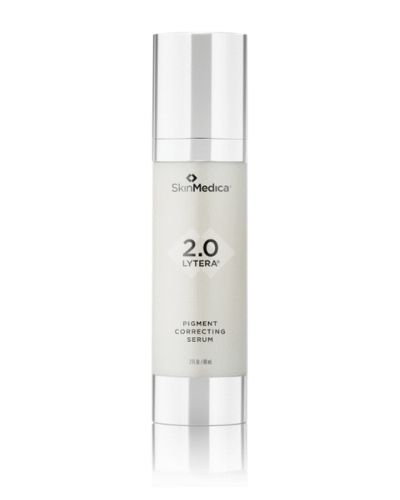 SkinMedica's LYTERA 2.0 Pigment Correcting Serum is another potent brightening serum containing a blend of tranexamic acid, niacinamide, and resorcinol, an antioxidant that helps neutralize free radicals, brighten, and even out the skin tone.
The pigment correcting serum also has signal peptides added into the mix, which are a bunch of amino acids that inhibit melanin production but can also help improve redness on the skin.
The highly targeted formula reduces and prevents dark spots and helps strengthen the skin barrier, making it one of the best brightening products on the market.
Prosacea – Rosacea Treatment Gel – $10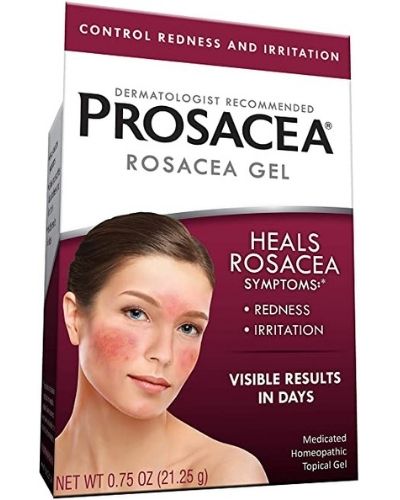 Prosacea Multi-Symptom Relief Gel is a medicated gel that helps diminish symptoms of rosacea, which usually include redness, acne-like pimples, and dryness.
But besides that, it can also help neutralize redness left from old acne by helping acne heal thanks to sulfur which is its main active ingredient.
The product also includes skin soothers like aloe and urea to help moisturize and soothe the skin.
Best for all skin types, including sensitive and rosacea-prone skin.
It's Skin – Power 10 Formula Li Effector – $16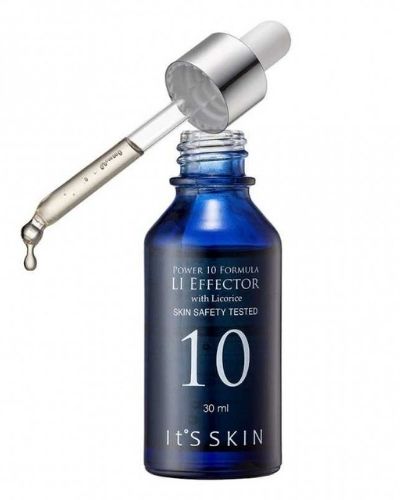 It's Skin's Power 10 Formula Li Effector is a lightweight serum whose main active ingredient is licorice extract.
Licorice extract or Glycyrrhiza Glabra extract is a legume that grows around the Mediterranean Sea, the Middle East, and central and southern Russia.
Not only is this ingredient a sweet treat from our childhood, but it's also a skincare superstar with a few extremely beneficial properties.
Licorice extract has skin brightening and depigmenting properties.
The most active part is called glabridin. The topical application of 0.5% glabridin was shown to inhibit UVB-caused pigmentation of guinea pigs.
Another study even suggested licorice is more effective than the gold standard skin-lightening agent hydroquinone. All in all, licorice is considered one of the safest skin-lightening agents with the fewest side effects.
But besides that, licorice extract is incredibly soothing to the skin, and it also has barrier-repairing properties.
This can be great for people dealing with inflammation and post-inflammatory redness because in order to have healthy skin free of scars and redness – you need to have a strong and functioning skin barrier.
So through strengthening the skin barrier, licorice extract can improve not only hyperpigmented scars but also red scars left from old acne.
CeraVe – Resurfacing Retinol Serum – $16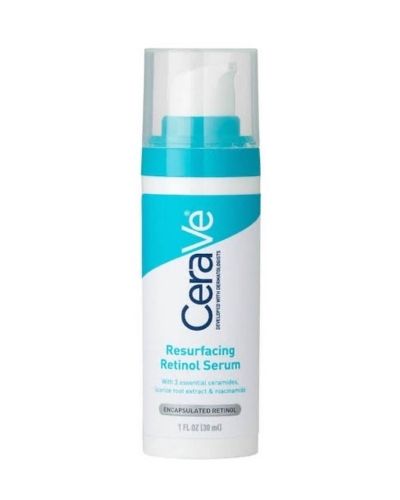 The Retinol Serum by CeraVe is a great and affordable over-the-counter brightening serum.
It contains a few beneficial properties, including barrier-strengthening ingredients such as niacinamide and ceramides, antioxidants such as licorice root that scavenges free radicals and helps improve post-inflammatory redness, emollients that soften the skin, and humectants that help retain moisture.
The product's main active ingredient is encapsulated retinol, which means it's slow-release, and it's more tolerable, and non-irritating to the skin.
Best for normal, dry, sensitive skin and retinol beginners.
RELATED: Best Serums for Textured Skin.
Alastin Skincare – Renewal Retinol 0.25 – $55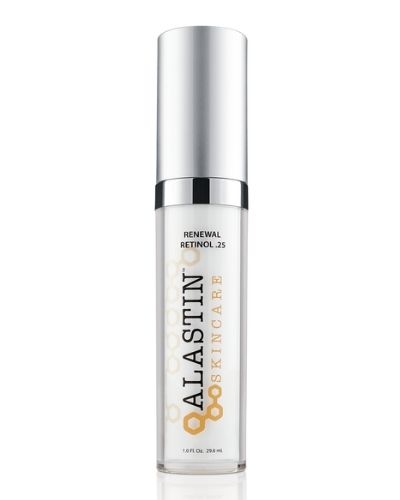 Alastin Renewal Retinol 0.25 is beginner-friendly retinol that helps improve the skin's elasticity, tone, and texture.
It contains encapsulated retinol, which means the active ingredient will be released slowly into the skin and won't cause irritation.
Besides that, the product also contains ceramides and niacinamide to help strengthen and repair the skin barrier, as well as antioxidants to neutralize free-radical damage, and oat extract, which is a powerful soothing and calming ingredient that helps improve redness and prevent irritation.
Best for all skin types, including sensitive skin and retinol beginners.
RELATED: Can You Mix Retinol with Niacinamide?
Dermatica – Prescription Tretinoin – $30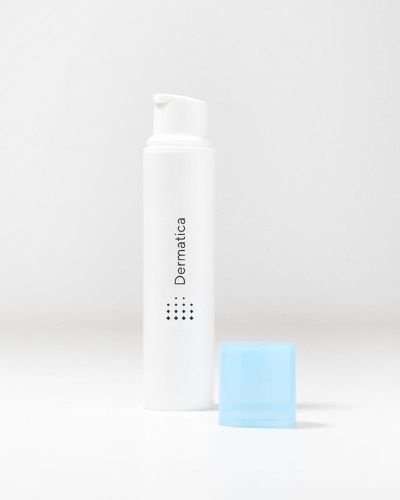 Another great product by Dermatica is their prescription tretinoin option. Besides tretinoin, which can already dramatically improve hyperpigmentation and redness on the skin, their formula often contains other pigment and redness-inhibiting ingredients such as azelaic acid and niacinamide.
Definitely worth trying out!
RELATED: Best Skincare Routine when on Tretinoin.
My name is Simone and I am a certified skin specialist. I created this website to teach my readers how to take great care of their skin and I also like to occasionally share my honest opinions on skincare products I've tried. You can learn more about me here.
The Acne Solution: Your Ultimate Guide To Flawless Complexion
An extensive, no-nonsense course showing you how to never have acne again, from a licensed Esthetician specializing in oily/acne-prone skin.