A damaged skin barrier is a result of excessive cleansing with harsh cleansers or soaps, over-exfoliation, not enough moisturizing, and not protecting your skin from UV rays.
When your skin's barrier is damaged, your skin struggles to hold onto moisture, and this will lead to uncomfortable sensations such as excess dryness, redness, irritation, or more severe burning.
When you start experiencing some of these, you need to carefully pick skincare products that will help your repair & strengthen your skin barrier (without causing more issues).
You also need to avoid products that contain ingredients such as exfoliating acids, fragrance, and alcohol, until your skin heals and strengthens.
In this article, I will give you a list of the 15 best products to repair the skin barrier with an explanation of when and how to use them properly for the best results.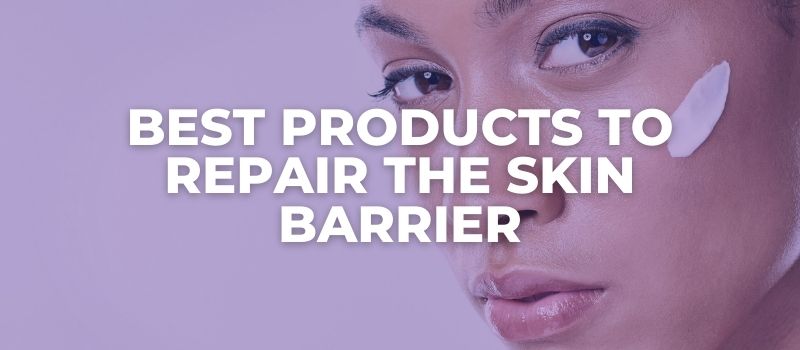 NB:
What if I told you I can show you how to never have acne again?
If you have acne and want it gone
,
read this message
.
La Roche Posay Toleriane – Hydrating Gentle Cleanser – $12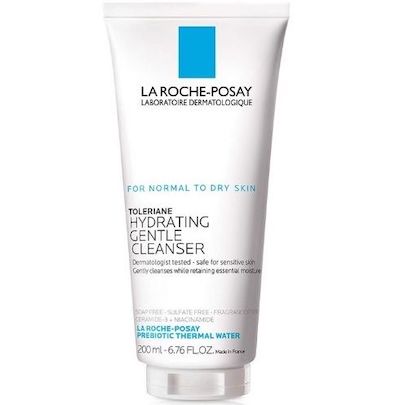 The Hydrating Gentle Cleanser from La Roche Posay's Toleriane range is an excellent cleanser for everyone that struggles with dry and irritated skin.
It is perfect for people going through lasers or microneedling and those currently getting used to strong prescription treatments such as tretinoin.
Besides that, it can be used as a first cleanser to remove makeup as it is extremely gentle and won't sting the eyes.
The Hydrating Gentle Cleanser contains LRP's exclusive Prebiotic Thermal Water as well as skin-replenishing ceramides, hydrating glycerin, and soothing niacinamide.
It has a milky texture that transforms into a soothing lather when applied and worked on the skin.
Best for dry/sensitive skin.
La Roche Posay Toleriane – Purifying Foaming Cleanser – $12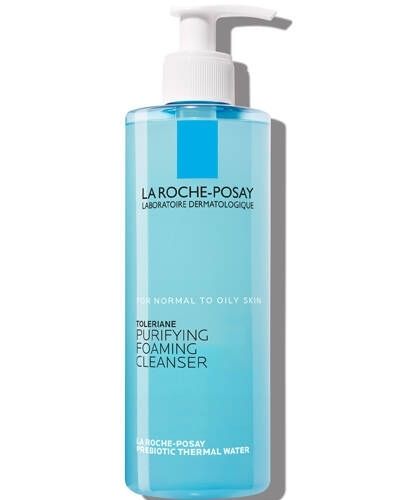 The Purifying Foaming Cleanser contains an excellent combination of ingredients that address excessively oily skin, acne, and sensitivity.
This cleanser will efficiently remove the daily grime, excess oils, and dirt off your skin, but it will also leave it soft and hydrated.
The unique blend contains hydrating humectants, soothing and repairing ingredients such as propanediol and niacinamide, and ceramides, which are the building blocks of a healthy skin barrier.
Best for combination/oily/acne-prone/sensitive skin.
Vaseline – Healing Jelly Original – $3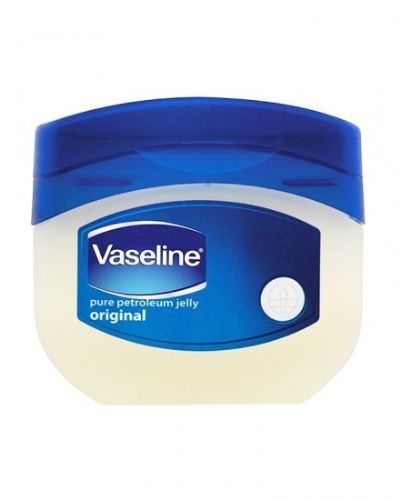 Good ole' Vaseline is one of the simplest, easiest, and most affordable ways to repair the skin barrier.
Vaseline will create an occlusive barrier on the skin, and this will help slow down the evaporation of moisture, giving the skin a little bit of something to hold on to.
The best way to use Vaseline is to slather it on clean, damp skin in the evening and leave it overnight.
It's important to note that Vaseline won't moisturize your skin, so using it as a moisturizer isn't the best idea. Still, it will soften it and allow the natural oils to repair and replenish the damaged barrier.
Best for dry/sensitive/irritated skin.
La Roche Posay – Cicaplast Baume B5 – $15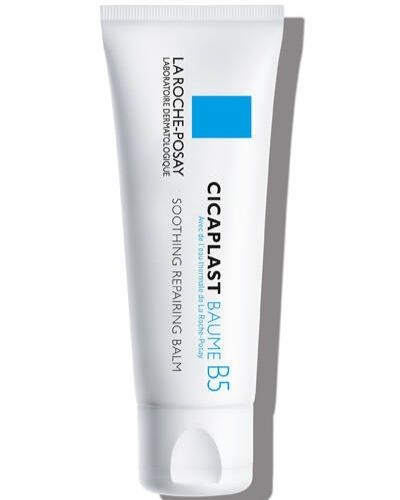 The Cicaplast Baume B5 by La Roche Posay is a product that will deliver immediate relief within the first seconds of applying it to irritated skin.
It is a thick balm that contains many soothing, repairing, and moisturizing ingredients, including softening shea butter, hydrating glycerin, soothing and repairing panthenol, nourishing magnesium, anti-inflammatory zinc, as well as Madecassoside, which is one of the four main compounds in the plant extract Centella Asiatica, an incredibly soothing and repairing agent that helps strengthen the skin barrier.
The Cicaplast Baume B5 is also non-comedogenic, and although it's quite thick and heavy, there's nothing here that will clog the pores and cause your skin to break out.
Best for dry/combo/oily/damaged/irritated/acne-prone skin.
First Aid Beauty – Ultra Repair Cream – $16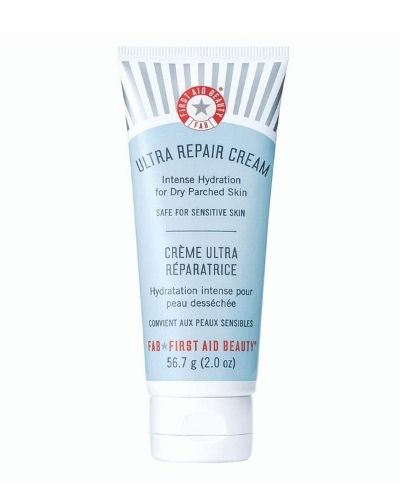 The Ultra-Repair Cream by First Aid Beauty is very similar to the Cicaplast Baume B5, only more suitable for normal, dry, and mature skin dealing with sensitivity and irritation.
It contains a few ingredients, including stearic acid, Cetearyl alcohol, and squalane that could potentially be clogging for oily, acne-prone skins; however, they are excellent emollients for someone on the dry side.
It also contains triglycerides, which are lipids naturally found in our skin's natural oil and are essential for a healthy skin barrier.
It also contains moisturizing shea butter and anti-inflammatory colloidal oatmeal and soothing licorice extract to help relieve irritation.
Best for dry/sensitive/damaged/mature skin.
CeraVe – Healing Ointment – $17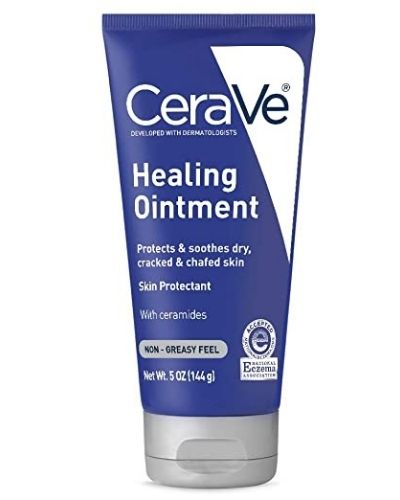 CeraVe's Healing Ointment is the more expensive version of Vaseline, plus a few extra repairing and nourishing ingredients.
It contains essential ceramides that help restore and maintain the skin's barrier and hyaluronic acid, which is an incredibly good humectant that attracts hydration to the skin's surface.
The Healing Ointment can be used on dry, irritated, and damaged skin in any area of the face and body.
Best for dry/sensitive/cracked/damaged skin.
Uriage Bariederm – Cica Daily Gel-Cream – $28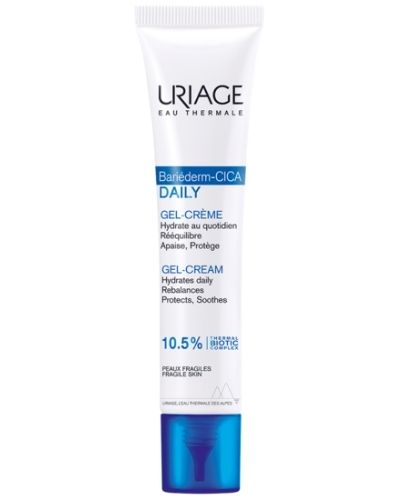 The Uriage Bariederm-Cica Daily Gel-Cream is a lightweight gel-cream that absorbs quickly and easily without leaving a heavy and sticky residue on the skin's surface.
It's a more suitable product for day use. It contains 10.5% Thermal-Biotic Complex in unison with Uriage Thermal Water to help the skin bounce back from fatigue and restore its radiance.
The look of dry skin is reduced, thanks to an infusion of Centella Asiatica and hyaluronic acid. At the same time, soothing copper-zinc encourages a comforting sensation, helping to replenish irritated and stressed-out skin.
Best for combo/oily/damaged/irritated skin.
Krave – Great Barrier Relief Serum – $28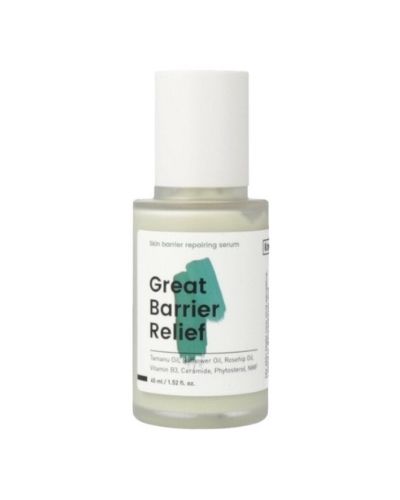 Krave's Great Barrier Relief Serum was among the best-selling products of 2020, and it is loved by a specific group of people with dry, irritated, and damaged skin.
Many people with oily and acne-prone skin hated this product, and by only looking at the ingredient list, I can tell why's that.
The Great Barrier Relief Serum is formulated with barrier-repairing ingredients such as niacinamide, squalane, ceramides, sodium PCA, urea, oat, and safflower oil.
And since it has a few oils, it is definitely not going to help someone dealing with acne, but if your skin is on the dry side and you are in desperate need of an instant irritation-relief, you are probably going to like this product.
Best for dry/mature/irritated/damaged skin.
Embryolisse – Lait Creme Sensitive – $30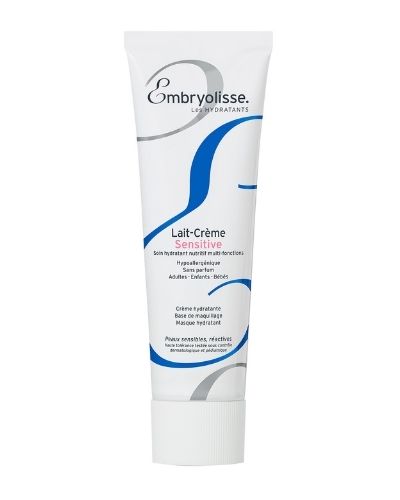 Embryolisse's Lait-Creme Sensitive is a deeply moisturizing and nourishing cream developed for irritated and sensitive skin.
The soothing cream is fragrance-free and rich in essential fatty acids and vitamins that provide the skin with nutrients and protect it from pathogenic aggressors while helping it retain moisture and a healthy barrier.
Besides that, there are also soothing aloe vera and moisturizing shea butter and beeswax in the formula, making it a thick, nourishing product suitable for dry, mature, sensitive, and irritated skin.
Best for dry/sensitive/damaged skin.
First Aid Beauty – Ultra-Repair BarriAIR Cream – $30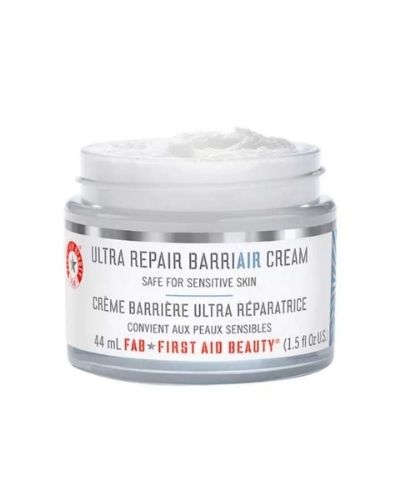 First Aid Beauty's Ultra-Repair BarriAIR Cream is a rich and creamy balm that helps strengthen the skin barrier and helps the skin retain moisture.
It contains essential ceramides and hyaluronic acid in three molecular sizes to ensure the skin is hydrated on multiple levels and oxygen to energize the skin and help other ingredients penetrate better, and linoleic acid that will further fortify and strengthen the damaged skin barrier.
It is suitable for all skin types; however, it may not be the best option for acne-prone skin due to a couple of emollients that are on the heavier side.
Best for dry/combo/oily/irritated/damaged skin.
La Roche Posay – Toleriane Sensitive Fluide – $30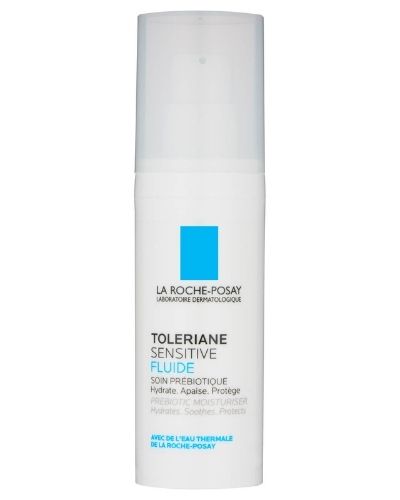 The La Roche Posay Toleriane Sensitive Fluide is a lightweight emulsion specially formulated for problematic skins that get clogged and break out from anything.
It is formulated with only ten ingredients, including water, caprylic/capric triglyceride, lipids important for skin health, soothing propanediol, brightening and balancing niacinamide, and a few other humectants and stabilizers.
It's also safe for fungal acne, which is another problem triggered by many products marketed towards acne-prone skin.
And lastly, it's exceptionally good for ultra-sensitive skin. It's formulated without fragrance or fragrant components and drying alcohols.
Best for combo/oily/acne-prone skin.
Paula's Choice – Barrier Repair Moisturizer with Retinol – $33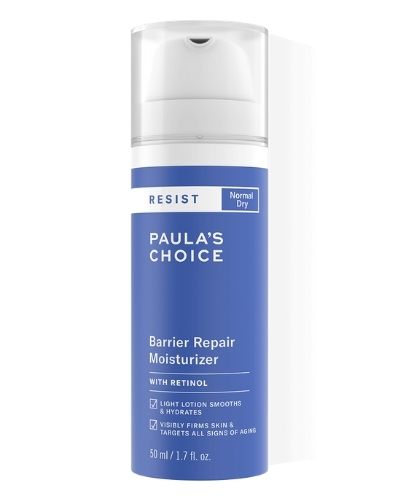 Paula's Choice Barrier Repair Moisturizer is a thick, creamy moisturizer that helps slow down transepidermal water loss by creating a lightweight barrier on the skin's surface.
The silky-smooth cream is infused with a very low strength of 0.01% retinol to further strengthen the skin's elasticity and barrier but without the irritation often associated with stronger retinols.
It is ideal for evening use, and it's a good match for dry and mature skin.
Best for dry/combination/mature/dehydrated/damaged skin.
LANEIGE – Cica Sleeping Mask – $34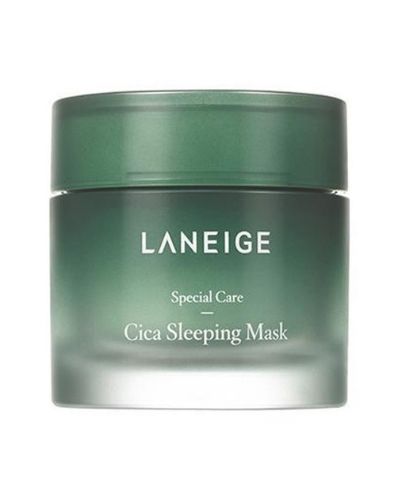 The LANEIGE Cica Sleeping Mask is a beautiful, creamy mask that can be used as an overnight moisturizer or a treatment for dry, dehydrated, damaged, and irritated skin.
It contains soothing and repairing ingredients, including panthenol, propanediol, squalane, Asiatic and Madecassic acid, as well as a couple of oils that will soften and smooth out dry and rough patches.
Best for dry/dehydrated/combination/irritated/damaged skin.
Paula's Choice – Omega + Complex Moisturizer – $35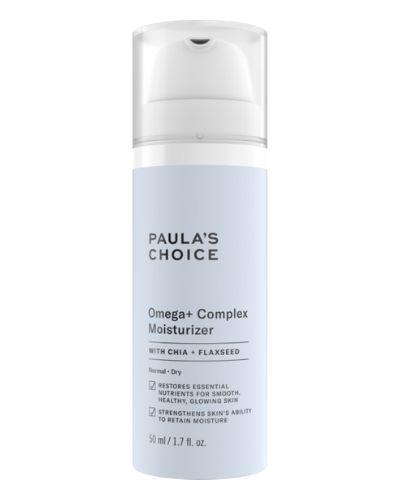 Paula's Choice Omega + Complex Moisturizer is another great product with a lightweight, whipped texture that helps regenerate and energize dull, tired, dehydrated, and dry skin.
It contains a blend of superfood omega fatty acids and replenishing ceramides that help strengthen the skin's moisture barrier and promote a radiant complexion.
It also contains passion fruit and guava extracts which are rich in antioxidants and help improve the skin from free-radical damage.
Best for dry/dull/sensitive/mature/irritated skin.
SkinCeuticals – Triple Lipid Restore 2:4:2 – $130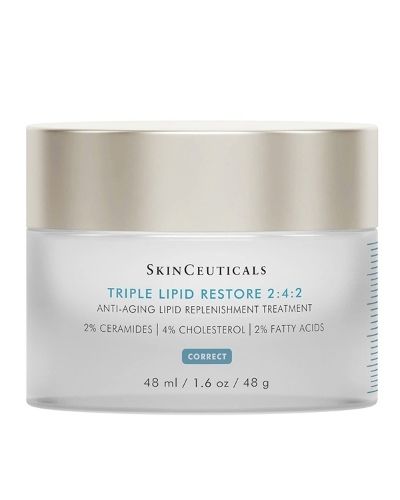 Triple Lipid Restore 2:4:2 is an anti-aging cream that contains the optimal lipid ratio of 2% pure ceramides 1 and 3, 4% natural cholesterol, and 2% fatty acids, which aims to nourish the skin while simultaneously correcting signs of aging.
The unique lipid correction cream will also strengthen the skin barrier and encourage the skin to repair itself from damage, be it caused by an allergen, an external pathogen, damaging UV rays, or the natural aging process.
Triple Lipid Restore 2:4:2 has a creamy, fast-absorbing texture, and the moisturizer gives an instant radiance as soon as applied to the skin.
It is a great product for dry, mature skin. Still, it can also be used as post-procedure aftercare or when starting retinol to prevent the initial irritation often associated with it.
Best for mature/dry/damaged skin.
---
---
My name is Simone and I am a certified skin specialist. I created this website to teach my readers how to take great care of their skin and I also like to occasionally share my honest opinions on skincare products I've tried. You can learn more about me here.
The Acne Solution: Your Ultimate Guide To Flawless Complexion
An extensive, no-nonsense course showing you how to never have acne again, from a licensed Esthetician specializing in oily/acne-prone skin.