If you are unfamiliar, essences are one of the most popular products in Asian skincare regimens and it comes as a no surprise that they are quickly taking the Western markets by storm.
Essences are known for their moisturizing and hydrating powers. Their consistency can range anywhere from really watery to thicker jelly, which places them somewhere between a toner and a serum.
So, in this article, we will be talking about one of the most popular essences in today's market. I will be giving you my opinions and explaining my personal experience with using this product.
This is my COSRX Advanced Snail 96 Mucin Power Essence review.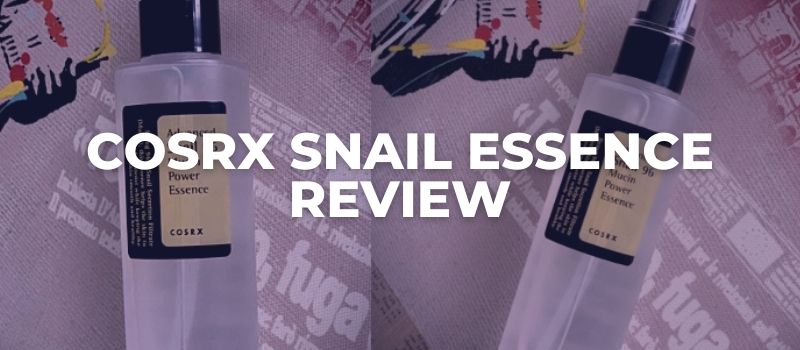 NB:
I can show you how to never have acne again.
If you have acne and want it gone
,
read this message
.
What Is Advanced Snail 96 Mucin Essence?
The Advanced Snail Mucin 96 Power is an essence which is a product that has a little bit of a thicker consistency than a toner, but a slightly lighter consistency than a serum, which places it somewhere in between these two products and this is also the ideal way to use it.
What Does The COSRX Snail Essence Do?
The COSRX Snail essence is formulated with snail secretion filtrate and it gives your skin a shot of hydration and intense repair.
Snail mucin is a gooey ingredient that has the ability to repair dry patches on the skin as well as help with dehydration and therefore deliver that nice glow and plumpness well-hydrated skins have.
It also helps protect the skin from moisture loss and thus improving skin elasticity. Additionally, snail mucin is a non-irritating ingredient that is suitable for very sensitive and irritated skin.
What Are The Main Ingredients?
Snail Secretion Filtrate, Betaine, Butylene Glycol, 1,2-Hexanediol, Sodium Polyacrylate, Phenoxyethanol, Sodium Hyaluronate, Allantoin, Ethyl Hexanediol, Carbomer, Panthenol, Arginine
If you have read some of my previous articles, you may already know that I love a short ingredient list in a product.
Skincare products don't have to contain many ingredients that may be good or may not, but a few excellent ingredients are more than enough to allow the product to work perfectly.
So, let's get down to the meat and potatoes of this ingredient list and analyze a few of the main ingredients in the COSRX Snail Mucin Essence.
Snail Secretion Filtrate
Snail secretion filtrate is a pretty badass humectant moisturizer that works by pulling moisture from the environment and placing it back into the skin.
Additionally, it can act as an antioxidant by scavenging free radicals and increasing the activity of an enzyme called superoxide dismutase (SOD) responsible for disabling harmful free radical properties.
Moreover, it can improve the skin's structural support and hold it up by increasing the production and resilience of the fibroblasts which are the cells responsible for producing collagen and elastin.
Chemically speaking, snail slime is a complex mixture of proteoglycans, glycosaminoglycans, glycoprotein enzymes, hyaluronic acid, copper peptides, and trace elements such as copper, zinc, and iron.
The simple translation to this is that snail slime is loaded with a bunch of goodies your skin will enjoy.
Betaine
Betaine is a gentle and hydrating ingredient that can be derived from sugar beet or produced synthetically. Betaine is a natural osmoprotectant, which means that it has the ability to attract water away from the protein surface, thus protecting them from denaturation.
It also helps the skin adapt to moisture losses and gains, essentially balancing out skin hydration.
Allantoin
A super common soothing agent in skincare products, allantoin can be found naturally in the roots and leaves of the comfrey plant and it can also be produced synthetically.
Allantoin has softening, soothing, and wound-healing properties, making it a great ingredient for sensitized or compromised skins.
Consistency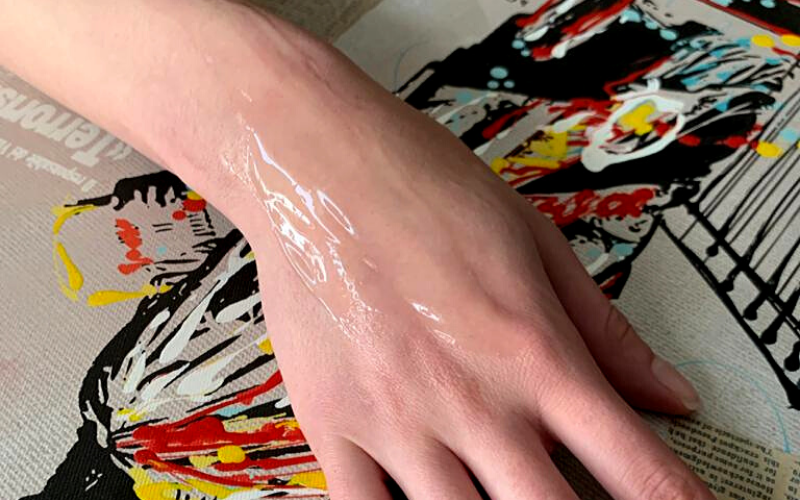 The COSRX Snail Essence has a lightweight texture; however, since 96% of the product is snail secretion filtrate, the consistency is a little gooey and is just slightly more solid than water, something that belongs more to the jelly side rather than liquid.
It also feels a little sticky to the touch and once applied to the skin, so if that's something you are picky about like I am, it is probably best for you to invest in another essence instead.
I can't say I am super pleased with the texture because I am not someone that enjoys the stickiness, however, if you are absolutely fine with it, maybe you will like this product.
Smell
The snail mucin essence contains no added fragrance and since it is also transparent, I couldn't figure out what type of smell should I be expecting, but I was pleasantly surprised when I opened it and detected no scent at all.
I mean, snails don't have a particular smell, am I right? And since all the ingredients in this product are also odorless, it's not like there should be something here.
Performance
I have oily and acne-prone skin and everyone says this product is excellent for acne. But if we are going to keep it real, this product doesn't contain any ingredients that are beneficial for acne like salicylic acid, mandelic acid, or benzoyl peroxide.
The good thing is that it probably won't make your breakouts worse, but it will not help your acne disappear, either.
So, that's a false info people should stop throwing around on the internet as I have read many people's comments saying that this only helped minimize their breakouts when this is surely not the case since the ingredients speak for themselves.
Additionally, I didn't enjoy the stickiness as I already stated above, so I did not enjoy this product on my skin.
Furthermore, I feel like it made my pores enlarge a little and while I am cool with the fact that I have enlarged pores as every normal person does, I certainly don't want them looking even bigger.
Now, I am not saying that this is a bad product at all. It has nice and clean ingredients and it seems to be performing very well for many people that swear by it, but it is definitely a pass for me.
It stayed sitting on my shelf for a little while before my husband who has dry skin tried it and liked it, so it's his thing now, but not mine.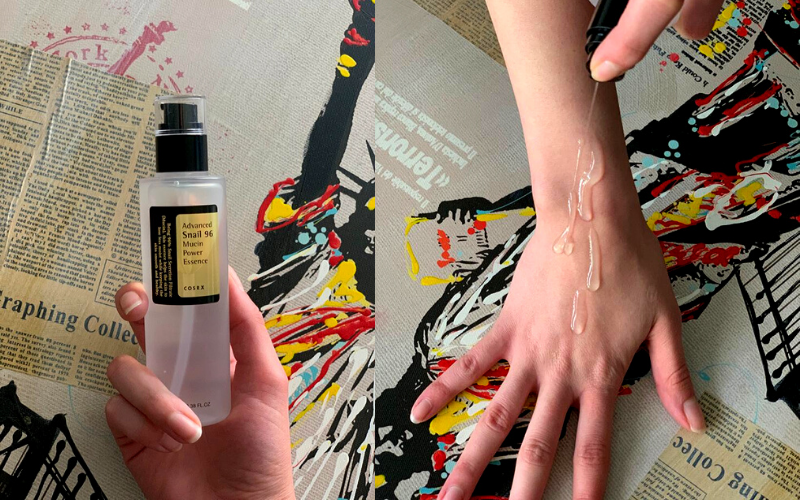 Where To Buy The COSRX Advanced Snail 96 Mucin Essence?
The best place to buy the COSRX Advanced Snail 96 Mucin Essence is Amazon because of the fast shipping as well as the best price.
While you can still find it for a good price on their official website and Soko Glam, getting it from Amazon is always a few dollars cheaper.
Related Snail Mucin Questions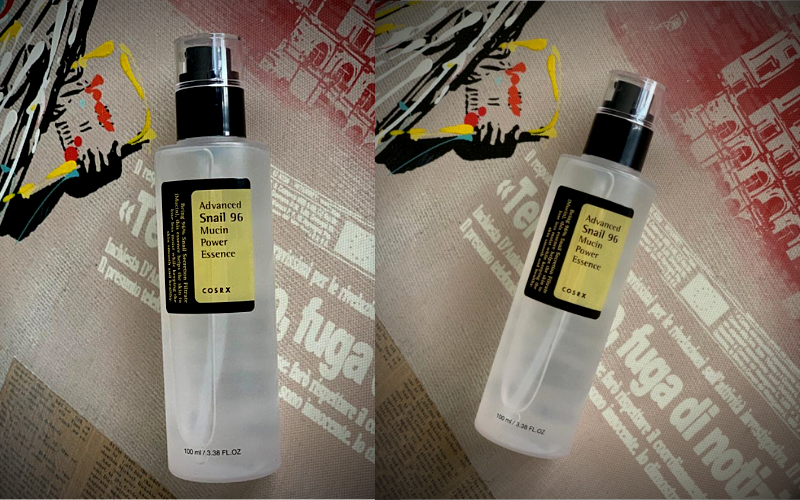 Here are a couple of frequently asked questions regarding snail mucin in general.
How Do You Get Snail Mucin?
While this product is clearly not vegan because it contains an animal derivative as the main ingredient, it is definitely cruelty-free.
COSRX is very transparent on how they extract their ingredients and they have disclosed on numerous occasions that no animals are being harmed during the production of their products.
Harvesting the slime involves having the nocturnal snails crawl around a mesh net in a darkened room for no more than 30 minutes at a time before they are transferred back to their natural habitat and left to rest.
Additionally, they heat their mesh nets in order to increase humidity for a terrarium effect and this, in turn, ramps up the mucin production.
The snails are never harmed, and their moisturizing slime is then collected and pasteurized for the production bottle.
Is Snail Essence Good For Acne?
Snail essence is good for acne because it will surely not aggravate them unless you are allergic to the ingredient itself.
However, snail mucin can hydrate and plump the skin. Still, this single ingredient will not banish your acne because, as we all know, some of the most useful acne treatments include exfoliating acids such as salicylic acid, mandelic acid, and benzoyl peroxide.
Snail mucin will not exfoliate your skin, and therefore, while you can still use it safely on acne-prone skin, you should definitely try something else in order to treat your acne successfully.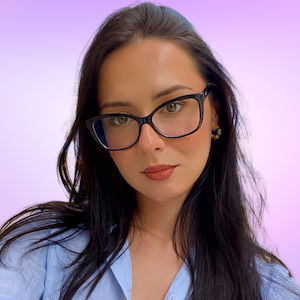 My name is Simone and I am a certified skin specialist. I created this website to teach my readers how to take great care of their skin and I also like to occasionally share my honest opinions on skincare products I've tried. You can learn more about me here.
The Acne Solution: Your Ultimate Guide To Flawless Complexion
An extensive, no-nonsense course showing you how to never have acne again, from a licensed Esthetician specializing in oily/acne-prone skin.