So, right off the bat, I am going to go ahead and say that I like both products.
However, even mothers of twins have a favorite child, so having a favorite product even though they are supposed to do the same thing is just something that comes naturally, I suppose.
Having tried, used, and liked both BHAs mentioned, several factors helped determine which one of these is a little bit better than the other, so this is what I will be talking about in this article.
I've heard many people say that the COSRX BHA liquid is supposed to be a cheaper dupe of Paula's Choice BHA and while I can see where this is coming from, it is surely not the case.
As we all know, Paula's Choice is a great brand and her exfoliating products are the ace in the skincare game; however, COSRX has been steadily making a name for itself for effective yet affordable skincare.
So, due to curiosity and increased availability of BHA alternatives, I decided to give these products a whirl and see what's up. This is what's up. Let's start from the beginning.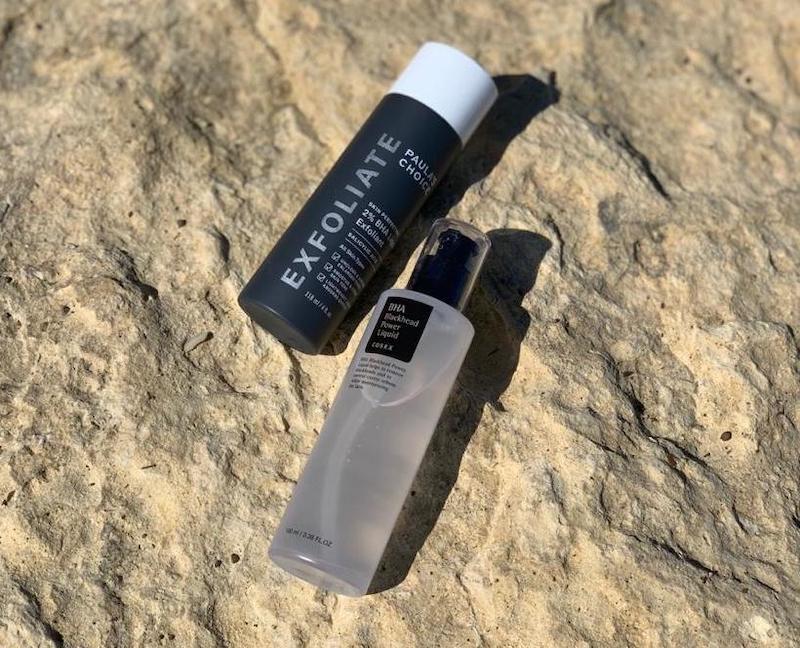 NB:
I can show you how to never have acne again.
If you have acne and want it gone
,
read this message
.
What Does BHA Do To The Skin?
First, let's start with a brief reminder of what BHA exfoliants are about:
BHA stands for Beta hydroxy acid and the primary ingredient for BHA is salicylic acid.
It is a chemical exfoliant that is oil-soluble, which means it can cut through the surface oil and penetrate deeper into the pores to clear out sebum, dead skin cells, and accumulated white blood cells.
To be effective, BHA must have a pH between 3 and 4, which tells us it is slightly acidic. Therefore, BHA exfoliants are notorious for being more suitable for oily skin types as well as skins prone to acne breakouts.
On the other hand, BHA is also known for not always being that suitable for dry skin types as it has the tendency to further dry the skin out.
How to use BHA exfoliants for maximum effect?
Again, I always like to point out that when you are using exfoliating acids – you have to give them time to work; therefore, it is always best to use these ingredients in a leave-on product (such as exfoliating solutions, toners, or serums) rather than having them in a cleanser that you are going to wash off after 10 seconds. That's pretty useless.
I typically apply BHA exfoliants only at night, right after I've washed my skin (I rarely use a toner, unless I feel a little extra) – then I wait for about 10 minutes (I brush my teeth, I scroll through Instagram, I sometimes hold a concert in front of the mirror) before applying my serums and a moisturizer.
So, my skin type is oily. And I mean oily, dude. I am also acne-prone and often wake up with a few new pimples here and there, regardless of how good I try to take care of my skin. It's just how it is and I don't let it affect me anymore as much as it used to. You shouldn't, either.
I also have sensitivity and redness on my cheeks and this is the area that almost always rebels a little whenever I introduce a new exfoliating product in my routine.
So here are my thoughts and comparison of the two BHA exfoliants.
COSRX BHA Blackhead Power Liquid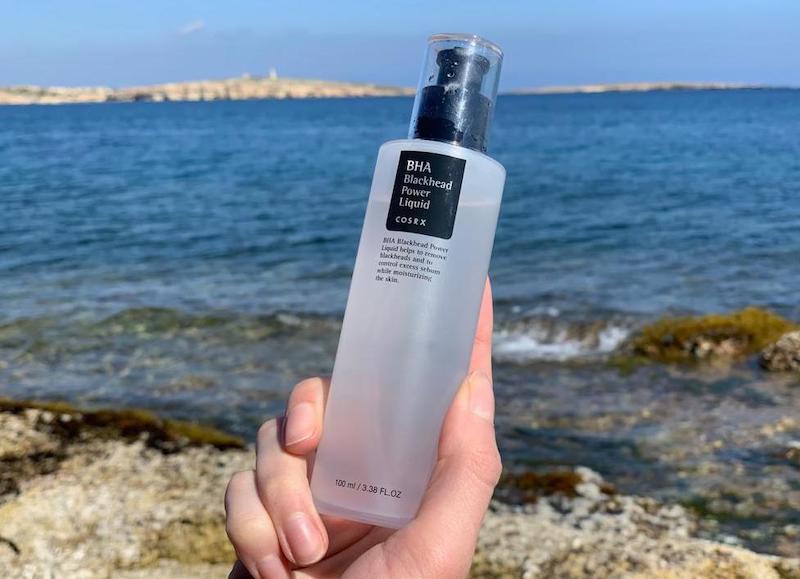 COSRX is a Korean skincare brand that has acquired a cult following from all over the world in a very short amount of time. Beauty gurus swear by it, everyone and their grandma raves about it, so the only thing that was left for me to do is to buy and try some of their products.
One of their most popular product is the BHA Blackhead Power Liquid that is supposed to rid your skin from blackheads (no brainer), acne, dead skin cells, soothe inflammation, give you a brighter and glowier complexion, etc.
Bold claims, but alright, I'll take it. Let's take a look at some of the main ingredients.
Ingredients
It always pleases me when I see a product that is simple, straight to the point, and it has the ingredient list to prove it. The BHA Blackhead Power Liquid contains only 11 ingredients and all of them are looking pretty amazing.
Salix Alba (Willow) Bark Water, Butylene Glycol, Betaine, Niacinamide, Betaine Salicylate, 1,2-Hexanediol, Sodium Hydroxide, Sodium Hyaluronate, Panthenol, Xantham Gum, Ethyl Hexanediol.
That's all and it's looking really pretty. Let's explain some of them
Salix Alba (Willow) Bark Water
This one is a plant extract that contains salicin, a substance that when taken orally is converted by the digestive process to salicylic acid (beta hydroxy acid).
However, when used in cosmetics, salicin has to be converted into salicylic acid with the help of enzymes and it remains stable only under acidic conditions.
Most importantly, this ingredient has soothing benefits for the skin, which may help with inflammatory conditions like acne.
Niacinamide
I love Niacinamide and it is one of my favorite ingredients in skincare products. It is a super-effective, skin-restoring ingredient that offers multiple benefits for all skin types.
For oily skins, it visibly improves the appearance of pores and also balances out the oil production. For aging skins, it can improve uneven skin tones, dullness, and fine lines.
Additionally, for damaged skins, Niacinamide is great for improving a weakened or damaged skin barrier.
Betaine Salicylate
This is an alternative ingredient to salicylic acid, primarily used in countries where the usage of salicylic acid is prohibited (such as Korea).
It's a promising alternative ingredient, however, it requires double the amount of salicylic acid in order to offer similar results. For example, if standard skincare products contain 2% salicylic acid, you want to use 4% of betaine salicylate to get a similar effect.
Sodium Hyaluronate
This is the salt form of the skin-replenishing ingredient hyaluronic acid. It is considered more effective for the skin than pure hyaluronic acid due to its greater compatibility.
Consistency
The BHA Blackhead Power Liquid has an essence-type consistency, however, it is more on the liquid side than those typical and slightly thicker Korean essences (take COSRX's Snail Mucin Essence, for example).
The texture makes this product easy to glide when used on damp skin and a little bit of product truly does go a long way. One to two pumps are enough for me to cover my entire face and more.
My recommendation is to apply it directly on the face instead of applying it on a cotton pad first as this saves you from wasting more of the product.
Scent
The BHA Power Liquid doesn't contain artificial fragrance, therefore, although I was expecting somewhat of smell, this truly smells like absolutely nothing.
I want to say that it has a veeeeeery slight medicinal scent to it because that is how BHAs usually smell, but nope, there is absolutely nothing here.
Performance
What I've noticed about this product though is that you have to use it for a long time in order to see the results it claims.
After using this since the end of November while writing this review in April, I have noticed the results it claims to give. Still, it takes a long time for those annoying, embedded blackheads to dissolve and disappear (especially the ones on the nose).
But it's not all grey and this product does give some quick results in the sense of making your skin look brighter and smoother after as little as several uses.
In case you are wondering, no, the acne won't disappear overnight, however, you will wake up with a brighter and glowier complexion and somewhat soothed redness.
As for the pores, yes, it certainly makes them appear smaller and this is what pleased me the most about it. Also, it doesn't leave a sticky residue once applied on the skin, thanks f*ck for that!
Additionally, I've noticed that everything over two pumps is a lot for the skin, especially for those that tend to show sensitivity, so be mindful of that and don't use more than one full pump. You could certainly do well with a little less, though.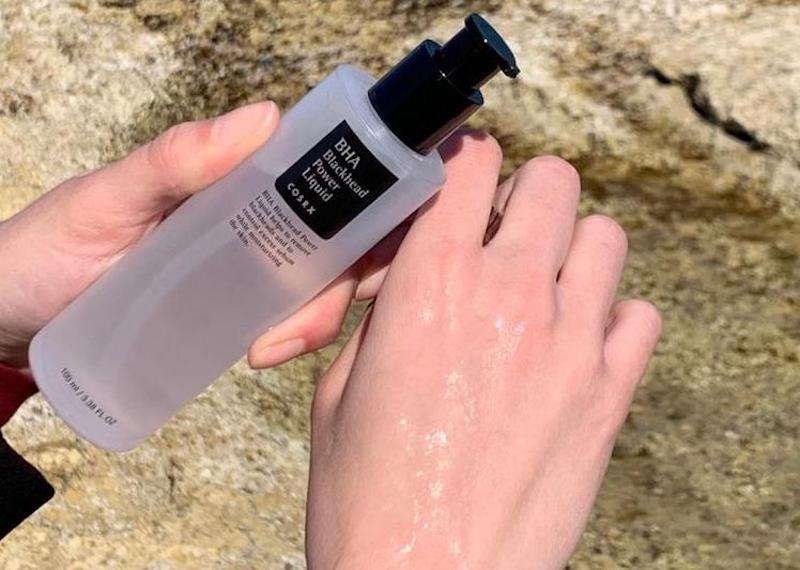 COSRX BHA Blackhead Power Liquid Pros:
Good price ($24 for 100ml, but you can find it as low as $18 on some sites)
Pump bottle
Absorbs quickly and doesn't leave a sticky residue
Gives instant brightening and skin-soothing results
Offers good hydration due to the hyaluronic acid
Minimizes large pores
A small amount (only 1 pump) needed for the entire face
COSRX BHA Blackhead Power Liquid Cons:
Takes long and consistent use to get rid of deeply embedded blackheads
May be irritating for those with sensitive skin
Where to buy?
You can buy the COSRX BHA Blackhead Power Liquid on the following sites:
Paula's Choice BHA Liquid Exfoliant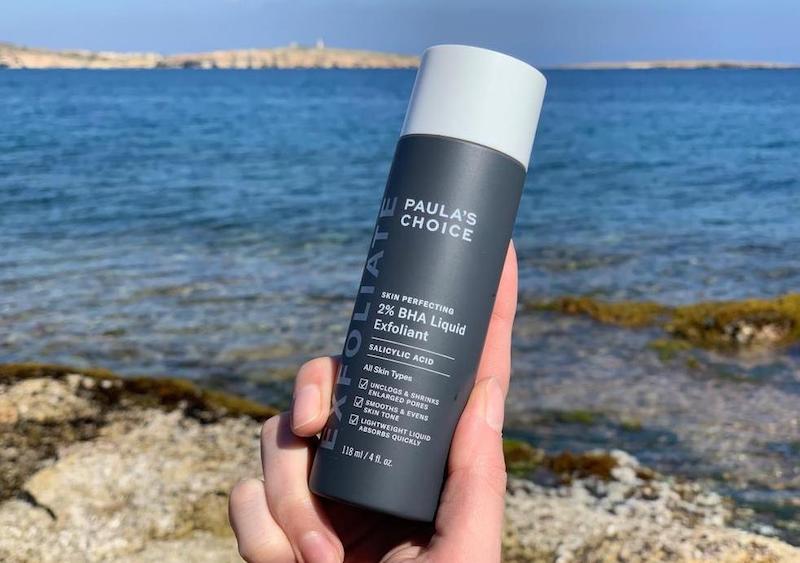 Paula's Choice 2% Skin Perfecting BHA Liquid Exfoliant (what a mouthful!) is an exfoliating solution marketed as a daily facial treatment that promises to treat acne, blackheads, enlarged pores, as well as provide an even skin tone and contribute to a smoother complexion.
I've seen a lot of people online saying this is a toner, however, I beg to differ. Exfoliating solutions such as this one is something you typically use after a toner, but it wouldn't be a sin if you skipped the toning part, in my opinion.
Ingredients
Water, Methylpropanediol (hydrator/penetration enhancer), Butylene Glycol (slip agents/penetration enhancers), Salicylic Acid (beta hydroxy acid/exfoliant), Camellia Oleifera (Green Tea) Leaf Extract (anti-irritant/antioxidant), Polysorbate-20 (solubilizing agent), Sodium Hydroxide (pH balancer), Tetrasodium EDTA (chelating agent)
I just love it when there is a short and straight-to-the-point ingredient list!
So, besides plain ol' water and other super-hydrating ingredients such as Methylpropanediol and Butylene Glycol, the two main superstar ingredients in this product are:
Salicylic Acid
Salicylic acid is used as the gold standard in skincare products intended for oily and acne-prone skins.
It is an oil-soluble ingredient, which means it can cut through the surface oil to get inside the pores and remove the buildup of sebum, bacteria, dead skin cells, and accumulated white blood cells.
Furthermore, it is a very gentle, anti-inflammatory ingredient that is easily tolerated by the skin and it takes very little time to get used to.
Camellia Oleifera (Green Tea) Leaf Extract
Camellia Oleifera has antioxidant and anti-inflammatory properties as well as skin-soothing properties that show a significant promise for improving the appearance of damaged skin, according to research.
Furthermore, according to this study from June of 2013, green tea extract showed to have a prolonged moisturizing effect, reduce skin roughness, as well as the ability to improve skin wrinkles.
Consistency
The consistency of this product is slightly oily and overall very rich.
It feels like pure decadence when applied on the skin as it coats it with a nice layer of hydration due to the big drop of Methylpropanediol, which is an excellent moisture magnet but a little heavier than hyaluronic acid, for example.
As soon as I applied it the first time I immediately got a little worried that it won't work very well for me because my skin is already super-oily, therefore, I feared this rich texture will create that unnecessary layer of grease.
But that wasn't the case, however, there is a trick – a little goes a long way.
We sometimes get carried away with skin care products and we think that the more we apply – the more benefits we will receive, however, this is not a good way to go about any skincare product, and the BHA Liquid Exfoliant isn't an exception.
The skin can only absorb as much, therefore, the less you apply – the better it will absorb.
Scent
Paula's Choice Skin Perfecting BHA Liquid Exfoliant has no added fragrance to it, however, it comes with a slight scent. It's not horrible but there is a slight "laboratory" type of smell to it.
Performance
I am a little bit biased when it comes to comparing the two BHAs, simply because Paula's Choice product gave me overnight results, which I never thought was possible before trying it out.
I had a breakout on my forehead that consisted of a few smaller pimples and one slightly bigger, angry cyst towards my left temple so I decided it was the perfect time to put it to a test and see how this product will handle them.
While the breakout didn't get 100% clear the next morning, believe me when I say there was the cyst left that was now a small pimple, while the small pimples on my forehead from the previous night were gone. Gone!
I gasped and couldn't believe what I was seeing, so can you really hold my love and bias for this product against me?
As for the pores, this didn't make a massive difference right off the bat like the COSRX one due to its oily consistency, however, my pores also appeared significantly smaller in the morning.
And the glow! The glow was surreal. My skin looked amazing that morning and every other morning since I introduced this product in my routine and that is why I cannot recommend it enough!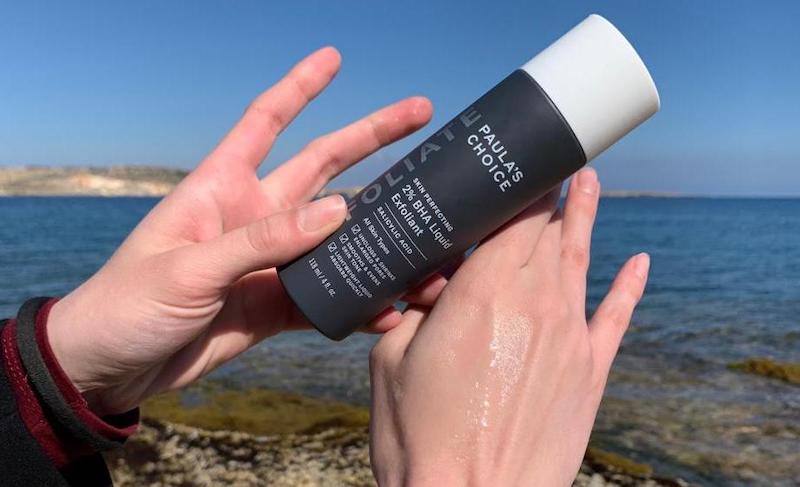 Paula's Choice BHA Liquid Exfoliant Pros:
Gentle/non-irritating
Soothes the skin
Makes small pimples disappear overnight (literally)
Significantly minimizes huge and painful cysts
Offers excellent hydration
Minimizes large pores
A tiny amount needed for the entire face
Comes in a travel-size
Paula's Choice BHA Liquid Exfoliant Cons:
Although it is a little pricey ($30 for 118ml), this product is definitely worth every cent
No pump on the bottle which makes it a bit awkward to use
It has a slight medicinal scent
Where to buy?
You can purchase Paula's Choice BHA Liquid Exfoliant on the following sites:
---
Related Questions:
Is BHA & Salicylic Acid The Same?
Yes! BHA stands for Beta hydroxy acid and the only BHA ingredient is salicylic acid. It is an oil-soluble chemical exfoliant, which means it can cut through the surface oil and penetrate deeper into the pores to clear out sebum, dead skin cells, and accumulated white blood cells.
Is It Safe To Use BHA Every day?
No, I don't recommend using BHA every day as this may contribute to over-exfoliation, peeling, irritation, and
increased sun sensitivity
. Exfoliation should be reserved for 2-3 times a week.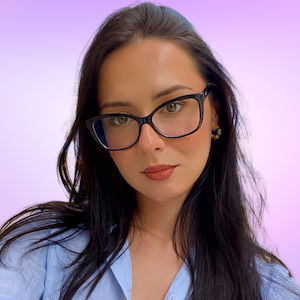 My name is Simone and I am a certified skin specialist. I created this website to teach my readers how to take great care of their skin and I also like to occasionally share my honest opinions on skincare products I've tried. You can learn more about me here.
The Acne Solution: Your Ultimate Guide To Flawless Complexion
An extensive, no-nonsense course showing you how to never have acne again, from a licensed Esthetician specializing in oily/acne-prone skin.