A direct high-frequency facial is a safe, non-invasive treatment that involves using a machine to infuse oxygen into the skin and rejuvenate it.
It works in a way that a glass electrode is firmly inserted into the handpiece, and an alternating electrical current is generated by the machine, which then passes through the glass electrode upon contact with the skin.
The electrical current ignites the inert gas within the electrode, which produces healing electrical light energy and ozone formation, providing various benefits for the skin.
In this article, I'll be answering some of the most common questions people have about direct high-frequency facial treatment regarding treating acne.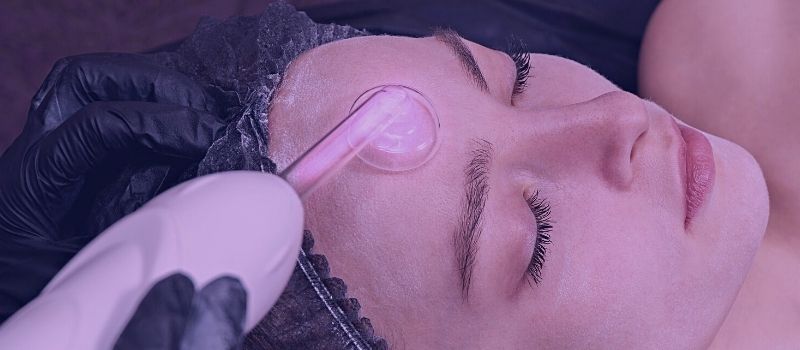 NB:
I can show you how to never have acne again.
If you have acne and want it gone
,
read this message
.
What is the Treatment Process?
A direct high-frequency treatment is very quick and easy.
The treatment process involves preparing the skin with a deep cleanse to ensure there aren't traces of makeup, skin oil, or dirt.
After that's done, a gel containing active ingredients is applied to act as a medium between the skin and the electrode and deliver targeted actives based on skin type and skin concern.
For example, if you are dealing with acne, a gel that contains salicylic acid, tea tree, or enzymes may be applied to purify the pores and help clear the skin.
Once the gel is evenly spread across the face, the esthetician can then place a thin layer of sterile gauze as this is how ozone is produced, which is a purifying gas with antibacterial properties.
Once everything is prepared, you will just have to lay still as the high-frequency electrode is rolled gently across your face.
You won't be in any pain; however, you may experience some mild tingling and a metallic taste in your mouth, especially if you have dental fillings or wear braces.
Some estheticians won't recommend a high-frequency treatment if you wear braces as in many cases they are considered to be a contraindication, but it depends on the professional you go to.
Additionally, the only other thing you might find uncomfortable is the loud buzzing noise the machine produces, which is why people suffering from migraines aren't the ideal candidate for a direct high-frequency facial.
How Long Does it Take?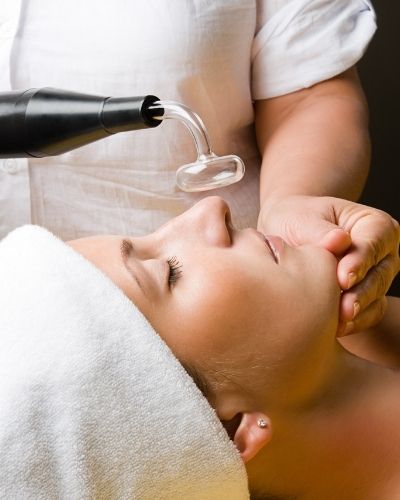 Direct high-frequency is a relatively quick and easy treatment and usually lasts anywhere from 15-20 minutes, depending on how long the preparation takes.
Additionally, direct high-frequency is more of an add-on treatment so it usually comes after a prior treatment such as extractions, hydrafacial, dermaplaning, etc., which can bump up the duration up to an hour or even longer.
Does Direct High-Frequency Hurt?
Direct high-frequency doesn't hurt; however, it can be uncomfortable for some.
During the treatment, you might experience a mild tingling sensation, a metallic taste in your mouth, and even a headache (which isn't common, but it's possible.)
Therefore, you need to tell your esthetician about any potential contraindications you might have, such as migraines, pregnancy, stents, excessive dental fillings, braces, etc.
These might stop you from having the treatment at the time being; however, it's always better to be safe and opt for something that won't potentially exacerbate any health concerns.
Who is an Ideal Candidate for Direct High-Frequency Facial Treatment?
Direct high-frequency can be a great treatment for anyone because it all depends on the medium you are using. If the gel contains anti-aging ingredients, it would also be great for anti-aging and rejuvenating purposes.
However, ideal candidates for direct high-frequency are people with excessively oily skin, congestion, and mild to moderate acne.
How Long Does it Take to See Results?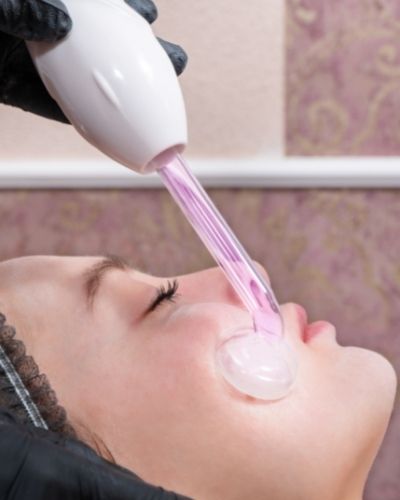 High-frequency facials show immediate results, and you should see an instant glow, rejuvenated skin, a plumper look, and minimized discoloration right after the treatment.
When used for anti-acne purposes, high-frequency facials will usually show the best results after 12-24 hours, and you can expect to see less inflammation, less redness, and calmed complexion.
However, high-frequency facials need to be a constant thing because, from all in-office treatments, they are the ones that give the shortest-lasting results.
If I Want Multiple Spots Treated at Once, What Should I do?
Direct high-frequency goes all over your face, so no spot will be left untreated.
However, if some pimples look angrier and more inflamed than others, your esthetician will likely zap over them a few more times to encourage faster healing.
What Are Some Common Side Effects?
Direct high-frequency is a very mild treatment and usually doesn't bring about some potentially serious side effects.
The only side effects you are likely to experience after a direct high-frequency treatment are a mild tingling sensation and redness that can last for up to 24 hours.
Again, since direct high-frequency is usually a follow-up treatment, it's important to note that you might be experiencing redness or inflammation from the prior treatment, especially if this was something like extractions.
With that said, while direct high-frequency is an extremely mild treatment that's unlikely to cause any side effects, there are some things that would prevent you from having this treatment.
If you have any of the following, you shouldn't do a direct high-frequency treatment:
Headaches, migraines – due to the loud buzzing noise from the machine
Epilepsy
An excessive number of dental fillings/braces – due to the strong and unpleasant metallic taste inside the mouth
Metal pins and plates
Stents
Pregnancy
Jewelry – all metal jewelry should be removed before the treatment due to the circulation of an electrical current.
Is it OK to Exercise After my Direct High-Frequency Facial Treatment?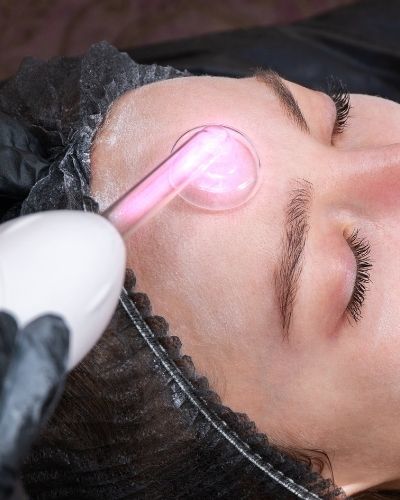 Yes, you can resume your normal daily activities immediately afterward, including exercising or going back to work if needed.
However, I would recommend that you stay away from chlorinated swimming pools, excessive sun exposure, and wearing makeup for up to 24 hours after a direct high-frequency facial.
What Should I do Before Starting Treatment?
Direct high-frequency doesn't require any prior preparation from your end.
The only thing you might want to do is go to your esthetician bare-faced or at least with minimal makeup so that they won't have to use multiple products to remove heavy makeup prior to the treatment.
What Does the Treatment Feel Like?
Direct high-frequency is a very tolerable treatment, and while you might expect to feel some mild tingling sensation, this is likely to happen when the electrode is going over raised bumps and won't continue throughout the entire treatment.
Basically, you won't feel anything besides a glass electrode going over your skin.
What is Recovery Time Like?
It's advisable to stay away from prolonged sun exposure and keep your face bare as much as possible.
This includes not applying makeup for up to 24 hours after direct high-frequency and using a soothing moisturizer the evening after you've had the treatment.
Is There a Chance of Scarring?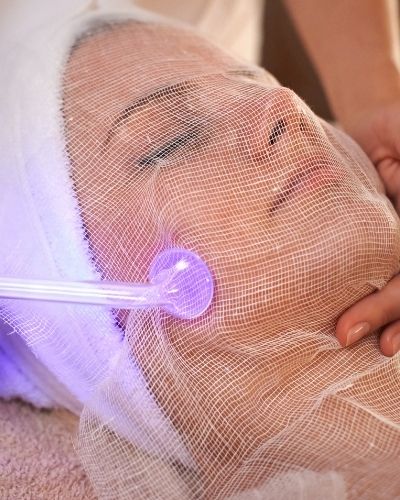 There are absolutely no chances of scarring after direct high-frequency; however, it's always a good idea to go to an experienced esthetician that's skilled in providing the treatment.
What Would You Recommend That I do After my Treatments?
Avoid going out in the sun, swimming in a chlorinated pool, and applying makeup for up to 24 hours after direct high-frequency.
Additionally, if you are experiencing redness and mild irritation after the treatment, only wash your skin with water and follow it up with a moisturizer until the redness is gone (which is usually around 12-24 hours.)
Is There a Chance That Acne Will Return?
Direct high-frequency is a temporary treatment, and while it can definitely help soothe inflammation, it's certainly not a match for tackling severe acne issues on its own.
Therefore, if you don't have a good skincare routine to maintain healthy skin or aren't taking some sort of medication to help your skin issues, the chances are that acne will return after the treatment.
Is the Treatment Worth Doing?
Direct high-frequency is an easy, add-on treatment that can hydrate and infuse the skin with oxygen, leading to a hydrated, glowy, and rejuvenated complexion.
And even though the results are short-lasting, this is definitely a treatment that's worth doing every now and again.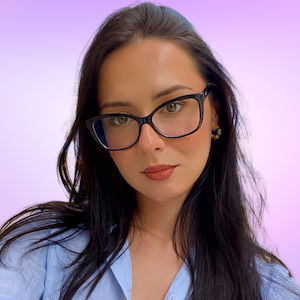 My name is Simone and I am a certified skin specialist. I created this website to teach my readers how to take great care of their skin and I also like to occasionally share my honest opinions on skincare products I've tried. You can learn more about me here.
The Acne Solution: Your Ultimate Guide To Flawless Complexion
An extensive, no-nonsense course showing you how to never have acne again, from a licensed Esthetician specializing in oily/acne-prone skin.