Finding the perfect cleanser for your skin type and skin concern isn't as simple as it sounds. You would think that going to a store and picking up the cleanser that says "suitable for all skin types" on it would do the trick, but there's so much more to this.
Cleansers can sometimes be overdrying to the skin, but other times they are not efficient in removing the stuff we don't want on our skin due to how gentle they are.
Which is why the answer lies somewhere in the middle.
In this article, I will talk about my experience with a cleanser I have been using consistently for a few weeks on my excessively oily and acne-prone skin.
This is my EltaMD Foaming Facial Cleanser review, so let's jump right into it:
EltaMD Foaming Facial Cleanser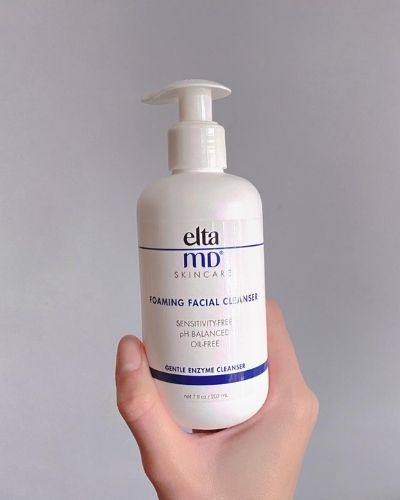 NB:
What if I told you I can show you how to never have acne again?
If you have acne and want it gone
,
read this message
.
"An oil-free, pH-balanced cleanser that gently removes daily residue from clogged pores. It glides on as a gel, and with the assistance of bromelain enzymes, the gel begins to foam and pulls impurities such as leftover makeup, excess oils, and dirt above the dermis to be washed away. Skin is left feeling smooth to the touch, healthy in appearance, and clean of any pore-clogging culprits."
Ingredients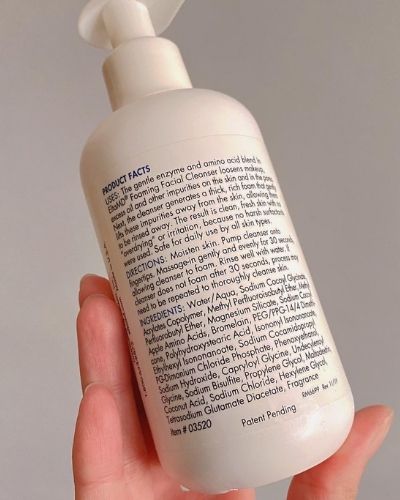 The EltaMD Foaming cleanser has a very basic and simple ingredient list. There are a few surfactants here that help remove excess oil and grime residue from the skin.
There are also a few emollients that give it a nice and smooth texture as well as Bromelain, which is an enzyme derived from pineapples that softens the skin. It also reduces inflammation and gently encourages dead skin cells to shed naturally.
There is also fragrance as the last ingredient, which unfortunately makes this product unsuitable for anyone dealing with contact dermatitis from fragrance/perfumes.
Consistency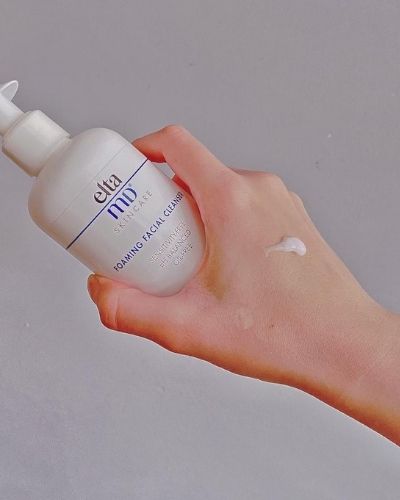 The EltaMD Foaming Cleanser has a gel-cream consistency that pulls more towards the gel side. It also contains enzymes packed in tiny spheres that you can't see in the picture but you can feel them on the skin as they work to exfoliate very gently.
Scent
Even though the EltaMD Foaming Cleanser contains fragrance as the very last ingredient on the list, this is definitely in a small quantity as the scent is very faint and not overpowering.
It could definitely go without any fragrance at all, but it's not that bad.
How To Use The EltaMD Foaming Cleanser?
The best way to use the EltaMD Foaming Cleanser is as a second cleanse after removing your makeup with an oil or balm cleanser or micellar water (which is what I use).
I recommend using this cleanser once a day (in the evening) if you need a good cleanse, but you can also use it twice a day if you have more resilient skin that gets oily throughout the night.
Performance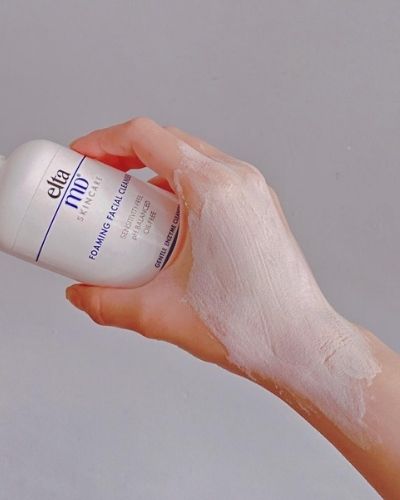 I tried using this cleanser to remove my makeup, but it didn't remove everything at one go, and I had to follow up a second time after washing it off.
This is fine because I never use a gel or foaming cleanser to remove my makeup, and I advise you to do the same.
Not a single foaming or gel cleanser will completely remove your makeup unless you follow it up multiple times, which will then leave your skin dry and dehydrated.
I always use micellar water first, and once the makeup is completely off, I will then follow up with a second (gel) cleanser to remove any residues of makeup and micellar water left on my skin.
I also don't like using a gel or any foaming cleanser to remove my eye makeup. This creates an unnecessary risk of irritation, dries out the thin skin on the eyelids, and makes them appear saggy too early.
But what I really like about this cleanser is the rich lather it creates with very little product. I usually use half a pump and lather it between wet palms before applying it to the face.
Once I start working it on a wet face, the lather becomes even richer, and with only half a pump, I cover my entire face and neck.
Once I apply it on a wet face, I can also feel the small spheres which are the enzymes that burst under my fingers and exfoliate my skin very gently.
I also love how easily it washes off, and it leaves no residue on the skin whatsoever. When I use my Effaclar H cleanser or any standard gel cleanser, I always have to spend too long rubbing it off because they leave a residue.
The EltaMD cleanser doesn't have that drawback, and it immediately melts off once you splash some water on your face.
It's a very convenient cleanser all in all, and it lasts for a long time.
It also doesn't leave my skin any drier than some of my other favorite cleansers. As a gel cleanser that removes the skin's natural oils, yes, it does have a slightly drying effect; however, it's nothing that cannot be replenished with a hydrating serum and a moisturizer afterward.
All in all, I would recommend you try this cleanser if you don't have exceptionally sensitive, dry, or damaged skin. If that's the case, you may want to stick to something much gentler such as LRP's Toleriane Hydrating Gentle Cleanser.
EltaMD Foaming Cleanser Pros:
Forms a rich lather.
Tiny amount needed to cover the entire face and neck.
Cleanses the skin efficiently.
It works great as a second cleanse.
Rinses off easily without leaving a residue.
Excellent for oily and acne-prone skin.
EltaMD Foaming Cleanser Cons:
Not suitable for sensitive skin.
Not suitable for dry and damaged skin.
Contains fragrance.
It can be drying if used more than once a day for a long time.
Where To Buy?
You can buy the EltaMD Foaming Cleanser on Amazon at the same price you would find it on any other online store.
My Favorite Cleansers For Oily & Acne-Prone Skin
Below, you will find three more of my favorite cleansers for oily and acne-prone skin:
La Roche Posay – Purifying Gel Facial Wash
The Effaclar Purifying Foaming Gel Cleanser is a very simple, daily cleanser. It has a rich lather that makes it foam up nicely, it leaves the skin nice and clean, and it has an accessible price.
It's one of the best affordable cleansers for oily and acne-prone skin; however, it could be a little overdrying if your skin is dehydrated or compromised.
It's also a good dupe for the Skinceuticals Simply Clean Cleanser for oily skin that costs $35, minus the 2% glycolic acid that's present in the Skinceuticals one.
Eucerin – Dermopurifyer Cleansing Gel
The Dermopurifyer Cleansing Gel by Eucerin has a lightweight consistency, light lather that rinses off easily, it's perfectly pH balanced, and it's good for acne-prone and oily skin types.
It contains salicylic acid that clears out the pores and dissolves excess sebum and dead skin cells that are causing acne breakouts.
Eucerin can be easily found both in pharmacies and online, and it's quite affordable, too, making it an accessible product for everyone.
However, when it comes to cleansers containing exfoliating acids, you should be mindful about using them too frequently.
While exfoliation is good for the skin, too much can compromise the skin barrier and cause irritations. Therefore, use any product that contains exfoliating acids no more than 2-3 times a week.
La Roche Posay – Effaclar H Hydrating Cleansing Cream
The Effaclar H Hydrating Cleansing Cream is one of my favorites due to its beautiful texture, which can be described as a combination of cream and gel.
It's not your standard gel cleanser, but it's also not a milky cream. It's something in between the two.
La Roche Posay utilized an innovative anti-friction texture that melts effortlessly onto the skin to prevent harsh rubbing and irritation.
The Effaclar H Cleansing Cream has a short and straightforward ingredient list, and it contains several ingredients suitable for acne-prone skin, including niacinamide, zinc PCA, and propanediol.
The only flaw with this cleanser is that it's not available in the US. You can find it in pharmacies and on sites like LookFantastic for European consumers.
RELATED: La Roche Posay – Effaclar H Cleansing Cream Review
My name is Simone and I am a certified skin specialist. I created this website to teach my readers how to take great care of their skin and I also like to occasionally share my honest opinions on skincare products I've tried. You can learn more about me here.
The Acne Solution: Your Ultimate Guide To Flawless Complexion
An extensive, no-nonsense course showing you how to never have acne again, from a licensed Esthetician specializing in oily/acne-prone skin.