The iS CLINICAL Active Serum is somewhat of a staple in the skincare routine of any person who is currently dealing with or has at some point dealt with breakouts.
I've even seen celebrities such as Rosie Huntington Whiteley praise it when sharing her boujee skincare routine with the world.
It's also a product that's loved by editors and estheticians all over, which is why I decided it was about time to hop on the iS CLINICAL train and give this glorified does-it-all product a chance.
And after using it consistently for five weeks, I am ready to give you my honest opinion on it.
This is my iS CLINICAL Active Serum review, so let's jump right into it:
iS CLINICAL Active Serum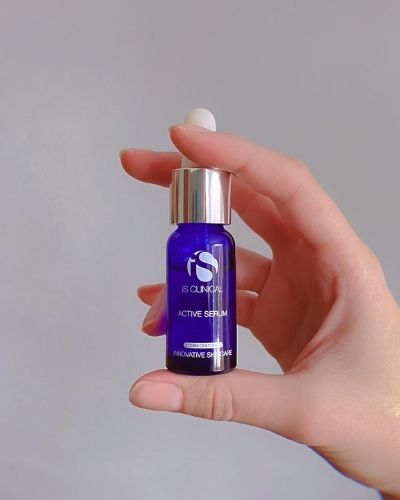 NB:
What if I told you I can show you how to never have acne again?
If you have acne and want it gone
,
read this message
.
The Active Serum by iS CLINICAL is a lightweight solution that contains several active ingredients to target various skin concerns, including acne, hyperpigmentation, texture, dullness, and dehydration.
So first things first – let's take a deeper look into the ingredients.
Ingredients
There is quite an assortment here, starting with Arbutin and mushroom extract , which are ingredients that minimize the appearance of uneven skin tone and brighten post-inflammatory hyperpigmentation.
Moving forward, the serum contains White Willow Bark Extract, which is essentially salicylic acid that deeply cleanses the pores and dissolves all the gunk inside there, causing acne breakouts.
Additionally, it contains sugar cane extract derived from tropical grass sugarcane. It is used as a natural exfoliant and a humectant that helps the skin attract and retain moisture.
And lastly, there is Bilberry extract, which is one of the best sources of antioxidant compounds that help strengthen the skin, even out the skin tone, and soothe redness due to their calming properties.
This serum has quite a few good things about it, but there are also a couple of ingredients that I don't particularly like.
First, we have SD Alcohol 30, which is ethyl alcohol denatured with methyl alcohol. This type of alcohol is used in skincare products as a solvent, an antimicrobial agent, as well as a penetration enhancer that makes sure the other ingredients are penetrating into the skin.
Although it has many practical uses in improving the formula, SD Alcohol 30 can be drying to the skin, which is why you should avoid using products that contain it daily or even more than once a day.
Next, we have menthol, which is responsible for delivering a cooling sensation on the skin while also making the product smell fresh.
However, menthol can be very irritating to the skin, and I highly recommend avoiding products that contain it, especially if you have rosacea, extremely sensitive and reactive skin, or a compromised skin barrier.
Consistency
The iS CLINICAL Active Serum has a very lightweight consistency, and it feels like water on the skin. It also absorbs incredibly quickly and dries out within seconds, so you definitely want to work it fast and cover your entire face and neck before it dries.
Scent
The iS CLINICAL Active Serum has a very strong scent of alcohol and menthol. It's so strong that it always burns my nostrils when I apply it.
I am definitely not a fan of the scent and could go without it.
How To Use The iS CLINICAL Active Serum?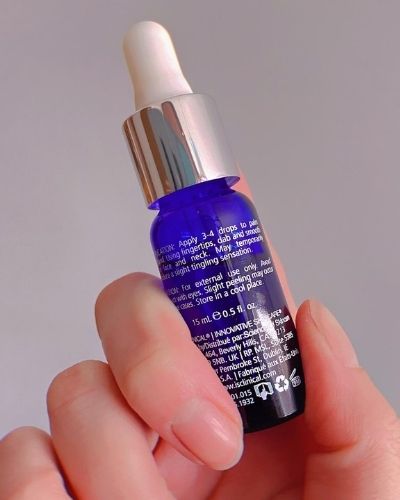 The Active Serum packaging has very clear and helpful instructions on how to use it the right way.
You should apply 3-4 drops to the palm of your hand and use your fingertips to dab and smooth evenly over the face and neck.
I apply a bit more than this because I need deeper exfoliation in areas where I get congestion and blackheads, such as the nose, forehead, and chin.
I typically apply 5-6 drops in the palm of my hand and use my fingertips to apply and spread it on my entire face. I then press what's left on my palm into the skin of my face and neck.
I sometimes add an extra drop on my nose or directly on a pimple if needed, and I let it dry.
I use the Active Serum 3-4 times a week, and I apply it right after cleansing. I then wait for around five minutes (sometimes longer) before following it up with my Cicaplast Baume B5 by La Roche Posay to soothe the skin and prevent potential irritation.
Bear in mind that this is an exfoliating serum, so I definitely don't recommend you to use it daily. By using it only 2-3 times a week, a 15ml bottle could very well last you up to or even more than three months.
And given that the serum is quite expensive, this hack will save you money and give you the benefits without the potential irritation due to the powerful actives it contains.
Let's say you decide to purchase the 15ml bottle, which retails at $86 on Harben House. If the serum lasts you for three months, that will come down to nearly $30 a month, which is reasonable.
In the picture below, you can see how much I have left after using the Active Serum consistently (3-4 times a week) for five weeks.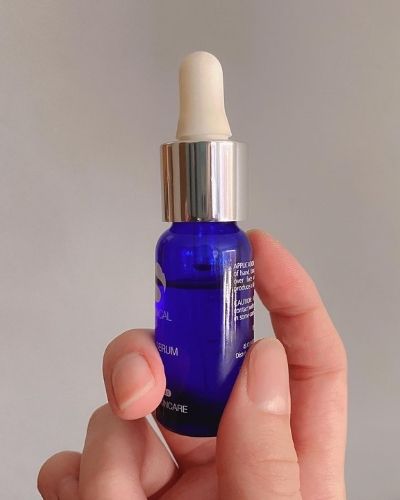 Performance
My skin is oily and acne-prone.
Having a good skincare routine helps a lot, but by default, it's prone to congestion, breakouts, post-inflammatory redness, texture, and dullness.
My routine consists of frequent exfoliating with salicylic acid (Paula's Choice CLEAR Anti-Redness Solution is my favorite one) as well as other brightening agents, including azelaic acid, retinol, and an enzyme mask.
My routine feels a little boring from time to time, which is why I decided to add a good skin-clearing serum and use it on days I don't use my regular actives.
When I first started the iS CLINICAL Active Serum, I immediately started dealing with some expected minor purging even though my skin is already used to exfoliating products.
This stage lasted for about a week, and because I was trying to avoid more inflammation that could lead to scarring, I only used the serum twice in the first week.
Things started getting better in the second week, and by week four, my skin started looking so much better.
The first few positive changes I noticed after the third week of using the Active Serum were:
Clear pores that appeared smaller.
No new breakouts.
Post-inflammatory redness from old breakouts was slightly faded, which gave me hope for further progress.
My skin looked plump and glowy.
My skin felt soft and healthy.
The Active Serum really did give me some hope for further progress, and I am happy with the results after using it for only five weeks.
This, obviously, isn't a professional treatment such as a chemical peel and won't give you instant and dramatic results; however, you will certainly notice positive changes on your skin after as little as four weeks of consistent use.
All in all, it's a great product, and I am happy with the results so far.
I am sure these will only be boosted in the future because the serum proved itself to give good results over time instead of messing up my skin after a few weeks of use like some products did in the past (Drunk Elephant mostly).
Who Is It For?
The iS CLINICAL Active Serum is a great option for oily and resilient skin that's prone to congestion, blackheads, whiteheads, acne, hyperpigmentation, and texture.
Who It Isn't For?
The iS CLINICAL Active Serum shouldn't be used if:
You have very sensitive skin that's prone to redness and irritation.
You have rosacea.
You have a compromised skin barrier.
You are on Accutane.
You are dealing with severely dry and cracked skin due to using prescription retinoids (tretinoin).
***You can use the iS CLINICAL Active Serum if your skin is well-used to tretinoin; however, avoid using them in the same routine as this will certainly lead to burning and irritation.
iS CLINICAL Active Serum Pros:
Lightweight and absorbs quickly.
Doesn't leave a sticky or oily residue.
Addresses multiple skin concerns.
It clears out the pores and makes them appear smaller.
Evens out skin tone and texture with consistent use.
Works for blackheads, whiteheads, pustular acne, as well as deeper, cystic acne.
Lasts for a long time despite its small size.
iS CLINICAL Active Serum Cons:
Expensive ($138 for 30ml; $86 for 15ml)
Has a strong smell of alcohol and menthol.
Stings for a few minutes when applied to the skin.
It absorbs very quickly, so you need to be very fast when applying it.
Where To Buy?
You can buy the iS CLINICAL Active Serum on:
My name is Simone and I am a certified skin specialist. I created this website to teach my readers how to take great care of their skin and I also like to occasionally share my honest opinions on skincare products I've tried. You can learn more about me here.
The Acne Solution: Your Ultimate Guide To Flawless Complexion
An extensive, no-nonsense course showing you how to never have acne again, from a licensed Esthetician specializing in oily/acne-prone skin.