If you have oily and sensitive skin and you're looking for a great cleanser, I think I might've found the one for you.
This cleanser saved my oily/acne-prone skin when it was inflamed and peeling due to an awful purging period after starting tretinoin.
In this article, I'm sharing with you my La Roche Posay Effaclar H Cleansing Cream review explaining everything you need to know about my new routine staple.
TLDR Review Summary: The texture was amazing, I finally had a cleanser that wasn't burning my face, and my skin wasn't feeling too dehydrated after washing.
La Roche Posay Effaclar H Derma-Soothing Hydrating Cleansing Cream
NB:
What if I told you I can show you how to never have acne again?
If you have acne and want it gone
,
read this message
.
The Ingredients
The Effaclar H Cleansing Cream has a short and straightforward ingredient list, which I appreciate. It also has quite a few ingredients that stood out for me. Here are some of the good ones and not so good ones:
Propanediol
Propanediol is a glycol that is quite the multi-tasker in skincare products. It can be derived naturally from corn but synthetic options are usually used in cosmetics.
It is used to improve skin moisturization and help leave a smooth and dewy finish. Propanediol is generally a well-tolerated ingredient and is not likely to cause sensitivity or unwanted reactions.
Niacinamide
Niacinamide is my favorite ingredient (right after salicylic acid) found in skincare products. While I enjoy seeing it in my leave-on products like serums and moisturizers, I also get excited when I see it in well-formulated wash-off products, too.
Also known as vitamin B3, niacinamide is a water-soluble vitamin that works with the natural substances in your skin to help visibly minimize enlarged pores, improve uneven skin texture, diminish dullness, and strengthen a weakened barrier.
So although not an oil-soluble ingredient such as salicylic acid, niacinamide can work great in a cleanser form to help clear out the pores and make them appear smaller.
Zinc PCA
The Zinc part of this combo is there to help normalize sebum production and limit the proliferation of the acne-causing bacteria. Therefore, it can be very helpful in a wash-off formula.
The PCA or L-PCA, on the other hand, stands for pyrrolidone carboxylic acid and it's a key molecule in the skin that helps with processes of hydration and energy. It is therefore a part of the NMFs (natural moisturizing factors) found on the skin.
Sodium Laureth Sulfate (SLES)
This is a surfactant and a milder version than Sodium Lauryl Sulfate (SLS). The SLES molecule has a bigger water-soluble head part that makes it milder and less irritating.
On the other hand, SLS can be irritating for the skin when used for a prolonged time.
Depending on your skin's tolerance, you may notice some dehydration and irritation after a few uses or it can take years until your skin shows a problem caused by rather harsh surfactants like SLS.
Therefore, it is best to avoid it and opt for something milder, instead.
Parfum/Fragrance
The only thing I don't like about this cleanser is that it contains fragrance.
I always talk about preferring skincare products that don't contain fragrance; however, it's hard to completely cut it off since it's everywhere these days.
That being said, this particular wash-off formulation didn't bother my skin.
The fragrance is the last ingredient on the list; however, that doesn't change the fact that there might be more than 50 different perfuming components.
This might be the case or not, but as consumers, we have no way of knowing, so the best thing to do is to opt for fragrance-free options whenever you can or at least chose something that has fragrance listed as the last ingredient, especially if it's a leave-on product.
The Consistency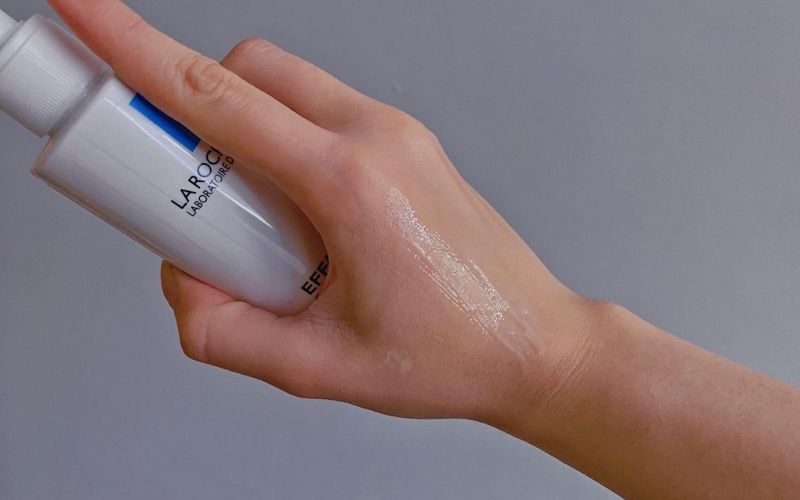 I love the texture of the Effaclar H cleanser! It's truly a unique combination between a cream and a gel. If I had to compare, I would compare it with Bioderma's Hydrabio Gel Cream moisturizer, although this is a cleanser.
It's not your standard gel cleanser but it's also not a milky cream. It's something in between and I love it.
La Roche Posay utilized an innovative anti-friction texture that melts effortlessly onto the skin and it's really something you need to experience for yourself.
The Smell
The Effaclar H Cleanser contains fragrance that is a bit strong for my personal taste and I would describe it as a medicinal type of scent that's unique to all La Roche Posay's products that contain fragrance. It's their signature scent.
I wish there were a fragrance-free option cause the scent can be a bit too much for you if you have a sensitive nose like me.
Hopefully, La Roche Posay reads this review and considers coming up with a fragrance-free option of the same thing.
I love this cleanser so much to stop using it solely because of that.
How To Use This Cleanser
To cleanse your face, you only need to lather a small amount of product with water in the palm of your hand and apply it to your wet face.
I like to use one full pump when I am removing my tinted sunscreen and the Jane Iredale's Mineral Pressed Powder foundation I usually wear throughout the day.
I usually use two pumps when I am cleansing my face and neck as well as behind the ears (this is usually on days when I am going out throughout the day so I have sunscreen everywhere).
And I (not always) use half a pump on days when I am washing my face in the morning (sometimes I splash some water and continue with my regular skincare routine).
The Performance
I picked up this cleanser by mistake because this is what usually happens with every La Roche Posay purchase I make.
Their cleansers have distinctive names but they are usually a mouthful and by the time I remember which one was it, I am on my way home with a brand new one I've never tried before.
I picked up this cleanser because I wanted a quick relief from the constant burning from cleansers that became an everyday thing when I started using tretinoin.
All cleansers I had from the strongest down to the mildest were burning my face to the point of desperation.
I did a bit of research and I found out that their Toleriane line is usually suggested for tretinoin users, so I was quickly on my way to the pharmacy.
Anyhow, I got this one and I realized I've made a mistake only after coming back home and reading the label but decided to try it anyway and loved it immediately.
The texture was amazing, I finally had a cleanser that wasn't burning my face, and my skin wasn't feeling too dehydrated after washing.
The dehydration also improved after my initial tretinoin side effects calmed down.
The only thing I didn't like about it was the strong scent, but hey, there's gotta be something, right?
The important thing is that it worked on my oily/acne-prone skin that also felt extremely vulnerable while adjusting to tretinoin.
Ten out of ten would recommend! But, again, be mindful of the scent.
Effaclar H Cream Cleanser Pros:
Affordable
It contains gentle and non-irritating ingredients
Removes stubborn tinted sunscreen
It doesn't dehydrate the skin
It doesn't cause burning
Safe for Accutane and Retin-A users
Effaclar H Cream Cleanser Cons:
Not easily accessible for US customers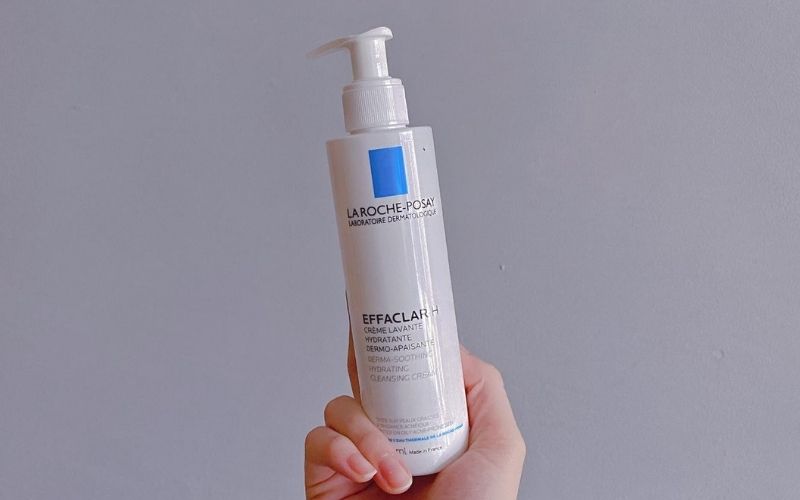 Related Questions:
Is La Roche Posay Cleanser Good For Acne?
La Roche Posay has a line of cleansers that are exceptionally good for acne. Some don't contain irritating ingredients like drying alcohol or fragrance (that's very high up on the ingredient list).
These known irritants can further exacerbate inflammation and lead to more serious skin conditions like contact dermatitis. Therefore, it's best to avoid having them in your skincare products.
What Clears Acne Fast?
The most effective over-the-counter ingredients that clear acne fast are salicylic acid, benzoyl peroxide, and adapalene (Differin).
RELATED: Best Skincare Routine When On Tretinoin (Retin-A)
My name is Simone and I am a certified skin specialist. I created this website to teach my readers how to take great care of their skin and I also like to occasionally share my honest opinions on skincare products I've tried. You can learn more about me here.
The Acne Solution: Your Ultimate Guide To Flawless Complexion
An extensive, no-nonsense course showing you how to never have acne again, from a licensed Esthetician specializing in oily/acne-prone skin.