As soon as you start thinking you've somewhat figured out what works for you when it comes to skincare products, there comes the Korean beauty craze with the 10-step skincare routine.
Naturally, you are curious about it, especially when you see that flawless, luminous skin your favorite beauty influencer flaunts around while spending around 30 minutes in the bathroom every evening and diligently going through all these confusing steps.
There are literally countless K-beauty brands available on today's market, however, one, in particular, seems to be making major waves in the skincare world with their latest launch.
As an esthetician and a total skincare junkie, I consider it a big part of my job to test out different products and educate my clients and readers on how to take great care of their skin.
Therefore, I created the Krave beauty review so we can take a closer look at what the brand everyone raves about has to offer.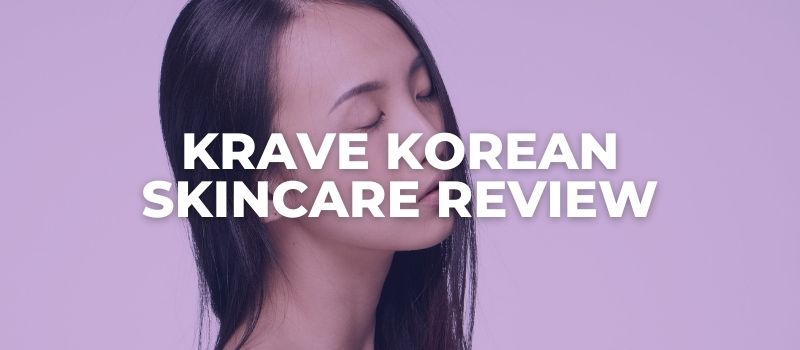 NB:
What if I told you I can show you how to never have acne again?
If you have acne and want it gone
,
read this message
.
What Is Krave Beauty?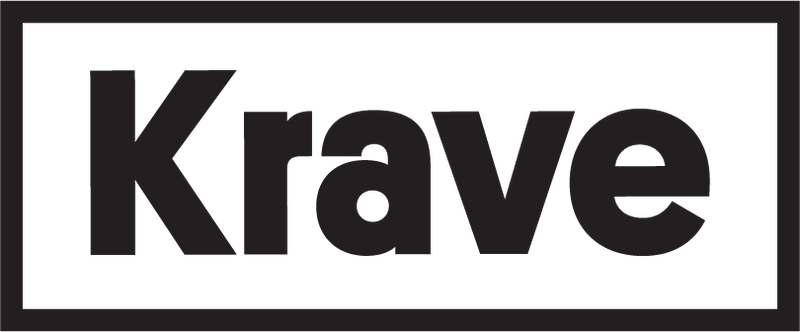 Krave Beauty is a skincare brand founded by Liah Yoo who is a beauty influencer and YouTuber. She has been working in the beauty world for years and has been an avid product junkie since before I started following her.
Before I was even into skincare and one of her videos actually made me realize that my acne might not be typical acne vulgaris but malassezia folliculitis instead. Turned out she was right.
As a subscriber, I always noticed her thoughtfulness towards sensitive and acne-prone skins whenever she's reviewing products.
So the last couple of years, her channel kinda took a more "serious" and educational note rather than just doing stuff for fun.
She is famous for being a no BS beauty expert, which is quite refreshing in this world of ads and sponsorships, and she has an entire research team that debunks skincare myths, talks about efficacious, science-based ingredients that make a difference and are beneficial for the skin.
Therefore, it is not a surprise that her company Krave beauty is all about pressing the reset button on your skin and giving it what it craves (Krave…get it?) rather than what someone else told you it needs.
Krave Beauty is big on combining ingredients proven to work while making sure their beauty products can accommodate even the most sensitive of skin types.
Additionally, the brand focuses on selling only skincare that is vegan-friendly and cruelty-free, while formulated without fragrance, essential oils, and colorants.
Moreover, Krave beauty wants to be a transparent company and they only have five products launched so far, simply because they believe that you should always give your skin the minimum it requires and ignore all the noise from the rest of the beauty industry.
They prioritize simplicity and create products that have your skin's health in mind rather than just making coins while giving nothing in return.
And because that definitely sounds like my cup of tea, here are…
My Favorite Krave Beauty Products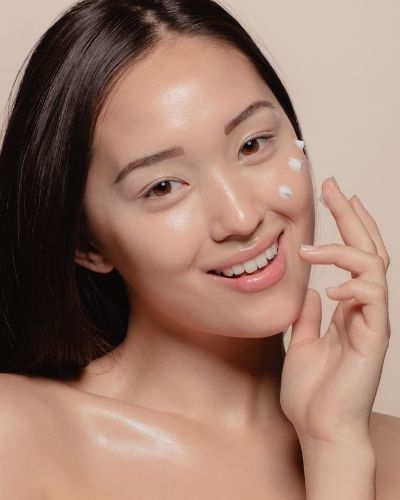 Matcha Hemp Hydrating Cleanser; $16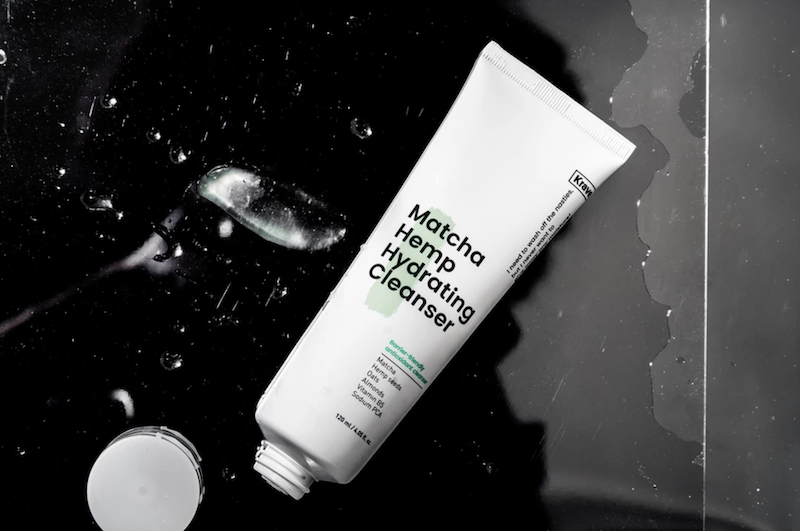 The Matcha Hemp Hydrating Cleanser is an antioxidant-based cleanser that will efficiently lift all the dirt, pollution, and other stuff your skin doesn't want while leaving everything it needs – hydration, antioxidants, and zero irritations.
It contains 40% Matcha and is formulated with a pH of 5.0-6.0, which is the ideal number for retaining a healthy skin barrier that is going to be able to protect you from external bacteria and heal your skin.
This is one of those cleansers with a rather interesting texture. It looks like a brown, chunky gel that easily lathers on the skin and requires no more than a pea-sized amount in order to be efficient in its actions.
It is intended to leave your face feeling soft, smooth, and hydrated, unlike the traditional gel cleansers that tend to over-strip your skin of its natural moisture and make it feel squeaky clean, and often uncomfortable.
The Matcha Hemp Hydrating Cleanser will not compromise your skin's barrier and it is formulated to complement the most sensitive and even acne-prone skins.
You can use the Matcha Hemp Hydrating Cleanser up to twice a day as a second cleanse in order to remove the lingering layers of dirt, grime, and makeup left on your face after your oil cleanse.
The main ingredients of this cleanser are:
Matcha: Which is one of the densest sources of antioxidants you could possibly wish for
Hemp seed oil: High in essential amino acids and extremely hydrating and
Vitamin B5: This is going to strengthen your skin barrier and replenish the lost hydration.
Kale-Lalu-yAHA; $25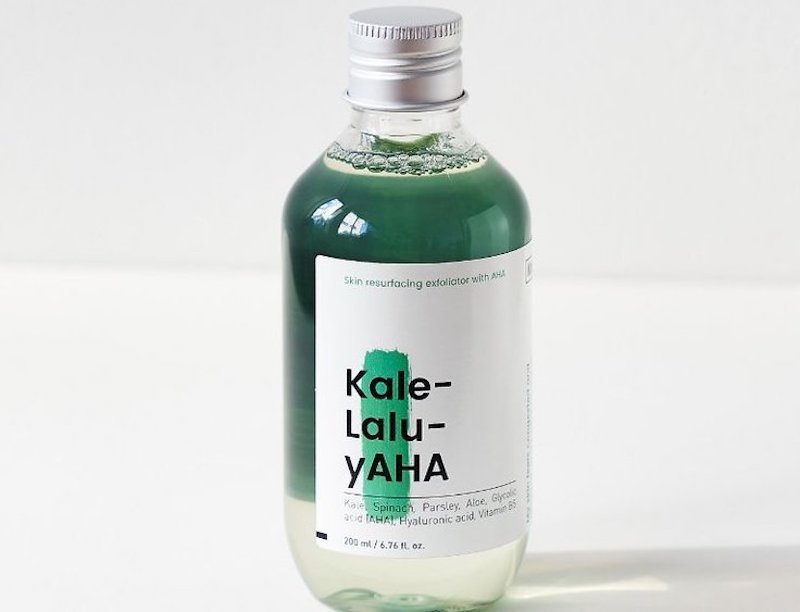 The Kale-Lalu-yAHA is a skin resurfacing exfoliator that helps remove the bonds that hold dead skin cells together in order to reveal a smoother and brighter complexion while nourishing your skin with powerful antioxidants that improve discoloration, skin damage, and fine lines.
The pH balance of this exfoliating solution is between 3.5-4.0, which is fairly strong and the most appropriate pH for an AHA to be most effective.
The main active ingredient in this exfoliating solution is glycolic acid which is an alpha hydroxy acid and it comes at a concentration of 5.25%, which is an excellent percentage if you have very little experience and are a beginner in using chemical exfoliants.
Additionally, it can be mixed with a moisturizer in order to minimize sensitivity and soothe a normal tingling sensation that typically happens when you first introduce acids into your skincare regimen.
It is recommendable to start off with using it 2-3 times a week, however, you can always build it up to the frequency that your skin is most comfortable with.
The main ingredients in the Kale-Lalu-yAHA are:
Glycolic Acid (Sugar cane derived) 5.25%
A real game-changer in everyone's skincare routine. Glycolic acid is an effective and gentle chemical exfoliant that resurfaces skin texture and works on the surface of the skin in order to reveal a brighter complexion.
With regular use, glycolic acid has the ability to kick off your skin's cellular turnover and fade the appearance of hyperpigmentation, sun damage, and fine lines.
A real game-changer in your skincare routine! Glycolic acid is an effective chemical exfoliant that gently resurfaces skin texture and prevents clogged pores. With regular use, this nudges your skin's cellular turnover slowly, fading the appearance of hyperpigmentation, sun damage, and fine lines.
Dark, leafy greens (kale, spinach, parsley)
The antioxidants present in these greens are vital energy boosters for the skin and a source of potent vitamins and minerals too.
Aloe + Hyaluronic acid + Vitamin B5
These are all-natural hydration with the ability to replenish, hydrate, and soothe your skin. Combined with a moisturizer that seals everything in, these three ingredients are like an instant hydration shot for your skin.
Allantoin
Allantoin is an active ingredient that soothes the skin while buffering any irritation from the chemical exfoliation process.
This ingredient has both moisturizing and soothing properties to relieve sensitive and inflamed skin.
Oat So Simple Water Cream; $28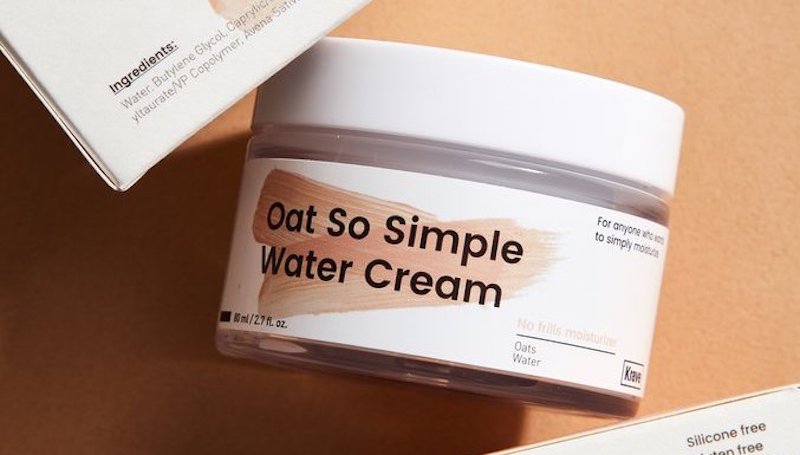 This is the Krave Beauty latest launch and the moisturizer is formulated with less than 10 ingredients.
Every jar comes with a convenient spatula that should be used to pick up a little bit of product instead of contaminating the formula with your fingers.
It has a light, whipped texture, and a water-based formula, which means that it won't feel greasy or unnecessarily shiny while sitting on top of your skin.
Once applied, it delivers a cooling and soothing sensation and this is one of the main reasons why it has quickly become an absolute favorite for sensitive, irritated, oily, and acne-prone skins.
Some of the main ingredients in this superstar product are:
Oats – Oat extract makeup up 80% of the moisturizer and this superstar ingredient is known for its incredible skin-soothing properties, retaining moisture in the skin, and keeping the skin barrier healthy and uncompromised. It is a universally beneficial ingredient for every skin type.
The Beet Shield SPF 50 PA+++; $20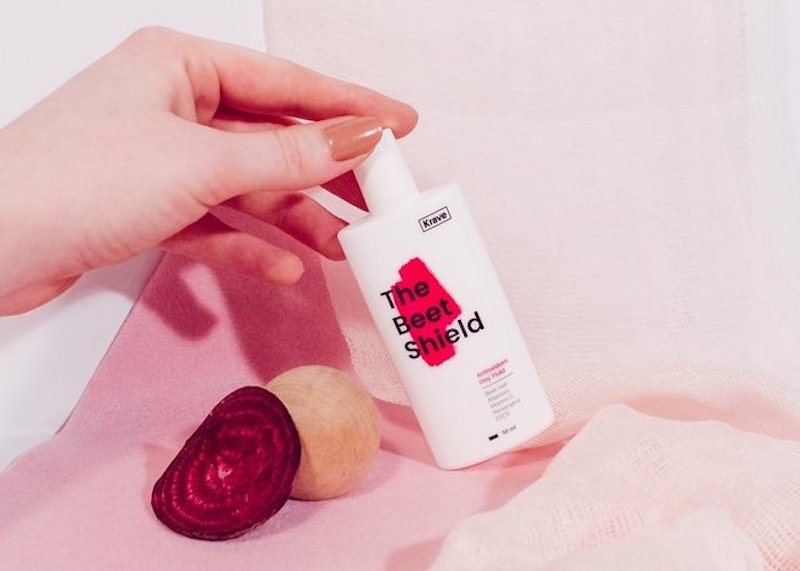 Are you even surprised that I am mentioning sunscreen as one of my favorite products? I mean, have you ever been on my website before?
The Beet Shield SPF 50 PA+++ is a gentle, antioxidant-based fluid that aims to protect your skin from harsh environmental stressors and UV damage.
It has a lightweight formula and it doesn't leave that annoying white cast that puts many people off from using sunscreen on their face.
It is charged with beetroot extract that efficiently inhibits free-radical damage on the skin.
Some of the main ingredients are:
Beetroot Extract.
Beetroot extract is one highly underrated antioxidant-rich vegetable.
It has the ability to enhance the complexion and prevent the signs of aging while working on mildly reducing hyperpigmentation.
Additionally, it supplies the skin with adequate hydration in order to combat dryness and damage done by free radicals and other environmental aggressors.
Vitamin C, Resveratrol, EGCG:
This powerful trio of antioxidants is also there to support your healthy skin and promote a brighter complexion while shielding your skin against external aggressors and working effectively to neutralize the formation of free radicals.
Where To Buy Krave Beauty Products?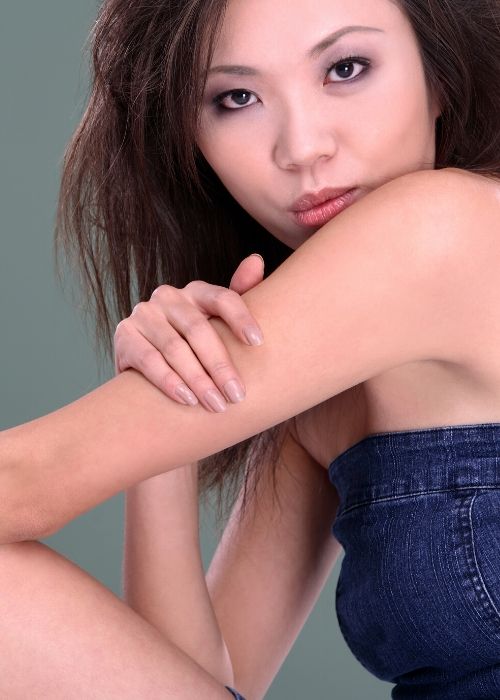 For a brand that is rapidly growing in popularity, I personally found Krave Beauty products to be kind of difficult to purchase.
Now, I don't live in America or Korea, so getting them delivered to this tiny little island of mine in the middle of the Mediterranean sea was a huge challenge.
Here are several websites you can purchase Krave Beauty products from:
---
Why Is Korean Skincare A Game Changer?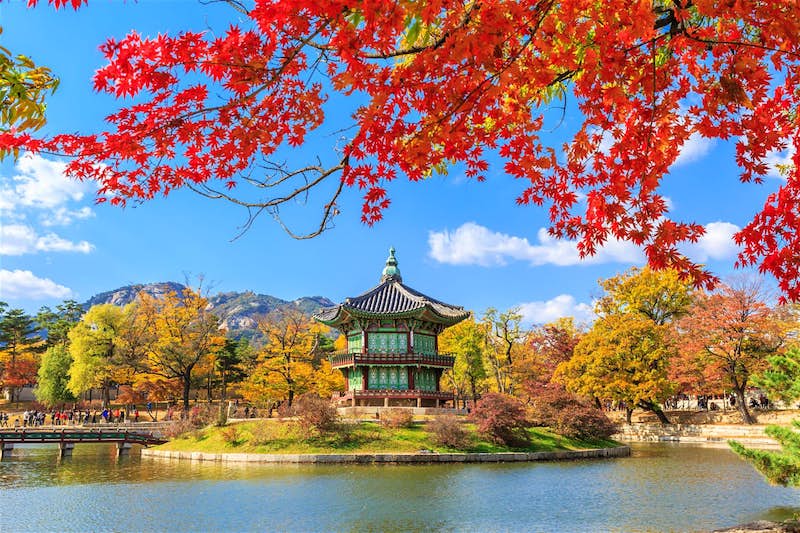 Korean skincare is taking the world by storm and we just love every single thing they have to give us.
Starting at a young age, kids are being taught the proper step-by-step techniques to maintain healthy and beautiful skin such as exfoliating, moisturizing, and using sunscreen, therefore, this simply becomes second nature to them when they grow up.
Surprisingly, this is not just for girls. Boys are equally invested in their skincare routine, and there are plenty of products available, specifically targeted for men's skin.
Some of these are even specifically designed for men serving in the military, which is really a mind-blowing thought.
Additionally, in Korea, good skincare is available to everyone at a ridiculously low price.
There are shops on every corner in most cities and you can even find skincare products being sold in subway stations. Like, can I have a ticket and an SPF 50, please?
Kinda makes you wish for that kind of convenience, right?
Moreover, the Koreans approach skincare differently than what we (the common folks) are used to.
Korean consumers are focused on getting to the root of skin problems and preventing them from repeating themselves rather than masking these imperfections with tons of makeup and hoping they will go away.
They use products consistently rather than just once and expecting immediate results. This means applying SPF 30+ before fine lines and dark spots creep their way onto the skin.
They believe that having great skin comes with dedication, time, and effort, and they don't mind dedicating a significantly longer time of the day doing their skincare than the rest of us do.
I mean, do you even have that much time to just spend it on massaging 10 different products on your face? Come on…
But this is actually a great thing as if you didn't know – prevention is easier than treatment. It actually saves time and money to maintain your skin's health rather than scrambling to fix problems as they arise.
Here are several other ways that make K-beauty stand out from the rest of the crowd:
✔️ Effective formulas at a low price:
We all love skincare, but we all hate spending tons of money on it, right?
Well, Korea doesn't have a problem as over there skincare isn't a luxury. There are widespread demands for it and people are very picky.
Everyone there knows what they want from their skincare, and nobody is going to pay a fortune for it. Nah-uh, scratch that. You can literally find products that cost less than $2.
✔️ Research goes into offering the best possible ingredients:
Generally, Korean consumers have sensitive skin, so a skincare product that can meet this demand definitely has a bright future ahead of it.
Companies here strive to offer the most effective and gentle ingredients that soothe all skin types and don't require you to spend time on figuring out what skin type or skin condition you have.
Korean skincare companies spend a lot of time and money on research while also listening to opinions and consumer feedback.
✔️ The way the skin looks and feels is of utmost importance:
& this is a rather comprehensive approach. The rest of the world is afraid of oily skin that looks shiny and greasy, therefore, most of our products are designed with silicones, and volatile alcohols to give products a quick-drying and matte finish.
Well, this type of s*it doesn't fly in Korea. Dewy, firm skin is the most desired beauty trait and there is even a phrase for it: chok chok. There is a difference between oily and dewy.
When your skin is dewy, it means that it has a nice radiance and a healthy glow. This is accomplished by simply hydrating it with facial mists, essences, moisturizers, and humidifiers throughout the day.
✔️ Makeup is so overrated:
Sad, but true. Makeup is considered to be a band-aid for longer-lasting conditions, like those annoying pesky zits that happen even to the best of us every once in a while. But makeup is not a treatment.
It is just a temporary fix. Therefore, in Korea, makeup takes a back seat, as a smooth and clean canvas is the way to go. Koreans prefer going with minimum makeup and still looks absolutely flawless, therefore the no-makeup makeup looks are extremely popular here.
---
One of the reasons I enjoy doing what I do is that I get to try new skincare products and share my thoughts on them as well as educate my clients and readers on the latest skincare trends.
Please note that this review is 100% unbiased as these products were not sent to me in exchange for a review. I simply enjoyed sharing my experience from using Krave Beauty products.
Additionally, if you are currently struggling with acne or other skin concerns, use my form to send me a message so we can work on fixing the problem together.
My name is Simone and I am a certified skin specialist. I created this website to teach my readers how to take great care of their skin and I also like to occasionally share my honest opinions on skincare products I've tried. You can learn more about me here.
The Acne Solution: Your Ultimate Guide To Flawless Complexion
An extensive, no-nonsense course showing you how to never have acne again, from a licensed Esthetician specializing in oily/acne-prone skin.