COSRX is one of those skincare brands that is definitely here to stay.
After being on the market for several years and acquiring a cult following from all over the world, this is the one Korean skincare brand to watch and stock up on in 2020.
This is my COSRX review, and here is how my acne-prone skin got along with some of their products.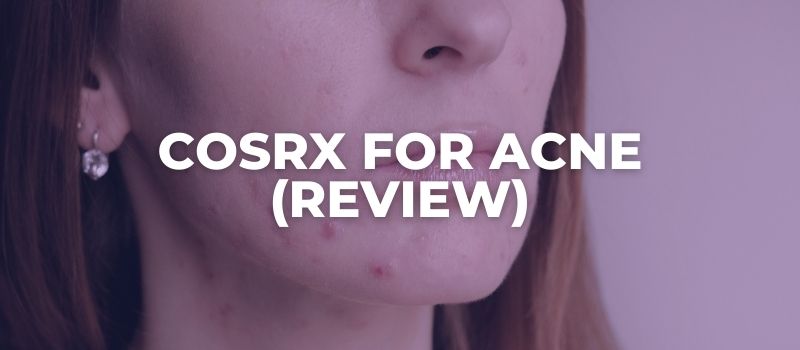 NB:
I can show you how to never have acne again.
If you have acne and want it gone
,
read this message
.
What Is Cosrx?

Loved by both veteran K-beauty fans and casual skincare enthusiasts, COSRX is a brand known for producing some of Korea's best skincare products.
The brand consistently sticks to its simple philosophy and they define themselves as an ingredient-oriented brand, which aims to produce efficient skincare products with a minimum amount of ingredients.
Additionally, besides being one of the most popular brands in Korea, COSRX has built up a cult following also in America and Europe seems to be jumping on the K-beauty wagon equally fast.
Moreover, the brand is extremely popular for taking a very minimalist approach when it comes to packaging. One of their key selling points is having products with high concentrations of actives while maintaining a relatively affordable and accessible price point.
They are known for not playing around with their ingredients, therefore, COSRX definitely addresses various skin concerns for all skin types.
I have seen many people rave about it online and the brand definitely piqued my interest after doing lengthy research of the ingredients they use to formulate their products.
The Best COSRX Products (For Acne Prone Skin)
Since I've struggled with acne in the past and I still get a few pimples here and there, I've opted for trying out their specialized range for oily and acne-prone skins.
Here are some of the products I've tried and really enjoyed using: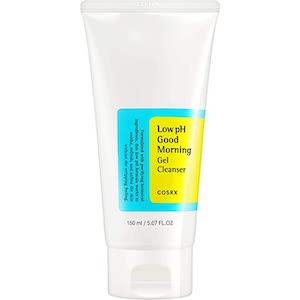 This gentle and delicate cleanser is a product of crowdsourcing feedback from the customers and probably the biggest reason that made me want to give it a try.
Consistency.
It has a gel consistency that also doubles as a foaming cleanser.
While this cleanser is definitely efficient in removing heavier products like sunscreens and it does a great job at cleansing the face, it is definitely not enough to be used on its own if you are a heavy makeup wearer.
However, it does lather up quite nicely and it could probably pass as a good cleansing product for light makeup, but having an oil cleanse or decent micellar water is always a better idea.
Scent.
At first whiff, the Low pH Good Morning Cleanser smells like tea tree and almost a little bit medicinal. However, the scent is completely natural and it contains zero fragrance.
Additionally, the scent doesn't linger and is quickly lost as soon as it starts to lather.
Ingredients.
The product is formulated with a low pH that almost mimics the skin's natural state. The superstar ingredient in it is a healthy dose of antibacterial tea tree along with Saccharomyces ferment, which is a fermented yeast that is partly responsible for the bright and hydrated glow after using it.
Additionally, it contains Betaine Salicylate, a natural chemical exfoliant that keeps your pores in check and mildly helps to remove the dead skin cells hiding in the walls of your pores.
The cleanser works great for acne-prone and oily skin types, due to the antibacterial and pore-cleansing ingredients. The result is a refined complexion, thoroughly cleansed, and hydrated skin that feels soft and plump.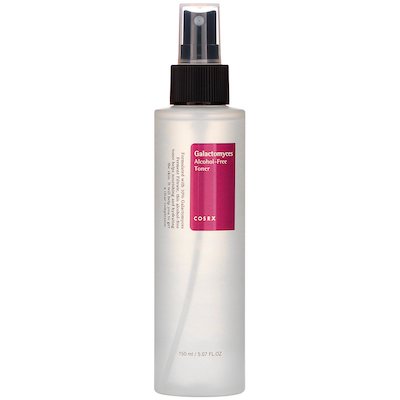 The Galactomyces Alcohol-Free Toner is a fine, hydrating mist made with Galactomyces Ferment Filtrate that delivers rich nourishment and moisture into the skin.
Consistency.
The toner has a liquid consistency and a mister that allows it to be sprayed on the face rather than be used with a cotton pad as traditional toners.
This is excellent because it minimizes the waste from cotton pads and the fine mist feels refreshing on the skin.
Scent.
The toner has zero fragrance and is alcohol-free, which I appreciate. Additionally, it has no artificial color, sits comfortably on the face, and adds moisture and hydration with a faint glow.
Ingredients.
The superstar ingredient in this product is the Galactomyces Ferment Filtrate of 10%. This ingredient is known to help even out skin tone and gently refine skin texture.
It effectively balances the skin's pH level after washing, and it has a pH level of 6.
Additionally, Galactomyces Ferment Filter can enhance the glow in dull and dehydrated skins and is also suitable for sensitive skins and skins prone to redness.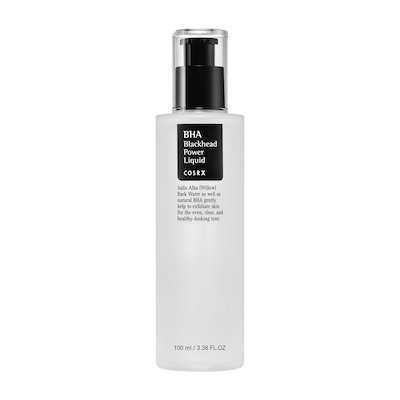 This liquid essence is specially designed for oily skin types that struggle with excess sebum and blackheads.
It is a low-irritation formula, free of artificial coloring that helps you to achieve a healthy pH balance of the skin.
Consistency.
The BHA Blackhead Power Liquid has an essence-type consistency. However, it is more on the liquid side than typical Korean essences.
The texture makes this product easy to glide when used on damp skin and a little bit of product truly does go a long way.
Scent.
The BHA Power Liquid has no artificial fragrance, therefore, although I was expecting somewhat of smell, this truly smells like absolutely nothing.
Additionally, the product is free of artificial coloring and known skin irritants such as drying alcohols.
Ingredients.
The BHA Power Liquid is formulated with 4% Betaine Salicylate, a milder form of salicylic acid that helps fight acne-causing bacteria.
Additionally, this oil-soluble, lightweight serum penetrates deeper into the pores in order to prevent blockages and the formation of blackheads.
Because it is gentle and hydrating, the formula is still suitable for drier skin types that also suffer from occasional blackhead formation as well as enlarged pores.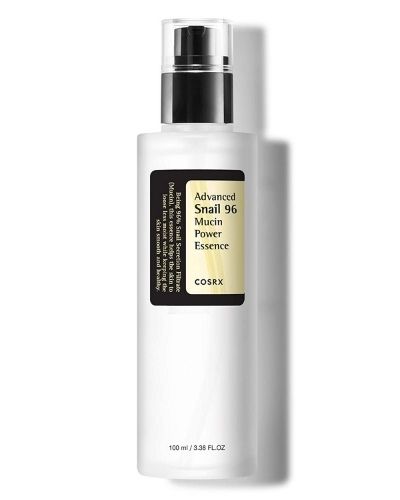 The Advanced Snail Mucin 96 Power Essence is formulated with snail secretion filtrate to give your skin a shot of hydration and intense repair.
Consistency.
The essence has a lightweight texture, but it sits closer to the jelly end of the spectrum rather than liquid.
It feels a little sticky to the touch, so if that's something you are picky about, it is probably best for you to invest in another essence instead.
On the other hand, if you are absolutely fine with that, this just might be the perfect product for your skin, as the sticky consistency is due to the replenishing and revitalizing nutrients that help prevent and repair the damage, while giving you the ultimate elasticity and hydration.
Scent.
Since the product is formulated without any artificial fragrances or alcohols that give even the slightest hint of scent, it has no smell at all.
The first time I got it, I was sniffing so hard in an attempt to smell even a little something-something, but there is absolutely zero smell in here.
Additionally, it is formulated with no artificial coloring or any other known skin irritants.
Ingredients.
The essence has a whopping 96% snail secretion filtrate, thus the name. This ingredient contains high levels of hyaluronic acid and is responsible for giving the skin super intense repair and hydration.
Snail mucin has the ability to repair everything from dry patches, to soothing and softening acne-breakouts, while helping your skin achieve that healthy and radiant glow.
It is a great product for all skin types including oily, acne-prone, and sensitive skin.
Where To Buy COSRX Products?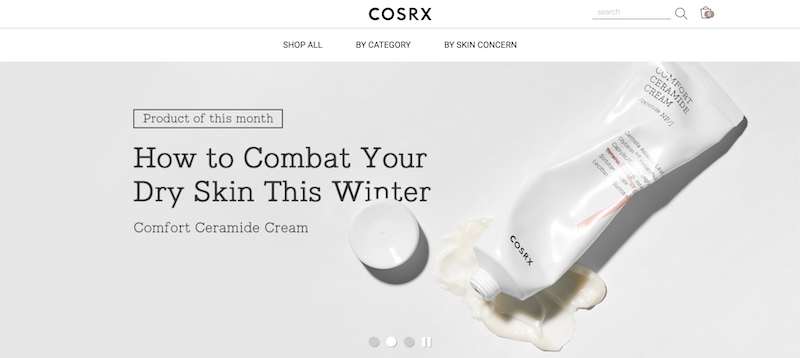 COSRX is a well-known Korean skincare brand that has been on the market for several years. Since then, they have achieved a cult following, therefore, finding their products is incredibly easy.
Here are some places to buy COSRX products from:
---
Is COSRX Cruelty-Free?
Besides the simple packaging and bomb ingredients for different skin concerns, COSRX is a brand that is loved worldwide due to the strict policies they have against animal testing.
However, with that being said, the brand is not entirely vegan as some of their products contain snail mucin and honey.
COSRX is very transparent on how they extract their ingredients and they have disclosed on numerous occasions that no animals are harmed during the production of their products.
If you have been holding yourself back from trying out some of their products that contain snail mucin because of this very reason – you can stop worrying right now.
Harvesting the slime involves having the nocturnal snails crawl around a mesh net in a darkened room for no more than 30 minutes at a time before they are transferred back to their natural habitat and left to rest.
Additionally, they heat their mesh nets in order to increase humidity for a terrarium effect and this, in turn, ramps up the mucin production.
The snails are never harmed, and their moisturizing slime is then collected and pasteurized for the production bottle.
Additionally, if completely vegan products are more your thing, you'll be happy to know that the brand has several great vegan products for those who like to indulge in a more plant-based skincare routine.
---
Final Thoughts
While I am always a bit skeptical when it comes to trying out new skincare products,
I have to say COSRX is one of those brands I just jumped ahead with purchasing all these products without having any second thoughts.
I did extensive research on their ingredients before buying them, but I always have this nagging feeling in the back of my head that no matter how good the ingredients are, there might be something that might not get along with my skin.
However, after using these products for some time, I have to say that I am seriously impressed with the overall brand as well as everything I have so far purchased.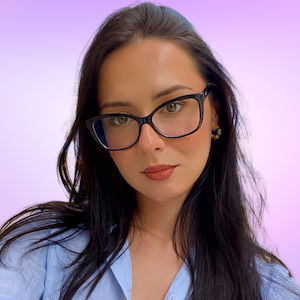 My name is Simone and I am a certified skin specialist. I created this website to teach my readers how to take great care of their skin and I also like to occasionally share my honest opinions on skincare products I've tried. You can learn more about me here.
The Acne Solution: Your Ultimate Guide To Flawless Complexion
An extensive, no-nonsense course showing you how to never have acne again, from a licensed Esthetician specializing in oily/acne-prone skin.