Dehydrated skin is often confused with dry skin due to the very similar appearance and behavior of the skin.
However, these two are slightly distinctive from each other, but it is still incredibly easy for anyone to mix them up and therefore end up with a bag full of wrong products for their skin type.
There is one major difference between the two – one is a skin type while the other is a skin condition.
Dry skin is lacking in either sebum, which is the natural oil produced by our glands, or moisture, or even both, while dehydrated skin is a condition where the skin has lost water from the tissues.
So what can we do to stop this?
There are several natural ways to improve the condition of your skin. A healthy diet, regular exercise, and a good amount of water intake daily are some of them. However, it all comes down to the essential part – having a good skincare regimen.
Today, I am doing the Medik8 Hydr8 B5 Intense review after putting it to the test for several months on my oily but dehydrated skin.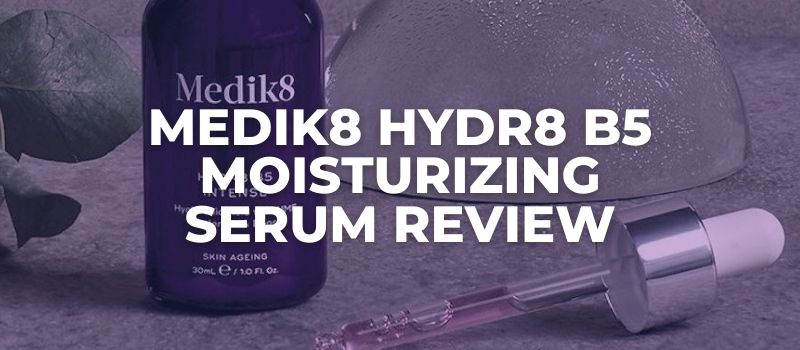 NB:
I can show you how to never have acne again.
If you have acne and want it gone
,
read this message
.
Medik8 Hydr8 B5 Intense Review
£55 (for a 30ml Bottle)
Price

Ingredients

Brand Quality

Average Customer Review
Medik8 Hydr8 B5 Intense Review Summary
No Artificial Fragrance
Cruelty-Free
No Synthetic Colors
Paraben-Free
What Causes Skin Dehydration?
Let's explain the difference between skin type and skin condition to understand better what we are truly up against, shall we?
Sebum is the oily substance produced by our glands to keep the skin lubricated, moisturized, and protected. It seals moisture into the skin and prevents it from evaporating and leaving the skin dry.
Dry skin is a skin type that you are born with and most of it is due to genetics and hormones.
On the other hand, Dehydrated skin is a skin condition that can affect any skin type, but most commonly accompanies dry or combination types.
This means that the skin has lost water from the tissues due to various reasons.
At its definition, dehydration means your body is losing more water than it's taking in.
This can be related to not drinking enough water to maintain a healthy balance, increased urination from caffeine or diuretics, and it may also occur from lots of sweating from exercise and again – not enough water intake to replenish what's lost.
Dehydrated skin can present itself through some of the following symptoms:
dullness
darker under-eye circles
sunken eyes
increased and more prominent appearance of fine superficial lines and wrinkles
itchiness
I, however, experienced something a bit different that was pretty obvious and visible on the surface of my skin. Still, I didn't know how to define it until I learned more about this dehydrated skin phenomenon.
My skin is naturally oily and quite sensitive, but as I started exercising regularly I kept my old nasty habit of not drinking enough water.
I from all people know how difficult it is to force yourself to drink water, and for a big part of my life, I hated the taste of water. I have also heard this from many of my clients.
Basically, my forehead started appearing shinier than usual and I started getting more and more pustules on my face. I naturally blamed it on the sweat from exercising, but it wasn't the case.
My skin was dehydrated beyond repair before I had a facial done by a friend and colleague aesthetician and she explained how superficial dehydration on the skin will not allow the sebum to surface. Because of this it remains trapped inside the pores, causing all these blemishes to pop up.
That right there blew my mind! Can you guess what I did after that?
I bought a packet of water on my way home and I have been diligent with my 2.5 liters a day ever since.
What is The Medik8 Hydr8 B5 Intense?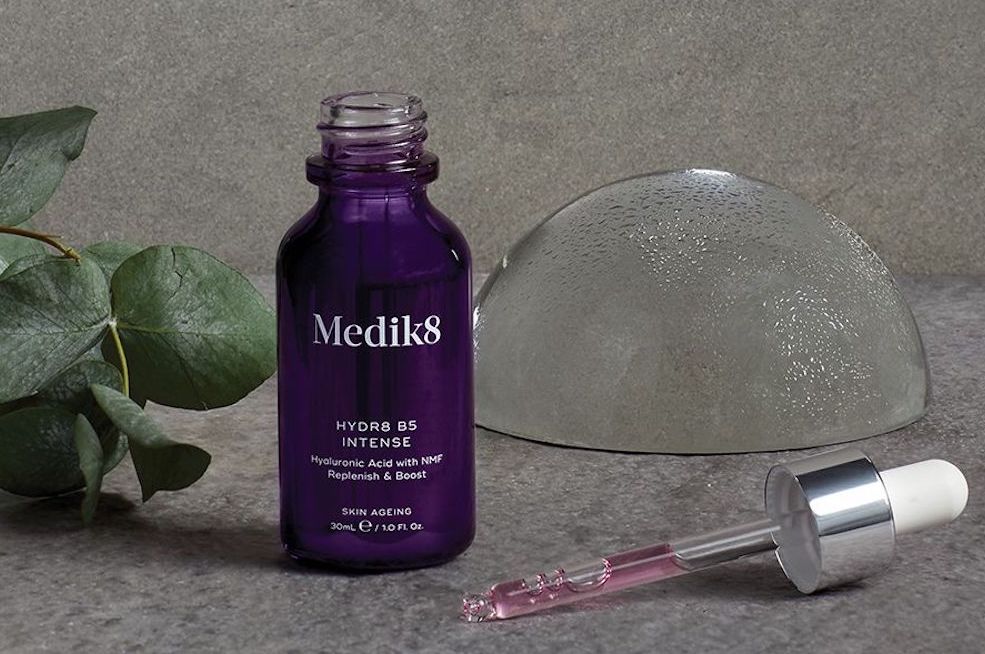 When I discovered the Medik8 Hydr8 B5 serum I knew I had to get my hands on it. This moisturizing serum contains multi-weight hyaluronic acid that draws and binds water from the atmosphere and right into the skin.
This ingredient is known for holding up to 1,000 times its own weight in water, making it easy to be absorbed by the skin and remain moisturized from the surface down to the deepest layers.
Additionally, it is enriched with vitamin B5 that strengthens the skin's water retention and regeneration.
The skin is left plump and well hydrated, and I can almost swear that the superficial lines around my eyes looked visibly smaller after a few days of using it.
But hold on a second!
Medik8 came up with a supercharged version of this "natural filler" as I like to call it. The Hydr8 B5 Intense is the big sister of the Hydr8 B5.
And she is a force to be reckoned the way I see it.
Harnessed with all the hydrating superpowers of their original bestseller but with added triple-action hydration booster, this serum recharges and replenishes the skin's internal moisture source.
Did you know that hyaluronic acid is a natural component we all have in our bodies?
The Hydr8 B5 Intense blocks the breakdown and helps to kickstart the natural production of hyaluronic acid in the skin. It delivers immediate and long-term hydration for a boost of moisture infusion throughout the entire day.
The Key Ingredients in Hydr8 B5 Intense

Besides the Multi weight Hyaluronic Acid that has a unique ability to attract and retain more than 1,000 times its own weight in water and draws moisture from the atmosphere and into the skin, and the vitamin B5 also known as panthenol that supports the regeneration of skin cells, this hydrating powerhouse is infused with several other ingredients.
How to Use Hydr8 B5 Intense (For Optimum Results)
This serum has a thin consistency, so per the usual order of applying skincare products, you should follow the application from thinnest to thickest consistencies.
Apply Hydr8 B5 Intense on a perfectly cleansed and toned face, neck, and décolletage every morning and evening and let it sit for a minute until it's absorbed.
Always follow with applying sunscreen in the morning and a nourishing moisturizer in the evening.
For optimum results of total overnight rejuvenation, apply your usual vitamin A serum after the Hydr8 B5 Intense and follow with a moisturizer.
You will be guaranteed to wake up with a million-dollar face in the morning.
What are Medik8 Customers Saying?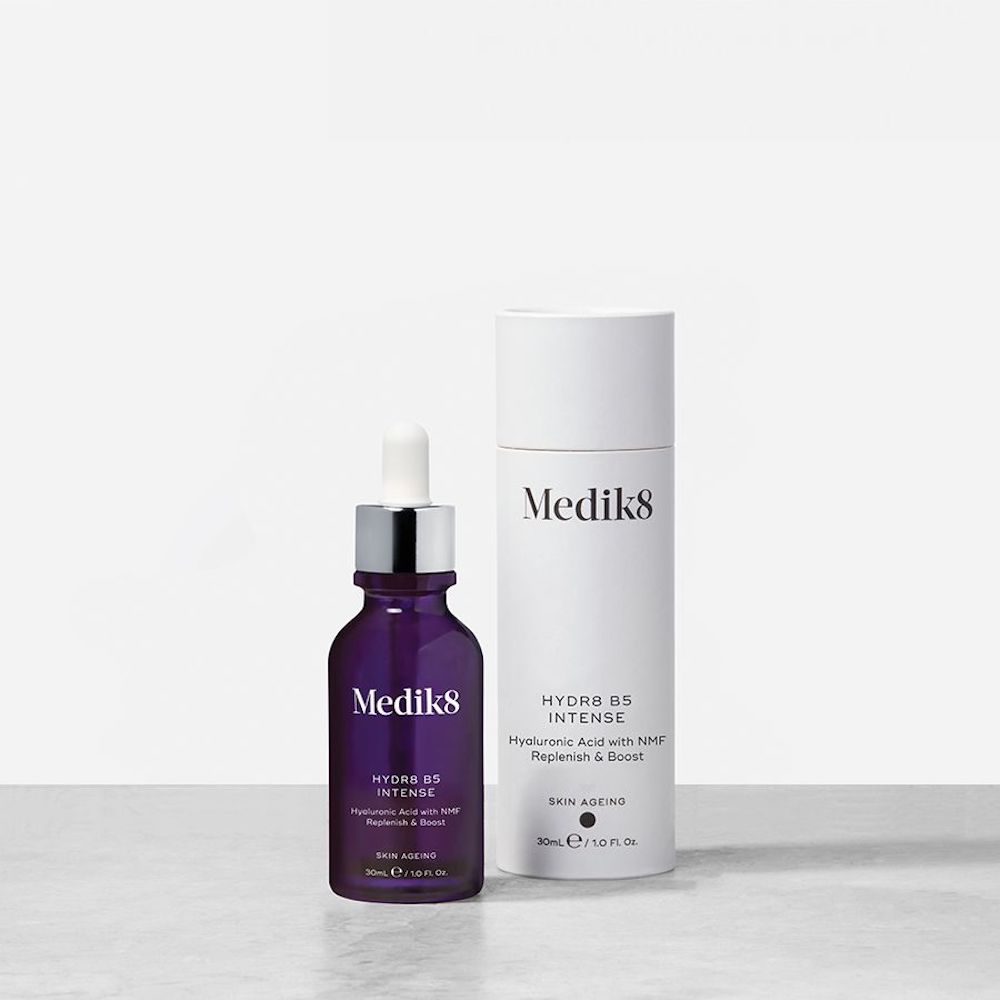 As a certified Medik8 therapist and having tried this product myself, I was curious to read what other Medik8 customers had to say about their experience using the Hydr8 B5 Intense.
The Intense version has a rather intimidating price, so naturally, not everyone wants to try it, especially if they have already tried the original Hydr8 B5 for a slightly lower price and it worked for them.
These are the few reviews I found online:
Amanda wrote for Lookfantastic – This product sinks in effortlessly and it leaves my skin feeling soothed, plump, and soft. I am obsessed with this product.
Anne wrote for DermaCareDirect – The original version did wonders to my skin, but the Intense took my complexion to a whole new level of soft and plumpness. I highly recommend it.
Ashleigh wrote for ProductReview – I love this product! It absorbs quickly and it doesn't leave your face feeling greasy even in summer. While a moisturizer can sometimes make my combination skin breakout, this serum is the perfect in-between layer of protection.
The Best Place to Buy Medik8 Products

The best place to buy this unique hydrating powerhouse serum is from the official Medik8 website where you will also find tons of product information and all the ingredients explained in great detail.
---
---
As an aesthetician, I have had the immense pleasure of working with many skincare brands on the market.
I am naturally experimental when it comes to skincare products and something I love doing is trying out different products on my face that are not necessarily always adequate for my skin type.
I feel like it is of great importance to know what a product does and how the ingredients react on my skin so I will be able to recommend the right products for my clients.
Becoming a certified Medik8 therapist is one of the best choices I have made for myself as this is a truly result-driven brand that uses science to provide harmony and health for your cherished skin.
Encouraging my clients to take good care of their skin is the biggest part of the career I chose and I'm passionate about.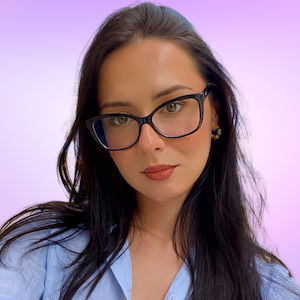 My name is Simone and I am a certified skin specialist. I created this website to teach my readers how to take great care of their skin and I also like to occasionally share my honest opinions on skincare products I've tried. You can learn more about me here.
The Acne Solution: Your Ultimate Guide To Flawless Complexion
An extensive, no-nonsense course showing you how to never have acne again, from a licensed Esthetician specializing in oily/acne-prone skin.