Besides the recent public controversies, The Ordinary is a brand you don't really hear a bad word about, at least when it comes to their products.
And it's really not difficult to see why everyone loves it.
The products are ridiculously cheap, formulated with simple and clean ingredients, are excellent for all skin types, each product addresses more than one skin concern, and most importantly – they work incredibly well.
So, today, I will be talking about two of my favorite products by The Ordinary – Hyaluronic Acid vs Marine Hyaluronics and will focus on explaining the similarities and differences between these two as well as mention which one worked better for my oily/acne-prone skin.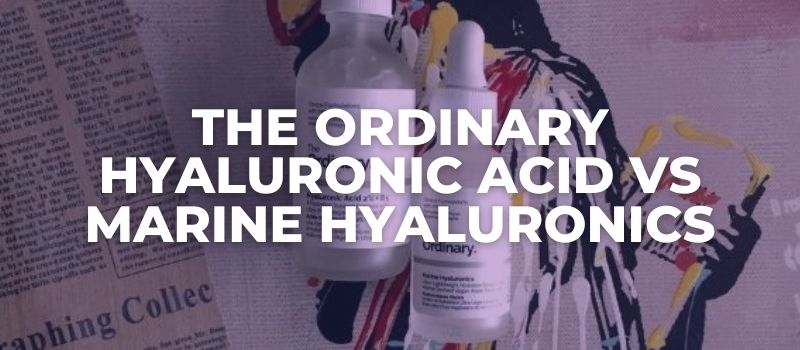 NB:
What if I told you I can show you how to never have acne again?
If you have acne and want it gone
,
read this message
.
What Does Hyaluronic Acid Do To Your Skin?
Hyaluronic acid is one of the best ingredients to incorporate into your skincare routine. This substance already occurs naturally in our skin and it is known for its capacity to attract and hold onto x1000 its weight in water or moisture.
So, this tells us that hyaluronic acid is also one of the safest ingredients to have in your skincare regimen because if the skin is already naturally producing it, that means that the skin is already familiar with it and this minimizes the risk of possible adverse reactions.
Hyaluronic acid is a glycosaminoglycan, which is a very fancy and difficult to pronounce name for a naturally occurring substance that's part of the skin's youth-supporting matrix.
This substance helps to keep the skin plumped, stable, safeguarded, hydrated, and constantly renewed.
Additionally, you have probably already heard that hyaluronic acid is also a humectant.
Humectants are a category of skincare ingredients that can draw moisture from their surroundings, which is why humectants are often found in water-based moisturizers, serums, or other leave-on products.
So, hyaluronic acid basically has a huge ability to replenish a lot of moisture and it can enhance the moisture content in the skin beyond comparison.
And when the skin is adequately moisturized, this means that the outer surface layers look and feel softer, smoother, and look plumper. This instantly improves the appearance of fine lines and wrinkles, too.
How great is this ingredient, right?
The Ordinary Hyaluronic Acid 2% + B5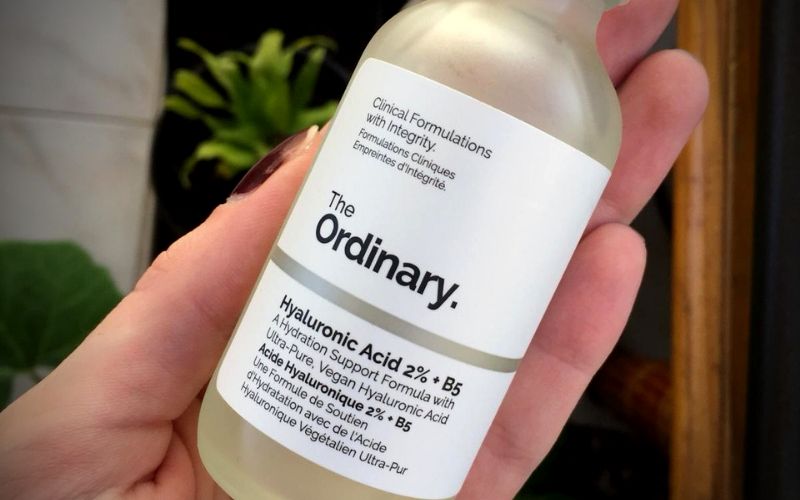 The Ordinary's Hyaluronic Acid 2% + B5 features three types of hyaluronic acid with different molecular weights (low, medium, and high).
These varying molecular weights are what allow the molecules to penetrate your skin at different depths.
Besides, this product is also infused with pro-vitamin B5 (Panthenol), which is a powerful humectant that has the ability to attract and retain moisture as well as help heal dry and damaged areas.
Ingredients
"Aqua, Sodium Hyaluronate, Sodium Hyaluronate Crosspolymer, Panthenol, Ahnfeltia Concinna Extract, Glycerin, Pentylene Glycol, Propanediol, Polyacrylate Crosspolymer-6, Ppg-25-Buteth-26, Trisodium Ethylenediamine Disuccinate, Citric Acid, Ethoxydiglycol, Caprylyl Glycol, Hexylene Glycol, Ethylhexylglycerin, Phenoxyethanol, Chlorophenesin"
So, a fairly short and straight-to-the-point ingredient list consisting of humectants, hydrating ingredients, vitamins, and preservatives to ensure that the formula remains stable for a long time.
Let's explain some of them:
Anfeltia Concinna Extract
This is a mineral rich in nutrients that stimulate cellular turnover and boost the hydrating properties of hyaluronic acid and help it penetrate the skin's surface at a deeper level.
Additionally, it has shown to have some mild antioxidant properties but it is mainly used in cosmetic products for moisturizing purposes.
Propanediol
I've heard people assume that this ingredient is a preservative, simply because the name reminds of something of the sort. However, Propanediol is a glycol that is mainly used in cosmetic products to enhance the absorption of ingredients.
It can be derived naturally from corn or made synthetically (which is the case with cosmetic products). Besides its original purpose, Propanediol has some hydrating properties that may leave a smooth and dewy finish on the skin.
Panthenol
Panthenol is the B5 vitamin in this product. Technically, panthenol is the alcohol form of B vitamin pantothenic acid and it is used in skincare and other cosmetic products as a humectant due to its ability to attract and hold moisture.
Consistency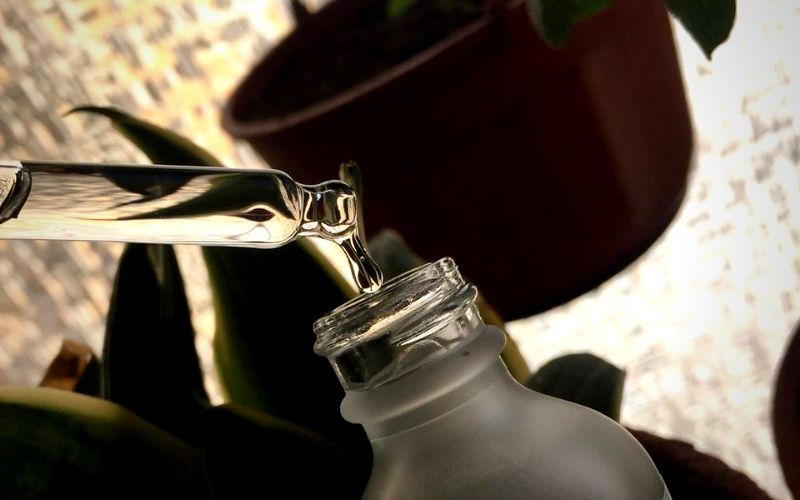 The Hyaluronic Acid 2% +B5 has a thicker, very typical serum-y consistency. It's also very gooey and it somewhat reminds me of the Snail Mucin Essence by COSRX.
Scent
The Hyaluronic Acid 2% + B5 has no added fragrance to it, therefore, it has no scent at all. It's like applying thick and gooey water all over your face and neck.
Performance
Like many other users, I also enjoy using this product and I prefer incorporating it in my morning routine because this is usually when I don't apply too many products so the gooey and thick consistency gives me that nice layer of hydration without overwhelming my skin.
I like to keep it plain and simple in the mornings, so this fits quite well in my routine.
I've also noticed that besides the fact that my skin can get incredibly oily, this absorbs very quickly and once it absorbs it almost starts to feel a little uncomfortable and drying.
This is when I spray a little bit of my Avene Thermal Water and continue with my moisturizer and then sunscreen.
I've found this method of application very useful because when hyaluronic acid doesn't have moisture to bind with and pull into the skin, it starts pulling moisture from the deeper levels of the skin, instead.
This results in an uncomfortable, tugging, and drying sensation.
Another complaint I have with this product is the same one I have had with several other products by The Ordinary in the past and that is the foaming thing going on.
I am not sure why this happens, but when I apply this product on dry skin, it always seems to foam up, which isn't the case when my skin is damp, so there's another reason why I prefer the damp skin method.
TO Hyaluronic Acid 2% + B5 Pros
Super affordable
It contains three forms of hyaluronic acid with different molecular weights (low, medium, and high)
It contains a B5 vitamin
Thick and hydrating
Easily accessible from various websites
TO Hyaluronic Acid 2% + B5 Cons
It can foam up sometimes
Due to the thick consistency, it may cause pilling if mixed with too many different products.
Where to buy?
Here are several websites that you can easily get TO's Hyaluronic Acid 2% + B5 from:
The Ordinary Marine Hyaluronics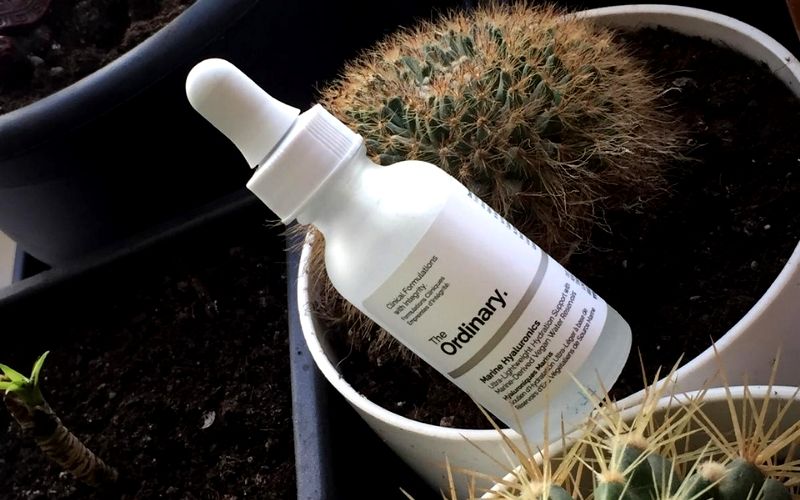 The Marine Hyaluronics serum is the lightweight alternative to TO's Hyaluronic Acid 2% + B5. However, besides the fact that the products are similar, there's no hyaluronic acid present in Marine Hyaluronics.
Instead, this formula uses lightweight marine derivatives like red, green, and blue algae that attract and bind with water much like hyaluronic acid, however, these are significantly lighter.
The total concentration of active ingredients in this formula is a whopping 23%.
Ingredients
I was actually shocked when I first saw the ingredients of this product. I mean, this is possibly one of the best (if not the best) products I have ever seen out there!
Just take a look at the rating below: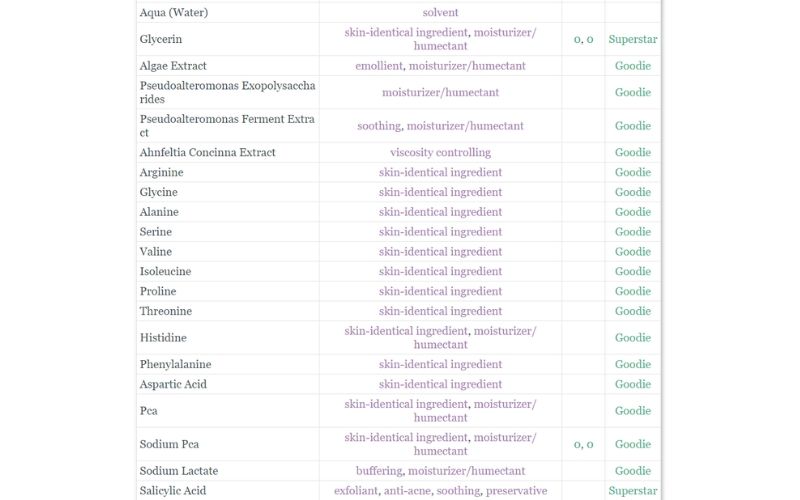 Consistency
The consistency of Marine Hyaluronics is also very different than their standard hyaluronic acid. Marine Hyaluronics is so lightweight that it's literally runny like water.
It's so runny that in the beginning, I thought the pipette was broken because the product is just dripping out of it all over the place. But then I realized that the opening of the pipette was a bit too wide for this lightweight serum.
Scent
Much like the original hyaluronic acid serum, Marine Hyaluronics doesn't contain any added fragrance and has no scent. Also, due to the lightweight consistency and no scent, it literally feels like you are dripping water on your face and neck.
Performance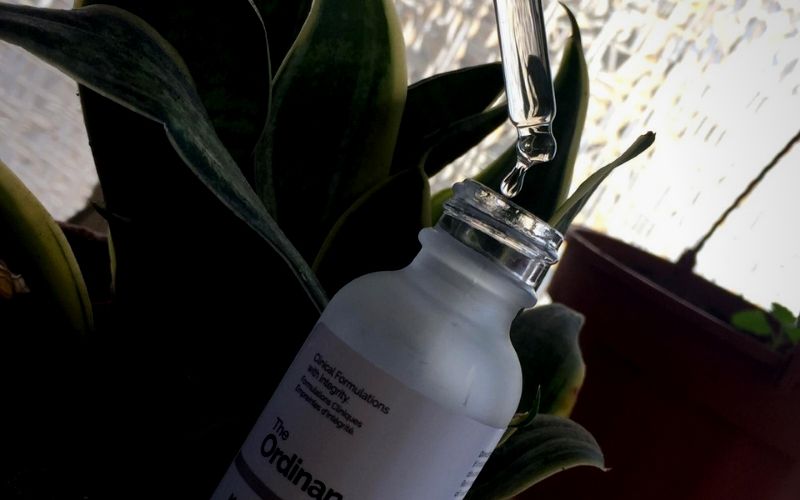 I cannot praise this product enough and if I had to choose a favorite, I would definitely go with Marine Hyaluronics.
The product is very lightweight and super-hydrating, therefore I love incorporating this in my evening routine when I apply a few more products on my face and it gives me a nice layer of hydration without overwhelming my skin.
The only thing I have to say about it is that it has to be used on damp skin because, this too, can give you that uncomfortable, tight, and dry feeling if you don't follow it up with a moisturizer or a thicker serum immediately or you use it on dry skin.
So, always use it on damp skin, wait a few seconds and follow it up with an essence, a thicker serum, or a moisturizer, depending on your routine.
TO Marine Hyaluronics Pros
Super cheap
Lightweight
It contains a high concentration of active ingredients (23%)
Excellent for all skin types
Gets along with any other product
TO Marine Hyaluronics Cons
It absorbs very quickly so you have to be fast while working it into the skin.
Where to Buy?
Much like the Hyaluronic Acid 2% + B5, the Marine Hyaluronics is easily available through various websites. Here are some of them:
Related Questions: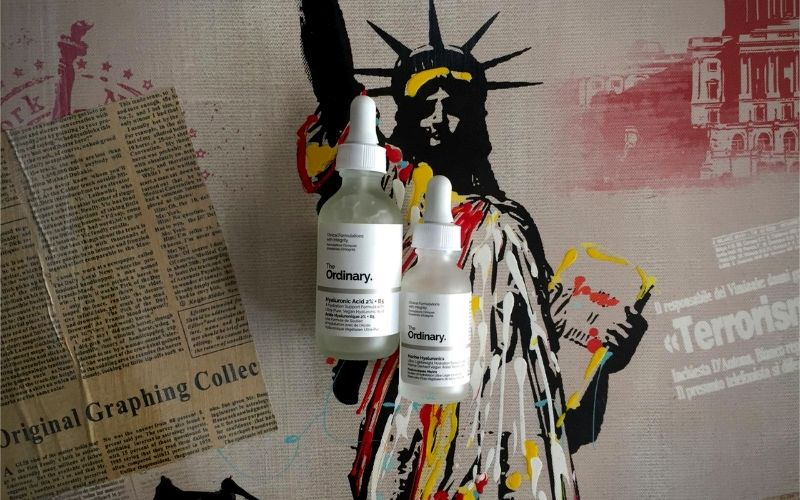 Here are some hyaluronic acid-related questions I see floating around every now and again:
Can you use hyaluronic acid every day?
Yes. Much like niacinamide, hyaluronic acid is one ingredient that is easily tolerated by any skin type dealing with any skin concern.
Hyaluronic acid occurs naturally in the skin, therefore, the skin is familiar with this substance and adjusts to it with ease.
Can hyaluronic acid irritate skin?
Hyaluronic acid can actually irritate the skin, however, this is not due to the fact of how often do you use it but how you use it. Hyaluronic acid is a humectant that can pull moisture from the environment and into the skin.
However, if hyaluronic acid has no moisture to pull from the environment, it will then start pulling moisture from the deeper layers of the skin and this can potentially cause dryness that can lead to skin irritation.
My name is Simone and I am a certified skin specialist. I created this website to teach my readers how to take great care of their skin and I also like to occasionally share my honest opinions on skincare products I've tried. You can learn more about me here.
The Acne Solution: Your Ultimate Guide To Flawless Complexion
An extensive, no-nonsense course showing you how to never have acne again, from a licensed Esthetician specializing in oily/acne-prone skin.