Salicylic acid is my favorite ingredient in skincare products.
And while I tend to experiment with many salicylic acid products, I always go back to the ones I like most: Paula's Choice BHAs.
I swear by these two and, so far, they are the best salicylic acid products I've found.
However, they are a little bit different from each other, and since I mentioned this in a Facebook group, many people wanted to know the difference between them and how they would know which one is the right one for their concern.
Having used both, I decided to write an article where I will explain a little bit about the two products and the different skin concerns they are intended to help and compare their performance.
This is my Paula's Choice CLEAR vs. PERFECTING 2% BHA comparison review.
TLDR Summary: I love both of these products, however, I use them according to my skin needs because although they are both intended to do the same thing, they are not intended to be used under the same circumstances.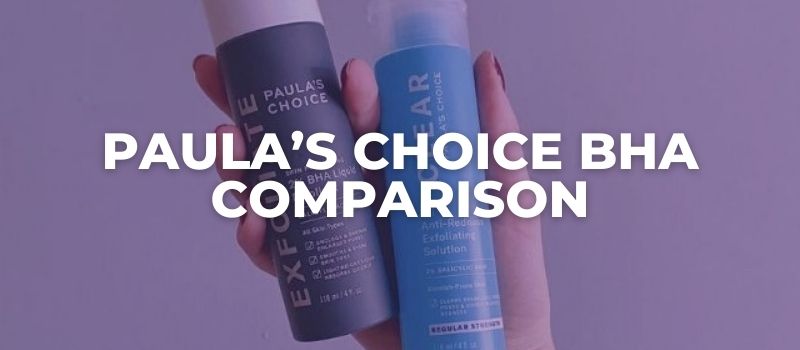 NB:
What if I told you I can show you how to never have acne again?
If you have acne and want it gone
,
read this message
.
What Does Salicylic Acid Do To The Skin?
Salicylic acid is a chemical exfoliant that is oil-soluble, which means it can cut through the surface oil and penetrate deeper into the pores to clear out sebum, dead skin cells, and accumulated white blood cells.
This ingredient is mostly used in products intended for oily and problematic skin types because it has the ability to:
soothe inflammation on the skin
cut through the surface oil and deeply cleanse congested pores
clear acne-breakouts
dissolve blackheads
soothe deeply inflamed cysts
Paula's Choice 2% BHA Liquid Exfoliant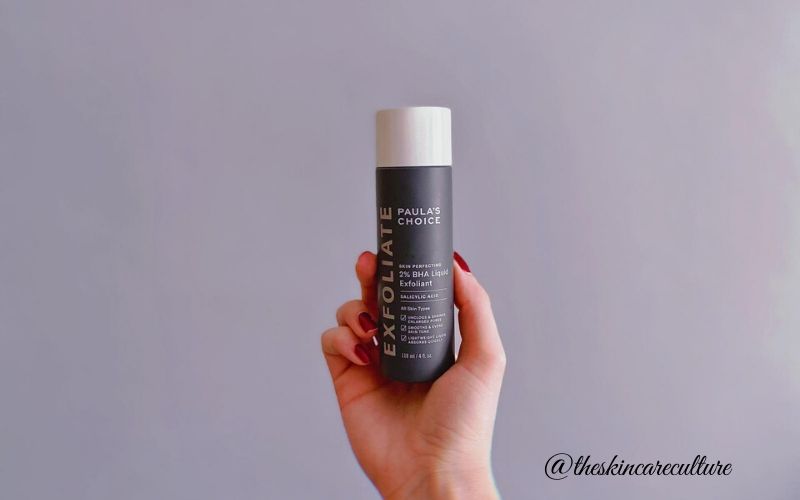 Paula's Choice 2% Skin Perfecting BHA Liquid Exfoliant is an exfoliating solution marketed as a daily facial treatment that promises to treat acne, blackheads, enlarged pores, as well as provide an even skin tone and contribute to a smoother complexion.
I've seen many people online saying this is a toner; however, it's not. Exfoliating solutions such as this one is something you typically use after a toner, but you can skip a toner if you want to keep a more minimal routine.
Ingredients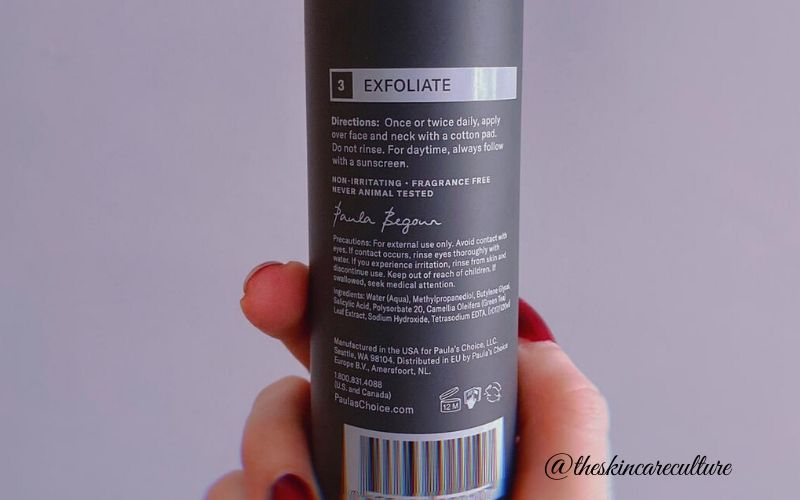 I love it when there is a short and straight-to-the-point ingredient list!
Besides hydrating ingredients such as Methylpropanediol and Butylene Glycol, the two main superstar ingredients in this product are salicylic acid and green tea leaf extract, a powerful antioxidant with anti-inflammatory and skin-soothing properties.
Furthermore, according to this study from June of 2013, green tea extract showed to have a prolonged moisturizing effect, reduce skin roughness, as well as the ability to improve skin wrinkles.
Consistency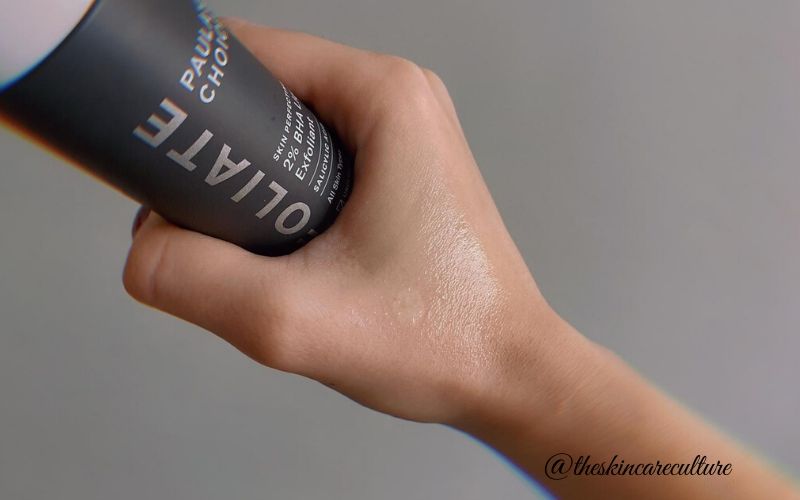 The consistency of this product is slightly oily and overall very rich as you can hopefully see from the photo.
It coats the skin with a nice layer of hydration due to the big drop of Methylpropanediol, an excellent moisture magnet but a little heavier than hyaluronic acid.
As soon as I applied it the first time, I immediately got a little worried that it won't work very well for me because my skin is already super-oily, therefore, I feared this rich texture would create that unnecessary layer of grease.
But that wasn't the case, however, there is a trick – a little goes a long way.
We sometimes get carried away with skincare products and we think that the more we apply – the more benefits we will receive, however, this is not a good way to go about any skincare product, and the BHA Liquid Exfoliant isn't an exception.
The skin is a semi-permeable organ which means it can only absorb very little product; therefore, the less you apply – the better it will absorb.
Scent
Paula's Choice Skin Perfecting BHA Liquid Exfoliant has no added fragrance to it, however, it comes with a slight scent. It's not horrible, but there is a slight "laboratory" type of smell to it.
Performance
This BHA is excellent, and it gave me an overnight result.
I had a breakout on my forehead that consisted of a few smaller pimples and one slightly bigger, angry cyst towards my left temple, so I decided it was the perfect time to put it to the test and see how this product will handle them.
While the breakout didn't get 100% clear the next morning, I was pleasantly surprised to see that the cyst was now a small pimple, while the small pimples on my forehead from the previous night were gone.
As for the pores, this didn't make a massive difference right off the bat, however, it made them look a little bit more refined than usual.
Also, I am not all that crazy about the effect it had on my blackheads. It managed to remove the several blackheads I had on my cheeks but it didn't do much for the ones on my nose.
Overall, I think this is a great product for both oily and dry skin types that experience occasional breakouts.
It has a rich texture, performs well (with minor shortcomings like not removing blackheads on the nose), and leaves the skin glowy, clear and moisturized.
Paula's Choice BHA Liquid Exfoliant Pros:
Gentle/non-irritating
Soothes the skin
It makes small pimples disappear overnight
Significantly minimizes huge and painful cysts
Offers excellent hydration
A very small amount needed for the entire face
It comes in a travel-size
Paula's Choice BHA Liquid Exfoliant Cons:
Although it is a little pricey ($30 for 118ml)
No pump on the bottle, which makes it a bit awkward to use
It has a slightly medicinal scent
It didn't remove blackheads on my nose
Where To Buy?
You can purchase Paula's Choice BHA Liquid Exfoliant on the following sites:
Paula's Choice Anti-Redness Exfoliating Solution 2% Salicylic Acid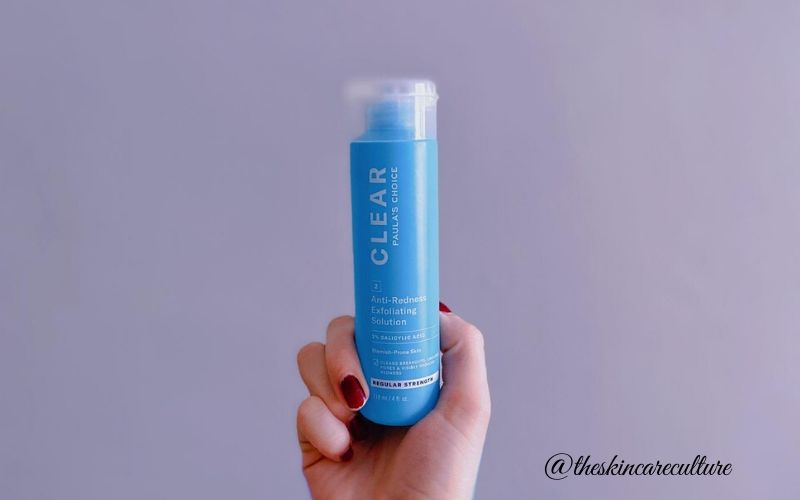 Paula's Choice CLEAR Anti-Redness Exfoliating Solution 2% Salicylic Acid is the lighter version of her liquid exfoliants.
This particular product is a targeted treatment formulated for mild to moderate acne. It comes in two strengths (regular and extra strength) and the regular version is formulated with a slightly higher pH to be more gentle on the skin.
The soothing formula is also effective in calming acne-related redness.
Ingredients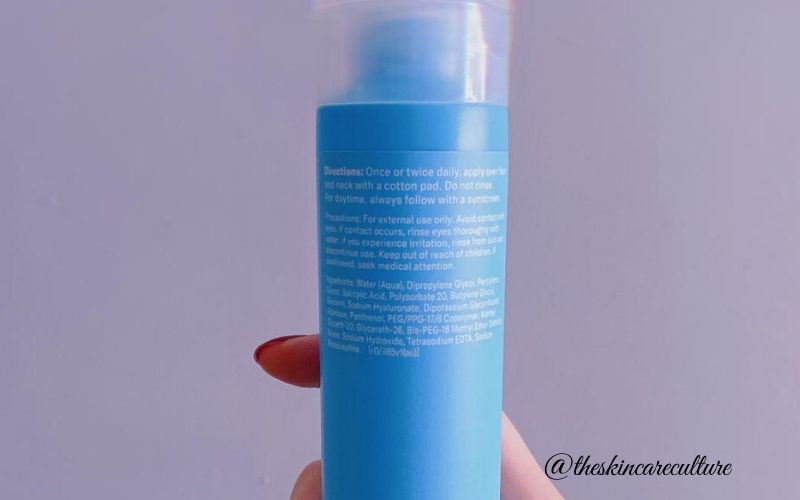 The Anti-Redness Exfoliating Solution contains salicylic acid as the main active ingredient followed by many hydrating, skin-soothing, and replenishing ingredients including pentylene glycol, butylene glycol, glycerin, sodium hyaluronate, allantoin, panthenol, and dipotassium glycyrrhizate.
Dipotassium glycyrrhizate is an especially interesting ingredient. This is the salt form of one of the main anti-inflammatory components in the licorice plant.
Licorice extract is an incredibly efficient skin-soothing, softening, and replenishing ingredient, however, this particular component is also used for its sebum-regulating benefits, making it a perfect option for oily/acne-prone skin.
I have never seen this ingredient in products that I personally use, so I was pleasantly surprised to learn more about it after seeing it in the anti-redness exfoliating solution.
Consistency
The consistency of the Anti-Redness Exfoliating Solution is much lighter than the 2% BHA Liquid Exfoliant.
The BHA Liquid Exfoliant has a richer, oilier consistency, while the Anti-Redness solution is clear and light much like plain water.
Scent
The Anti-Redness Exfoliating Solution doesn't have added fragrance, however, this one too has a slight scent.
Interestingly enough, it's much less noticeable than the BHA Liquid Exfoliant, however, if you focus on noticing it, you will smell something.
It's very mild and it fades after a second.
Performance
If I had to pick a favorite from the two, it would be the Anti-Redness Exfoliating Solution 2% Salicylic Acid. I use the regular version and it never fails to clear my breakouts by the next day.
What's more, it also clears the embedded blackheads on my nose, something which the 2% BHA Liquid Exfoliant didn't do.
I also enjoy the lighter texture and the fact that it absorbs into the skin and doesn't leave a film or a layer. There's nothing visible on the surface of the skin after it dries out.
But, it does leave the skin a little bit dry, so I don't think this would be the best option for someone who has dry skin and occasional breakouts.
This is definitely more of an oily skin product and dry skins shouldn't experiment with it.
I found it a little bit drying for me, but it works amazingly well and because I have a great skincare routine that supports my skin, the initial dryness didn't bother me at all.
I always follow up with a hydrating serum and a moisturizer to compensate and bring my skin back to normal.
PC Anti Redness Exfoliating Solution 2% Salicylic Acid Pros:
Lightweight, water-like consistency
It doesn't leave an oily residue on the skin
Potent salicylic acid product
It comes in two strengths
Clears breakouts quickly and efficiently
Removes blackheads (including the deeply embedded ones on the nose)
Amazing product for oily skin
Reasonable price for what it offers
PC Anti Redness Exfoliating Solution 2% Salicylic Acid Cons:
It can be a bit drying
Not suitable for dry skin types
You need to have a great skincare routine, otherwise, it will dry out your skin
Where To Buy?
You can buy the Anti-Redness Exfoliating Solution with 2% Salicylic Acid on the following websites:
---
---
My name is Simone and I am a certified skin specialist. I created this website to teach my readers how to take great care of their skin and I also like to occasionally share my honest opinions on skincare products I've tried. You can learn more about me here.
The Acne Solution: Your Ultimate Guide To Flawless Complexion
An extensive, no-nonsense course showing you how to never have acne again, from a licensed Esthetician specializing in oily/acne-prone skin.