Exfoliation is an important step that happens regularly in a good skincare regimen.
Some people religiously stick to doing it once or twice a week, while others swear that daily exfoliation is the reason for glowing skin.
However, the tricky thing about exfoliation is that it can either do wonders for your skin, but it also has the potential to compromise your skin barrier if not used right.
If you've been there, you probably know what I'm talking about.
While the market is literally flooded with different exfoliators, how are you even supposed to know which one is the best for you?
Let's dive deeper into perfecting one of the most important steps in our skincare regimen as well as my recommendations for the 5 best exfoliating solutions for glowing skin.
What Does Exfoliation Do To The Skin?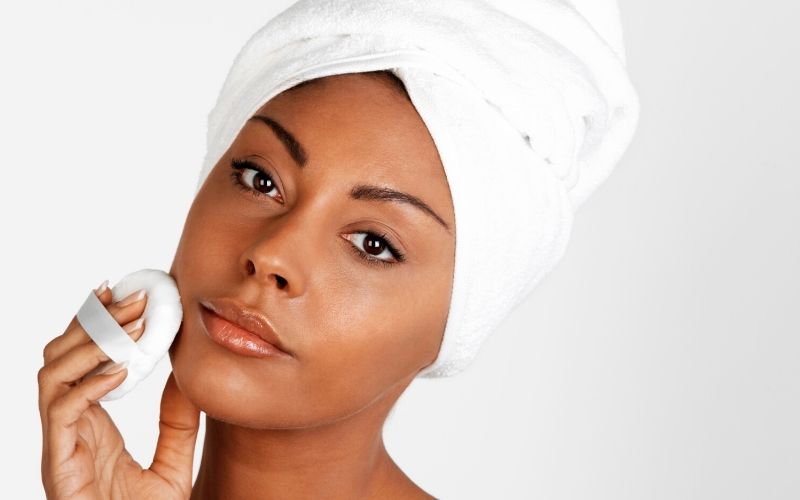 NB:
What if I told you I can show you how to never have acne again?
If you have acne and want it gone
,
read this message
.
Exfoliation is a buzzy word in beauty right now, however, if you are feeling a little lost as to what exactly should you expect to happen after exfoliating your skin, let's explain it more simply.
The surface of your skin is the home to thousands of dead skin cells that continually shed. When you are young, all of the dead skin cells shed or fall off in a pre-programmed fashion every 28 days.
That means that your skin isn't the same it was 28 days ago, which is a mindblowing thought on its own.
However, as you begin to age, some of those dead skin cells can stay on the surface of your skin for up to 80 days. And although they are invisible to the human eye, they make your skin appear dull, discolored, and perhaps even broken out as a result of clogged pores.
The piles of dead skin cells can prevent your skincare products from properly absorbing into your skin, rendering them useless when you think about it comes down to throwing your money down the drain.
The same thing goes for makeup. A smooth and even foundation application is not likely to happen if the surface of your skin is rough due to the piles of dead skin cells.
So this is basically where exfoliation comes in to save the day.
By exfoliating your skin you are removing the build-up of dead skin cells and any lingering dirt that can cause breakouts on the surface of your skin.
This process makes way for newer, healthier skin cells and reveals a smooth skin layer with a beautiful radiance, which is a good enough reason to do it often.
However, can often become too often to the point where your skin can start rebelling against the harsh treatments?
The 5 Best Exfoliating Solutions For Glowing Skin (Reviewed Below)
[ninja_tables id="6584″]
We are all familiar with using those physical exfoliators with gritty and grainy formulas that sadly tend to leave our skin feeling slightly raw and tingly.
The worst part about them is that we were convinced the redness and tingling sensation had to be a sign the exfoliator is working, right?
Well, not quite. In reality, these types of exfoliators are actually damaging our skin, or at the very least, not doing anything we would want them to do.
Because some of us are willing to pay for high-priced items and expect them to work harder than the devil in return, here's a list of the five best exfoliating solutions that will take your skincare game to the next level.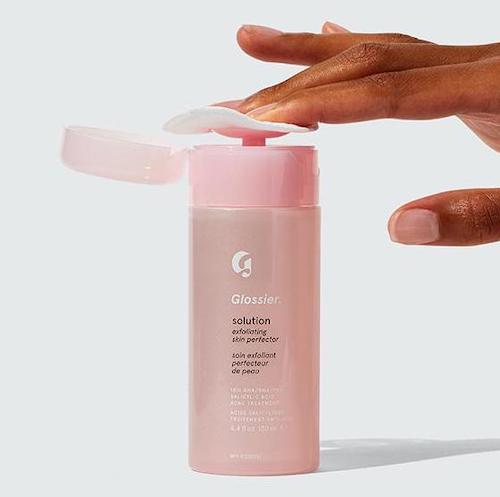 The Solution is a liquid chemical exfoliator and Glossier's most powerful formula yet.
The potent formula contains a blend of three acids to exfoliate the skin, and each of these offers different benefits for the skin:
Salicylic Acid – A BHA (Beta Hydroxy Acid) that is an anti-inflammatory agent that reduces blackheads and acne and also works to deep cleanse the pores in order to prevent future breakouts.
Glycolic Acid – An AHA (Alpha Hydroxy Acid) that has a small molecule size and has the ability to quickly absorb into the skin. Its superpowers are brightening and visibly improving skin texture.
Gluconolactone – A naturally occurring PHA (Polyhydroxy Acid) with moisturizing and antioxidant properties. It has the ability to scavenge free radicals and improve visible skin damage.
Solution by Glossier definitely differs from traditional exfoliators. Instead of scrubbing and potentially damaging the skin, it gently disregards dead cells away to reveal a brighter and healthy-looking complexion.
Additionally, it contains soothing ingredients such as aloe, glycerin, and niacinamide that work to heal and soothe skin irritations and improve many skin concerns.
How To Use It?
While Glossier says that the Solution can be used once daily, I strongly advise against doing this. After all, you have to consider that this is a powerful blend of three different acids that can potentially cause sensitivity, therefore using it up to three times a week is more than enough.
Additionally, you should always be diligent with applying your sunscreen if you consider giving chemical exfoliation a shot.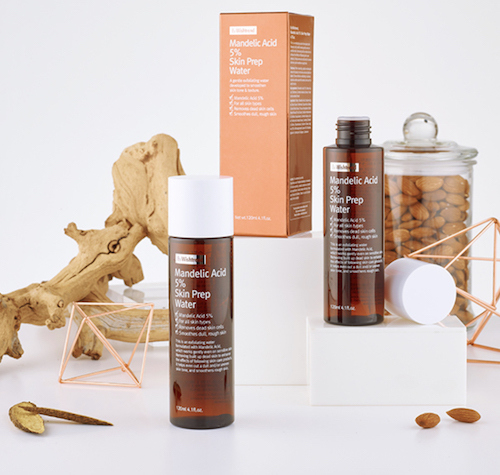 By Wishtrend Mandelic Acid 5% Skin Prep Water comes in a sleek and dark plastic bottle and has a clear, watery texture and a slight medicinal scent to it.
While this can be somewhat offputting and even worrying at the beginning, this product does not contain alcohol that can potentially dry out and dehydrate your skin.
Additionally, it is free of parabens, silicone, steroids, artificial colors, and fragrances and has a low pH of 4.5 ± 1.0, making it ideal for sensitive or sensitized skin.
While it does have the ability to sting once applied over open wounds, the product otherwise feels comfortable and it absorbs fast into the skin without leaving an oily or tacky film once it dries.
The active ingredient in this product is Mandelic Acid, which is a type of AHA with mild exfoliating properties and it's naturally derived from bitter almonds.
Mandelic Acid has a long history of being used as an antiseptic before someone figured out it can safely be applied on the skin for its exfoliating properties.
Additionally, Mandelic Acid has lipophilic properties, meaning it can cut through the skin's sebum and penetrate much deeper into the skin, unlike other AHAs that typically tend to work better on the surface of the skin.
This product also contains Beta-Glucan, a skin-soothing agent with antioxidant properties and Centella Asiatica Extract, an anti-inflammatory ingredient popular in products for sensitive and acne-prone skin.
How To Use It?
The Mandelic Acid 5% Skin Prep Water can be used daily according to Wishtrend, however, I strongly advise against this. Mandelic Acid, although gentle, still has the potential to irritate the skin and cause sensitivity if it's being used too often.
Therefore, three to four times a week is a personal sweet spot for this treatment product to deliver its beneficial properties into the skin.
For an extra boost of hydration, you can follow it up with an alcohol-free toner.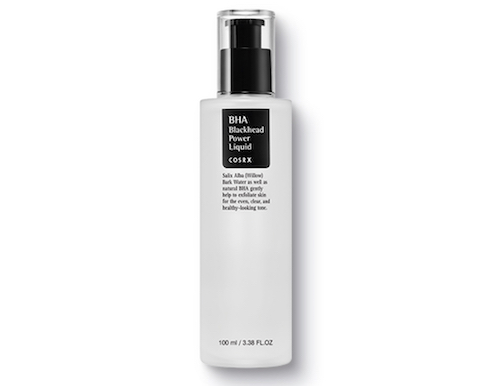 The BHA Blackhead Power Liquid by the Korean brand COSRX is a gentle, leave-on exfoliant.
It uses Beta Hydroxy Acids that cut through the sebum and penetrate deeply into the skin in order to exfoliate the pore lining and loosen clogged sebum inside the pores.
Its deep-cleansing action softens blackheads and makes them easier to extract and due to its anti-inflammatory and antibacterial properties, it has the ability to soothe irritations, minimize acne, and prevent future breakouts.
The BHA Blackhead Power Liquid is ideal for oily skins that are commonly prone to breakouts. It has additional soothing ingredients such as Niacinamide that can also help with balancing the production of sebum as well as evening the skin tone and minimizing pigmentation.
How To Use It?
The BHA Blackhead Liquid Power is a gentle exfoliator with moisturizing properties and can be used daily, unlike the other exfoliators on this list.
While sunscreen is definitely a must after applying this product, you can safely use it all-year-round, day or night. The Beta Hydroxy Acid in this product won't increase sun sensitivity and it actually has some photoprotective properties.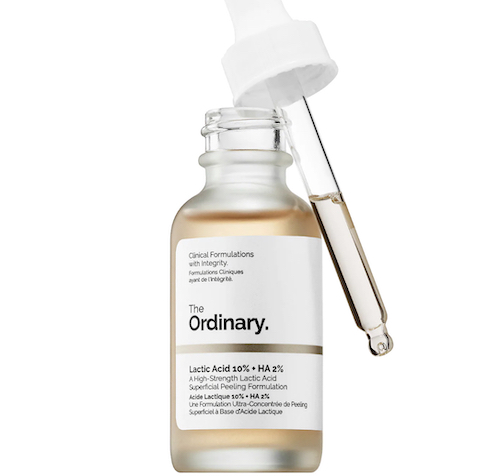 Lactic Acid is another common Alpha Hydroxy Acid that is naturally derived from lactose in milk. Like glycolic acid, it is known to have powerful exfoliating and anti-aging effects.
Lactic Acid is slightly less irritating and more moisturizing than glycolic acid, making it the perfect exfoliating solution for dry and very sensitive skin.
It also helps with minimizing pigmentation as well as refine skin texture and plump out any irregularities.
The 10% formulation by The Ordinary offers mild exfoliation. It is supported with a purified Tasmanian pepper berry, a plant derivative known to reduce inflammation and sensitivity that is often associated with exfoliation.
The Ordinary also has a milder, 5% formula available which is a more suitable option for beginners.
How To Use It?
Lactic Acid like any other AHA should be applied in the evenings and no more than 2-3 times per week.
While being deemed as gentle exfoliants, AHAs can increase your skin's sensitivity to the sun and particularly the possibility of sunburn, therefore it should always be followed with a generous application of sunscreen in the mornings.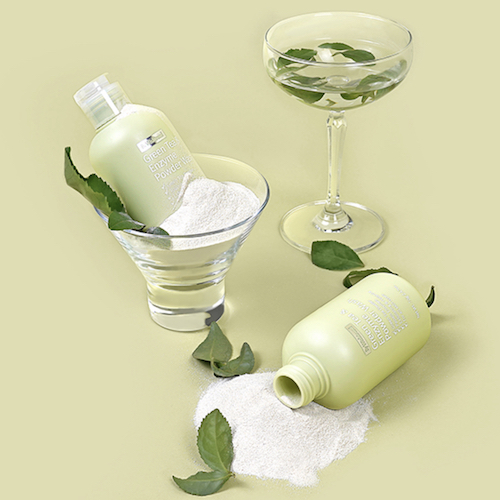 The Green Tea & Enzyme Powder Wash By Wishtrend is promoted as a gentle, low acidic cleanser suitable for all skin types, however, oily skin types are most likely to find this cleanser excellent against blackheads as well as excess sebum.
The wash is effective in cleansing and soothing the skin as well as leaving it refreshed after use.
The first ingredient on the list is Sodium Bicarbonate which is the plain, ole' baking soda. While this would normally be a problem, I found that the potential hazard is nicely balanced out by adding plenty of gentle, skin-friendly ingredients.
The formula is meant to gently melt away blackheads, impurities, and dead skin cells and it also contains Green Tea Leaf Powder, Hyaluronic Acid, Papain Enzyme, as well as a bunch of amino acids known for their healing and soothing properties.
How To Use It?
Due to the exfoliating properties, the Green Tea & Enzyme Powder Wash is still a product that should be used 2-3 times a week instead of daily.
You can dispense a small amount of powder on wet hands and gently work it into a lather by using warm water. The foam should then be massaged onto the skin and rinsed off.
---
How Often Should You Exfoliate?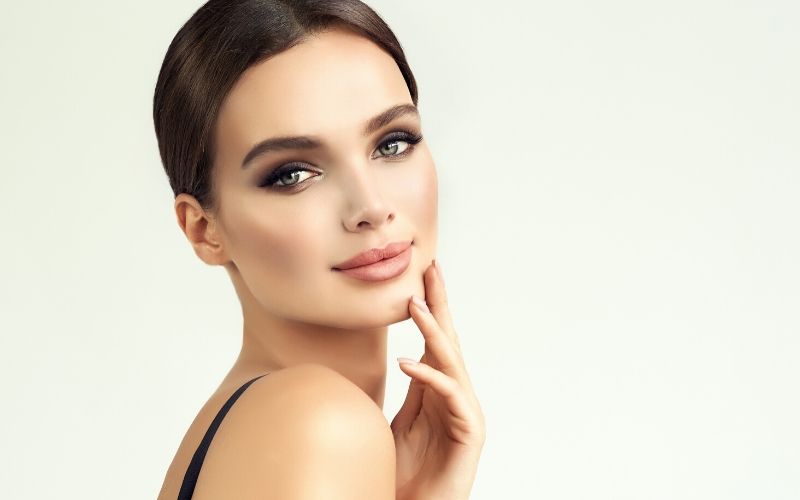 Unfortunately, your dead skin cells won't stop accumulating daily, so exfoliating your skin isn't a one-time kind of wonder. Exfoliating products work best when they are used several times a week.
This way, your skin will be free of dead skin cells and it will maintain its healthy and radiant glow without being unnecessarily irritated or sensitized.
There are two types of exfoliating products out there:
Physical: Our old famous scrub exfoliates the skin by physically scrubbing old, dead skin cells away and typically has a grainy or gritty texture.
Chemical: – a gentler version of exfoliation, chemical exfoliators use ingredients with low pH called acids or enzymes that due to their small molecular size can easily travel into the deeper skin layers and gently break down the sugars that act as bonds between the cells.
Physical scrubs can be used 1-2 times per week, depending on your skin's sensitivity level and the products you are using.
On the other hand, chemical exfoliators can be used anywhere between 3-4 a week for more sensitive skin but can be applied nightly for skin that is more resistant.
While very different in texture and delivery method, both physical and chemical exfoliators have one other thing in common besides exfoliation.
They both require to be followed up with adequate aftercare that will protect the skin from potential damage. The most important aftercare product is sunscreen.
Diligently applied every morning, sunscreens can protect your skin from premature aging as well as photodamage that results in dark spots, patches, and pigmentation.
My name is Simone and I am a certified skin specialist. I created this website to teach my readers how to take great care of their skin and I also like to occasionally share my honest opinions on skincare products I've tried. You can learn more about me here.
The Acne Solution: Your Ultimate Guide To Flawless Complexion
An extensive, no-nonsense course showing you how to never have acne again, from a licensed Esthetician specializing in oily/acne-prone skin.