This is my Q+A Hyaluronic Acid Hydrating Cleanser review, where I will talk about how this product performed on my oily, dehydrated, and acne-prone skin.
So, I've seen several skincare creators and influencers rave about this product across Instagram and Twitter, but although I thought it was somewhat good looking by the ingredient list, it never really caught my eye or made me interested in buying it for some reason.
Until I was on my holiday, looking for a cheap cleanser that I could use and throw away before traveling, and I spotted the Q+A Hyaluronic Acid Cleanser in a random store and decided it was about time I'd try it.
I only used it for about two weeks while on my holiday, and I have some thoughts that I will share below.
So without any further ado, let's start with this review: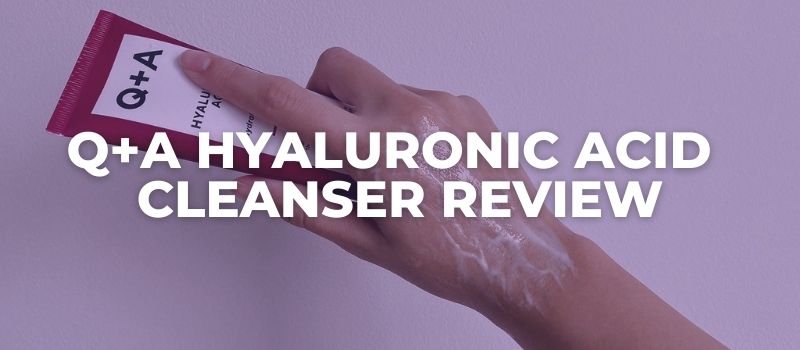 NB:
What if I told you I can show you how to never have acne again?
If you have acne and want it gone
,
read this message
.
About Q+A Hyaluronic Acid Hydrating Cleanser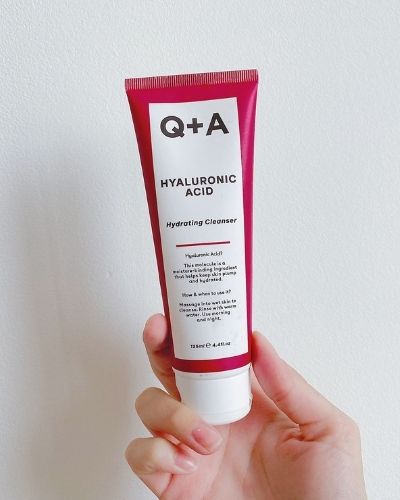 On the Q+A website is says that the Hyaluronic Acid Hydrating Cleanser is a hyaluronic acid cleanser that uses gentle and soothing cleansing agents which only boost your skin's moisturization, rather than leaving it to feel dry, stretched, and uncomfortable.
Ingredients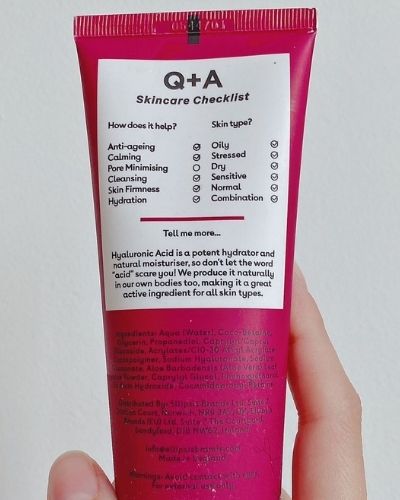 The Q+A Hyaluronic Acid Cleanser is a very simple, hydrating cleanser that consists of only thirteen ingredients.
Most of these are also very hydrating and soothing to the skin.
The few I like the most are sodium hyaluronate, the – sodium form – cousin of the famous hyaluronic acid which helps the skin retain moisture, moisturizing and softening propanediol, soothing aloe vera leaf juice, moisturizing and softening caprylyl glycol, and the main surfactant – coco betaine, which is one of the most gentle surfactants out there that work to cleanse the skin without overdrying it.
Another thing I like about this cleanser is that it doesn't contain drying alcohol, fragrance, and essential oils; therefore, it's entirely safe to be used by even the most sensitive, rosacea-prone, and eczema-prone skin.
Scent
The Q+A Hyaluronic Acid Cleanser doesn't have added fragrance or fragrant components, but it does have a faint silicone scent to it.
It's definitely not overpowering, but it is there, and it's noticeable.
Consistency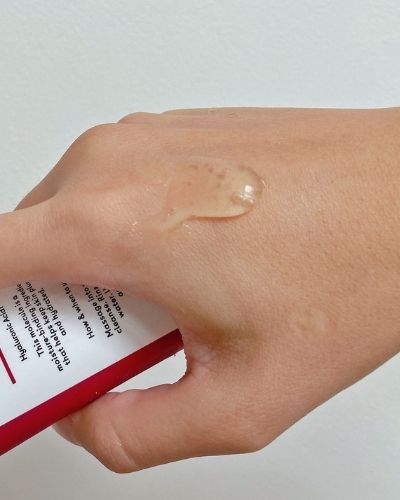 Q+A Hyaluronic Acid Cleanser has the consistency of a very thick gel, and little goes a long way when you add a little bit of water to it before working it on the skin.
This is something I never thought I'd have to mention, but I am seeing many people who use cleansers on completely dry skin and end up saying things like, "this cleanser didn't work for me."
To avoid this, you always need to add a little bit of water and work the cleanser between your fingertips or the palms of your hands to make it lather.
Additionally, you should always use a cleanser on wet skin so that it works properly.
Lastly, since it doesn't contain harsh surfactants and foaming agents, the Q+A Hyaluronic Acid Cleanser doesn't foam much, and it tends to maintain a consistency that can be described as something between a cream and a gel.
Below is a photo of the Q+A Hyaluronic Acid Cleanser fully worked on the skin. You can tell that it doesn't foam up as much as your typical foaming cleanser, such as the SkinCeuticals Soothing Cleanser, for example.
Performance
During the short time that I've used it, I started liking the Q+A Hyaluronic Acid Cleanser. It worked well on my oily, dehydrated, and acne-prone skin without irritating it or overdrying it.
Still, because my skin was somewhat dehydrated at the time, the cleanser didn't help much, and I could still feel a bit of dryness and tightness after cleansing, but nothing too serious, and I know that a cleanser can't actually hydrate your skin long term.
The important thing about a cleanser is that it shouldn't add to the dryness and irritation, but a cleanser isn't a product that will noticeably improve the skin in the long run.
In any case, I can tell that this is a good cleanser, and it's also very affordable too. I purchased mine for about five or six euros, and depending on where you buy it from; the price can vary slightly.
Also, besides being good for my oily and acne-prone skin, my husband, who has normal to dry skin, ended up liking this cleanser too, and we both used it during our holiday.
And since the packaging has a decent size of 125 ml, we still couldn't finish it, so I ended up giving it to my cousin, who has combination, acne-prone skin, and he also loved it and said it made his skin very soft.
So, all in all, it's a good and affordable cleanser for all budgets and skin types.
Q+A Hyaluronic Acid Cleanser Pros:
Affordable.
Lasts a long time.
Free from fragrance, fragrant components, and drying alcohol.
Hydrating and softening.
It won't irritate the skin.
Suitable for all skin types, including sensitive, acne, rosacea, and eczema-prone skin.
Q+A Hyaluronic Acid Cleanser Cons:
Thick and gooey consistency
Not easily available for the US market
Where to Buy The Q+A Hyaluronic Acid Cleanser?
The best online places to buy the Q+A Hyaluronic Acid Hydrating Cleanser are:
My name is Simone and I am a certified skin specialist. I created this website to teach my readers how to take great care of their skin and I also like to occasionally share my honest opinions on skincare products I've tried. You can learn more about me here.
The Acne Solution: Your Ultimate Guide To Flawless Complexion
An extensive, no-nonsense course showing you how to never have acne again, from a licensed Esthetician specializing in oily/acne-prone skin.