SkinCeuticals is a high-end skincare brand sold through dermatologists, estheticians, and other high-end skincare stores.
It's also a brand I like a lot, and their products often find their spot in my product recommendation articles.
The brand is quite pricey, and their products range anywhere from $35 for cleansers all the way up to $300-400 for kits consisting of multiple products that target various skin concerns.
However, even though the price is not something I look forward to paying, I am always happy to try out their products because they will deliver great results.
Lately, I've been trying out one of their cleansers that only became available in Europe recently.
Therefore, this article will be my SkinCeuticals Soothing Cleanser review, where I will talk about how this foaming cleanser performed on my oily and acne-prone skin.
And without any further ado, let's get started right away: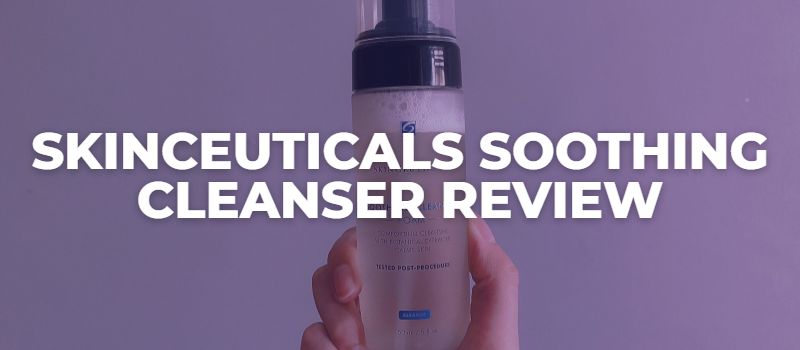 NB:
What if I told you I can show you how to never have acne again?
If you have acne and want it gone
,
read this message
.
What is SkinCeuticals Soothing Cleanser?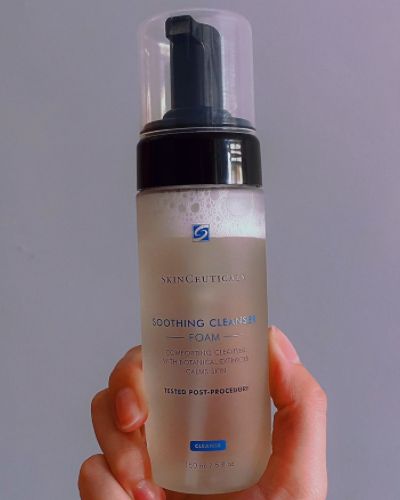 Soothing Cleansers by SkinCeuticals is a gentle cleansing foam formulated with soothing ingredients suitable for even the most sensitive skin.
The soap-free cleanser is even safe for skin undergoing professional procedures such as chemical peels, IPL, lasers, microneedling, microdermabrasion, and even injectables as it doesn't contain any potential irritants that could harm the skin while in its most sensitive state.
Ingredients
The Soothing Cleanser contains a 22% concentration of hydrating and calming ingredients, including sorbitol, glycerin, orchid, and cucumber extracts.
As I already mentioned above, the cleanser is 100% soap-free, so I was already going in expecting it to be super mild and gentle.
In fact, I didn't even do a patch test as soon as I received it. I immediately ran to the sink and slathered it all over my face because I was sure it's safe.
Soothing Cleanser contains a few very mild surfactants, including sodium cocoyl glycinate, which is an incredibly gentle surfactant and skin-softening agent derived from amino acids alongside coco-betaine, a similarly gentle and non-irritating cleansing agent.
The product is so simple that you would think, why would I even pay $35 for this cleanser, but make sure to read the rest of this review for more details.
Consistency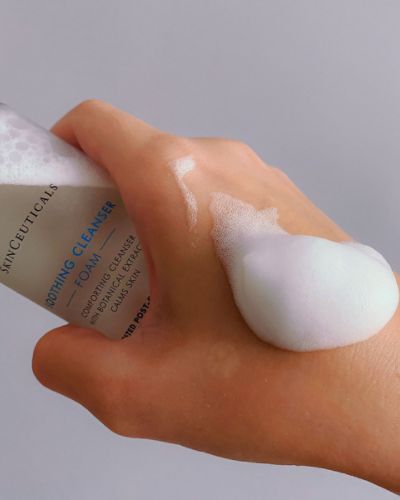 The Soothing Cleanser has the consistency of a rich foam that stays on the skin for a little bit before it starts to disintegrate.
You don't need to be super fast with it, like with some other foam cleansers where the foam disappears within seconds if you don't start working it in immediately.
And it also remains on the skin, so the more you work it with wet hands – the richer it becomes, and it stays like that for a couple of minutes before it starts to disappear.
The above photo shows the foam seconds after dispensed on the skin, while the below photo shows how rich the foam becomes once you start working it into the skin.
I really love this consistency cause it means that you don't actually need a lot of product to wash your entire face. To take these photos, I only dispensed half a pump of product onto the back of my hand.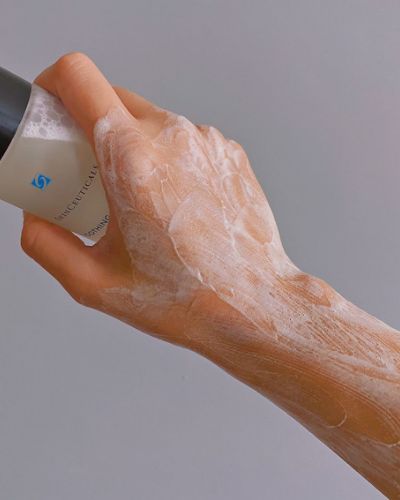 Scent
The Soothing Cleanser doesn't have added fragrance, but it does have a very pleasant, sweet scent. It's not overpowering, and it surely won't give you a headache, but it is very mild and very pleasant. I just love having it on my face.
Performance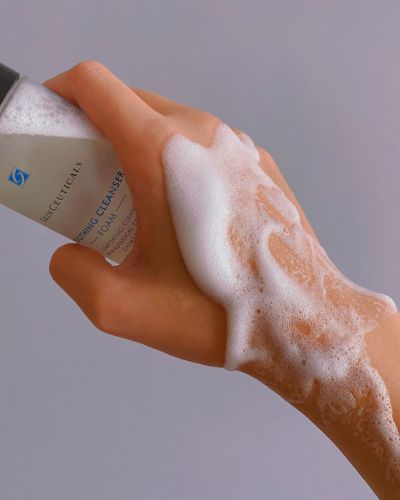 So I haven't been using this cleanser for a long time; however, I've been using it regularly twice a day for the last couple of weeks.
And right off the bat, I'm going to say it's an amazing cleanser.
It has a very pleasant scent, and because fragrance is something I don't always appreciate in products, I was pleasantly surprised by how conscious SkinCeuticals was when formulating this product.
They wanted to give you that high-end, pleasant experience without the risk of irritation or even headaches which is something many people (myself included) experience with overpowering fragrance in (usually high-end) skincare products.
Next, the cleanser spreads on the skin very easily, and it starts foaming up immediately until it turns into a rich and pleasant foam.
Even though you may think you need a lot just because it's foam and you don't know how it's going to perform, trust me, you will need very little of it.
I find myself using one pump in the morning when I'm only doing a quick and light cleanse and two pumps in the evening after I remove my makeup with my micellar water, and that's all I need.
Another thing I've noticed which is the case with a few other high-end cleansers, including the EltaMD Foaming Cleanser, is how effortlessly they wash off from the skin.
For example, if I'm using my regular La Roche Posay Effaclar Cleanser or Bioderma Sebium Gel Cleanser, it always takes me a while to wash it off, and I have to really get in there with my hands because these two cleansers (and other budget ones I've tried) tend to leave a gel residue that you have to work harder to remove.
On the other hand, high-end cleansers simply wash off on their own without me needing to even work them off. They are just gone once they come into contact with water.
I know this is what foam cleansers are about, but I've tried other budget-friendly foaming cleansers such as the Klairs Rich Moist Foaming Cleanser and Cetaphil Gentle Foaming cleanser, and they don't wash off as easily as high-end products.
Don't get me wrong, they're both great foam cleansers if you are looking for something on a budget, but I can't recommend the SkinCeuticals Soothing Cleanser enough if you want to splurge on an amazing cleanser.
One last thing I have to say is don't expect this cleanser to remove makeup at all. This is one of the flaws of foaming cleansers – they are just not powerful enough to remove makeup.
And the Soothing Cleanser is especially gentle, even gentler than a standard foaming cleanser.
So if you are relying on your cleanser to remove makeup, this one may not be for you.
SkinCeuticals Soothing Cleanser Pros:
Extremely gentle and non-irritating.
Suitable for all skin types, including oily and acne-prone skin.
Mild and pleasant scent.
Spreads easily on the skin.
It doesn't overdry or dehydrate the skin.
It has a nice and luxurious foam that feels great when applied to the skin.
SkinCeuticals Soothing Cleanser Cons:
Pricey.
Not easily available.
Where to Buy the SkinCeuticals Soothing Cleanser?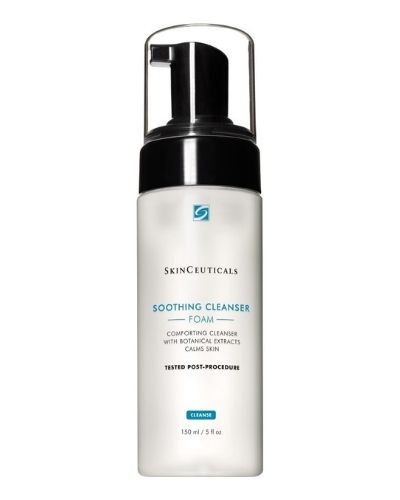 The best online places to buy the SkinCeuticals Soothing Cleanser are:
My name is Simone and I am a certified skin specialist. I created this website to teach my readers how to take great care of their skin and I also like to occasionally share my honest opinions on skincare products I've tried. You can learn more about me here.
The Acne Solution: Your Ultimate Guide To Flawless Complexion
An extensive, no-nonsense course showing you how to never have acne again, from a licensed Esthetician specializing in oily/acne-prone skin.