As an esthetician, I will never tire of trying and testing new skincare products. And I have been especially fond of everything that involves some kind of light therapy due to the effectiveness of this technology and its wide range of benefits.
Therefore, I was ecstatic when a Current Body representative contacted me and asked me to review one of their products.
You've heard of Current Body, right? It's the major player in the game of smart beauty, specializing in high-tech beauty devices that help target various skin concerns and improve the skin's overall appearance.
So we settled on one of their bestsellers that involves one of my favorite treatments – the LED Light Therapy Mask.
So, after testing the mask for about two months, I'm finally ready to give you my review.
And, as always, let's start by explaining a little more about the device itself.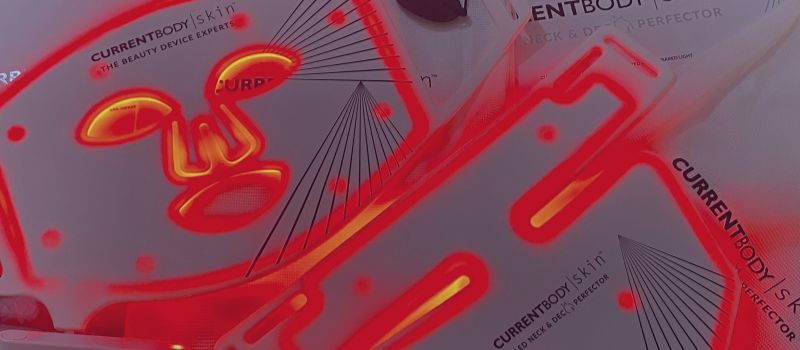 NB:
What if I told you I can show you how to never have acne again?
If you have acne and want it gone
,
read this message
.
What is The Current Body Skin LED Light Therapy Mask?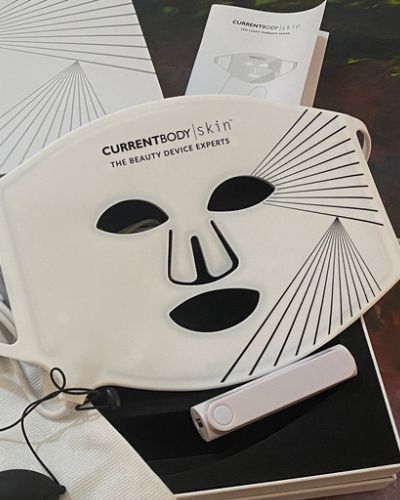 Loved by celebrities like Kourtney Kardashian, Kaley Cuoco, and Rennée Zellweger, and even seen in the newest season of Emily in Paris, the Current Body LED Light Therapy Mask is a revolutionary device that uses light therapy to address various skin concerns and promote a healthier, more uniform complexion.
This facial-style mask combines Red (633nm) and Near-Infrared (830nm) light wavelengths, which have been proven to provide multiple benefits for the skin, from soothing inflammation to improving the signs of premature skin aging.
Benefits of LED Light Therapy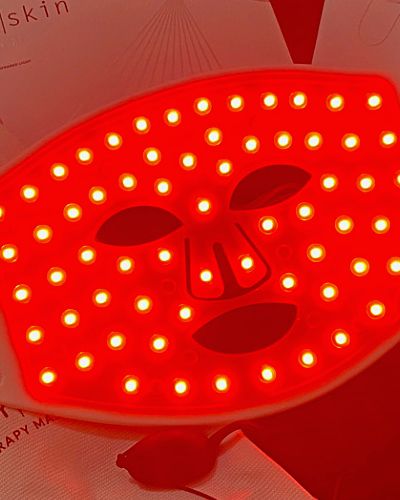 LED (light-emitting diode) light therapy is a non-invasive treatment that relies on the power of light to address a variety of different skin issues.
The potential skin benefits of LED light therapy started being studied in the 1990s by NASA, as the organization was trying to uncover ways to aid the wound healing of astronauts in space.
They found that specific wavelengths of light could help cells heal and regenerate, and soon after, LED light therapy treatments started being used in dermatology offices around the world.
Numerous studies have shown that incorporating LED light therapy as a facial treatment can help soothe inflammatory conditions like psoriasis and reduce bacterial conditions like acne by helping activate specific light-sensitive receptors in the skin that can help stimulate healing and cell rejuvenation.
But besides the anti-inflammatory effects on the skin, studies have also revealed that LED light therapy can increase collagen and elastin production and reverse the visible effects of skin aging, like wrinkles, sun damage, and hyperpigmentation.
What's Inside the Current Body LED Light Therapy Mask Box?
As I already mentioned in the intro, the Current Body team was so kind to send me their two LED Light Therapy Masks for the face, neck, and decolletage:
Let's first talk about the facial mask, which comes in a box that contains the following: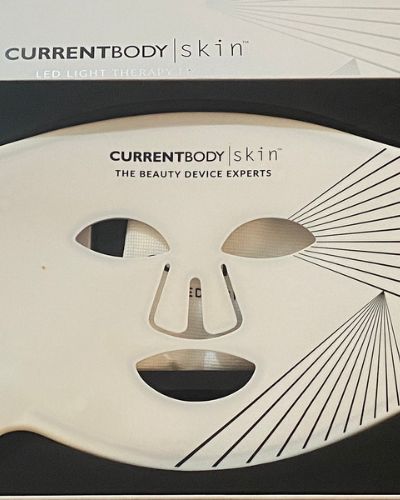 Current Body LED Light Therapy Mask.
A protective bag.
USB charging cable.
Protective goggles.
A Velcro strap to adjust the mask.
User manual.
The second box, which contains the neck and decolletage device, is also equipped with the following: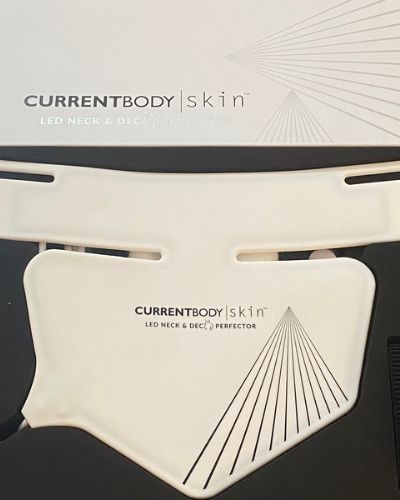 Current Body LED Light Therapy Mask.
A protective bag.
USB charging cable.
A Velcro strap to adjust the mask.
User manual.
Preparing for the Current Body LED Light Therapy Mask Treatment
The Current Body LED Light Therapy Mask should be used on clean, dry skin. Therefore, to prepare for the treatment, I thoroughly cleaned my skin after a full day of makeup with my Bioderma Sensibio Micellar Water and followed up with my DMK Deep Pore Pure gel cleanser.
While waiting for my skin to get dry after cleansing, I take a dry wipe and dampen it with a few drops of surgical spirit, and wipe the part of the mask that I apply directly to my face to prevent any dust or bacteria that has accumulated on it between uses from getting in touch with my skin.
The Current Body website says that you can also use wet wipes to do this; however, I tend to avoid them because they're often very perfumed, which could potentially irritate the skin, and they leave a layer that takes some time to evaporate.
On the other hand, surgical spirit evaporates within seconds and instantly leaves the mask free of bacteria and dust.
Using the Current Body LED Light Therapy Mask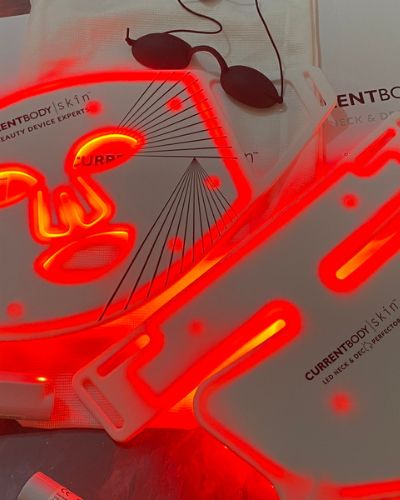 Once I have my skin perfectly prepped, and the mask is clean, it's time to start the treatment.
Both the Current Body LED Light Therapy Face & Neck masks come with an adjustable Velcro strap that helps you adjust them to appropriate areas. Once I'm happy with the fit, I press the power button to turn on the masks.
The LED lights will be instantly activated, and the masks will emit a strong red/orange light and a very slight warmth that feels pleasant on the skin.
This is all it takes to start your LED light therapy treatment, and since both masks are very comfortable and lightweight, you can continue your normal activities while you have them on.
However, while the neck part is definitely one of the most comfortable beauty gadgets I've ever tried, I personally find the lights on the face mask a little too strong to keep my eyes open, so I like to close my eyes and relax during my treatment.
The brightness is perfectly safe as it has been rigorously tested to make sure it doesn't cause eye damage, so keeping your eyes open is fine if you don't feel uncomfortable.
On the other hand, if closing your eyes isn't enough and the mask is still too bright for you, you can use the provided goggles to block the light completely.
The complete treatment lasts 10 minutes, and while doing more than one session in a day is not recommended, the mask can be used daily for the best results.
Once the time is up, the masks switch off automatically with a loud beep, which always shakes me back to reality!
I then remove the masks, apply my regular skincare routine, and pack them up in the protective pouch without cleaning it after usage.
You can clean the masks before and after the treatment if you feel like it, but I personally prefer cleaning them before putting them on my skin, and since I always cleanse before the treatment, I don't feel the need to clean the mask after.
Additionally, while I prefer using my regular skincare products, Current Body does have a skincare line consisting of a cleanser, toner, a variety of serums for different skin types and concerns, and hydrogel masks, that can be used in conjunction with the LED light therapy masks to maximize their effects.
What Results Can You Expect From Using the Current Body LED Light Therapy Mask?
The effects of the Current Body LED Light Therapy Mask are cumulative, and you should start seeing changes to your skin after 4-6 weeks of regular use.
The most common results users report is clearer and brighter skin, improved elasticity, reduced appearance of lines and wrinkles, and a more uniform complexion.
In my experience, I have noticed that the few pimples I often get on my temples and along the jawline tend to look smaller and less inflamed the morning after the treatment.
I also noticed the fine lines around my eyes starting to soften with the regular use of the face mask, and I saw a more uniform complexion overall.
However, the most noticeable change after using the face mask for a few weeks was the improvement of my post-inflammatory red scars.
Post-inflammatory erythema, or red dots that remain on the skin after a pimple has healed and are more prominent in those with a fair complexion are a result of a broken blood vessel under the skin and are notoriously difficult to get rid of because there isn't a skincare product that helps rebuild the capillaries.
However, the few efficient options that help target this type of scarring are professional treatments like lasers, IPL, and red light therapy.
I have been struggling with a few of these forever, as they are incredibly stubborn when they appear in areas where the skin is thicker, such as the cheeks, and I had no luck improving them until I started using the Current Body LED Light Therapy Mask.
Eventually, I plan on getting a laser treatment to smooth out some atrophic scarring on my cheeks, but I am pretty satisfied with this at-home device for improving the appearance of my red marks.
As for other aesthetic concerns like wrinkles, I don't have any that are deep or visible enough to be treated with this mask, but given that I noticed some softening of the lines around my eyes, I can only imagine that someone with more advanced signs of skin aging would benefit from it even more.
So when it comes to lines and wrinkles on the neck, I like to use the Current Body Neck Perfector purely for its pleasant sensation, relaxation, and subtle improvements I can see on my skin (such as the fading of red, post-acne marks on the sides of my neck); however, since I don't have other aesthetic concerns about this area, I can't advocate the gadget's effectiveness.
All that being said, the user experience is definitely pleasant, and the results are noticeable, especially when it comes to my main skin concerns.
Therefore, if smart beauty gadgets are something you are into, and you want to polish your complexion, neutralize existing redness, and reduce the appearance of fine lines and wrinkles, the Current Body LED Light Therapy Masks are worth considering.
Now, these gadgets might not be affordable for everyone, however, they are definitely worth the price.
For example, buying a device that you will have access to at all times, and can gradually improve your complexion without any downtime or side effects, can turn out to be more cost-effective in the long run than professional treatments that have to be done multiple times and will likely cost more per session than the whole kit itself.
At the end of the day, the decision to purchase any skincare device should be based on both budget and desired results, but regardless of your motives, if you are looking for an efficient and safe device to improve your complexion while enjoying a pleasant and relaxing treatment, I can definitely recommend the Current Body LED Light Therapy Masks.
Contraindications of Using the Current Body LED Light Therapy Mask
While the Current Body LED Light Therapy Mask is generally safe, a few contraindications would prevent you from using it.
Firstly, the mask is not suitable to use if you're currently taking medication that would cause photosensitivity, and these include antibiotics, antihistamines, certain antidepressants, and the most popular drug for acne – Accutane.
Also, using the mask if you're pregnant or breastfeeding is not recommended, as the mask hasn't been tested explicitly on this demographic, and there's no evidence to prove that it's neither safe nor unsafe.
Finally, the mask isn't recommended for use by anyone with conditions like Lupus, photosensitive disorders, or Albinism, as those are usually characterized by skin that is extra sensitive to light, and therefore the mask could potentially cause discomfort.
That said, even if you don't have any known contraindications that would prevent you from using the Current Body LED Light Therapy Mask, you should still do a sensitivity test before applying the mask to any part of your face.
To do this, start by placing the mask on the back of your hand for 3-10 minutes to see how your skin reacts to it.
If you don't notice any adverse effects like redness, sensitivities, itching, stinging, or burning up to 24 hours after a sensitivity test, you can then proceed to use it on your face.
It's important to note that the mask should be used for no longer than 10 minutes per session, and at least 24 hours should pass between each use.
Where to Buy the Current Body LED Light Therapy Masks
The Current Body LED Light Therapy Masks can be purchased on the Current Body official website.
The Current Body team was also kind enough to provide me with a unique code that will get you 15% off their products, so use CULTURECB to take advantage of this opportunity if you are interested in purchasing a smart beauty device from their website.
My name is Simone and I am a certified skin specialist. I created this website to teach my readers how to take great care of their skin and I also like to occasionally share my honest opinions on skincare products I've tried. You can learn more about me here.
The Acne Solution: Your Ultimate Guide To Flawless Complexion
An extensive, no-nonsense course showing you how to never have acne again, from a licensed Esthetician specializing in oily/acne-prone skin.