Whether it's a reaction from a certain product, long-term damage, or an intense procedure – your skin can easily become irritated and feel uncomfortable.
Irritated skin usually means that your skin's barrier has been compromised, and as a result of this – it is incapable of protecting you from external pathogens and potential allergens.
Most often, when your skin is irritated, you will experience burning and discomfort even while washing it with plain water, which can be super concerning because what are you supposed to apply if even water burns?
Well, your best option is to apply a product that will soothe your skin and help it heal and repair itself, which is what today's article is about. Here are the…
10 Best Products To Instantly Soothe Irritated Skin (Reviewed Below)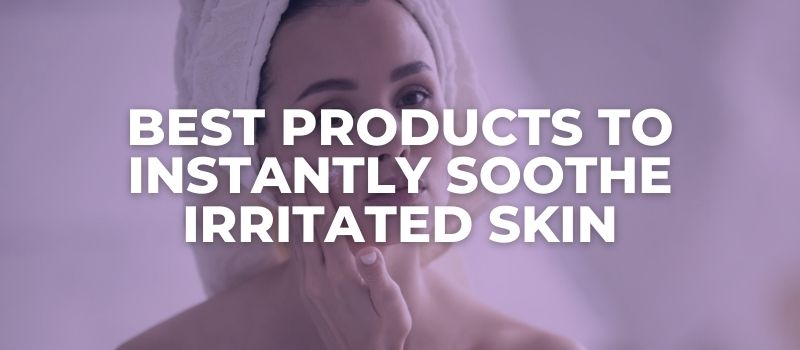 NB:
What if I told you I can show you how to never have acne again?
If you have acne and want it gone
,
read this message
.
[ninja_tables id="7364″]
La Roche Posay – Cicaplast Baume B5 – $15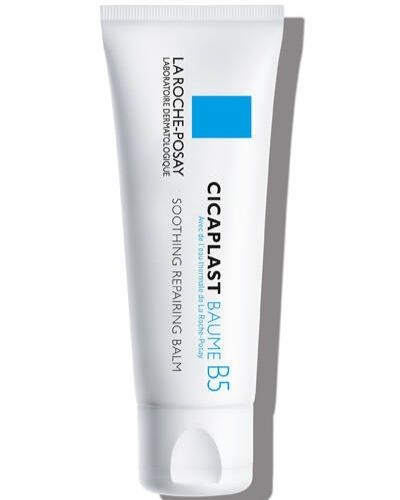 The Cicaplast Baume B5 by La Roche Posay is essential on the beauty shelf of anyone who is just starting their tretinoin journey.
This product is so soothing; you will feel immediate relief within the first seconds of applying it to your irritated skin.
It is a thick balm that contains many soothing, repairing, and moisturizing ingredients.
There's moisturizing and softening shea butter, hydrating glycerin, soothing and repairing panthenol, nourishing magnesium, anti-inflammatory zinc, as well as Madecassoside, which is one of the four main compounds in the plant extract Centella Asiatica, an incredibly soothing and repairing agent that helps strengthen the skin barrier.
The Cicaplast Baume B5 is also non-comedogenic, and although it's quite thick and heavy, there's nothing here that will clog your pores and cause your skin to break out.
Best for acne-prone skin.
First Aid Beauty – Ultra Repair Cream – $16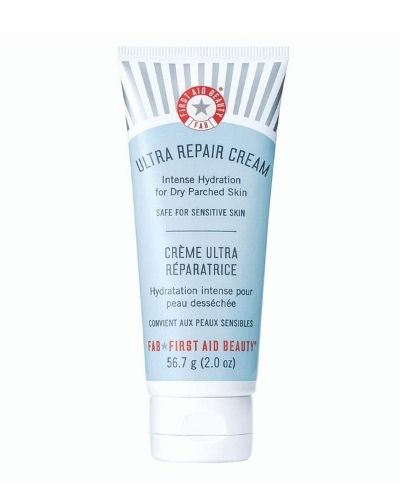 The Ultra-Repair Cream by First Aid Beauty is very similar to the Cicaplast Baume B5, only more suitable for normal, dry, and mature skin dealing with sensitivity and irritation.
It contains a few ingredients, including stearic acid, Cetearyl alcohol, and squalane that could potentially be clogging for oily, acne-prone skins; however, they are excellent emollients for someone on the dry side.
It also contains triglycerides, which are lipids naturally found in our skin's natural oil and are essential for a healthy skin barrier.
It also contains moisturizing shea butter and anti-inflammatory colloidal oatmeal, as well as soothing licorice extract to help relieve irritation.
Best for dry/mature/sensitive skin.
Naturium – Marine Hyaluronic Water Cream – $20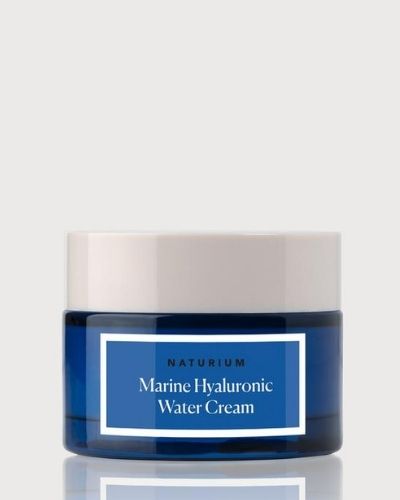 Marine Hyaluronic Water Cream by Naturium is another affordable product that's a great option for dry, combo, or dehydrated skin.
It is formulated with marine-based polysaccharides that help retain moisture into the skin and aid the natural moisturizing factors (NMFs), as well as hyaluronic acid and other phytonutrients to provide the skin with a burst of long-lasting hydration and relief from irritation and discomfort.
It has a silky, velvety, gel-cream texture that glides on the skin with ease and delivers an instant soothing sensation.
Best for dry/combination/dehydrated skin.
KLAIRS – Daily Skin Hydrating Water – $28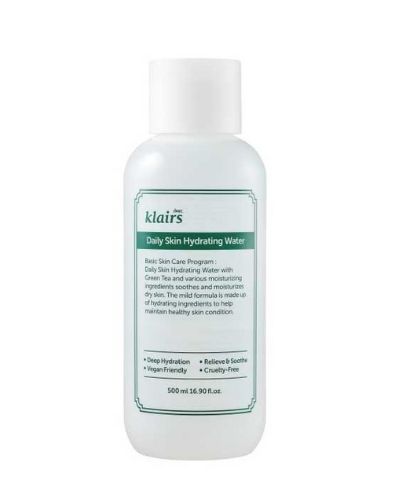 The Daily Skin Hydrating Water by KLAIRS is exactly what the name describes. It's a very lightweight, hydrating toner that instantly soothes angry and irritated skin.
It contains calming and soothing ingredients such as chamomile leaf water, hydrating glycerin, soothing and repairing panthenol, and calendula flower extract, which is a non-fragrant antioxidant with redness-reducing properties.
Best for sensitive/dry/oily/combo skin.
COSRX – Snail Mucin Essence – $17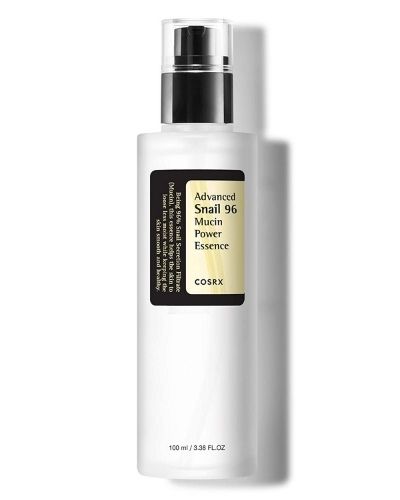 The Snail Mucin Essence by COSRX has been a cult favorite ever since it dropped a few years ago, and for a good reason.
This slimy essence is a very soothing and hydrating product containing, you guessed it, snail mucin, a complex mixture of proteoglycans, glycosaminoglycans, glycoprotein enzymes, hyaluronic acid, copper peptides, and trace elements such as copper, zinc, and iron.
It has an instant soothing and hydrating effect on the skin and is generally good for all skin types, including sensitive and acne-prone skin.
Read my full review on the COSRX Snail Mucin Essence here.
Best for dry/dehydrated/sensitive skin.
Embryolisse – Lait Creme Sensitive – $30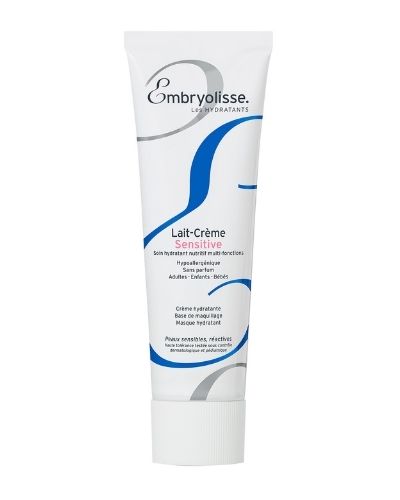 Embryolisse's Lait-Creme Sensitive is a deeply moisturizing and nourishing cream developed for irritated and sensitive skin.
The soothing cream is fragrance-free and rich in essential fatty acids and vitamins that provide the skin with nutrients and protect it from pathogenic aggressors while helping it retain moisture and a healthy barrier.
Besides that, there are also soothing aloe vera and moisturizing shea butter and beeswax in the formula, making it a thick, nourishing product suitable for dry, mature, sensitive, and irritated skin.
Best for dry/sensitive skin.
Paula's Choice – Redness Relief Moisturizer – $29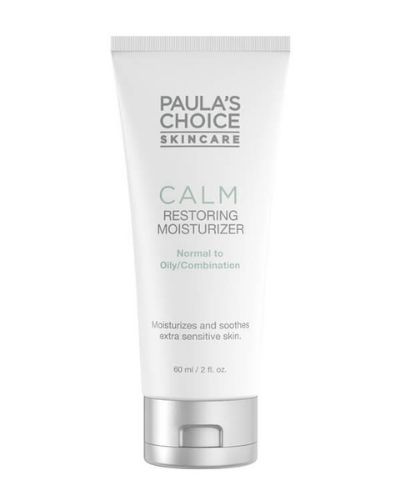 The Redness Relief Moisturizer for normal to oily skin is a beautiful cream-to-gel moisturizer that contains a plethora of soothing, calming, antioxidant, and repairing ingredients, including allantoin, beta-glucan, green tea extract, grape extract, and so many more.
It spreads on the skin with ease and delivers an instant soothing sensation that will aid in repairing any damage on the skin that led to irritation.
It may be a little too oily for morning use, but it is definitely a great evening moisturizer that's also suitable for acne-prone skin.
Best for combination/oily skin.
Cetaphil – Pro-Eczema Soothing Moisturizer – $14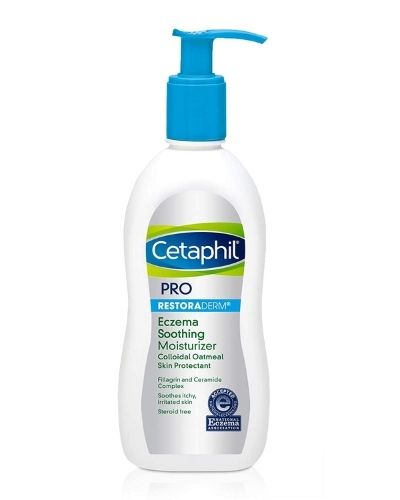 Cetaphil's Pro-Eczema Soothing Moisturizer is a great product for anyone who is dealing with eczema flare-ups or contact dermatitis anywhere on the face and body.
The moisturizer instantly soothes irritated skin and leaves it feeling smooth and soft for the next 24 hours.
It also contains healing and beneficial ingredients that help strengthen and repair the damaged skin barrier so that it can deal with potential allergens better.
Best for eczema/psoriasis/contact dermatitis/dry/combo/oily skin.
iS Clinical – Sheald Recovery Balm –$74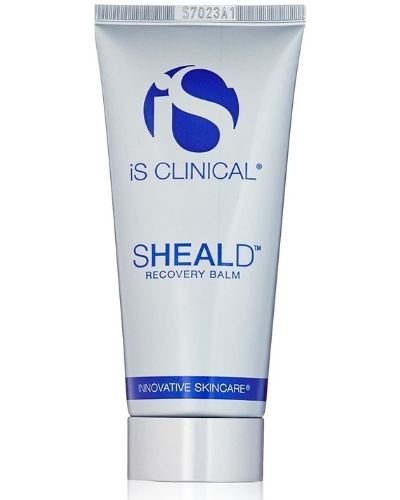 The iS CLINICAL Sheald Recovery Balm is a more expensive version of the First Aid's Recovery Cream, with a few extra beneficial ingredients.
It is an excellent post-procedure balm-moisturizer that helps instantly soothe red, inflamed, and irritated skin, and it's perfect for use after doing laser, microdermabrasion, or microneedling.
It contains ceramides and cholesterol, which are lipids naturally found in our sebum and essential components of a healthy skin barrier.
Besides that, it contains soothing and repairing panthenol, oat kernel extract, beta-glucan, and Cetearyl alcohol, which is a fatty alcohol used to soften and moisturize the skin.
Best for post-procedure/mature/dry/sensitive skin.
SkinCeuticals – Triple Lipid Restore 2:4:2 – $130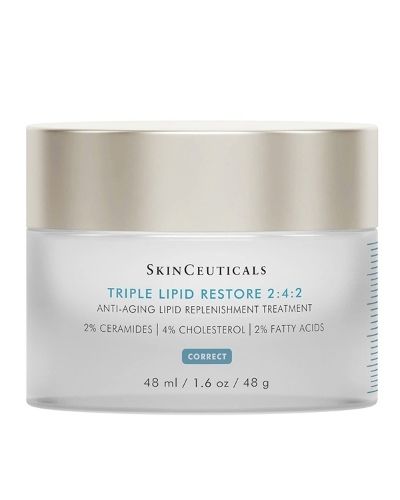 Triple Lipid Restore 2:4:2 is an anti-aging cream that contains the optimal lipid ratio of 2% pure ceramides 1 and 3, 4% natural cholesterol, and 2% fatty acids, which aims to nourish the skin while simultaneously correcting signs of aging.
The unique lipid correction cream will also strengthen the skin barrier and encourage the skin to repair itself from damage, be it caused by an allergen, an external pathogen, damaging UV rays, or the natural aging process.
Triple Lipid Restore 2:4:2 has a creamy, fast-absorbing texture, and the moisturizer gives an instant radiance as soon as applied to the skin.
It is a great product for dry, mature skin, but it can also be used as post-procedure aftercare or when starting retinol to prevent the initial irritation often associated with it.
Best for mature/dry skin.
My name is Simone and I am a certified skin specialist. I created this website to teach my readers how to take great care of their skin and I also like to occasionally share my honest opinions on skincare products I've tried. You can learn more about me here.
The Acne Solution: Your Ultimate Guide To Flawless Complexion
An extensive, no-nonsense course showing you how to never have acne again, from a licensed Esthetician specializing in oily/acne-prone skin.