DMK is a skincare line founded by Danne Montague-King, a scientist that takes a different approach to traditional skincare products and utilizes enzymes rather than aggressive ingredients to treat common skin woes.
Each product of the brand can only be purchased through a certified DMK professional due to the potent actives they all contain and the variety of ways they can be used to maximize the skin benefits and meet everyone's individual skin needs.
I was recommended a few DMK products by a colleague esthetician and decided to review them here on my website to help people understand the brand better and give more information on some of their most popular products for oily skin and acne.
That said, the product I will review in this DMK series is the Deep Pore Pure Cleanser, a gentle gel cleanser that helps clear out congested pores and refine their enlarged appearance.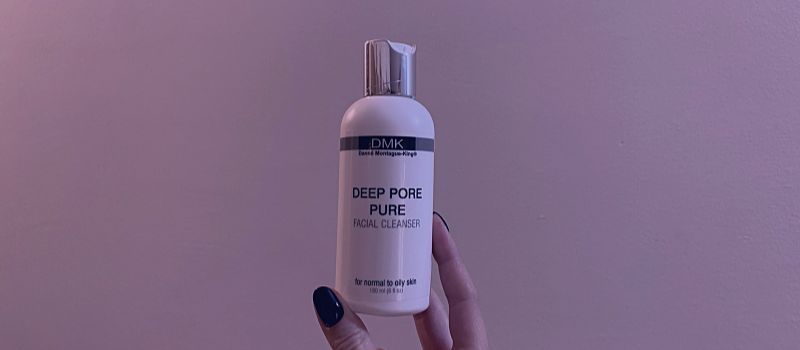 NB:
What if I told you I can show you how to never have acne again?
If you have acne and want it gone
,
read this message
.
What is DMK Deep Pore Pure Cleanser?
The DMK official website describes the Deep Pore Pure Cleanser as a gentle, herbal cleanser designed to flush embedded impurities from the skin.
Formulated with botanical extracts that have astringent and mild antibacterial properties, the cleanser removes built-up dirt, oil, and dead skin cells from inside the pores and keeps them clear, tight, and refined.
Recommended for normal to oily skin, the cleanser is a great, non-active addition to a skincare routine.
Ingredients
When it comes to the ingredients, the Deep Pore Pure Cleanser contains a blend of herbal extracts like tea tree oil, rosemary extract, thyme extract, and aloe vera, which are soothing, calming, and redness-reducing components with mild antibacterial properties.
Additionally, the Deep Pore Pure Cleanser also contains moisturizing panthenol and yucca extract, a plant extract native to Mexico with skin-soothing benefits.
Besides these components, just as any standard cleanser, the Deep Pore Pure contains a blend of mild surfactants to gently cleanse the skin and remove impurities that have accumulated on its surface and inside the pores.
However, although gentle for someone with normal, non-sensitive, and oily skin, the Deep Pore Pure Cleanser does contain alcohol as well as a citrus fragrant component that could potentially be an issue for those with sensitive or allergy-prone skin.
Scent
The Deep Pore Pure Cleanser contains a fragrant citrus component that gives it a nice, citrusy, and herbal scent, which is quite pleasant and not overwhelming.
It smells natural and fresh rather than heavy and overpowering.
Consistency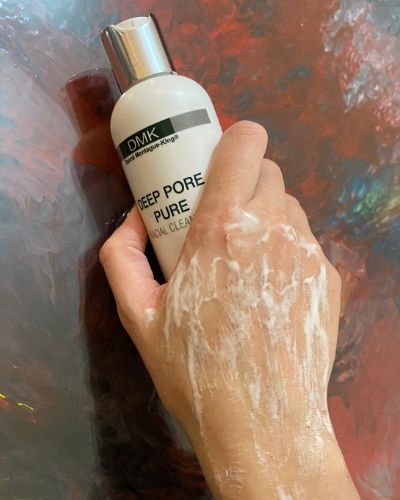 The Deep Pore Pure Cleanser is a dense gel cleanser that lathers well when in contact with water, which means very little is needed for the entire face.
Performance
I'm not very picky when it comes to cleansers for my skin, so as long as it's not stinging, burning, irritating my skin, or leaving it parched, I won't have an issue with it.
Now, as for my skin type and skin condition, I have very oily skin that's highly prone to clogging and acne. I am not currently dealing with sensitivities or active breakouts because I have a pretty set routine that works for me, so I am using the Deep Pore Pure on clear and balanced skin.
First off, let's start with the consistency and scent. As mentioned above, the Deep Pore Pure Cleanser has a dense gel consistency and a fresh, herbal scent.
When I say "dense gel consistency," I mean that the formula lathers well when in contact with water, so when I see texture like this, I typically use very little product for my entire face.
The amount I use is usually chickpea-sized, and I rub it well between my hands so that it lathers rather than applying it to my skin directly.
This is how I manage to use much less and get more, which helps the product last longer and minimize unnecessary waste.
Now, as for the scent, I am not too crazy about cleansers that contain fragrance or fragrant components; however, I can tolerate a mild, fresh scent as long as it doesn't give me a headache.
That said, the Deep Pore Pure Cleanser doesn't cause my skin any issues, and while I'd still prefer an unscented option, this isn't a huge issue.
As for the performance, the Deep Pore Pure Cleanser is an excellent cleanser that I use twice a day, regardless of my skincare routine and the actives I'm using on that day, because this cleanser doesn't contain any exfoliating actives that could potentially clash with my other products.
It's also very gentle and doesn't leave my skin dry, dehydrated, or tight, which I appreciate; however, it could potentially do this if you use a lot, so less is always better.
Other than that, I don't really have much else to say about it. Is it the best cleanser I've ever tried? Definitely not, but I am biased when it comes to cleansers because I do have a favorite that I am going to review here soon.
Is it worth the money? I would say it's worth it because it pairs well with other DMK products, and if you are on a DMK regimen, it's probably best to use it for optimal results.
It's just a regular cleanser with a nice texture, pleasant scent, and good cleansing action that removes daily impurities from the skin's surface and leaves it soft and supple.
So, with all that said, I recommend the Deep Pore Pure Cleanser, especially if you're on a DMK regimen, which will likely be the case because your esthetician will advise you when purchasing DMK products.
Where to Buy the Deep Pore Pure Cleanser?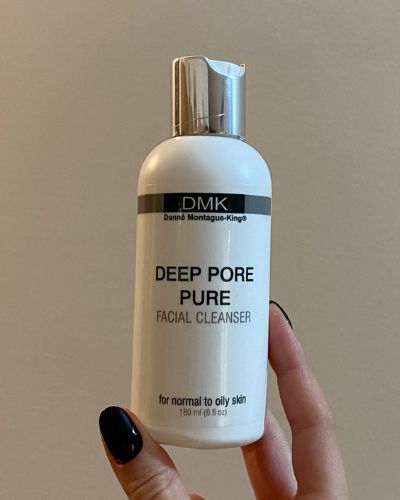 As mentioned above, DMK products are carried exclusively by estheticians and can't be bought online.
Therefore, the best way to purchase it is to search for a DMK provider in your area or close to your location and set up an appointment for a consultation.
In case you can't find a certified provider in your area, you can at least look for somewhere close, and request an online consultation, given the provider is offering that as an option.
They can then have the products shipped to you.
Again, I purchased this product through my colleague, who had it shipped from another European country to where I live.
DMK products are widely available in the US; however, if you're in Europe and your country is a member of the European Union, you will probably have an easy time finding a provider.
On the other hand, if your country is not a member of the European Union, there are certified DMK providers in Serbia, Norway, and Ukraine, which is how you can get them easier.
---
More DMK Skincare reviews:
My name is Simone and I am a certified skin specialist. I created this website to teach my readers how to take great care of their skin and I also like to occasionally share my honest opinions on skincare products I've tried. You can learn more about me here.
The Acne Solution: Your Ultimate Guide To Flawless Complexion
An extensive, no-nonsense course showing you how to never have acne again, from a licensed Esthetician specializing in oily/acne-prone skin.