SkinCeuticals is a high-end skincare brand sold through dermatologists, estheticians, and other high-end skincare stores.
It's also a brand I like a lot, and their products often find their spot in my product recommendation articles.
The brand is quite pricey, and their products range anywhere from $35 for cleansers all the way up to $300-400 for kits consisting of multiple products to target various skin concerns.
However, despite the price, SkinCeuticals is one of the best high-end brands out there, and something that particularly stands out about them is how much money and resources they put into doing their research.
A prime example of this is their C E Ferulic, which, despite its high price tag, is still the best-selling vitamin C serum on the market.
They also have excellent anti-aging bangers such as the Triple Lipid Restore 2:4:2, a decadent moisturizer formulated with a maximized concentration of lipids: 2% pure ceramides, 4% natural cholesterol, and 2% fatty acids. It's literally the only one of its kind in the market.
But besides that, the brand also has an impressive line to target acne and blemishes, as well as supporting products to maintain healthy skin once acne has healed.
Therefore, in this article, I will list the 8 best products for acne by SkinCeuticals.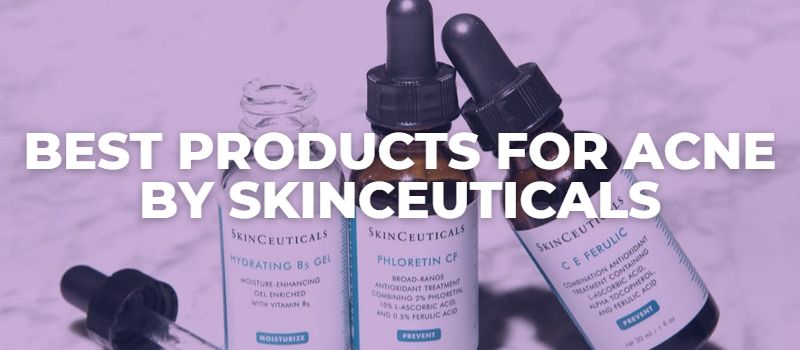 NB:
I can show you how to never have acne again.
If you have acne and want it gone
,
read this message
.
Soothing Cleanser – $35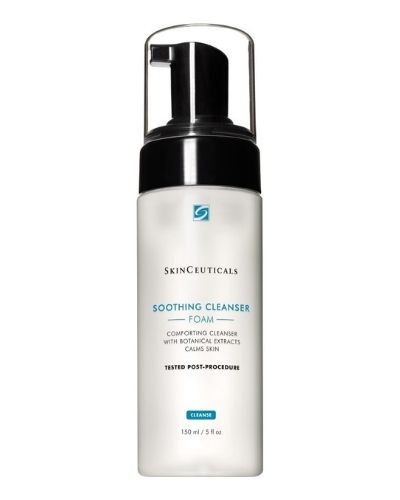 Soothing Cleanser is one of my favorite cleansers of all time.
This gentle cleansing foam is formulated with soothing ingredients suitable for even the most sensitive skin.
The soap-free cleanser is even safe for skin undergoing professional procedures such as chemical peels, IPL, lasers, microneedling, microdermabrasion, and even injectables as it doesn't contain any potential irritants that could harm the skin while in its most sensitive state.
I have a full review of the Soothing Cleanser, so make sure to read it and find out more.
Best for all skin types, including sensitive and rosacea-prone skin.
Simply Clean Gel – $35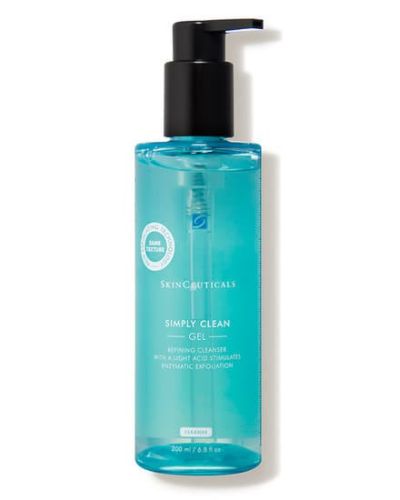 Simply Clean Gel cleanser is another great cleanser for oily and acne-prone skin.
The cleansing gel is formulated with an amino acid surfactant system and a 6% concentration combining sulfonic acid (HEPES), hydrating glycerin, soothing chamomile, and aloe extracts, orange oil, and citric acid to very gently exfoliate uneven or rough skin.
It's simple, mild, and efficient, which makes it one of the best cleansers in the market.
Best for combination, oily, acne-prone skin.
Purifying Cleanser – $35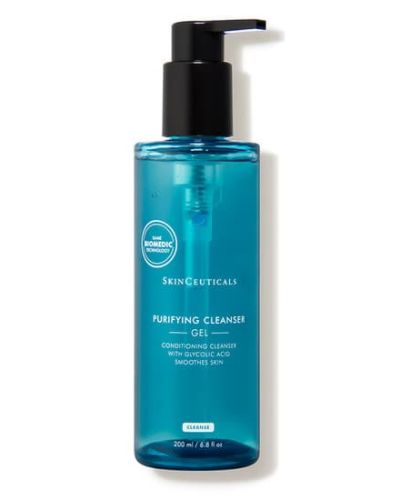 Purifying Cleanser has a very similar gel texture to the Simply Clean gel, but this one is slightly different when it comes to the ingredients.
The cleansing gel is formulated with a mild surfactant system and a 3% concentration of key ingredients combining exfoliating glycolic acid and hydrating glycerin.
The unique technology refines dull skin tone and uneven skin texture while delivering a splash of hydration to dehydrated skin.
Best for mature, oily, acne-prone skin.
Blemish + Age Defense – $92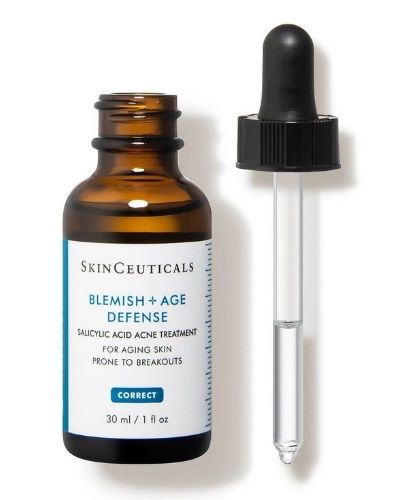 The Blemish + Age Defense Serum is a targeted treatment for people that want to treat both acne and signs of aging.
You may think acne is a struggle that happens mostly in teenage years, but this inflammatory condition affects almost 30% of adult men and over 50% of adult women, which means it has no problem whatsoever appearing well into your 30s, 40s, and even 50s.
I know women in their 50s that still regularly experience breakouts when they change their skincare routine or eat certain trigger foods.
So the Blemish + Age Defense Serum is a product designed for mature skins who are still dealing with unwanted breakouts.
The serum combines 2% dioic acid with an optimal alpha + beta-hydroxy acid formulation that helps exfoliate the pores and dissolve the gunk causing them to become clogged while also improving the appearance of fine lines, uneven skin tone, and skin texture.
Dioic acid is an effective and highly tolerated ingredient that reduces hyperpigmentation.
It has been tested on 96 women with melasma, and during these studies, it has shown decent brightening results and no irritation compared to hydroquinone, which is an extremely efficient brightening agent but unfortunately cannot be tolerated by everyone.
Although further research is definitely needed, for now, dioic acid remains a very promising ingredient in skincare, and we will probably see more of it in the future.
Besides that, the Blemish + Age Defense Serum contains both salicylic acid and capryloyl salicylic acid, which is known as an LHA – a gentler derivative of salicylic acid that essentially helps promote cell turnover via targeted exfoliation without the potential irritation salicylic acid can deliver.
And lastly, the serum contains 3.5% glycolic acid, a well-tolerated concentration by both sensitive skins and coarser skins alike.
Best for mature, combo, oily, acne-prone skin.
RELATED: 5 Best Acne Serums for Instant Results.
Retexturing Activator – $82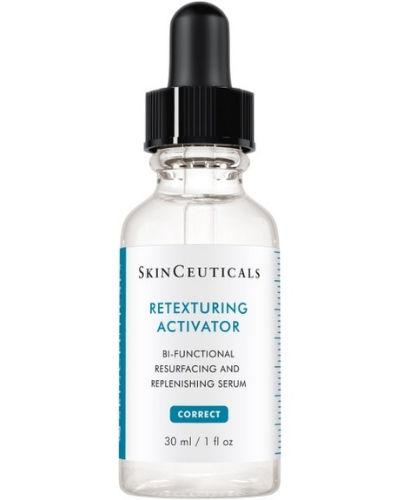 Retexturing Activator is a lightweight serum that helps replenish and reinforce the skin's barrier for a healthier, more radiant complexion.
The star of the show in the Retexturing Activator is an ingredient called Hydroxyethyl Urea, which has a similar moisturizing ability to glycerin, but it is more cosmetically pleasing, feels nicer on the skin, and is non-sticky, unlike glycerin which, although efficient, can be tacky and sticky in certain formulas.
Hydroxyethyl Urea is the ingredient that gives a nice and moist feeling to the skin, but besides its moisturizing properties, it also has the ability to gently exfoliate the skin.
Besides that, this serum is oil-free, super lightweight, absorbs quickly, and it is a good option for oily, acne-prone, and sensitive skins that can't tolerate stronger exfoliating components.
Lastly, the Retexturing Activator also contains small amounts of glycerin for texture, black tea ferment packed with antioxidants and helps brighten the skin, as well as hyaluronic acid, a humectant that helps the skin bind and hold onto water.
Best for all skin types, including sensitive skin.
Hydrating B5 Gel – $83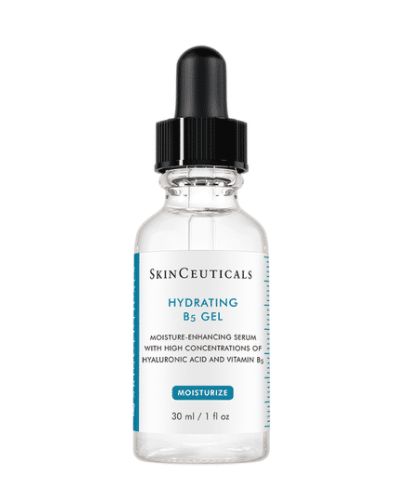 The Hydrating B5 Gel is an oil-free serum designed to replenish moisture and restore radiance into the skin for a smoother and more supple complexion.
The lightweight solution combines vitamin B5 with hyaluronic acid, the body's natural hydrator, to help bind moisture to the skin.
While this won't directly get rid of acne, it will surely benefit because sometimes, when the skin is dehydrated, it tends to produce more and more oil to compensate for the dehydration, which then ends up clogging the pores and causing breakouts.
This is why it's always a good idea to have a good hydrating boost in your skincare routine alongside carefully choosing products that won't overdry it in the first place.
Best for dry, normal, oily, combination, sensitive skin.
Retinol 0.5 – $76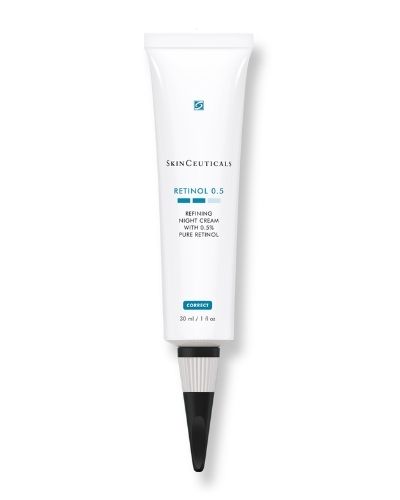 SkinCeuticals retinols are also one of the best products in the anti-aging category on the skincare market.
However, their retinols can also be useful for anyone dealing with acne, texture, and scarring alongside skin aging concerns.
Retinol 0.5, for example, is an ideal product for more hearty and resilient skin types dealing with acne breakouts, oiliness, enlarged pores, and maturing skin.
The product is designed to promote peeling and cellular turnover to help skin cells travel to the surface of the skin faster and shed rapidly to achieve a healthier, clear, and evened-out complexion.
So, if you still want to start out with this product, you should know that peeling will most definitely occur; therefore, you need to follow it up with rich, nourishing moisturizers to help prevent irritations.
Best for combo, oily, acne-prone skin.
Retinol 1.0 – $88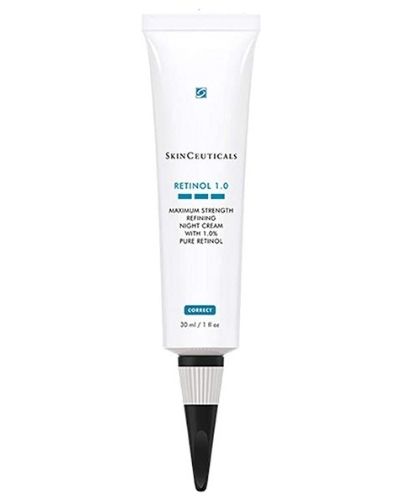 Retinol 1.0 is a stronger version and ideal for problematic and sun-damaged skin that has been preconditioned with the use of Retinol 0.5.
The product is formulated with the highest concentration of 1.0% pure retinol and is enhanced with a slow-release technology to ensure a steady, even release of the maximum available concentration with minimum irritation.
Retinol 1.0 can work amazingly well to diminish the appearance of fine lines, wrinkles, and skin discoloration while minimizing breakouts and the appearance of enlarged pores.
Best for mature, combo, oily, acne-prone skin already used to retinol.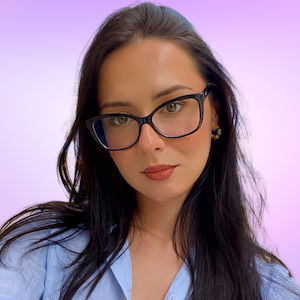 My name is Simone and I am a certified skin specialist. I created this website to teach my readers how to take great care of their skin and I also like to occasionally share my honest opinions on skincare products I've tried. You can learn more about me here.
The Acne Solution: Your Ultimate Guide To Flawless Complexion
An extensive, no-nonsense course showing you how to never have acne again, from a licensed Esthetician specializing in oily/acne-prone skin.