Mini versions of our favorite skincare products help us maintain a solid skincare regimen while being away from home. These are super useful for transport because of the carry-on limits we often struggle with during traveling.
Additionally, mini and travel-sized products are a great way to try a product you've had your eye on before you decide whether you want to invest in the full-sized version.
As a skincare blogger, I can't always afford to buy full-sized versions and test them for the sake of content, so this is something that comes in handy for my particular needs.
Therefore, in this article, I will give you a list of travel-size products you can carry with you in your bag while traveling, going to the beach, sitting at your work desk, or use them to snap cute Instagram photos.
The Best Travel-Size Skincare Products You Didn't Know You Need (Reviewed Below)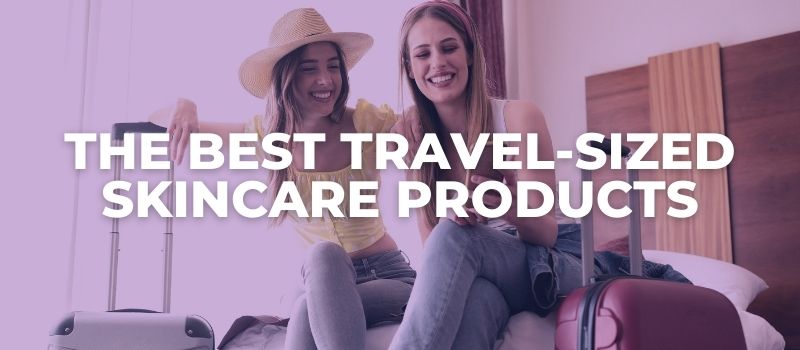 NB:
What if I told you I can show you how to never have acne again?
If you have acne and want it gone
,
read this message
.
Travel-Size Micellar Waters:
Bioderma – Sensibio H2O
Bioderma – Sebium H20
Bioderma – Hydrabio H20
Travel-Size Cleansers:
Paula's Choice Clear Cleanser
Paula's Choice Foaming Cleanser
Paula's Choice Hydrating Cleanser
Travel-Size Face Masks;
Glow Recipe – Watermelon Glow Sleeping Mask
Glow Recipe – Avocado Melt Sleeping Mask
Travel-Size Face Mists:
Avene Thermal Spring Water
Herbivore – Rose Hibiscus Face Mist
Travel-Size Exfoliators:
Paula's Choice – BHA Liquid Exfoliant
Paula's Choice – 8% AHA Exfoliant
Travel-Size Serums:
Paula's Choice – Omega + Complex Serum
The Ordinary – Hyaluronic Acid 2% + B5
The Ordinary Matrixyl 10% + HA
Travel-Size Moisturizers:
Paula's Choice – Water Infusing Electrolyte Moisturizer
Paula's Choice – Probiotic Nutrient Moisturizer
Travel-Size Sunscreens:
Paula's Choice – Clear Moisturizer SPF 30
Paula's Choice – Youth Extending Daily Hydrating Fluid SPF 50
Paula's Choice – Essential Glow Moisturizer SPF 30
Best Travel-Size Micellar Waters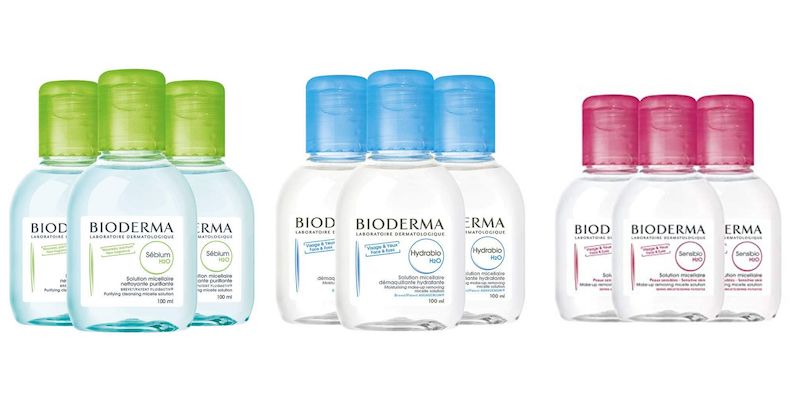 Micellar water is an amazing product for everyone that doesn't enjoy using oil cleansers or balms as a first cleanse.
I love using micellar water as a first cleanse because I tend to apply light makeup throughout the day so I find them doing an amazing job in removing my makeup and sunscreen and prepping my skin for the second cleanse.
Here are my favorite travel-sized micellar waters I always carry with me while traveling.
Best for super-sensitive skins, you can't go wrong with this micellar water by Bioderma. Even though I have oily skin, I tend to gravitate towards this one as it does a great job of removing my makeup and prepping my skin for my second cleanse.
This one is more suitable for oily skin types and I tend to use it when I run out of my Sensibio. It also does a great job of removing my makeup, but it's not the one I tend to gravitate most towards.
The blue micellar water by Bioderma was my skin savior back when I was struggling with acne breakouts and severely dehydrated skin. I loved it so much, in fact, that it made me try the entire Hydrabio range. It's excellent for dry and dehydrated skin types.
Best Travel-Size Cleansers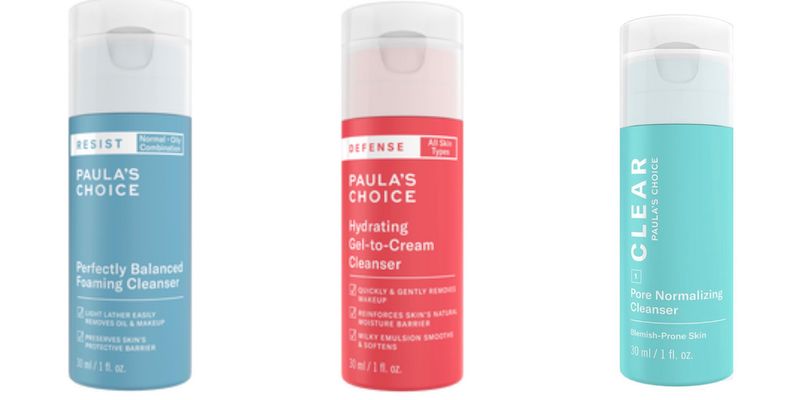 Wherever you are in the world, make sure to always thoroughly cleanse your face before going to bed and get rid of all that daily grime, dust, and pollution instead of taking it to bed with you.
Here are my top cleanser picks in cute travel sizes.
The best possible cleanser you could go for if you have active acne you are trying to banish. It has a gentle and refreshing gel texture and it also contains a small percentage of salicylic acid which is enough not to irritate the skin but clear out congested pores.
I actually have the full-sized version of this cleanser and I enjoy using it daily. It has a foaming texture, isn't too harsh or stripping and my oily skin seems to enjoy it. Luckily, it also comes in a travel-sized version so, if you've been eyeing it for a while, you should give it a try.
This one has quite an interesting texture that turns from gel to cream once you add a little bit of water to it.
It's a very gentle cleanser, doesn't leave the skin feeling stripped and tight, and although it's more intended for dry skin types, my oily-dehydrated skin tends to enjoy it on some days.
Best Travel-Size Face Masks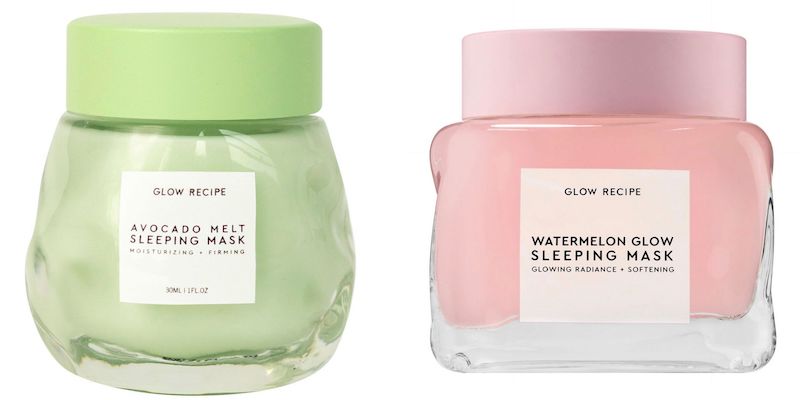 Let's get one thing straight: I am not someone who enjoys applying masks for their benefits because the benefits masks offer are quite minimal for several reasons.
First, active ingredients need time to act on the skin, so using a mask for 10-15 minutes is really pointless as this won't do anything for you besides give you short-term hydration.
Second, if I am not going to be getting the benefits from it, I'd rather invest my money in something that will give me long-term benefits, so using masks is kind of a waste of money for me.
But, every once in a while, I enjoy applying an overnight mask and indulging in that extra morning glow I enjoy seeing in the mirror. So here are my two favorite overnight masks that also come in a travel-sized package.
I know that everyone already raved about this, so there's nothing new to see here. I like this mask cause it's lightweight and hydrating, my oily skin doesn't get extremely greasy but I still get to enjoy that healthy morning glow it gives me.
Here's another good mask, but I'm sad to say that this one isn't the right one for me.
I picked it up because it contains Polyhydroxy acids that are even gentler than Alpha hydroxy acids and work to gently buff away the dead skin cells from the surface of your skin while you sleep.
I would strongly recommend this for someone with dry skin because it has some great nourishing ingredients, but oily skin types should definitely stay away from it.
Best Travel-Size Face Mists
Face mists are something I love and incorporate in my skincare routine no matter the time of the year. I like to use face mists in between steps so, for example, I use a cleanser then I mist, I apply a serum and wait until it dries then I mist before applying a moisturizer, and so on.
I find that products absorb much better when the skin is damp and I also get a better payoff from products because, when my skin is damp, I tend to use a lot less product as the wetness allows them to spread easier across my face and neck.
Here are two of my all-time favorite mists I never leave at home while traveling:
Since I started buying this, my husband has been doing my head in for paying money to spray plain water on my face, but hey, I find that it works for me and I just enjoy the feeling of spraying plain water on my face, so what the hell?
This is something I don't usually recommend for my clients because I typically tend to work with people that have sensitive, acneic skin, and a damaged skin barrier that needs fixing.
It has a strong scent of rose and a bunch of flower extracts, so if that's something you are sensitive to, it may be best to stay away from it. However, if it doesn't bother you, feel free to spray away.
Best Travel-Size Exfoliators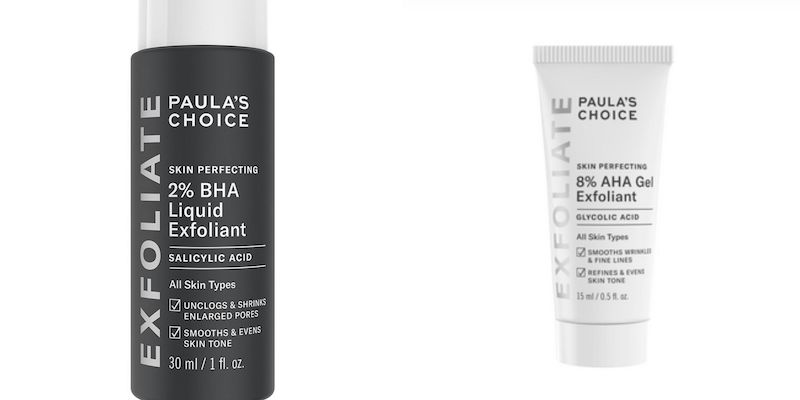 Hands down to Paula's Choice for having the all-time best exfoliators on the skincare market. I don't see myself moving away from these anytime soon and I cannot recommend them enough.
Best for oily, acne-prone skin types that struggle with blackheads and breakouts. You cannot go wrong with this, however, make sure to try the mini version before buying the full-size and see if BHA exfoliant is what your skin needs.
Do you want a glowy and hydrated skin? You got it. This exfoliant works amazingly well for dehydrated skin types while addressing other important skin concerns such as hyperpigmentation, sun-damage, etc.
Best Travel-Size Serums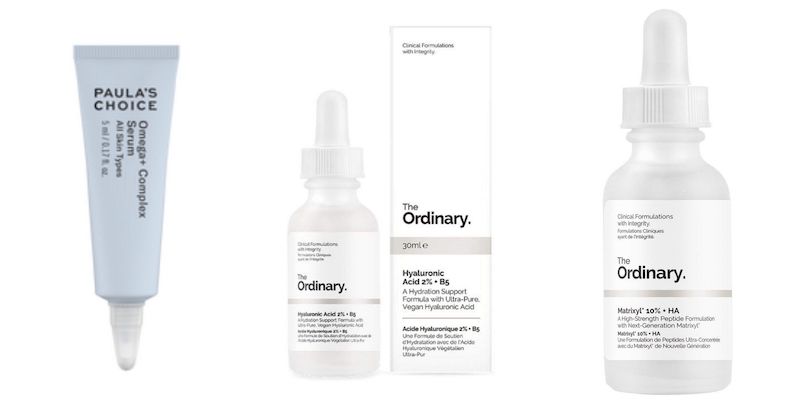 Luckily, serums usually come in small packages, so I will just go ahead and recommend my all-time favorite serums you can use daily and take anywhere with you.
I also have the full-size version of this serum and I love it. This is just a little something I enjoy carrying around with me whenever I travel and don't want to bring my entire skincare cabinet.
It is super hydrating and if you have oily skin, I'd much rather recommend you to go with the Omega + Complex serum than the moisturizer with the same name as the moisturizer is significantly thicker and more nourishing than the serum, thus much better for dry skin types.
A great hyaluronic acid serum you can't go wrong with no matter what skin concern you have.
It works amazingly well with all skin types, however, it knows how to be a little sticky, therefore, make sure to spray a few spritzes of a hydrating mist before applying this serum as it will make it absorb better and you won't have to deal with the stickiness.
This is my go-to travel product because my skin gets severely dehydrated while I'm on a plane so If I have a long flight ahead of me, I always make sure to have this savior in my bag.
Best Travel-Size Moisturizers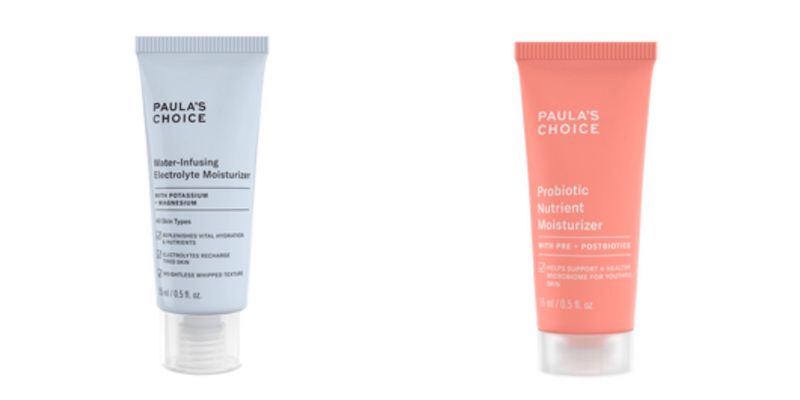 Here are the two moisturizers I've been trying out lately, and luckily they both come in cute, travel-sized versions:
I will be writing a full review on this product but, as all of my Paula's Choice reviews, that one's gonna be biased as well. I love Paula's Choice products and I can honestly tell that some of her products saved my dehydrated, acneic skin and gave it a nice and healthy glow.
This moisturizer is super lightweight, you only need a tiny bit of it, and it absorbs quickly into the skin.
I've found that whenever I apply a thicker layer of it, it tends to sit on the surface of the skin giving me that greasy layer which I don't like, so if your skin is on the dry side, something else might be better for you as this one is intended for oily skins.
Yes, I bought this moisturizer because I liked the color of the packaging, so please don't judge me on that because I ended up liking it. It's the newest drop by Paula's Choice that has a smooth gel texture that turns into a cream once applied on the skin.
It's not giving my oily and acne-prone skin any problems so I am not going to fuss about it and I also think it's excellent for dry skin types, too.
Best Travel-Size Sunscreens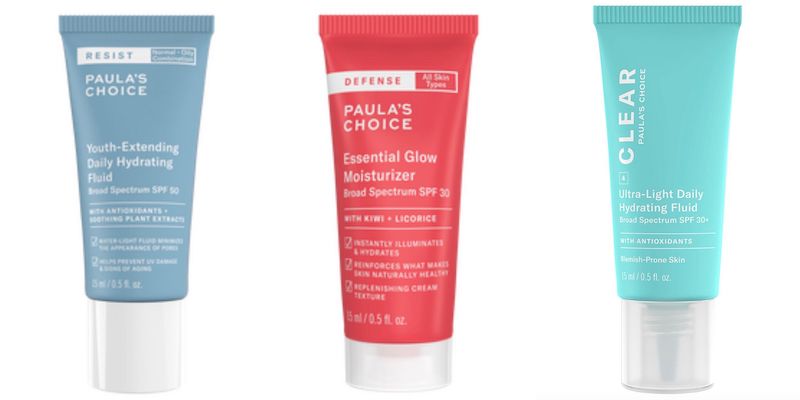 Sunscreen is something you must do as the last step in your morning routine. I always have sunscreen with me, especially when I travel, and while I always tend to buy full-sized bottles, here are some minis for you to test out if you're unsure what may be best for you.
Best sunscreen for acne-prone and oily skin types. It has a smooth, slightly matte finish and since it's made out of chemical sunscreen ingredients, it won't leave that dreaded white cast on your face after applying it.
Best summer sunscreens for oily skin types. It's lightweight, invisible once applied to the skin, and it has an SPF of 50. Definitely worth a try.
I didn't particularly enjoy this sunscreen because it is definitely not intended for oily skin types, however, it has some excellent ingredients that dry skin types might really enjoy.
Luckily I have a husband that has dry skin, so testing different skincare stuff on him always helps me have a perception of who might benefit most from these products.
---
My name is Simone and I am a certified skin specialist. I created this website to teach my readers how to take great care of their skin and I also like to occasionally share my honest opinions on skincare products I've tried. You can learn more about me here.
The Acne Solution: Your Ultimate Guide To Flawless Complexion
An extensive, no-nonsense course showing you how to never have acne again, from a licensed Esthetician specializing in oily/acne-prone skin.