Hyaluronic acid went from being everyone's favorite ingredient to a somewhat controversial component in a matter of a year.
It was at its peak of popularity during 2019 and 2020 but then we learned we don't in fact need a separate hyaluronic acid product and even this seemingly innocent ingredient could potentially dehydrate and irritate your skin.
Hyaluronic acid is an excellent humectant that helps bind water into the skin, however, it only works when used on damp skin and in small quantities.
If used on dry skin, hyaluronic acid will just end up pulling moisture from the deeper layers of your skin and dehydrating it even more (if not properly sealed with a good moisturizer).
The second reason some people are avoiding hyaluronic acid completely is that they've overused it in the past and they have experienced some side effects, such as irritation and even burning.
You probably didn't know that our bodies have an enzyme called hyaluronidase that breaks down hyaluronic acid every 48-72 hours, meaning you don't need to apply this ingredient more frequently than that.
And lastly, you actually don't need a separate hyaluronic acid serum because most skincare products in the market contain hyaluronic acid, which means you probably get it from another product, so you don't need it in excess amounts as this can also lead to overuse and irritation.
In this article, I am going to mention the 10 best hyaluronic acid serums for acne-prone skin that also contain other beneficial ingredients to boost the hydrating effect of this humectant but also offer a little more than just that.
And since this intro is already a bit too long than I intended, let's jump right into the article without any further ado: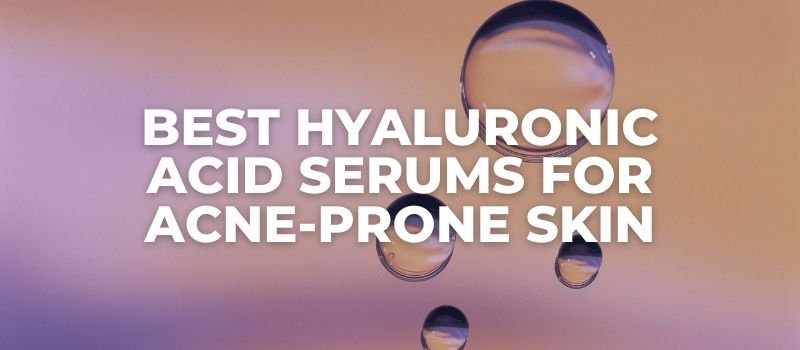 NB:
What if I told you I can show you how to never have acne again?
If you have acne and want it gone
,
read this message
.
The Ordinary – Hyaluronic Acid 2% + B5 – $7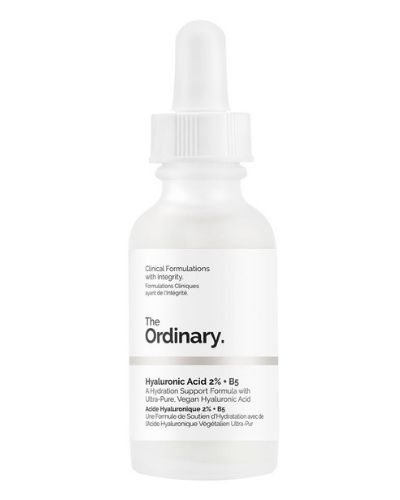 Hyaluronic Acid 2% + B5 is The Ordinary's superstar and continuous bestseller that features three types of hyaluronic acid with different molecular weights (low, medium, and high).
These varying molecular weights are what allow the molecules to penetrate your skin at different depths.
Besides, this product is also infused with pro-vitamin B5 (Panthenol), a powerful humectant that can attract and retain moisture and help heal dry and damaged areas.
The Ordinary – Marine Hyaluronics – $7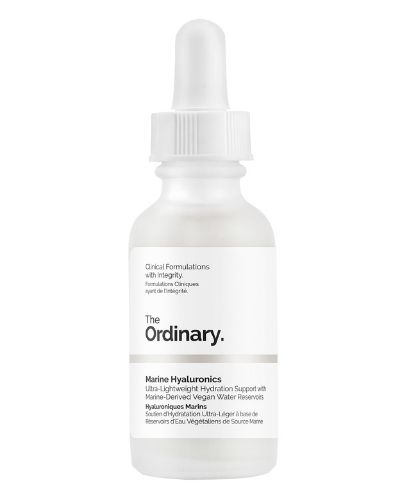 The Marine Hyaluronics serum is the lightweight alternative to Hyaluronic Acid 2% + B5. However, besides the fact that the products are similar, there's no hyaluronic acid present in Marine Hyaluronics.
Instead, this formula uses lightweight marine derivatives like red, green, and blue algae that attract and bind with water, much like hyaluronic acid; however, these are significantly lighter.
The total concentration of active ingredients in this formula is a whopping 23%.
Marine Hyaluronics is also much lighter than Hyaluronic Acid 2% + B5 and feels like water compared to the gooey and tacky consistency of the latter, which is why some people prefer the lighter version.
Best for combo/oily/acne-prone skin.
RELATED: Marine Hyaluronics Review.
The Inkey List – 2% Hyaluronic Acid – $8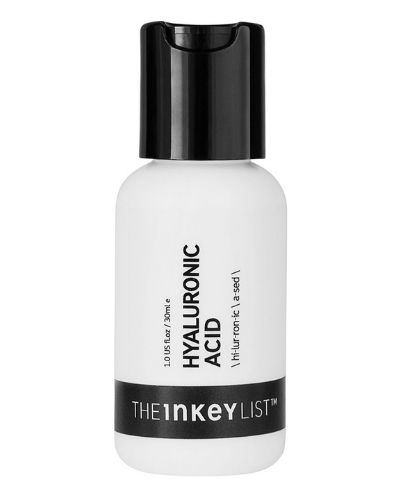 The 2% Hyaluronic Acid is an easily-absorbed serum containing 2% Multi molecular Hyaluronic Acid that specifically works across multiple layers of the skin, bringing a dollop of hydration, plumpness, and smoothness.
But besides that, the serum also contains Matrixyl 3000™, a peptide that mimics what natural collagen would do to your skin, essentially making the skin look plumper, fuller, and bouncier.
COSRX – Hyaluronic Acid Hydra Power Essence – $25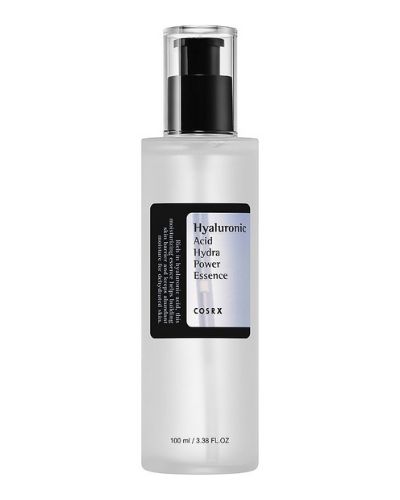 Made with just seven ingredients, the Hyaluronic Avid Hydra Power Essence by COSRX is the simplest, most straightforward product on this list.
The essence has a lightweight formula and instantly plumps the skin for a dewy, smooth look and feel.
It's great for all skin types and doesn't leave an oily or a sticky residue, however, as with all hyaluronic acid serums or essences, make sure to follow it up with a moisturizer.
Vichy – Minéral 89 Face Serum with Hyaluronic Acid – $30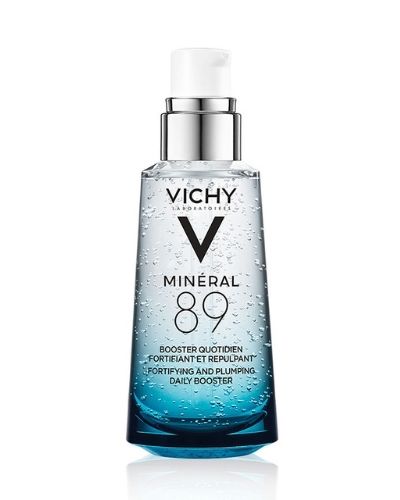 Vichy Mineral 89 Face Serum combines 89% mineralizing thermal water and naturally derived hyaluronic acid to help strengthen the moisture barrier and make the skin more resistant to concerns such as aging but also more resilient to potential environmental pathogens and irritation.
The serum also contains glycerin and is incredibly hydrating, however, bear in mind that it can feel very sticky, especially if not used right.
To avoid experiencing the sticky feeling, use the Mineral 89 Face Serum on damp skin only and quickly follow it up with a nourishing moisturizer before it dries out.
This way you will seal the moisture into the skin with an occlusive layer created by the moisturizer and will actually enjoy the benefits without dealing with the downsides of this product.
Best for dry/dehydrated/combo/acne-prone skin.
Paula's Choice – Hyaluronic Acid Booster – $36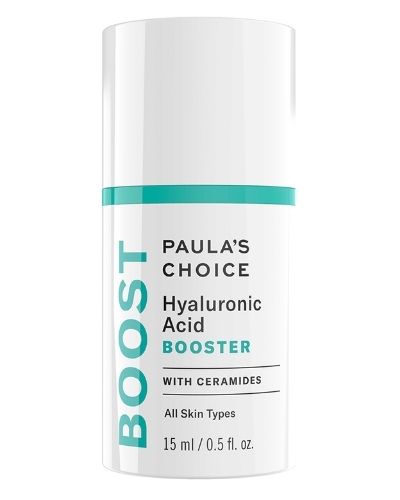 Paula's Choice Hyaluronic Acid Booster is definitely one of my favorite products on this list because it has so much to offer.
In addition to hydrating and plumping hyaluronic acid, this booster also contains ceramides which are an essential part of our skin barrier that help lock moisture into the skin and prevent permeability from the external world as well as panthenol which is arguably one of the best soothing and anti-inflammatory ingredient in skincare products that instantly calms irritation.
The Hyaluronic Acid Booster is excellent for all skin types, however, dry, dehydrated, and ultra-sensitive skins may appreciate it the most.
Best for dry/dehydrated/sensitive/rosacea & acne-prone skin.
Drunk Elephant – B-Hydra Intensive Hydration Serum – $48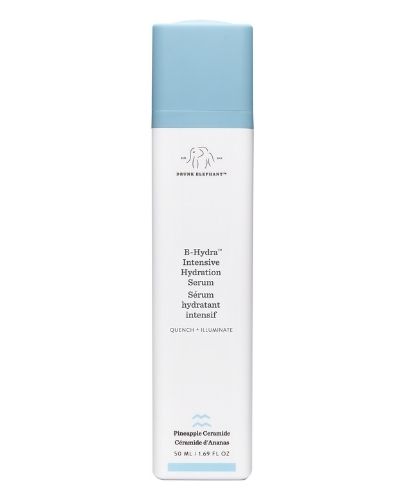 Drunk Elephant's B-Hydra Intensive Hydration Serum is a good hyaluronic acid product that contains humectants to draw moisture into the upper layers of the skin, fruit extracts to hydrate, refresh, and scavenge free radicals with their antioxidant properties, niacinamide which is my favorite multitasking ingredient that's beneficial for anything you can imagine, including strengthening the skin barrier, as well as soothing and anti-inflammatory panthenol.
It can turn sticky when applied to the skin, which is why you should use very little of it and only on damp skin!
Best for combo/oily/acne-prone skin.
RELATED: Drunk Elephant B-Hydra Intensive Hydration Serum Review.
Peter Thomas Roth – Water Drench Hyaluronic Serum – $65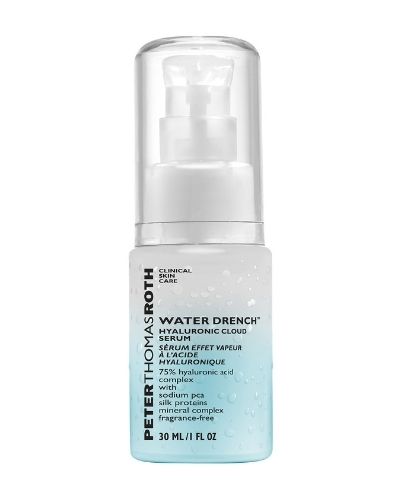 Peter Thomas Roth Water Drench Hyaluronic Acid Serum contains 75% of hyaluronic acid, which is pretty high, and works to hydrate and plump the skin across multiple layers.
In addition to our good ole' humectant, the serum also contains silk proteins, zinc, copper, manganese, iron, and silicone to increase moisture levels, balance out oil production, scavenge free radicals, soothe, and soften the skin.
Best for combo/oily/acne-prone skin.
iS CLINICAL – Hydra-Cool Serum – $94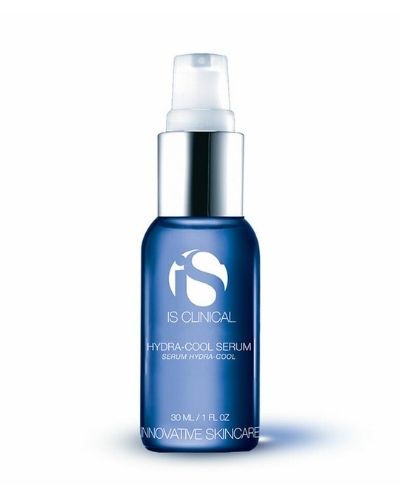 iS CLINICAL's Hydra Cool Serum is a great, high-end hyaluronic acid serum that contains a blend of hydrating and antioxidant ingredients, including Centella Asiatica and pantothenic acid (vitamin B), which is a component with soothing properties found in all living cells and tissues.
Besides that, the Hydra-Cool Serum also contains kojic acid, which is an ingredient that can help brighten hyperpigmentation and even out uneven skin tone.
However, the only thing I don't like about it is that it contains menthol which can be an allergen and a strong sensitizer for some skins, so if you are intolerant to it or have sensitive skin, this product may not work for you.
My oily, acne-prone skin doesn't mind menthol, but I wish it wasn't there as this will make the product accessible for more people, including those with sensitive or allergy-prone skin.
Lastly, don't let the small size of the serum put you off because you only need very little product for the entire face and neck.
Applying very little of it on damp skin and immediately sealing it with a moisturizer will make the Hydra Cool Serum last you for months with maximum benefits.
Best for all skin types with the exception of rosacea-prone, allergy-prone, or sensitive skin.
SkinCeuticals – Hyaluronic Acid Intensifier – $102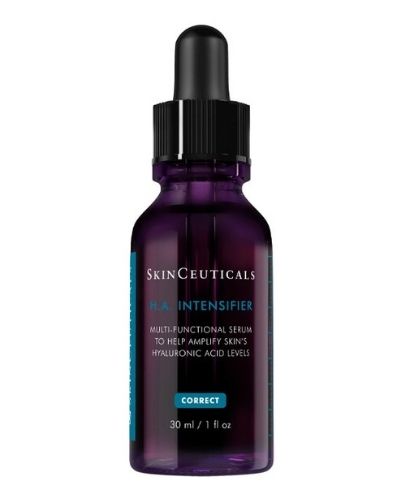 SkinCeuticals is a very dear skincare brand to me and despite their veeery unfriendly prices, they have a lot to offer, which is why their products often find their way in my recommendation lists.
The Hyaluronic Acid Intensifier is another great product by this brand and it's truly a hardworking serum that helps restore dry and dehydrated skin but also soothe irritation with ingredients such as licorice extract and purple rice.
Lastly, the product contains 10% Proxylane, a patented ingredient that supports the skin's hyaluronic acid level to help improve firmness and give the skin a plumper, dewier, and healthy-looking complexion.
I know it sounds a little boring but if you are on the hunt for a hyaluronic acid serum and you want to splurge, definitely check out the Hyaluronic Acid Intensifier.
Best for dry/dehydrated/mature/acne-prone skin.
---
---
My name is Simone and I am a certified skin specialist. I created this website to teach my readers how to take great care of their skin and I also like to occasionally share my honest opinions on skincare products I've tried. You can learn more about me here.
The Acne Solution: Your Ultimate Guide To Flawless Complexion
An extensive, no-nonsense course showing you how to never have acne again, from a licensed Esthetician specializing in oily/acne-prone skin.