Uneven skin tone is one of the most common skin problems that can be eliminated by using the right topical products and some professional treatments that usually don't cost a lot.
What causes an uneven skin tone?
Uneven skin tone can be caused by redness, rosacea, post-inflammatory redness left from old acne breakouts, brown pigmented spots from old acne breakouts, darkening of certain areas due to environmental stressors, and UV damage, etc.
Therefore, one of the most important things to do is to identify what's causing the issue before you proceed with finding good treatment.
In this article, I will share with you some of the best products that will help you even out your skin tone.
These work at different paces – and don't need to be used together – so it's entirely up to you to decide what you feel most comfortable with.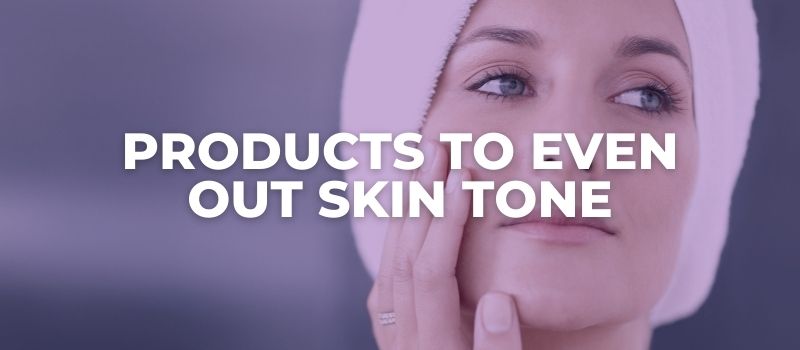 NB:
I can show you how to never have acne again.
If you have acne and want it gone
,
read this message
.
Paula's Choice – Daily Smoothing Treatment 5% AHA – $33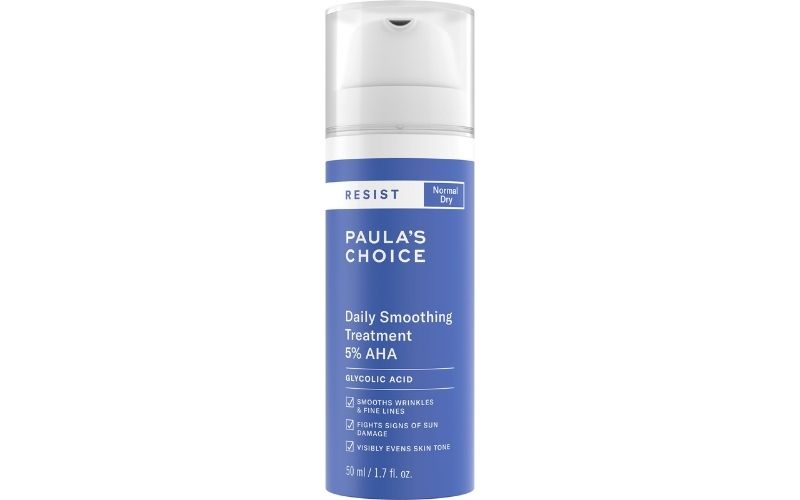 Paula's Choice Daily Smoothing Treatment with 5% AHA is a daily chemical exfoliant containing 5% glycolic acid and 0.5% salicylic acid.
This product is ideal for dry, sensitive skin types that don't enjoy strong acids and harsh exfoliating acids but still want a daily treatment that will deliver good anti-aging results, help even out the skin tone, and keep pores unclogged.
This isn't the best product if you are used to strong acids and expect immediate results. On the contrary, it's a daily treatment that needs time to work and is most efficient with consistent and prolonged use.
I wouldn't expect to see any significant results from the first bottle only; therefore, it will truly only appeal to someone who wants a gentle daily treatment and long-term results instead of something quick.
Paula's Choice – CLINICAL Niacinamide 20% – $48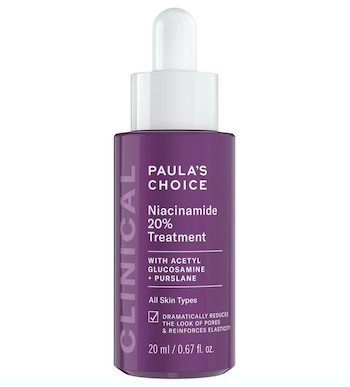 Paula's Choice Niacinamide 20% serum from the CLINICAL line is a high-strength niacinamide treatment that can minimize the look of enlarged pores, smoothen rough bumps caused by aging and environmental stressors such as sun damage, and even out the skin tone, especially when it comes to brightening hyperpigmentation left from old acne.
Although it is marketed as a treatment that can be used twice a day, this is a strong niacinamide percentage because this particular ingredient has been proven to be effective in as little as 4%.
Therefore, there is no need for it to be used twice a day; however, if it's a part of your standard regimen and you don't use many other actives, you may very well use a few drops of it once a day.
Besides niacinamide, the serum also contains other hydrating ingredients such as glycerin and panthenol as well as Paula's signature soothing ingredients such as licorice root extract, green tea extract, Japanese camellia extract, allantoin, etc.
iS CLINICAL – Cleansing Complex – $44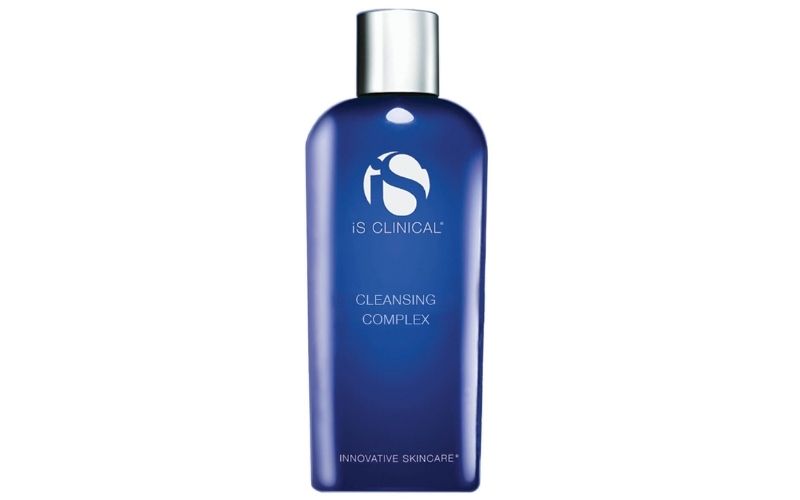 The iS CLINICAL Cleansing Complex is a cleanser that contains a few beneficial ingredients that target multiple skin conditions.
The star of the show is salicylic acid, a BHA exfoliant suitable for oily and acne-prone skin.
Besides salicylic acid, the Cleansing Complex also contains chamomile extract, which is incredibly soothing for the skin and Centella Asiatica, which is known for its soothing and antioxidant properties.
Additionally, the Cleansing Complex also contains sugarcane extract, which can be exfoliating. Still, it is also a handy moisturizing ingredient used as a humectant to help the skin attract moisture and hold onto it.
This can be a good cleanser to refine skin texture and even out the skin tone, especially if you have some leftover redness from old acne breakouts.
Still, this is an exfoliating cleanser, and it shouldn't be used daily, even less so twice a day, so $44 is worth it since it's going to last you for a long time with controlled use.
iS CLINICAL – Active Serum – $138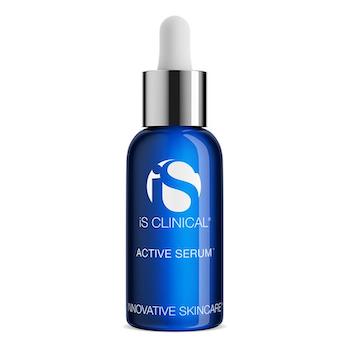 iS CLINICAL Active Serum is a very lightweight serum that feels identical to water, and it is packed with active ingredients that target multiple skin concerns and conditions.
There is quite an assortment here starting with Arbutin and mushroom extract, which are ingredients that minimize the appearance of uneven skin tone and brighten post-inflammatory hyperpigmentation.
Moving forward, the serum contains White Willow Bark Extract, which is essentially salicylic acid that deeply cleanses the pores and dissolves all the gunk inside there causing acne breakouts.
Additionally, it contains sugar cane extract derived from the tropical grass sugarcane. It is used as a natural exfoliant and a humectant that helps the skin attract and retain moisture.
And lastly, there is Bilberry extract, which is one of the best sources of antioxidant compounds that help strengthen the skin, even out the skin tone, and soothe redness due to their calming properties.
This serum has quite a few good things to unpack, but there are also three things that I personally don't like.
The first thing I don't like is the price; however, I can justify this because the serum is so potent that you won't need to use more than a few drops of it in the evenings.
Using a few drops will make this 30ml serum last you 2-3 months, which is not that bad given the beneficial ingredients it has to offer.
The other thing I don't like is the content of alcohol denat, which contributes to the strong medicinal scent and can be a little drying on the skin; therefore, you must compensate with a good moisturizer.
And lastly, we have menthol which is below the 1% line but it is an ingredient that can be sensitizing to the skin.
All in all, this is a good product worth trying if you want to splurge; however, keep an eye on potential dryness and irritation so that you can either minimize use or give it a break.
NEOSTRATA – PHA Hydrating Gel Facial Cleanser – $27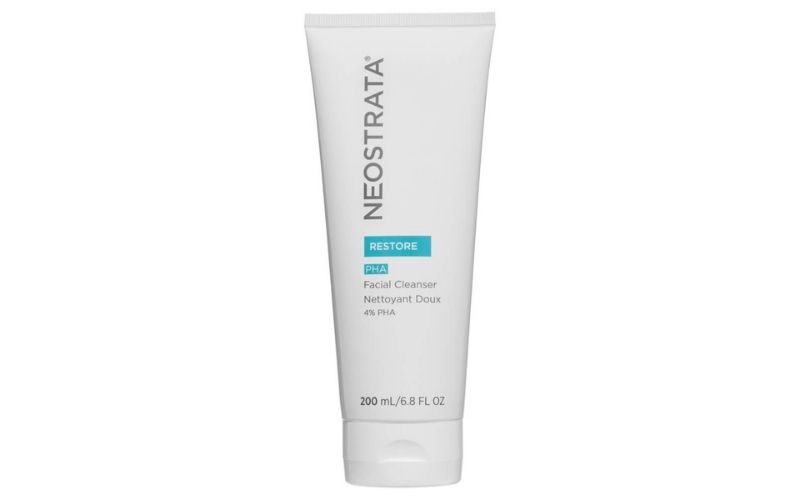 The NEOSTRATA PHA Hydrating Gel Facial Cleanser is a soap-free, non-foaming cleanser that's extremely gentle on the skin.
It is formulated with 4% Gluconolactone, a PHA (poly-hydroxy acid), which is the gentlest exfoliating acid compared to AHAs and BHA that helps brighten the skin and even out the complexion.
The cleanser will leave your skin clean, plump, hydrated, lightly exfoliated, and prepped for the next step into your skincare routine.
This cleanser is also suitable for daily use, and sensitive and rosacea-prone skins can use it, too.
SkinCeuticals – Glycolic 10 Overnight Renewal – $80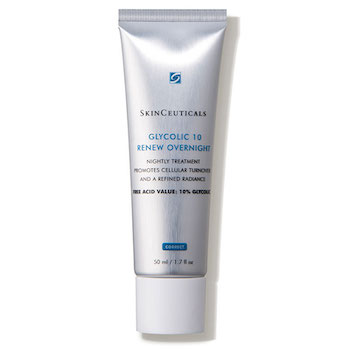 SkinCeuticals' Glycolic 10 Overnight Renewal is a corrective night cream that delivers 10% glycolic acid right into your skin to help promote a more radiant, even, and uniform complexion.
This is suitable for more sensitive skin types because it comes in a cream/emulsion type of formulation that doesn't act as aggressively on the skin as liquid formulas do.
Still, it would be best to use it only a few times a week to prevent potential irritation or side effects while your skin is getting used to the potent acid.
Additionally, make sure to always follow it up with sunscreen in the morning to prevent sunburns and damage.
Paula's Choice – Super-Light Wrinkle Defense SPF 30 – $33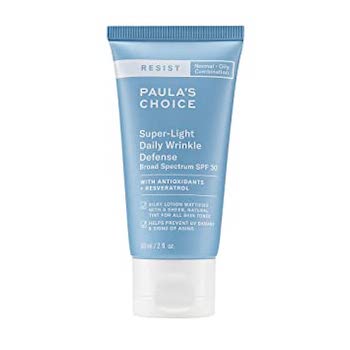 Paula's Choice Super-Light Wrinkle Defense SPF 30 is a mineral-based sunscreen that contains zinc oxide and titanium dioxide as the main active ingredients.
Besides that, it also contains a few other antioxidants, including resveratrol, bisabolol, and EGCG, which is one of the active parts of green tea believed to be responsible for its many health and skin benefits, including soothing and calming inflamed skin.
The product has a matte finish, and it will help control excess oiliness throughout the day.
Additionally, it is also tinted, and it will help neutralize redness and flushing. It will also help even out the skin tone and create the appearance of a more uniform complexion.
It can be worn on its own or under makeup to help keep a matte base.
EltaMD – UV Physical Tinted Sunscreen SPF41 – $33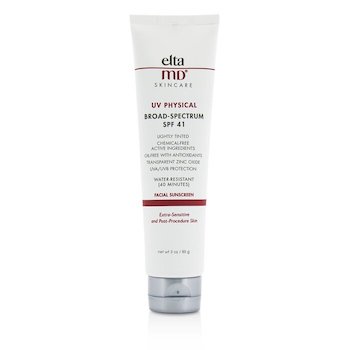 The EltaMD UV Physical Tinted Sunscreen SPF41 is a mineral-based, tinted sunscreen that uses zinc oxide and titanium dioxide as its main UV protective filters.
It is very suitable for dry and sensitive skin prone to redness; however, I wouldn't recommend this product for acne-prone skins due to a few heavy and potentially clogging ingredients.
The light tint helps neutralize redness and create a more uniform and even complexion.
---
---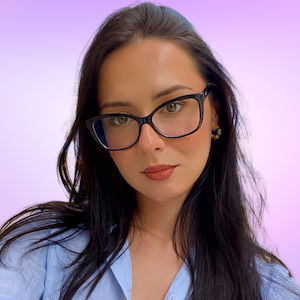 My name is Simone and I am a certified skin specialist. I created this website to teach my readers how to take great care of their skin and I also like to occasionally share my honest opinions on skincare products I've tried. You can learn more about me here.
The Acne Solution: Your Ultimate Guide To Flawless Complexion
An extensive, no-nonsense course showing you how to never have acne again, from a licensed Esthetician specializing in oily/acne-prone skin.