I've always had a love-hate relationship with La Roche Posay. It was never my favorite brand, but I always knew their products worked.
I had a few instances where a couple of their products caused a chemical burn on my skin, but a few days later, my acne was completely obliterated from that area, only to find out I'd used the products wrong, and although they worked, I would've preferred to go without the burning part.
Nevertheless, my views changed completely when I bought the Soothing Hydrating Gel Cream and the Cicaplast Baume B5, and these two products did wonders for my dehydrated, irritated, and acne-ridden skin from purging due to starting tretinoin.
I started experimenting with more of their products and surprisingly ended up loving most of them.
Therefore, in this article, I will share 11 best La Roche Posay products for acne-prone skin.
These are all products I've tried and used, and they are available in drugstores, pharmacies, and many online stores, including Amazon.
And without any further ado, let's jump right in: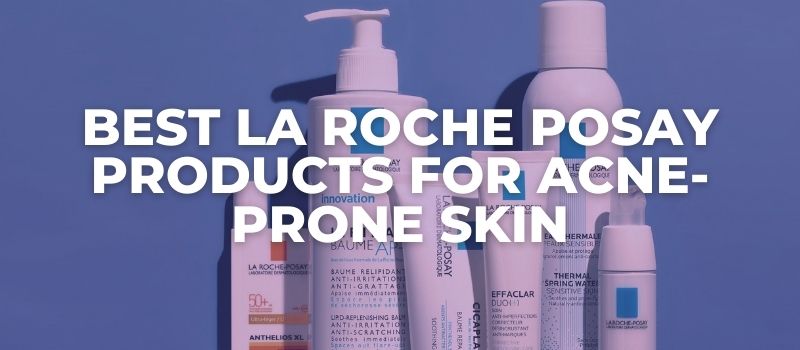 NB:
What if I told you I can show you how to never have acne again?
If you have acne and want it gone
,
read this message
.
Toleriane – Hydrating Gentle Cleanser
The Hydrating Gentle Cleanser from La Roche Posay's Toleriane range is an excellent cleanser for when you are dealing with dry and irritated skin or are going through a course of acne medication such as Accutane or using strong actives such as benzoyl peroxide and tretinoin.
It is extremely gentle, doesn't sting the eyes, and can be used as a first cleanser to remove makeup or a second cleanse to remove daily impurities from the skin.
The Hydrating Gentle Cleanser contains LRP's exclusive Prebiotic Thermal Water as well as skin-replenishing ceramides, hydrating glycerin, and soothing niacinamide.
It has a milky texture that transforms into a soothing lather when applied and worked on the skin.
Best for dry, dehydrated, and sensitive skin.
RELATED: Best Products to Instantly Soothe Irritated Skin.
Toleriane – Purifying Foaming Cleanser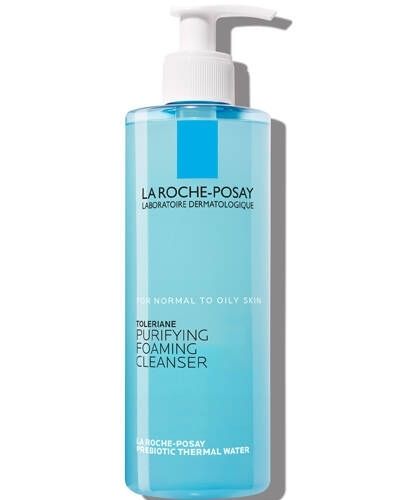 The Purifying Foaming Cleanser from the Toleriane range is another fantastic and gentle product that contains an excellent combination of ingredients to address oily skin, acne, and sensitivity.
This cleanser will efficiently remove the daily grime, excess oils, and dirt accumulated on your skin while leaving it soft and hydrated.
The unique blend contains hydrating humectants, soothing and repairing ingredients such as propanediol and niacinamide, and ceramides, which are the building blocks of a healthy skin barrier.
Best for combo, oily, and acne-prone skin.
Effaclar – Purifying Foaming Gel Cleanser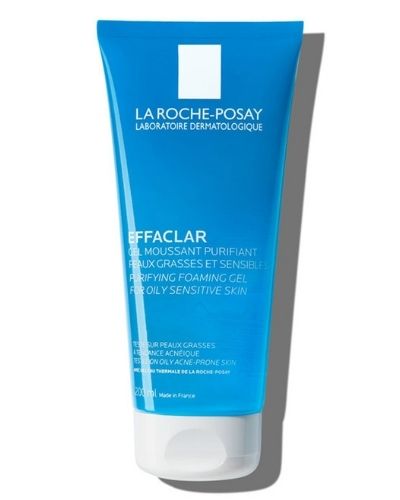 The Purifying Foaming Gel Cleanser from the Effaclar range is a slightly stronger version of the Toleriane Purifying Foaming Cleanser as it contains harsher surfactants.
I found it a bit too harsh for my oily & acne-prone skin, but it can work for someone who lives in hot climates all year round, sweats a lot, or wears heavy sunscreens.
The trick is to use very little of it and lather it up between your palms because using less product won't dehydrate the skin.
It's a good evening cleanser, but I don't recommend using it twice a day as it's really quite strong and stripping.
Best for coarse, resilient, and oily skin.
Effaclar – Medicated Gel Cleanser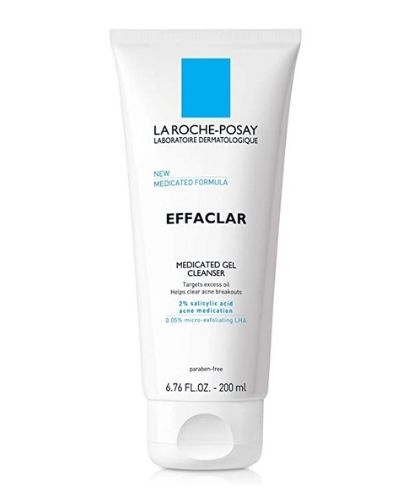 I usually recommend using leave-on exfoliating products for best results when treating acne; however, if you are on a budget and aren't sure where to start, it's better to do something than nothing, so an exfoliating cleanser can be a good option in that circumstance.
La Roche Posay Medicated Gel Cleanser is an exfoliating cleanser that contains 2% salicylic acid to penetrate into the pores and clear out the oils and gunk that's causing a clog, as well as lipo-hydroxy acid, which is a derivative and a gentler alternative to salicylic acid.
So, the Medicated Gel Cleanser gives you a double exfoliating effect without the irritation that's often associated with using multiple acids.
That said, you should still avoid overusing it because it can dry out your skin and potentially cause irritation due to disrupting the moisture barrier.
Best for oily and acne-prone skin.
Effaclar – Derma-Soothing Hydrating Cleansing Cream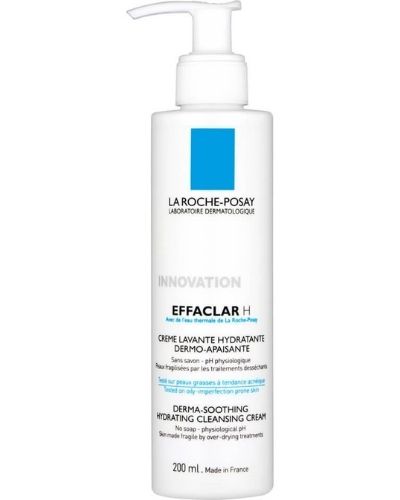 The Soothing Hydrating Cleansing Cream from the Effaclar range is one of my favorite gentle cleansers; however, unfortunately, this product is only available in Europe.
That being said, the cleanser is extremely gentle, and it has the consistency of a milky cream.
La Roche Posay utilized an innovative anti-friction texture that melts effortlessly onto the skin and doesn't lather, which makes it suitable even for sensitive, acne-prone skin.
It contains soothing and repairing ingredients such as panthenol and zinc to help strengthen the skin barrier and improve its function.
Best for dry/dehydrated/combo/oily/sensitive/acne-prone skin.
RELATED: Soothing Hydrating Cleansing Cream Review.
Serozinc Toner for Oily Skin with Zinc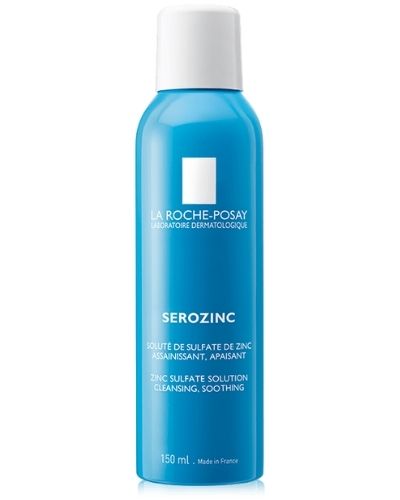 The Serozinc Toner is a great option if you like spraying some mist or just plain water before layering different products in your skincare routine.
It works pretty much the same as their Thermal Spring Water Spray; however, it has the added benefit of anti-inflammatory zinc that can help balance out oil production and instantly soothe irritation.
Effaclar – Clarifying Solution Acne Toner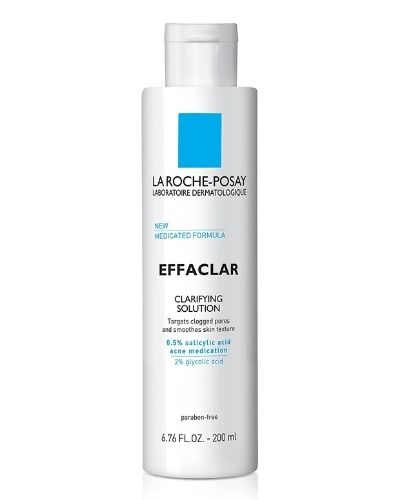 The Clarifying Solution is an anti-acne toner from the Effaclar line that can be used a few times a week to clear out clogged pores, get rid of congestion, and minimize active breakouts.
It contains 0.5% salicylic acid as well as glycolic acid, which works on the superficial layers of the skin to help shed layers of dead skin cells.
The only thing I don't like about it is that it contains alcohol denat, which can be quite drying, which is why I don't recommend you use this more than 2-3 times a week (in the evenings.)
Also, make sure to always follow it up with sunscreen in the morning, as glycolic acid will likely make your skin more sensitive to UV rays.
Best for oily and acne-prone skin.
Effaclar – Face Serum
The Face Serum from the Effaclar line is a lightweight, advanced anti-acne treatment designed to refine texture and visibly reduce acne scars.
This serum is formulated with glycolic acid, which exfoliates the superficial skin layers and reduces the buildup of pore-clogging dead skin cells.
Additionally, the serum also contains niacinamide, a form of vitamin B3, known for its anti-inflammatory properties and the ability to balance sebum production, thus reducing the likelihood of acne formation.
However, besides the few good ingredients, the Face Serum also contains alcohol, which may not be a problem for more resilient skin but can lead to dryness and dehydration if overused.
Therefore, considering the potent concentration of glycolic acid paired with drying alcohol, it's best to use this serum no more than 2-3 times a week.
Additionally, make sure to always follow it up with a heavy-duty moisturizer to prevent dryness and discomfort and SPF in the morning to prevent UV damage and photosensitivity.
Best for oily and acne-prone skin.
Effaclar – Duo Dual Action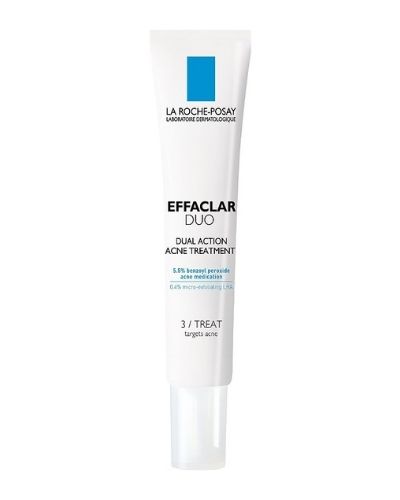 La Roche Posay Effaclar Duo Dual Action Acne Treatment is a serum treatment with a thicker consistency that can be used on its own or followed up with a moisturizer.
This product contains micronized benzoyl peroxide with 5.5% strength and capryloyl salicylic acid, which is a milder derivative of salicylic acid.
Both benzoyl peroxide and salicylic acid work deeper inside the pore; benzoyl peroxide infuses the passages with oxygen and destroys the acne-causing bacteria, while salicylic acid dissolves the gunk that's causing the clog.
It is a very good but strong treatment; therefore, make sure to pay attention to signs of irritation while using it and minimize use if you notice redness, peeling, sensitivity, or itching.
RELATED: Best Anti-Acne Serums.
Toleriane – Sensitive Fluide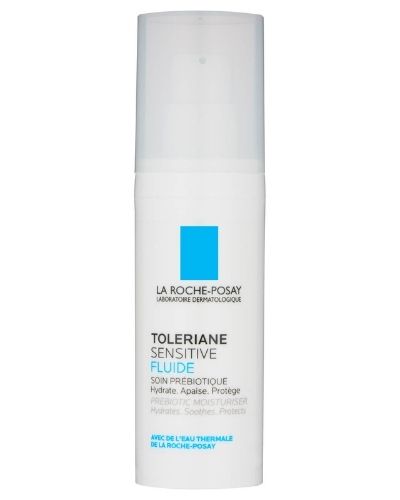 The Toleriane Sensitive Fluide is a lightweight emulsion formulated for skin that gets clogged and breaks out easily.
It is formulated with only ten ingredients, including water, caprylic/capric triglyceride, which are lipids important for skin's health, soothing propanediol, brightening and balancing niacinamide, and a few other humectants and stabilizers.
It's also safe for fungal acne, which is another problem triggered by many skincare products marketed towards acne-prone skin.
And lastly, it's exceptionally good for ultra-sensitive skin as it doesn't contain fragrance or fragrant components and drying alcohols.
Best for combination, oily, sensitive, and acne-prone skin.
RELATED: Best Moisturizers For Acne-Prone Skin.
Cicaplast Baume B5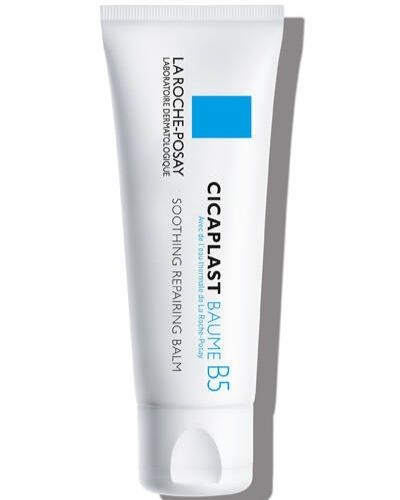 The Cicaplast Baume B5 by La Roche Posay is a product that delivers immediate relief within seconds of applying it to irritated skin.
It is a thick balm that contains many soothing, repairing, and moisturizing ingredients, including softening shea butter, hydrating glycerin, soothing and repairing panthenol, nourishing magnesium, anti-inflammatory zinc, as well as Madecassoside, which is one of the four main compounds in the plant extract Centella Asiatica, an incredibly soothing and repairing agent that helps strengthen the skin barrier.
The Cicaplast Baume B5 is also non-comedogenic, and although it's quite thick and heavy, there's nothing here that will clog the pores and cause your skin to break out.
Best for sensitive, damaged, and irritated skin.
RELATED: Best Skincare Products to Repair a Damaged Skin Barrier.
Adapalene Gel 0.1% Topical Retinoid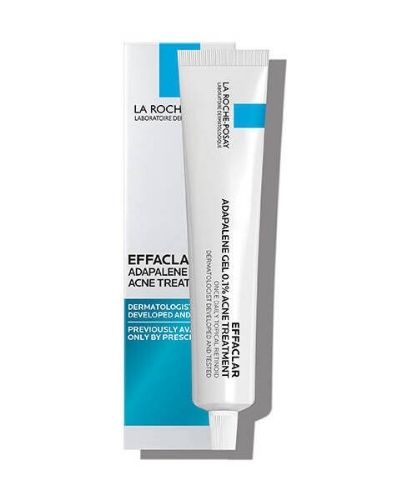 La Roche Posay's Adapalene Gel is a strong anti-acne medication that can work great on moderate to severe cystic acne.
It can be extremely beneficial, but it is unfortunately linked to initial dryness, irritation, peeling, and sensitivity, which usually lasts for a few weeks until your skin gets used to it.
Make sure to use any retinoid, especially Adapalene in the evenings, followed by a good moisturizer and a high SPF in the morning.
Best for moderate to severe cystic acne.
RELATED: Best Products for Cystic Acne.
Is La Roche-Posay Good for Acne?
The La Roche-Posay Effaclar line is specifically formulated for acne-prone skin and consists of exfoliating cleansers, toners and serums, an acne treatment, a lightweight moisturizer, a retinoid, and a clay mask.
The Effaclar line is formulated with ingredients such as salicylic acid, benzoyl peroxide, adapalene, and niacinamide to effectively target acne and reduce redness and inflammation.
How Long Does La Roche-Posay Take to Clear Acne?
La Roche-Posay's Effaclar products are renowned for their effectiveness in combating acne.
According to the brand and several reviews, users can expect to see a significant reduction in acne within a period of 10 days.
The Effaclar Duo Acne Spot Treatment, for instance, claims to reduce acne by up to 60% in just 10 days.
For the Effaclar Salicylic Acid Acne Treatment Serum, users reported a 21% reduction of whiteheads and blackheads in 4 weeks and a 45% reduction of pimples in the same duration.
However, it's important to note that everyone's skin is different, and factors such as the severity of the acne, skin type, and how your skin adapts to the product can all impact how quickly you see results.
In general, La Roche-Posay suggests that users should start to see their skin clearing up after around a month.
This is because one skin cycle takes a month to complete, so within 30 days, your skin cells should have undergone a full renewal process.
During this cycle, old cells are shed, and new, fresh cells rise to the surface.
If you're using a product like La Roche-Posay's Effaclar for acne, these new cells have been exposed to the acne-fighting ingredients of the product throughout their formation process.
Thus, they are more likely to be healthier and less prone to developing acne.
However, it takes at least 3-6 months to see a significant skin improvement with a consistent skincare routine and around a year for moderate to severe acne to completely clear up.
Do La Roche-Posay Products Get Rid of Acne Scars?
La Roche-Posay has several fantastic products to get rid of acne scars.
These include the Glycolic B5 10% Serum, which is fantastic for getting rid of post-inflammatory hyperpigmentation, as well as Cicaplast Baume B5, which is effective in reducing post-inflammatory erythema or red marks that remain on the skin after a pimple has healed.
Finally, La Roche-Posay's Redermic R Retinol Cream can help improve the appearance of atrophic or pitted acne scars by boosting collagen production and smoothing out uneven skin texture.
My name is Simone and I am a certified skin specialist. I created this website to teach my readers how to take great care of their skin and I also like to occasionally share my honest opinions on skincare products I've tried. You can learn more about me here.
The Acne Solution: Your Ultimate Guide To Flawless Complexion
An extensive, no-nonsense course showing you how to never have acne again, from a licensed Esthetician specializing in oily/acne-prone skin.