As if sunscreen isn't already annoying enough to wear, the approaching hot summer months aren't making things any easier.
Sunscreens usually have heavy, greasy, and white cast-y formulations that don't sit well under makeup and are quite literally impossible to reapply without having to retouch the entire look.
Which is why, unsurprisingly, many people choose not to reapply their sunscreens throughout the day despite the fact dermatologists and skin professionals are constantly advising this.
That being said, there have been some major improvements in sunscreen formulations, but the biggest improvement, convenience-wise, have been powder sunscreens with high SPF.
These can be worn everywhere and are super easy to use and reapply. They also typically have a matte finish which is music to our ears for us oily and acne-prone folks.
And as we are looking forward to a better summer than last year, let's mention eight best powder sunscreens with high SPF to keep you protected from the harmful UV rays this summer.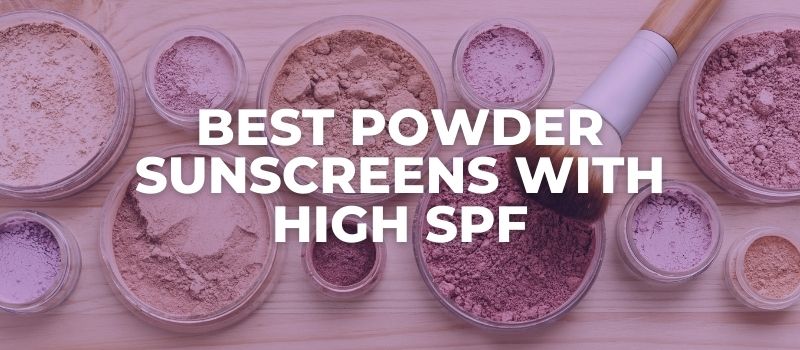 NB:
I can show you how to never have acne again.
If you have acne and want it gone
,
read this message
.
Bell HYPOAllergenic – Compact Powder SPF50 – $13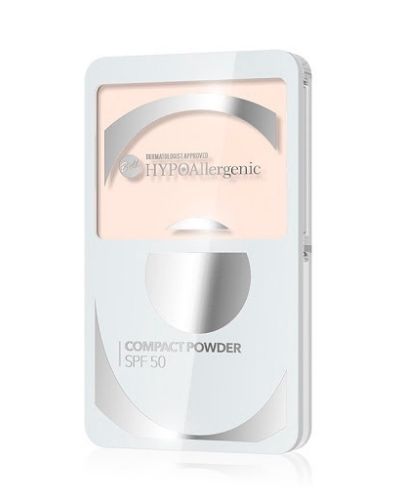 Bell is a European cosmetics company known for creating hypoallergenic beauty products.
Now, the term "hypoallergenic" doesn't mean much because anything can be a potential allergen for someone, and this depends entirely on your immune system, not on how "clean" the component or the ingredient is.
That being said, I still love the Bell Compact Powder, and it was, in fact, the first SPF powder I've ever tried. It comes in a huge pan of 10 grams, a mirror, and a sponge.
It also has a very approachable price of $13, and it's an enjoyable product to use with very high sun protection. It goes onto the skin smoothly and has a matte finish, making my pores look smaller and my complexion smoother.
The shade range is atrocious, but you will definitely enjoy using this compact powder if you are lucky enough to get a match.
Physicians Formula – Mineral Wear Powder SPF30 – $15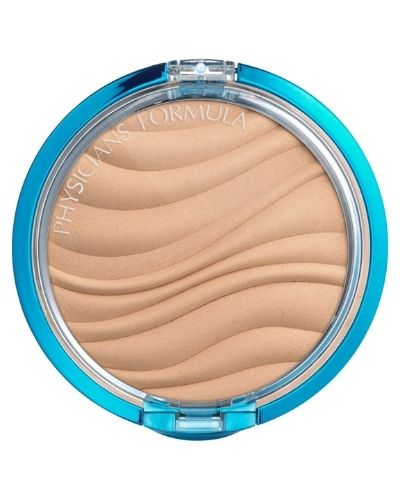 The Physicians Formula Mineral Wear Talc-Free Powder is the perfect summer essential.
The powder sunscreen is effective, affordable, doesn't feel heavy on the skin, and offers an extra layer of high protection against UV rays.
It is also free of talc, which is a mineral commonly found in powder formulation, but it has become a rather controversial component recently due to being linked to ovarian cancer.
This hasn't been proven, and for now, talc is approved for cosmetic use, but if you want to avoid it, this product is a good choice for you.
The only downside is that the shade range consists of only three shades that cater towards medium skin tones, so if you are very pale or dark, you likely won't find a good shade match.
Supergoop – Invincible Setting Powder SPF45 – $30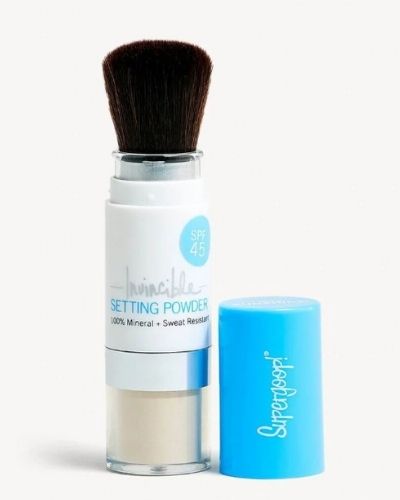 Supergoop is a known player in the sunscreen game, and this powder sunscreen is yet another favorite in their line of cult classics.
The Invincible Setting Powder is a sweat-resistant sunscreen that is very convenient if you are an avid outdoorsy person, but you don't always have the chance to stop and reapply a liquid or a cream sunscreen.
The silky, lightweight powder is sweat and water-resistant, has a high SPF of 45, and a flattering matte finish that makes your skin appear flawless by minimizing the look of enlarged pores.
It is packed with zinc oxide, which is the gold standard against UV rays, as well as moisturizing ceramides that help prevent your skin from overdrying.
It is a little bit on the pricier side, and the shade range is limited, but it's a good sunscreen all in all.
Shiseido – Protective Compact Foundation SPF36 – $30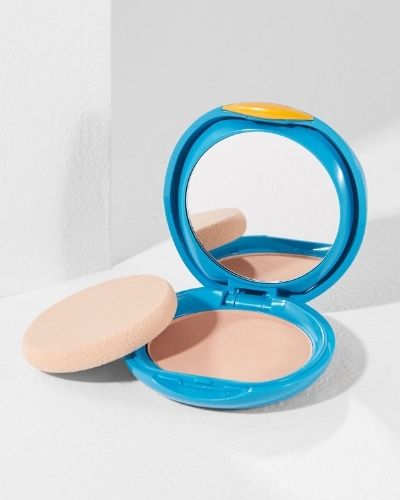 Shiseido's UV Protective Compact Foundation is a travel-friendly powder that's resistant to water and sebum and provides a long-lasting, natural-looking finish.
The finish is more velvety than matte; therefore, if your skin is exceptionally oily, you will likely need to blot at least once throughout the day, which is not that bad at all.
The powder also has a high SPF, and it's the only one on this list with a decent shade range.
Brush On Block – Mineral Sunscreen Powder SPF30 – $32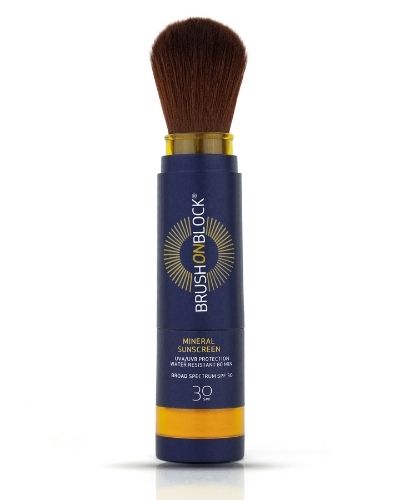 The Brush On Block Mineral Sunscreen is a product that has over 1,500 positive reviews on Amazon, and after using it for the first time, it was very clear why so many people love it.
This SPF is an all-around winner that offers high UV protection, a precise brush that won't leave a powdery residue everywhere, and a matte finish without looking chalky.
The mineral formula is vegan-friendly, reef-safe, and is also sweat and waterproof for up to 80 minutes, making it ideal for summertime.
Eminence – Sun Defense Mineral Sunscreen SPF30 – $58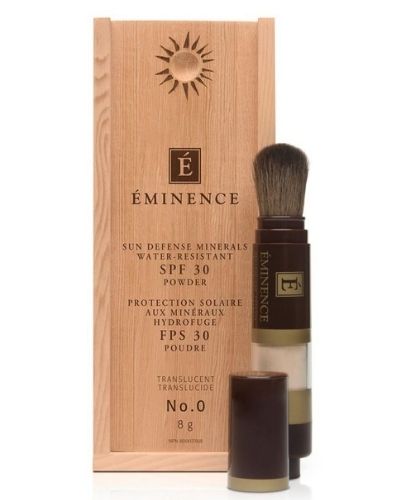 The Eminence Sun Defense Mineral Sunscreen is designed to provide a weightless veil of high UV protection throughout the entire day.
The finely milled mineral powder offers water-resistant protection while simultaneously absorbing excess oil and providing a velvety, matte finish.
The Sun Defense Mineral Sunscreen also contains vitamins A and E, which are both excellent antioxidants that work to minimize free radical damage to the skin, as well as Micronized Zinc Oxide, which is the main ingredient that blocks the UV rays.
Jane Iredale – Powder-Me Dry SPF30 – $50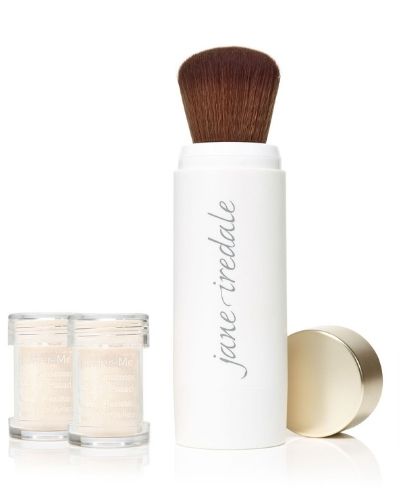 Jane Iredale's Powder-Me Dry is a loose powder sunscreen that comes in refillable packaging and is convenient to use.
The powder is dispensed via a luxurious, ultra-soft brush head that comes off easily when it's time to clean it.
The formula is fully matte, and it's perfect for anyone who has very oily skin as it will fully absorb the oil throughout the day. Most of the time, I don't even have to blot throughout the day, which is quite impressive for my excessively oily skin.
The formula is also reef-safe and water-resistant for up to 40 minutes.
Colorscience – Brush-On Sunscreen Mineral Powder – $69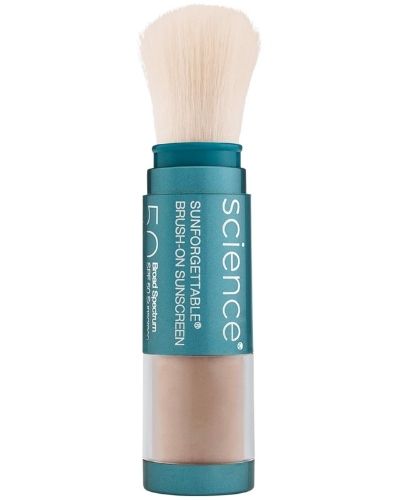 Colorscience's Brush-On Sunscreen Mineral Powder is the first loose powder sunscreen I've tried just because it has always been a cult classic, ever since it dropped a couple of years ago.
They've also updated the product since then, and the new, improved formula includes hyaluronic acid powder for added hydration as well as a blend of antioxidants to prevent free radical damage and protect the skin from pollution.
This sunscreen comes in four shades, is reef-safe, goes onto the skin quickly and easily, and is super-convenient to carry around and reapply whenever you feel like it.
It has a high SPF, hence the higher price tag, and it makes the skin look smooth, polished, and flawless after application. It is the perfect accessory for summertime.
Can Powder Sunscreen Protect You From Burning?
Powder sunscreen helps shield the skin from both the burning (UVB) and the aging (UVA) rays; however, it does this most effectively when used in addition to a regular sunscreen – not in place of it.
Powder sunscreens are convenient for reapplication, but you will likely spread the product around unevenly, and this technique won't give you the perfect coverage your skin needs to stay protected.
Since powder sunscreens are so lightly milled and they remain invisible on the skin, it is very easy to miss a spot as you can't really see where you are applying it and where you are leaving it bare.
You also need to apply quite a lot to achieve the SPF number on the label, so since some powder sunscreens are pricey – many of us probably won't use quite the amount needed.
But by layering a powder sunscreen over a cream or lotion sunscreen, you're getting the best of both worlds, and your skin will remain protected throughout the entire day.
Apply a good mineral sunscreen in the morning, and then use your powder SPF on top for quick touch-ups throughout the day.
Even if your application is imperfect, you'll still have that base level of protection you applied in the morning.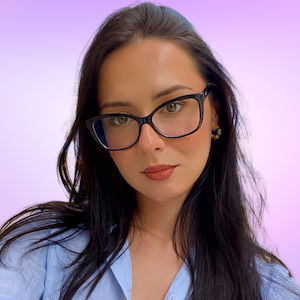 My name is Simone and I am a certified skin specialist. I created this website to teach my readers how to take great care of their skin and I also like to occasionally share my honest opinions on skincare products I've tried. You can learn more about me here.
The Acne Solution: Your Ultimate Guide To Flawless Complexion
An extensive, no-nonsense course showing you how to never have acne again, from a licensed Esthetician specializing in oily/acne-prone skin.