I promised to deliver this article a few weeks ago, and it's finally here!
In this article, I will explain everything you need to know about how to become an esthetician, what is an esthetician's job description, which job opportunities to aim for as a beginner, how to further expand your knowledge, etc.
Lastly, I will also answer a few of the web's most frequently asked questions about becoming an esthetician, and I will explain one common term you have probably heard floating around, so stick around until the end.
In any case, I hope you enjoy this article, and you learn something new today. So, if you want to become an esthetician, you should start here.
How To Become A Licensed Esthetician:
Graduate from High School or Complete a GED
Learn About The Field
Check Your State's Requirements
Complete a Training Program Through a Beauty/Esthetics School
Look For Further Training/Apprenticeship
Consider Taking Your Education Further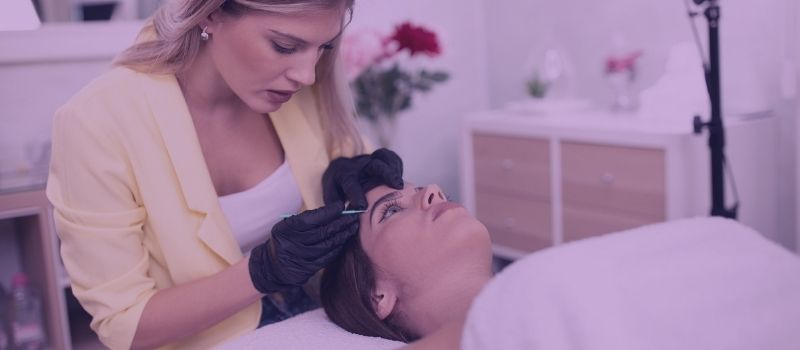 Graduate from High School or Complete a GED
Enrollment requirements in the US vary from state to state. In general, students must have a high school diploma or GED. They must also be sixteen years of age or older.
On the other hand, in most European countries, students graduate from high school at the age of 18, but you can enroll in the esthetician program as soon as you turn 16, even if you haven't graduated yet.
However, I would suggest you pay attention to the following things if you are thinking of enrolling in an esthetician program while still in high school.
Skillset
The best time to build your skillset is while you are in high school and haven't made any binding financial decisions yet.
You can try many volunteer opportunities that will help build your skillset for your future career.
You can contact your local beauty salons and ask if they need a helping hand in handling reception duties or something else. This will allow you to learn a bit more about the profession and the practical part of operating a salon.
Volunteering isn't a job; therefore, you are probably not going to be paid for it; however, the good thing about it is that you will have the flexibility to go there once or twice a week for a few hours and see how things are.
Cleanliness
Cleanliness is important to becoming an esthetician because you will be working with tools that could severely damage someone's skin if they aren't properly cleaned and disinfected.
Besides that, it's important to maintain your appearance and always look presentable; therefore, you need to wear clean and ironed clothes with no wrinkles, stains, or holes.
If you happen to be messy by nature, you may want to take on a job or a volunteering opportunity that required neatness and challenge yourself to work on changing this trait.
Working in a hospital, for example, will teach you to value cleanliness. You can also try working in a beauty salon, where you'll learn all the proper clean-up techniques for beauty products and tools.
Organization
I cannot even begin to explain how important organization is for us estheticians. You have to be on top of everything at all times, and you always need to stay organized, have principles, and put your foot down if someone is trying to mess with that.
I've worked in a messy beauty salon before, and I've also worked in a messy spa, and I highly don't recommend the headache.
You need to be organized so that you don't have to deal with things such as double-booking, over-booking, missing appointments, late clients, messy working stations (the trolly with your products), missing products, etc.
You also need to be organized so that you don't lose money and end up bankrupt if you open up your own salon one day.
You need to know how much of each product you are using, how often do you need to stock up, if a product has been used too quickly, you need to know whether the treatments you've had can justify this cost or you have just been wasting product, and many other things.
To learn how to be organized even before you start the program because your entire career will be one big mess if you lack the organization skill.
Customer service
Customer service is another major aspect of the esthetician career. Therefore, any customer service job can be a great way to kickstart your career.
I would recommend you start with reception because you will learn how to deal with customers, handle difficult customers, solve problems, accommodate angry clients, etc.
These are all things that could happen to you as an esthetician, so the earlier you learn how to deal with them – the better.
Learn About The Field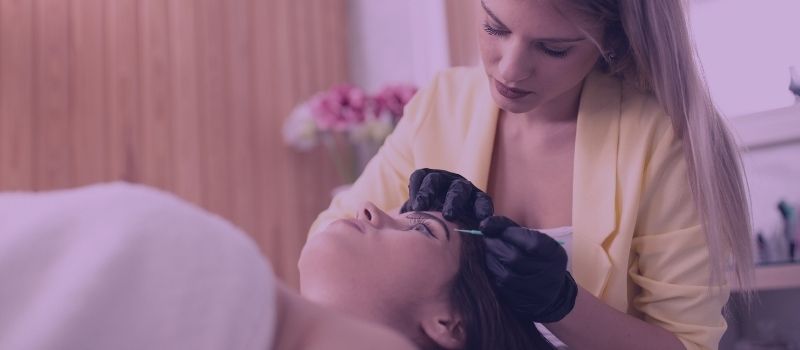 Before you invest your time and money in training, take the time to explore the esthetician field and figure out whether that's a career you want to build.
Consider that you need to be genuinely interested in learning about the skin, how it functions, what could potentially trigger it, how to recognize different skin conditions, how to recognize a reaction to products, etc.
You also need to continually want to learn about new trends, popular treatments, techniques, machines, and products intended for improving the skin, targeting various skin concerns, etc.
And lastly, you need to be fully invested in helping your clients achieve their skin goals. This means that you want to leave a lasting impression and gain clients that will keep coming back for the great service, not someone that comes in once and never again.
Your services don't stop as soon as your client walks out of the door because you also need to create a skincare routine plan for them with product recommendations, instructions on how to use these products, etc.
You also need to be available to answer questions your client might have after they've left your salon, as well as follow up with their progress now and again.
It's not uncommon for a client to forget how to combine a product into their current skincare routine or forget to apply their sunscreen after a chemical peel procedure. You need to be the one to follow up and remind them.
It's important that you really want to do the job and be passionate about it instead of just doing it cause it's trendy.
The average wage for an esthetician in the US is around $29,000 a year. However, very high-paid estheticians can earn as much as $58,000 a year (also depending on their location).
On the other hand, the average wage for estheticians in some European countries with higher-than-average-income such as Germany or the Netherlands, can go up to €25,000 (around $30,000).
Scandinavian countries can earn even more because they are high-income countries; however, living in one of these countries is also costly.
If you eventually open your own salon, you will definitely be earning more than an average esthetician; however, you will surely have other expenses to cover, so make sure to plan accordingly.
Check Your State's Requirements
Every state/country has varying requirements for esthetician licensing.
To become eligible, most state boards require you to have completed a minimum number of approved education hours, including theoretical and practical courses.
After this requirement has been met, you also need to take the licensing exam, including both written (theory) and practical (hands-on) parts.
Some states, like Florida, only require around 260 hours of training. Other states, like Georgia, require as much as 1,000 training hours.
In Europe, on the other hand, training hours vary depending on the school/program you are signing up for, so you will need to ask the school directly, but they usually go anywhere from 300 to 1,300 hours.
I've heard that estheticians in Norway are requested to do around 2,200 hours of training; however, this is probably if a salon is looking for an experienced individual.
Complete a Training Program Through a Beauty/Esthetics School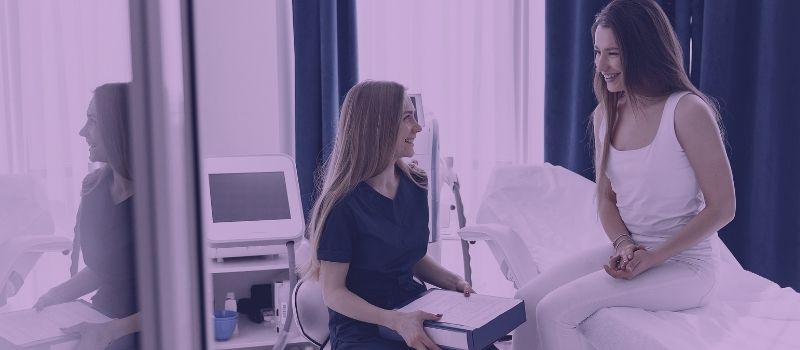 Through consultations and evaluations, estheticians determine their clients' needs and recommend treatments accordingly. Just a few of the esthetic services licensed estheticians to perform include:
Removing unwanted hair by way of waxing and threading.
Facials, exfoliations, and masks to improve skin tone, cleanse pores, and address oily, dry, or acne-prone skin.
Electrical facial treatments such as direct (and indirect) high frequency, galvanic, microcurrent, lymphatic drainage.
Blackhead extractions.
Wraps, sugar or salt scrubs, and moisturizing treatments for the body.
Makeup application.
Manicures, pedicures, and moisturizing treatments for the hands and feet, such as paraffin treatments.
Head, neck, and scalp massage.
Look For Further Training/Apprenticeship
Once you get your license, it is a good idea to start looking for further training to learn more and prepare for actually working as an esthetician.
A great way to start is to seek apprenticeships in beauty salons, medical spas, or even dermatology offices. You should always aim a little higher.
Why? Because you are most likely to learn way more advanced procedures and treatments by starting under a professional of such expertise than you would if you would start in a regular spa.
Also, beware of getting a job in regular spas because chances are that they will insist on training you to do massages because it will pay off more to hire you this way.
I used to work in a very dysfunctional spa where beauticians who had no idea how to provide massages were doing massages and charging people for treatments.
This is not only illegal but unethical too, but that doesn't stop people from doing it, so always make sure to be clear on what you are taught and what is your scope of practice during a job interview.
If an employer is trying to get you to do something you don't know how to do – make sure to be loud and clear that you will not do it.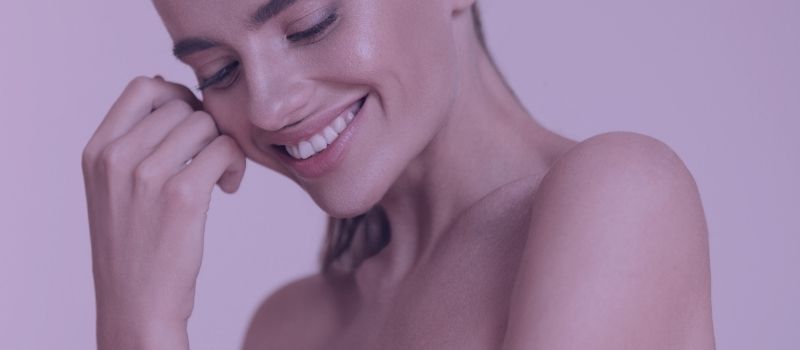 Consider Taking Your Education Further
If you land yourself an apprenticeship in an advanced practice such as a medical spa or a dermatology office – you will definitely be able to learn about advanced treatments such as chemical peels, microneedling, laser therapy, etc.
However, you may not be comfortable providing these treatments without additional training, which is why you should consider taking your education further.
Many schools offer training on advanced treatments such as chemical peels, microneedling, laser, etc., that you can do separately, get certified, and start providing these treatments for your clients.
Bear in mind that these training schools have certain requirements before they accept you as a student, so make sure to get in touch and ask them exactly what these requirements are and whether your expertise meets them.
For example, the Cosmed Aesthetic Training Academy in Ireland offers training on chemical peels for students who already have a Level 3 Diploma in Beauty Therapy.
Or the A.T.A.I Aesthetic Training Academy in Ireland offers training on laser treatments only for students who have a Level 4 Diploma in Beauty Therapy or higher.
---
---
Becoming An Esthetician FAQs:
Here are some of the web's most frequently asked questions about becoming an esthetician:
What Is a Medical Esthetician?
A medical esthetician isn't an actual diploma or certificate you can acquire through a program. Instead, you are considered a "medical esthetician" if you work in a clinic, a dermatology office, a hospital, a medical spa, etc.
Therefore, to become a medical esthetician, you will probably need to be a registered nurse before switching towards the aesthetics field.
Or, at the very least, you would have to be extensively trained by a medical doctor who specializes in cosmetology or dermatology, such as a cosmetic surgeon or a dermatologist.
As a medical esthetician with a background in medical nursing, you will be able to provide more complicated treatments that involve needles and drawing blood such as injecting botox and fillers, PRP (platelet-rich plasma), as well as laser tattoo removals, treating burns, providing care for patients that have had cosmetic surgery, etc.
As a medical esthetician, you also need to work under a healthcare professional's supervision for years before you could consider opening your own practice.
How Long Does It Take To Become An Esthetician?
How long it takes to become an esthetician depends on the school you are going to and whether you are completing your training as a full- or part-time student.
It also depends on the training hours your state/country requires.
Full-time schools where you will be going to classes every day from Monday to Friday can take as little as 4-6 months, whereas part-time students who are seeing classes twice a week usually train up to 9 to 12 months.
However, bear in mind that state licensure or certification may take additional months to achieve, depending on where you live.
How Much Does Esthetician School Cost?
The average tuition for an esthetics program is usually between $3,000 and $10,000. This will vary based on the length of the program, location, and required training hours in your state.
But besides that, consider other expenses because not all schools provide products to work with, towels, and other equipment, so you may need to buy those separately, at an extra cost.
For example, when I was studying to become an esthetician here in Europe, my tuition for a 9-month program was around $3,600, and I also had to pay for training equipment, including:
the theory book ($85)
a kit with skincare products to practice with ($300)
a set of towels 8 towels in different sizes ($80)
spatulas ($7)
gloves ($15)
antibacterial solution ($30)
tweezers set ($20)
eyebrow and eyelash tint, and an activator for the tint ($30)
a set of spoolies ($10)
a makeup kit ($300)
makeup brushes ($120)
Besides that, chances are that you are probably going to pay for an exam. I'm not sure how things are in the US; however, some schools in Europe charge up to $400 for both theory and practical exams.
Also, depending on the school you decide to go to, you may have to pay a deposit or the full tuition up front, so better look for options that allow you to pay in installments.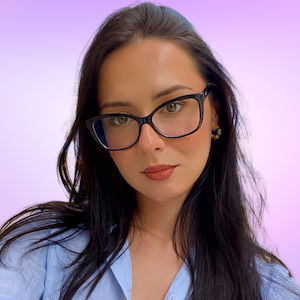 My name is Simone and I am a certified skin specialist. I created this website to teach my readers how to take great care of their skin and I also like to occasionally share my honest opinions on skincare products I've tried. You can learn more about me here.