I am always on the hunt for a good sunscreen that feels lightweight on the skin, doesn't make my skin greasy, won't irritate my skin, and won't break me out.
I've been hearing about the EltaMD UV Clear for a long time now; however, I never had the chance to try any of their sunscreens because they weren't available for shipping to my country.
Once I found out about Harben House and saw they are carrying the brand, I decided it was about time to give the sunscreen that every skincare professional praises and recommends a try.
And after using it for over six weeks, I am ready to give you my opinion.
This is my EltaMD UV Clear Broad-Spectrum SPF 46 review, so let's jump right into it:
EltaMD UV Clear Broad-Spectrum SPF 46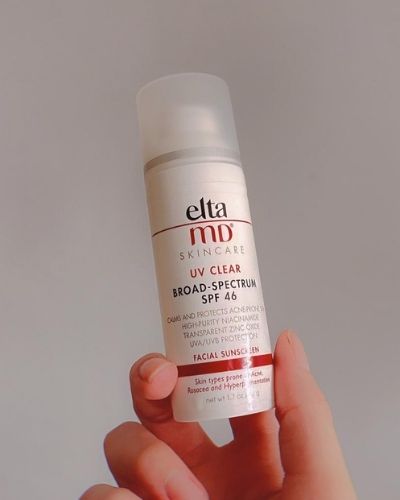 NB:
I can show you how to never have acne again.
If you have acne and want it gone
,
read this message
.
EltaMD UV Clear Broad-Spectrum SPF 46 is a daily oil-free sunscreen that shields sensitive and oily skin from harmful UVA/UVB sun-rays and further blemish breakouts.
The mineral sunscreen is very lightweight and is easily worn underneath makeup that does not streak or give an unappealing greasy sheen.
With continuous daily use, the EltaMD sunscreen reduces the signs of aging and decreases the risk of skin cancer.
Ingredients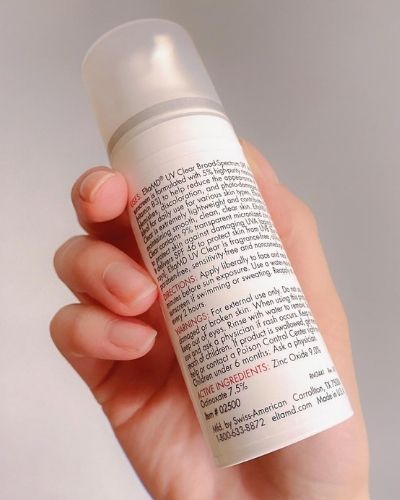 The EltaMD UV Clear is packed with beneficial ingredients that address more than one skin concern besides offering great sun protection.
Let's take a look at a few of these:
Zinc oxide is a natural mineral compound that works as a sunscreen agent by reflecting and scattering UVA and UVB rays. It's also ultra-gentle and one of the best ingredients to use on inflammation, such as acne as well as burns.
It's suitable for all skin types and skin concerns, including very sensitive skins, rosacea-prone skins, and someone who is dealing with a compromised skin barrier due to using harsh products.
Niacinamide (vitamin B3) is an anti-inflammatory agent that reduces redness, minimizes the appearance of dry or damaged skin, and restores suppleness.
Niacinamide's effect on blemishes such as acne and skin discoloration has been proven scientifically many times over.
Niacinamide's management of acne and hyperpigmentation in several studies suggests it to be highly effective even at concentrations of as little as 4%.
Hyaluronic acid is a humectant that attracts and retains moisture into the outermost layers of the skin, improving skin feel and restoring plumpness and suppleness.
Lactic acid is an AHA and an exfoliating agent with humectant and brightening properties, which is why it's present in this formula at a low concentration.
Besides the few ingredients that stand out, this product also contains a few excellent emollients and antioxidants to boost the beneficial effects and help the formula spread easier onto the skin.
Consistency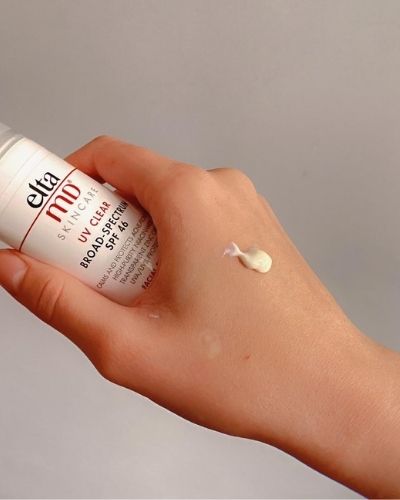 The EltaMD UV Clear has a very lightweight consistency that glides easily on the skin and applies effortlessly.
Scent
The EltaMD UV Clear has a very pleasant scent of almond. I am not exactly sure which ingredient the scent is coming from, but the product itself doesn't contain added fragrance.
I personally don't mind the scent at all as it's pleasant enough initially, and it also fades soon after.
Performance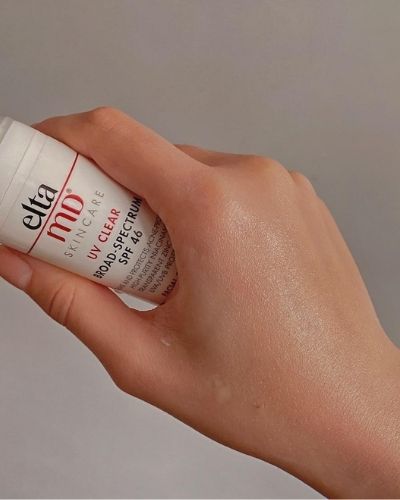 My skin is oily and acne-prone.
Having a good skincare routine helps a lot, but by default, it's prone to congestion, breakouts, post-inflammatory redness, texture, and dullness.
It also always gets oily throughout the day, no matter how much I set my skincare and makeup with powder. I have to blot at least once a day and most often more than once.
I wasn't expecting this product to be mattifying because that's not what the description says.
There is "oil-free" in the description; however, there are still quite a few emollients here that help give the formula that nice glide, which is one of my favorite things about this product.
I was immediately impressed by how lightweight the product is and how easily it glides when applied to the skin.
The application is smooth, and it doesn't feel sticky or chalky like some Avene sunscreens and even a few La Roche Posay ones that I hate.
It also gives my skin a very nice glow when it sets; however, this doesn't last long, and my skin becomes oily if I don't set it with powder after 15-20 minutes.
I also love how gentle and non-irritating it is, I can apply it right after cleansing on dry skin without having to use a moisturizer as an extra barrier between my skin and sunscreen, and it doesn't irritate, sting, or burn my skin at all.
I also love applying the EltaMD UV Clear on my eyelids which is often the most neglected area due to unsuitable products that sting the eyes, but it's also one of the areas that tend to droop and show signs of aging earlier than other areas.
However, the EltaMD Clear has never burned or stung my eyes. On the contrary – my eyelids feel moisturized and replenished upon applying it.
And lastly, which is definitely the most important thing is that it doesn't break me out. I've been using it for over a month now, and my skin has only been getting better since I also introduced the iS CLINICAL Active Serum into my routine.
To be fair, I am not really a fan of how oily it becomes; however, what's important to me is that it doesn't burn or sting, and it feels good on my skin, which is why I will definitely repurchase it and recommend it to people who are dealing with sensitivity, irritation, acne, rosacea, dry skin, compromised skin barrier, etc.
EltaMD UV Clear Pros:
It's super gentle and can even be used on the eyelids.
Doesn't sting or burn.
Glides on the skin with ease and spreads evenly.
It has a pleasant, nutty scent.
Doesn't leave a white cast.
Leaves a nice glow in the beginning.
Doesn't break me out.
EltaMD UV Clear Cons:
It gets very oily if not set with powder.
I wish it comes in larger packaging.
Where To Buy?
You can buy the EltaMD UV Clear on:
My Favorite Sunscreens For Oily & Acne-Prone Skin
Here are three of my favorite sunscreens for oily and acne-prone skin.
Paula's Choice – CLEAR Ultra-Light Hydrating Fluid
Paula's Choice CLEAR Ultra-Hydrating Fluid is one of the best sunscreens for anyone who deals with oiliness and acne as it feels quite weightless on the skin, and it also dries into a soft matte.
It provides broad-spectrum sun protection, and it also contains great antioxidants as well as cell-communicating ingredients that help the skin recover from damage.
Paula's Choice – Super-Light Wrinkle Defense
Paula's Choice Super-Light Wrinkle Defense SPF 30 is a mineral-based sunscreen that contains zinc oxide and titanium dioxide as the main active ingredients.
Besides that, it also contains a few other antioxidants, including resveratrol, bisabolol, and EGCG, which is one of the active parts of green tea believed to be responsible for its many health and skin benefits.
The product has a matte finish, and it will help control excess oiliness throughout the day. Additionally, it is also tinted, and it can be worn on its own or under makeup to help keep a matte base.
Read my full review here.
Paula's Choice – Hydralight Shine-Free Mineral Moisturizer
Paula's Choice Hydralight Shine-Free Mineral Moisturizer SPF 30 is one of the brand's older sunscreens that I used some time ago. I remember liking it simply because it wasn't making my acne worse.
It hydrates the skin, dries out into a subtle matte, and it offers broad-spectrum sun protection. It also contains some antioxidants to prevent skin damage and help it heal.
It's suitable for acne-prone skin, and it is not likely that it will aggravate your concern.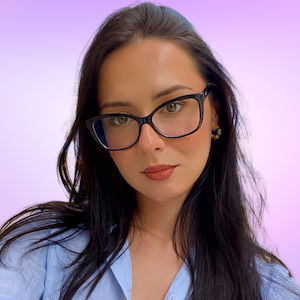 My name is Simone and I am a certified skin specialist. I created this website to teach my readers how to take great care of their skin and I also like to occasionally share my honest opinions on skincare products I've tried. You can learn more about me here.
The Acne Solution: Your Ultimate Guide To Flawless Complexion
An extensive, no-nonsense course showing you how to never have acne again, from a licensed Esthetician specializing in oily/acne-prone skin.