The Inkey List is a buzzy new skincare brand that's making a name for itself due to their no-BS products, high-quality formulations, and ridiculously low price points.
All their products are available for under $15 and if we have learned anything from brands such as The Ordinary is that good skincare products really shouldn't be the reason for ending up broke by the middle of the month.
Today, we will be reviewing their Alpha Hydroxy Acid Serum. I will explain everything from what it is, what it is supposed to do for your skin, how to use it, and share my experience of using this product.
TLDR Review Summary: I don't often use AHAs because I have different skin concerns, however, this one made me reevaluate that choice and I will definitely be reaching for more AHAs in the future. Additionally, I will be trying a few more products from the Inkey List so more reviews on this lovely brand are coming soon.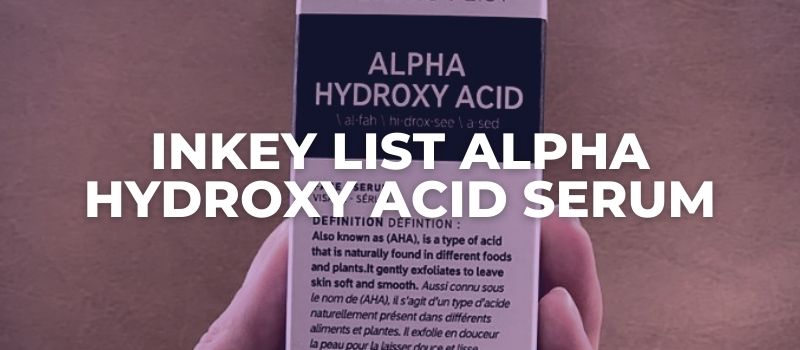 NB:
What if I told you I can show you how to never have acne again?
If you have acne and want it gone
,
read this message
.
Is AHA Good For The Skin?
YES! AHA is great for the skin and you definitely can't go wrong with introducing this ingredient in your skincare regimen.
Alpha Hydroxy Acid (AHA) is a term used to describe acids derived from natural substances such as sugar cane, milk, almonds, or grapes.
They work by breaking down the bonds that hold the dead skin cells together on the skin's surface, urging along the skin's natural shedding process to reveal a brighter and healthier complexion from underneath.
AHAs primarily work on the skin's surface and they are known to tackle skin concerns such as brown spots from past acne, various pigmentation concerns, including melasma. They are also more suitable for dry skin.
AHAs are made up of water-soluble molecules and they also help to improve the skin's moisture levels. Some AHAs include glycolic acid, mandelic acid, lactic acid, malic acid, tartaric acid, and citric acid.
What Is The Inkey List Alpha Hydroxy Acid Serum?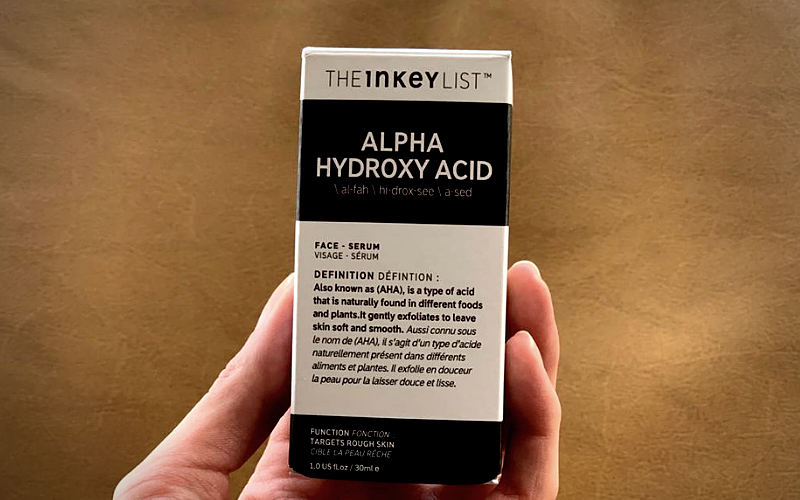 The Inkey List Alpha Hydroxy Acid Serum is a lightweight, water-based serum that works to give you smoother, softer, and more even skin.
It also works to minimize enlarged pores and combat mild blemishes and dark spots that could result from past acne breakouts or pigmentation caused by the UV rays.
What Are The Main Ingredients?
This serum has a pretty simple ingredient list, which always makes me happy with every new product I get. In my opinion, the shorter the ingredient list – the better the product.
This serum stars 10% AHAs derived from natural sources such as food and plant – including bilberry, lemon, and orange extract as well as a sugar cane extract (glycolic acid).
These work to gently exfoliate the skin and leave it smooth, soft, and bright by increasing cellular turnover and addressing several skin concerns at once.
They've also added 1% Low Molecular Hyaluronic Acid in here which adds to the hydration levels as well as makes sure the serum isn't irritating for the skin.
Due to its low molecular weight, this type of hyaluronic acid has the ability to penetrate the skin at a quicker rate than other hydrating ingredients.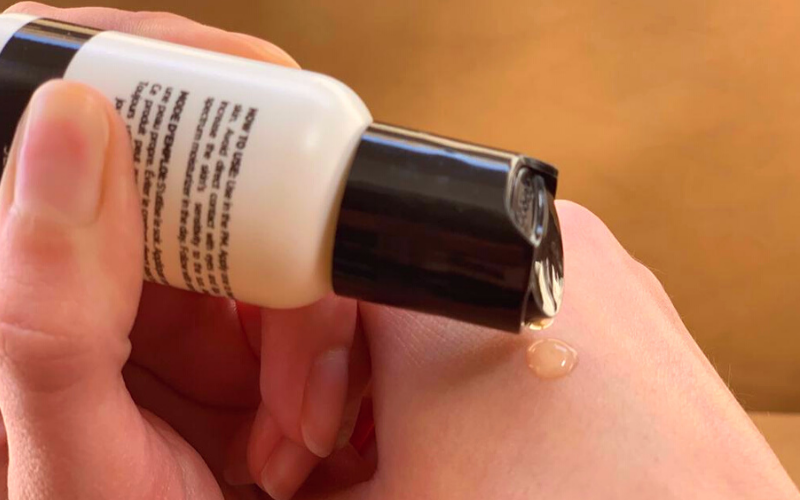 Consistency
The Alpha Hydroxy Acid Serum has a super lightweight consistency that allows it to easily spread on the skin and absorb quickly. It's not oily and it doesn't leave a greasy layer on the surface of the skin.
I have super oily skin and often heavier serums tend to make my pores enlarge a little, but this one didn't do that at all. I was pleasantly surprised by the consistency so I had a good feeling about this product even after the first application.
The Smell
The Alpha Hydroxy Acid Serum has a very faint medicinal scent that completely disappears once applied to the skin.
You can feel a faint scent of something-something while rubbing it in but then three seconds after that, there is literally nothing, no matter how hard you try to smell something.
More points of excellence from my end.
The Performance
I applied the Alpha Hydroxy Acid serum right after my evening cleanse. At the same time, my skin was still damp and I followed it up with The Ordinary's Niacinamide, Medik8 Crystal Retinal 3, and Bioderma moisturizer.
There was no reaction for several minutes; however, after the initial 2-3 minutes, I felt a slight tingling sensation which I was expecting because I don't use AHAs very often and my oily skin tends to prefer BHAs.
Weirdy enough, there wasn't any redness on my skin, not even on my cheeks where I typically get red after using exfoliating acids, and the tingling sensation ceased after approximately 8-10 minutes after it started.
Again, I was expecting this to happen because I combined the serum with retinol so I was prepared for this kind of sensation.
After the 10 minutes of tingling, my face started cooling down and my skin began to feel really hydrated and plump. I had this nice feeling as if I just gave my skin a potent shot of hydration.
The morning after my first use I woke up to a radiant face that was super glowy, hydrated, and brightened. A few of the dark spots around my temples looked somewhat lightened, which means they will eventually fade away with regular use, which I also intend to do.
My pores looked slightly smaller and I overall had this damp, glowy, and hydrated skin. Loved that!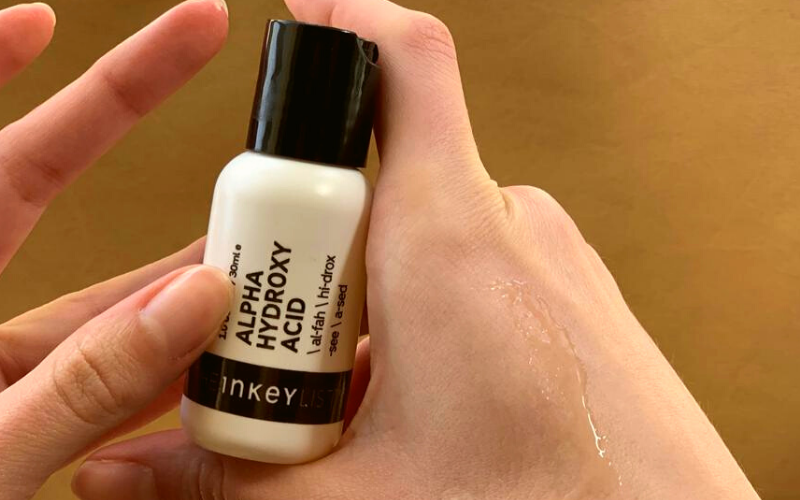 How Do You Use The Inkey List AHA Serum?
The Alpha Hydroxy Acid Serum by Inkey List should be used in the evenings for best results and followed with an adequate layer of hydrating moisturizer.
Additionally, as with all AHAs, this serum has the potential to increase your skin's sensitivity to the sun, therefore, it is important to follow it up with adequate sun protection in the mornings.
Where To Buy The Inkey List Alpha Hydroxy Acid Serum?
The Inkey List sell their products on several websites that offer worldwide deliveries:
Related Alpha-Hydroxy Acid Questions
Here are some related questions for alpha-hydroxy acids that I keep receiving:
Can You Use AHA Every Night?
You can use AHA every night, but you don't have to.
Nobody needs that much exfoliation and you need to give your skin a break of at least 1-2 nights before reapplying AHAs. Over-exfoliation might lead to irritation, peeling, increased sensitivity, and even burning.
How Long Does AHA Take To Work?
Right away! You can see immediate results the morning after applying AHA for the first time, which was the case when I first used The Ordinary's Glycolic Acid toner as well as the Inkey List AHA Serum.
Both gave me excellent results overnight.
Should You Wash Off AHA?
No, you shouldn't wash off AHA treatments. These are meant to stay on the skin for some time in order to do what they are supposed to do.
Unless the product specifically says that you need to wash it off (like TO's Peeling Solution), you should definitely allow this ingredient to work overnight.
---
---
My name is Simone and I am a certified skin specialist. I created this website to teach my readers how to take great care of their skin and I also like to occasionally share my honest opinions on skincare products I've tried. You can learn more about me here.
The Acne Solution: Your Ultimate Guide To Flawless Complexion
An extensive, no-nonsense course showing you how to never have acne again, from a licensed Esthetician specializing in oily/acne-prone skin.