Paula's Choice is a brand I trust and love, so even before trying something out, I already know that it's going to be good.
Even for products that don't necessarily work for my skin, I can't say that they are complete trash because their ingredients are always top-notch.
And if there's one skin concern that can be targeted with multiple Paula's Choice products are enlarged pores.
Enlarged pores can be a nuisance, and even though we all have them because they have an important function of being passages for sweat, oil, and our hair, sometimes they can get so enlarged that we can't help but be frustrated.
But luckily, there is an explanation for that, and pores usually get enlarged when there is a buildup of oil and dead skin cells that didn't shed properly inside them, which causes the pore lining to expand and accommodate the cellular matter.
Therefore, an easy way to keep your pores "tight" and "small" is to simply keep them clean by using ingredients such as exfoliating acids, retinoids, and oil-balancing components such as niacinamide.
And because this brand absolutely has it all, here are the ten best Paula's Choice products for large pores: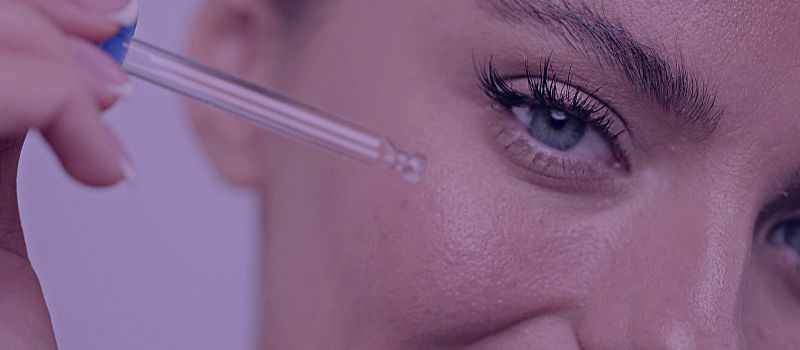 NB:
I can show you how to never have acne again.
If you have acne and want it gone
,
read this message
.
Redness Relief 1% BHA Lotion Exfoliant – $30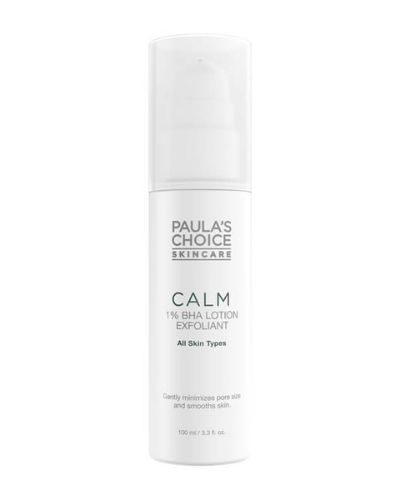 Best for sensitive, acne-prone skin.
The Paula's Choice Redness Relief 1% BHA is a mild exfoliating product that contains the necessary percentage of salicylic acid to be effective against minor breakouts, redness, and enlarged pores without irritating your skin.
This won't get rid of severe and persistent acne; however, it is enough to keep it under control if your skin is super sensitive and has difficulty accepting anything stronger.
It's formulated with skin-soothing plant extracts, including allantoin, oat and licorice extract, and green tea that work to calm redness for overly reactive skin and soothe irritation caused by harsh products.
It's so mild that it can even be used on rosacea-prone skin.
2% BHA Liquid Exfoliant – $30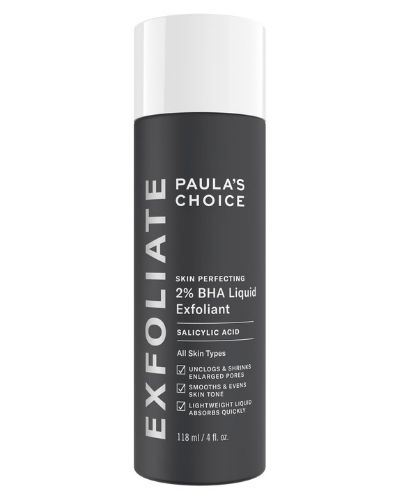 Best for all skin types.
Paula's Choice 2% BHA Liquid Exfoliant has been a continuous bestseller ever since it dropped back in 2000. I can confidently say there isn't an esthetician or a dermatologist in Europe and in the US that hasn't tried and loved this product.
It is a lightweight exfoliating solution containing 2% salicylic acid that works to clear the pores from the inside out and soothing green tea extract to calm any redness from pimples and inflammation.
It can be used 2-3 times a week to achieve clear, glowy, hydrated, and healthy skin.
2% BHA Gel Exfoliant – $30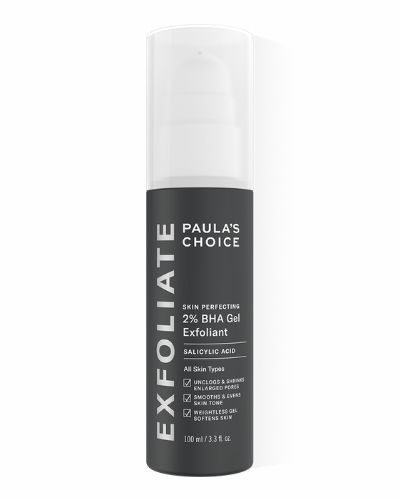 Best for combo, oily, acne-prone skin.
Paula's Choice 2% BHA Gel Exfoliant is a very similar product to the one mentioned above, but instead of a runny lotion, this one has a gel consistency that's more suitable for oily skin types.
Same as the Liquid Exfoliant, the Gel Exfoliant also contains 2% salicylic acid as well as potent antioxidants and soothing ingredients, including green tea extract, willowherb extract, grape seed extract, and bisabolol.
Antioxidants are great for fighting free-radical damage in the skin and refining texture, minimizing enlarged pores, and keeping the skin clear and radiant.
Anti-Redness Exfoliating Solution 2% Salicylic Acid – $30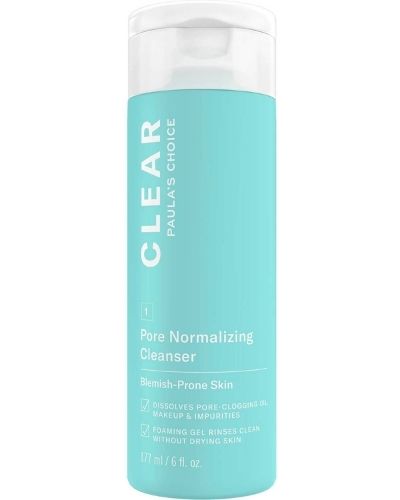 Best for oily, acne-prone skin.
The Anti-Redness Exfoliating Solution with 2% Salicylic Acid is a gentle, leave-on exfoliant that's slightly stronger than the one mentioned above but still gentle enough to be used up to 2-3 times a week.
It contains 2% salicylic acid followed by simpler ingredients that focus on hydration and soothing the skin.
It's an excellent formula for oily skin types dealing with enlarged pores, blackheads, pustules, and even mild cysts here and there.
Advanced Pore-Refining Treatment 4% BHA – $37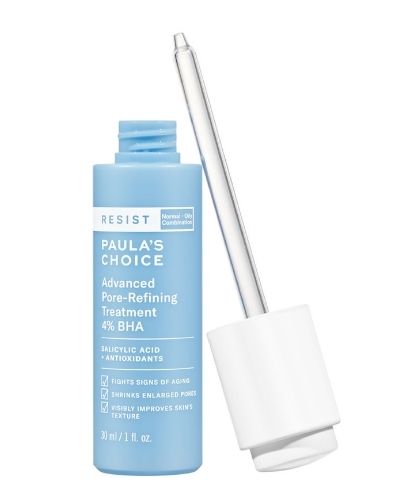 Best for combo, oily, mature, and acne-prone skin.
The Advanced Pore-Refining Treatment 4% BHA is slightly stronger than the 2% salicylic acid products I've mentioned above, and it is an excellent choice for mature skin that's still dealing with enlarged pores and acne breakouts.
It is a treatment that has a silky smooth texture and can be used 3-4 times a week alone or alongside other products.
Much like all Paula's Choice products, the Advanced Pore-Refining Treatment contains soothing and calming antioxidants, including allantoin, grape seed, green tea, oat bran, dill, and chamomile extracts.
RESIST – Advanced Smoothing Treatment 10% AHA – $37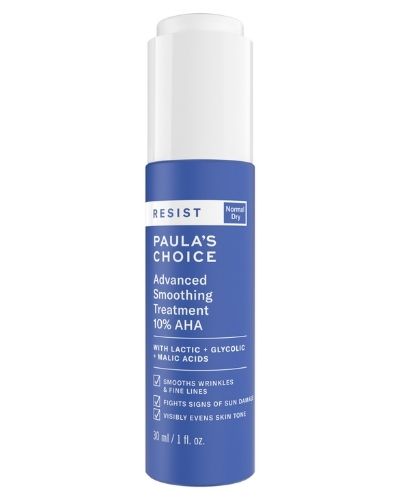 Best for dry, mature skin.
Paula's Choice Advanced Smoothing Treatment with 10% AHA is a chemical exfoliant composed of four alpha hydroxy acids, including glycolic, lactic, malic, and tartaric acid, to gently exfoliate the skin's surface as well as 0.5% salicylic acid that works deeper inside the pores.
The treatment serum is formulated to deliver good anti-aging results, help even out the skin tone, keep the pores clear, and brighten stubborn hyperpigmentation.
10% Niacinamide Booster – $44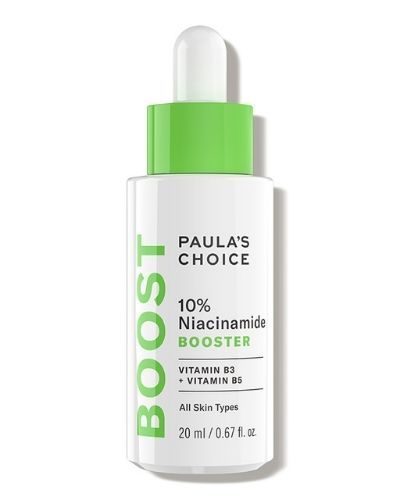 Best for all skin types.
Niacinamide is another great ingredient for people who have issues with oily skin, enlarged pores, hyperpigmentation, and texture.
But the best thing of all is that niacinamide can actually repair and strengthen the skin barrier, which will then help the skin deal better with future inflammation and scarring.
Paula's Choice 10% Niacinamide Booster is one of the best and most popular products in the market as it contains the brand's signature blend of actives, antioxidants, and soothing ingredients.
However, it is a pricey product; therefore, if you want to introduce niacinamide into your skincare routine but don't want to break your bank, here's a list of the ten best niacinamide serums under $30.
Other than that, you can use the 10% Niacinamide Booster in combination with other products that also contain active ingredients, including exfoliating acids, benzoyl peroxide, and retinoids, as this will only boost its effect.
CLINICAL – Niacinamide 20% Treatment – $48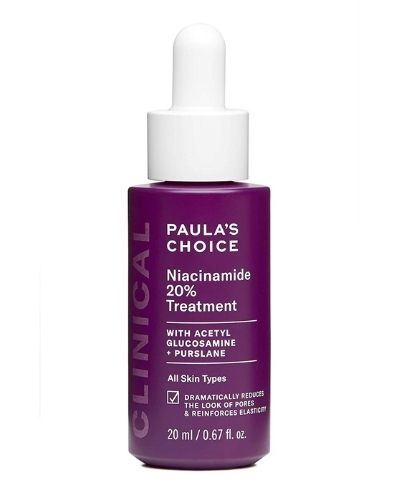 Best for all skin types.
Paula's Choice Niacinamide 20% serum is a high-strength niacinamide treatment that can minimize the look of enlarged pores, smoothen rough bumps caused by inflammation, and even out the skin tone, especially when it comes to brightening hyperpigmentation left from old acne.
Although it is marketed as a treatment that can be used twice a day, this is a strong niacinamide percentage; thus, there is no need for it to be used twice a day.
However, if it's a part of your standard regimen and you don't use many other actives, you may very well use a few drops of it once a day.
Besides niacinamide, the serum also contains other hydrating ingredients such as glycerin and panthenol, as well as Paula's signature soothing ingredients such as licorice root extract, green tea extract, Japanese camellia extract, allantoin, etc.
CLINICAL – 1% Retinol Serum – $58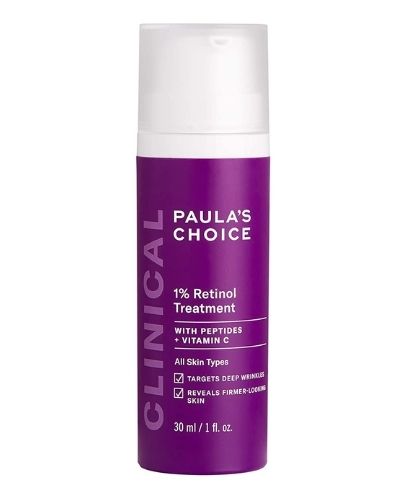 Best for dry, mature skin.
1% Retinol Serum from the CLINICAL line is a creamy serum that contains the highest percentage of retinol that you can get over the counter.
The retinol in this formula is encapsulated, which means it will refine pore size, diminish the appearance of wrinkles, fine lines, uneven skin tone, and even more stubborn hyperpigmentation.
However, it will be released into the skin over time to prevent irritation and excessive peeling.
Besides that, the formula contains nourishing licorice and oat extracts and other soothing plant extracts to calm and soothe the skin, as well as hyaluronic acid to keep it hydrated.
The 1% Retinol Serum is an excellent product if you are looking to bump up the strength of your retinol. This is not the best beginner product, so look into something milder first if you've never used retinols before.
SKIN PERFECTING – 25% AHA + 2% BHA Exfoliant Peel – $39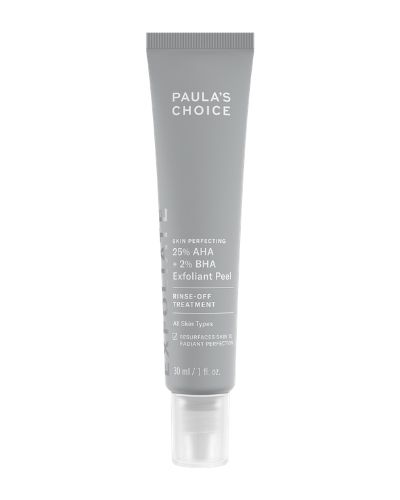 Best for all skin types.
The 25% AHA + 2% BHA Exfoliant Peel is a multi-acid, rinse-off exfoliating treatment that dramatically resurfaces skin to visibly smooth wrinkles, refines bumpy texture, brightens the skin tone, and unclog congested pores.
The concentrated gel-serum contains 2% salicylic acid in addition to a potent AHA blend of 8.4% glycolic, 7% lactic, 5% mandelic, 2.5% malic, and 2% tartaric acid, and it can be used once a week, ideally on evenings when you are not using other potent actives such as retinol or anti-acne medication.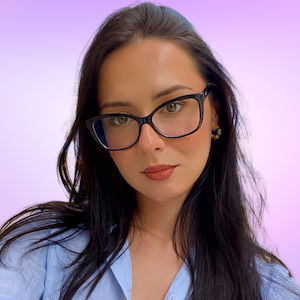 My name is Simone and I am a certified skin specialist. I created this website to teach my readers how to take great care of their skin and I also like to occasionally share my honest opinions on skincare products I've tried. You can learn more about me here.
The Acne Solution: Your Ultimate Guide To Flawless Complexion
An extensive, no-nonsense course showing you how to never have acne again, from a licensed Esthetician specializing in oily/acne-prone skin.