Unlike other products by The Ordinary, their Argireline 10% Solution isn't one that's discussed all too often.
Compared to how popular their hyaluronic acid and niacinamide serum are, the Argireline solution is a product I've never heard about before until few months ago.
Apparently they've been selling it for years but I've been completely oblivious to it much like I don't care for their oils and a few other stuff. However, I decided to give it a chance and see what happens as well as put the science behind it to the test.
This is my The Ordinary Argireline Solution 10% review, so let's jump right in. 
What Does Argireline Do For The Skin?
Argireline is a synthetic peptide that can reduce the degree of existing dynamic wrinkles (the ones that appear due to facial expressions) on the skin and also work against their future development. 
It is a safe topical treatment that is generally well tolerated by all skin types. 
The Ordinary Argireline Solution 10%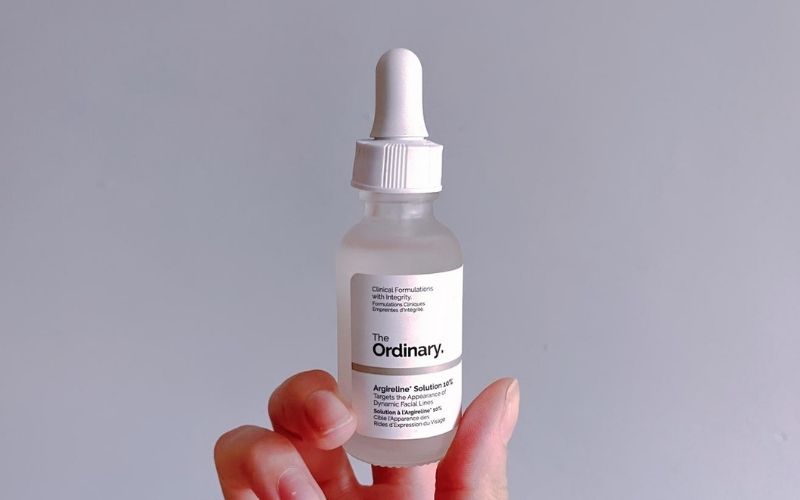 ARGIRELINE™ is a trademark owned by Barcelona-based Lipotec S.A.U. It is a proprietary solution of Acetyl Hexapeptide-8.
The Ordinary's Argireline 10% is a lightweight, water-based solution that is intended to improve the appearance of facial areas prone to developing dynamic folds, including around the eyes, mouth, and forehead area. 
Some studies have shown that the water content of formulations does impact the utility level of topical Argireline and specifically that higher water content results in better utility. 
The Ordinary's formulation is water-based and avoids oils, esters, and silicones as to prevent potential ineffectiveness. 
Ingredients
 Aqua (Water), Propanediol, Acetyl Hexapeptide-8, Trisodium Ethylenediamine Disuccinate, Gellan Gum, Sodium Chloride, Isoceteth-20, Dimethyl Isosorbide, Potassium Sorbate, Phenoxyethanol, Chlorphenesin.
The ingredient list of The Ordinary's Argireline Solution 10% is pretty straightforward and the active ingredient is third on the list, which means it's fairly potent. 
Acetyl Hexapeptide-8 is the famous peptide that's marketed by manufacturers as "Botox in a jar". The basis for this claim is that it targets the same wrinkle forming mechanism (wrinkles formed by facial muscle movement during facial expressions) as Botox, but the way it works is very different. 
The manufacturer did several studies to prove that Argireline has some mild effects on smoothing wrinkles, however, this wasn't even close to Botox. 
A Chinese study that involved 60 subjects concluded that there was 48% improvement of rough skin and wrinkles. 
However, bare in mind that these subjects received a randomized treatment of argireline or placebo in a ratio of 3:1 and they were only applying their treatments on the peri-orbital lines (around the eyes).
Additionally, a Spanish University also did some research and found that Argireline increased the level of skin moisturization and decreased both the depth and width of wrinkles "significantly". 
This means, Acetyl Hexapeptide-8 does have some ability to smooth wrinkles, however, currently nothing on the market can come close to the effects of Botox. 
Additionally, this peptide isn't a collagen builder because this study shows the penetration of the ingredient into the skin was poor due to its high-molecular content and most of it stayed on the surface of the skin where it was subsequently washed off. 
Consistency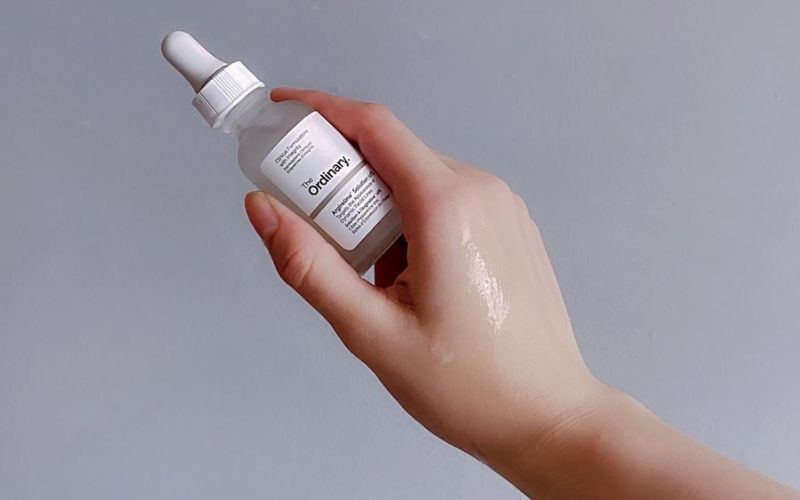 The consistency of The Ordinary's Argireline Solution 10% is runny just like water. Once applied on the skin, make sure to be fast when spreading it around because it absorbs very quickly and it doesn't leave a sticky or shiny residue. 
Smell
The Ordinary's Argireline Solution 10% has no added fragrance and there is no detectable scent whatsoever. 
How to use it
To see some results, it is advisable to use the Argireline Solution 10% twice a day before essences, serums, and moisturizers. 
Apply a few drops on the forehead, around the eyes and mouth area where most dynamic lines appear due to facial expressions. 
Always patch test the product before applying it all over your face. Although it is relatively safe, some other ingredients can potentially cause an unwanted reaction. Better be safe than sorry.
SIDE NOTE: I noticed a short-lived but intense tingling sensation when I used this product after exfoliating. It subsides after a few seconds, but I would advise you to not use the solution right after exfoliating. 
Additionally, you may experience some tingling if you are using this product around your mouth and the corners of your lips are chapped as it's very runny and can easily seep into the corners.
It's best that you protect the corners of your mouth with a lip balm or an ointment before applying the Argireline solution. 
Performance
I've been using the Argireline Solution 10% for five months twice a day and the only difference I noticed was a small improvement in my peri-orbital lines. The skin in that area is looking slightly smoother, but this is nothing significant. 
Additionally, I didn't notice any improvement in my forehead and I only have one line there which remained the same over the course of five months. 
Furthermore, my nasolabial folds (around the mouth) stayed the same and I didn't notice any significant improvement. 
I am sure it's worked better for some people because it has generally positive reviews with many people saying the Argireline Solution 10% is their holy grail product, but sadly it didn't do much for me. 
It's a cheap product with minimum side effects (unless you have an impaired skin barrier or chapped corners of the mouth), therefore, I encourage you to test it out for yourself but keep in mind that results can be slow. 
On the other hand, if you need something that will help with lines and wrinkles but isn't Botox or other invasive treatments – you should look into starting a prescription retinoid like Retin-A for antiaging purposes. 
RELATED: Best Skincare Routine While on Retin-A
TO Argireline Solution 10% Pros: 
Affordable 
Safe with minimum side effects
Generally well tolerated by all skin types
Easily available
TO Argireline Solution 10% Cons:
Takes long to deliver very minimum results
Related Questions:
How long does it take for Argireline to work?
Argireline starts to work immediately, however, it can take months of usage to give some minimal results. 
When should you use Argireline? 
You should use Argireline twice a day for best results. 
Is Argireline worth it? 
No, I can't say Argireline is worth the time and patience. The synthetic peptide has very limited data to back up the claims that it's the equivalent of Botox. 
Additionally, the poor skin permeation can lead to a significant wastage of peptide, resulting in unwanted high cost of production and an ineffective final dosage form.
And even though The Ordinary's Argireline Solution 10% is an affordable product, why would you want to waste your time and patience to get the very minimum in return? Definitely not worth it in my book. 
Thanks for stopping by! My name is Simone and I am a certified skin specialist. I created this website to teach my readers how to take great care of their skin and I also like to occasionally share my honest opinions on skincare products I've tried. You can learn more about me here.