Vivant Skincare is a professional skincare line formulated by Dr. James Fulton, the co-founder of Retin-A. Widely available through estheticians, the line focuses on skin concerns such as acne and aging, and it has a wide variety of products containing mandelic acid, benzoyl peroxide, and retinoids.
One of their most popular products is their 8% Mandelic Acid 3-in-1 Serum, which I have previously featured in my articles, and personally love due to its ability to reduce acne, refine skin texture, and fade post-inflammatory hyperpigmentation.
Recently, I had the honor to be trained in their products and understand the line on a deeper level, which only made me fall in love with it even more.
Through this training, I experimented with a few more products, one of them being the Green Tea Antioxidant Cleanser, which I will review in this article.
So, without further ado, let's get into it!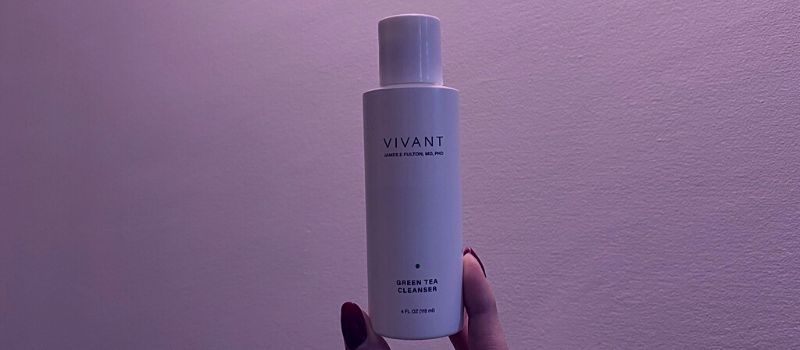 NB:
What if I told you I can show you how to never have acne again?
If you have acne and want it gone
,
read this message
.
What is The Green Tea Antioxidant Cleanser?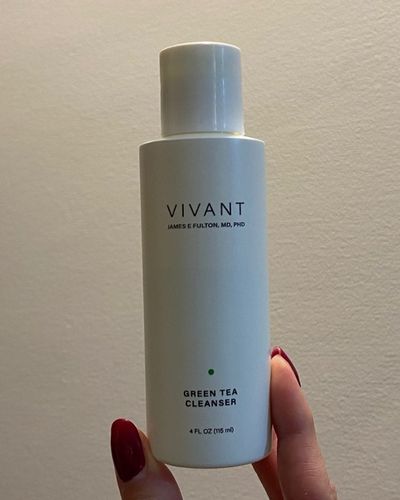 The Green Tea Antioxidant Cleanser by Vivant is a purifying gel cleanser that contains cell-repairing antioxidants and works to gently dissolve dirt, oil, and makeup without stripping the skin's natural acid mantle, and leave a revitalized, clean complexion once washed off.
Ingredients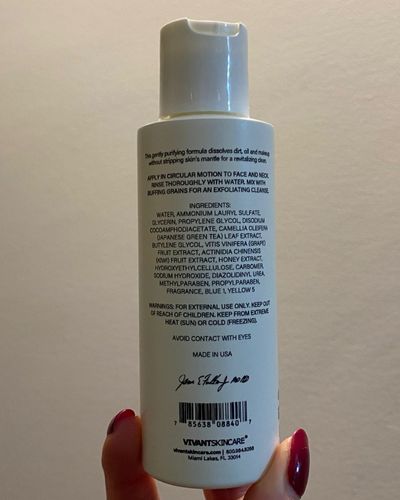 The Green Tea Antioxidant Cleanser contains an excellent assortment of antioxidants, soothing and calming ingredients, as well as antibacterial components.
The main ingredient in the cleanser is green tea extract, which is a fantastic soothing component rich in skin-repairing vitamin E and brightening vitamin C.
Additionally, the cleanser also contains kiwi fruit extract, which is an antioxidant with brightening and anti-inflammatory properties that helps soothe irritation and calm redness.
Finally, hydrating and antibacterial honey, along with glycerin and grape seed extract, help boost cell renewal and slow down the proliferation of pathogenic bacteria on the skin.
Scent
Although the Green Tea Antioxidant Cleanser doesn't contain added fragrance or fragrant components, it has a very faint fresh scent that doesn't linger on the skin and is barely noticeable, making it suitable for sensitive and reactive skin, as well as those who can't tolerate strong scents in their skincare products.
Consistency
The Green Tea Antioxidant Cleanser has the consistency of a thicker, dense gel. It's slightly more lightweight than the CeraVe Foaming Cleanser; however, it lathers up rather than creating foam when exposed to water, and the lather is easy to wash off.
Additionally, very little is needed for the entire face and neck unless you are removing your makeup with it, in which case, you will likely need more than the regular chickpea-sized amount of product.
Performance
I'm not very picky when it comes to cleansers, so as long as it's not stinging, burning, irritating, or leaving my skin parched and dry, I won't have an issue with it.
Now, as for my skin type and skin condition, I have very oily skin that's highly prone to clogging and acne. I am not currently dealing with sensitivities or active breakouts because I have a pretty set routine that works for me, so I am using the Green Tea Antioxidant Cleanser on clear and balanced skin.
First off, let's start with the consistency and scent. As mentioned above, the Green Tea Antioxidant Cleanser has a dense gel consistency and a barely noticeable, fresh scent.
When I say "dense gel consistency," I mean that the formula lathers well when in contact with water, so when I see texture like this, I typically use very little product for my entire face.
The amount I use is usually chickpea-sized, and I rub it well between wet hands so that it lathers rather than applying it to my skin directly.
This is how I manage to use much less and get more, which helps the product last longer and minimize unnecessary waste.
Now, as for the scent, I am not too crazy about cleansers that contain fragrance or fragrant components, so I definitely appreciated the Green Tea Antioxidant Cleanser having only a slight scent that disappears very soon and is just there to mask the bad smell of the raw ingredients.
As for the performance, the Green Tea Antioxidant Cleanser is an excellent cleanser that I use twice a day, regardless of my skincare routine and the actives I'm using on that day, because this cleanser doesn't contain any exfoliating actives that could potentially clash with my other products.
It's also very gentle and doesn't leave my skin dry, dehydrated, or tight, which I appreciate; however, it could potentially do this if you use a lot, so less is always better.
That said, I already mentioned in my DMK Deep Pore Pure Cleanser review that I have a favorite cleanser I will review, and it's finally time to announce the Vivant Green Tea Antioxidant Cleanser is definitely my favorite cleanser, as of now.
Before I tried the Green Tea Antioxidant Cleanser, my absolute favorite was the SkinCeuticals Soothing Cleanser, but that has definitely changed.
With that said, I recommend this cleanser to anyone, no matter the skin type and skin concern.
The great thing about it is that you can use more or less product depending on your skin type and skin concerns and have thoroughly cleansed, nourished skin, regardless of the cleanser's texture, so you don't necessarily have to buy a cream-based cleanser if you have dry skin – the Green Tea Antioxidant Cleanser is still going to work for you.
Additionally, I highly recommend this cleanser to those with rosacea, especially pustular rosacea, which is an incredibly tricky condition to deal with because the skin is constantly irritated, yet it needs something more than a super-gentle cleanser like the La Roche-Posay Toleriane to feel cleansed and fresh.
And finally, I cannot recommend this cleanser enough to those with oily and acne-prone skin like mine because it leaves the skin feeling fresh and clean without stripping it, irritating it, or causing it to produce more oil to compensate for the dryness.
With an incredibly elegant texture, a fantastic feel, and a beautiful experience that leaves the skin fresh and clean, I give the Vivant Green Tea Antioxidant Cleanser a 10/10 and cannot recommend it enough!
Where to Buy the Green Tea Antioxidant Cleanser?
Vivant is a popular brand among estheticians in the US and can be purchased from any professional that carries the line. Additionally, their products are also available to US customers through their official website and Amazon.
On the other hand, if you are in Europe, you can purchase Vivant products by contacting Allure Beauty, an aesthetic salon in Ukraine that can send you any Vivant product after having a consultation with their professionals.
My name is Simone and I am a certified skin specialist. I created this website to teach my readers how to take great care of their skin and I also like to occasionally share my honest opinions on skincare products I've tried. You can learn more about me here.
The Acne Solution: Your Ultimate Guide To Flawless Complexion
An extensive, no-nonsense course showing you how to never have acne again, from a licensed Esthetician specializing in oily/acne-prone skin.