I admit I haven't always been diligent with my sunscreen application.
However, during my short time of practice and learning how to recognize and deal with sun damage, I've understood the importance of this step.
Finding a good sunscreen for oily, sensitive, and acne-prone skin is a mission impossible, so I am not at all surprised that the majority of people with this skin type and condition would rather opt out of wearing that extra layer of grease (that eventually contributes to more breakouts).
Helping others with these particular skin concerns is a huge part of why I do reviews on my blog.
Although I prefer writing and sharing my opinion about products I like, in today's article, we will look into a product that, sadly, didn't meet my standards.
Supergoop Unseen Sunscreen SPF 30 (Review)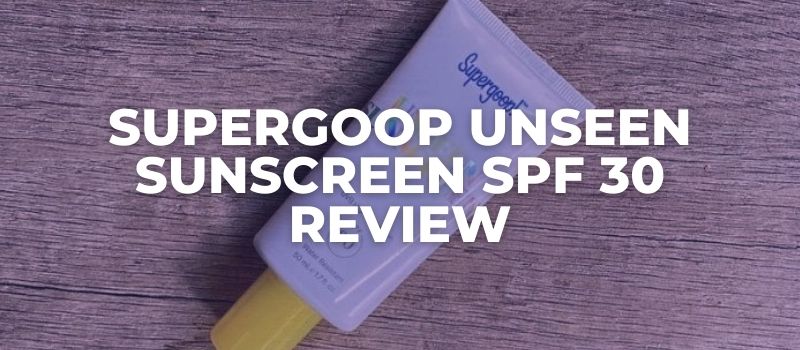 NB:
I can show you how to never have acne again.
If you have acne and want it gone
,
read this message
.
So the first thing you need to know is that the Unseen Sunscreen comes in different strengths for European and US customers.
I got mine from Cult Beauty and this is the SPF 30 while US buyers can get the SPF 40 directly from the official website. It's the same thing, just different strengths.
Moving on.
Supergoop's official website says that the Unseen Sunscreen is an oil-free, chemical sunscreen free of some controversial ingredients usually associated with chemical sunscreens such as oxybenzone and octinoxate.
The oil-free formula doesn't excite me with products like moisturizers even though I'm an oily person, but I do appreciate it when it comes to sunscreens.
I like sunscreens that will not make my skin look dead and dry but are also not going to make me look like a grease ball. Unfortunately, the perfect matte look is a stretchy request when it comes to sunscreens.
Supergoop's description goes on to say that the Unseen Sunscreen can be used as a makeup-gripping primer under foundation for when you want a little more coverage.
Which is a claim I'm afraid I have to disagree with as you will read down below. But first thing's first – let's dig into the ingredients.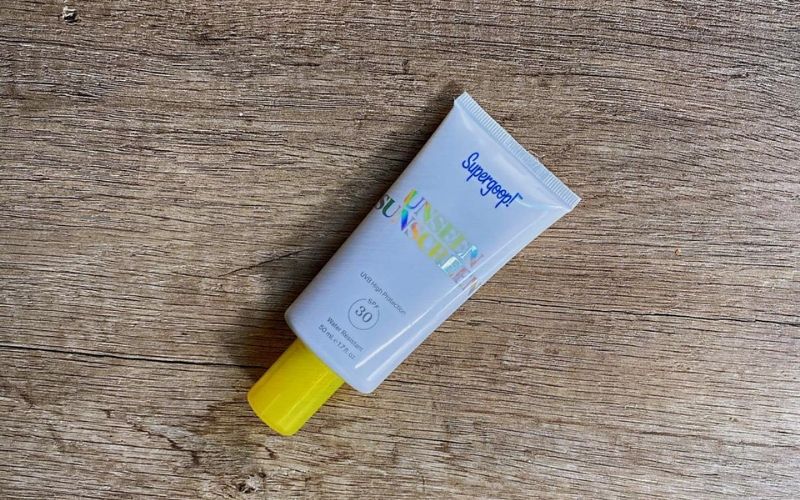 Supergoop Sunscreen Ingredients
This sunscreen is loaded with silicones which contribute to the silicone-y and plastic feeling.
Most of these ingredients do not absorb into the skin. Still, they don't even sit on top of the skin – they are ridiculously easy to be removed which will, unfortunately, lead to uneven coverage and poor sun protection if you are not careful when layering other products on top.
Let's see. there are silicones, silicones, more silicones, jojoba esters, and zinc. But the zinc part in this particular product isn't a relief because zinc sulfate is a chemical compound that results from the interaction of zinc with sulfuric acid.
Very little research suggests this particular form offers any benefits for the skin and it's down below amongst the last ingredients in the product, so I don't have much hope for it, anyways.
The ingredients are not it, at least not for me, and I already knew I wouldn't care for this product, but I decided to give it a chance anyway.
Consistency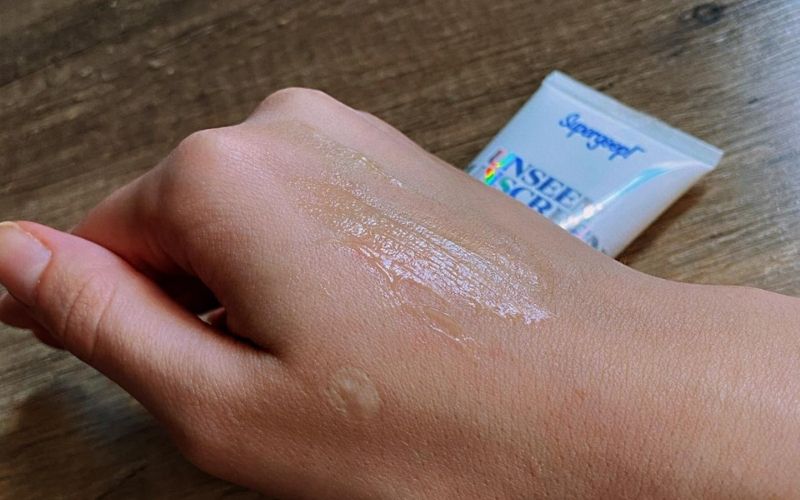 The Unseen Sunscreen has a consistency that can be described as a silicone-y gel.
As one reviewer already pointed out, it reminds me an awful lot of the Smashbox Photo Finish primer, but with a medium-density to it.
It's very smooth and it glides across the skin with ease but it doesn't feel good at all because my skin feels immediately suffocated as soon as I apply it.
Scent
The Unseen Sunscreen has no added fragrance and it smells like absolutely nothing.
Performance
Even though I wasn't a fan of the ingredients right away, I still decided to give this sunscreen a chance because it was marketed as a matte, water-resistant product that's excellent for oily skin types.
Well, not really.
While I appreciate it is completely clear and doesn't leave a white cast, I didn't like the Unseen Sunscreen for several reasons.
~ For one, this product did not hold up well on my oily skin. I felt like it was going to slide off my face as little as an hour after application. It became very greasy and left me looking shiny.
~ Second, It's really easy for it to come off, and as soon as you apply it on the skin and want to put your makeup on right afterward – chances are it's going to get rubbed off and give you uneven (if any) coverage and sun protection.
~ Third, my pores looked HUGE after I applied the product. It feels like you're rubbing some sort of soft rubber that melts easily on the skin. It's just a greasy mess.
On the other hand, my husband who has normal to dry skin loves the Unseen Sunscreen.
In fact, it's the only sunscreen he tolerates and uses every morning.
He enjoys the texture and he likes how matte it makes his face because he usually sweats around the nose and forehead.
So, I guess if you are someone who sweats on facial areas and has dry skin – you may like this product, especially for summer.
On the other hand, if you are excessively oily and acne-prone, this product doesn't have the power to control sebum and keep your face matte throughout the day.
Additionally, the Unseen Sunscreen is safe for sensitive skin even though it's a chemical sunscreen.
Who Is This Sunscreen Best For?
Normal to dry skin/light and dark complexions.
Who Isn't It For?
Oily skin with enlarged pores.
Supergoop Unseen Sunscreen SPF 30 Pros:
It doesn't leave a white cast
Suitable for darker skin tones
Suitable for dry skin types
Suitable for sensitive skin
It can be used as a makeup primer (if you have dry skin)
Supergoop Unseen Sunscreen SPF 30 Cons:
Not suitable for oily skin types
Slides off the skin after some time
Small bottle
Expensive
Different protection strength for EU and US market
---
Related Questions:
Is Supergoop Unseen Sunscreen safe?
Supergoop Unseen Sunscreen SPF is reef-safe; however, I wouldn't call it a universal product or a perfect match for all skin types.
Is silicone bad in skincare?
Silicones in skincare are generally considered safe by dermatologists.
Although there have been claims that they can be problematic and dangerous – these claims are not backed by research and are more a personal observation or perhaps misinformation.
Silicones are hypoallergenic and are not known to cause irritation and skin sensitivity. On the contrary, they are great emollients with excellent conditioning properties that can prevent moisture loss from the skin.
However, bear in mind that any ingredient can be problematic and this is more of an individual thing rather than an all-inclusive issue.
My oily/acne-prone skin, for example, hates silicones and besides making me look greasy – they also make my pores appear huge.
Silicones aren't bad in skincare, per se, but you do need to experiment for yourself and figure out whether they are causing your skin an issue or not.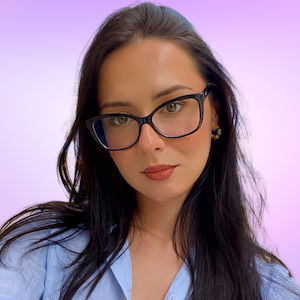 My name is Simone and I am a certified skin specialist. I created this website to teach my readers how to take great care of their skin and I also like to occasionally share my honest opinions on skincare products I've tried. You can learn more about me here.
The Acne Solution: Your Ultimate Guide To Flawless Complexion
An extensive, no-nonsense course showing you how to never have acne again, from a licensed Esthetician specializing in oily/acne-prone skin.