If you have oily skin, you know finding the right primer for your makeup can be a challenge.
It's important to find one that will help control shine and keep your makeup in place all day long.
The good news is, there are tons of primers out there on the market (but not all of them work well with oily skin types).
If you're struggling to find a primer that works well with your oily skin, check out this list of the five best primers for oily skin!
As someone with oily skin, I can tell you these primers will give you everything you need and more so that you can look gorgeous while feeling confident throughout the entire day.
The 5 best primers for oily skin types are:
Maybelline Baby Skin Primer
MAC Prep+Prime+Mattifying Mist
Yves Saint Laurent Touche Éclat Blur Primer
NYX Professional Makeup Honey Dew Me Up
e.l.f Beautifully Bare Luminous Matte Primer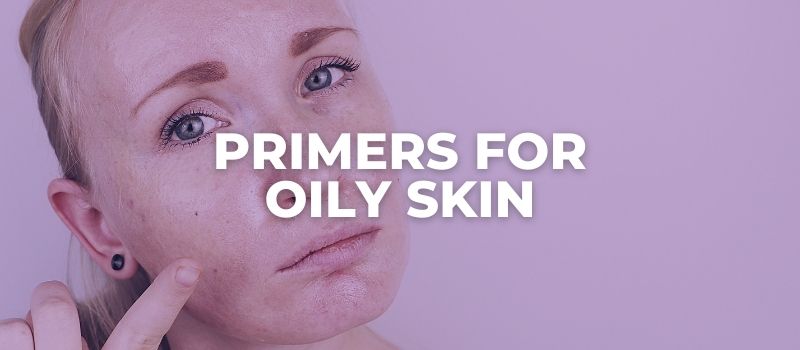 NB:
I can show you how to never have acne again.
If you have acne and want it gone
,
read this message
.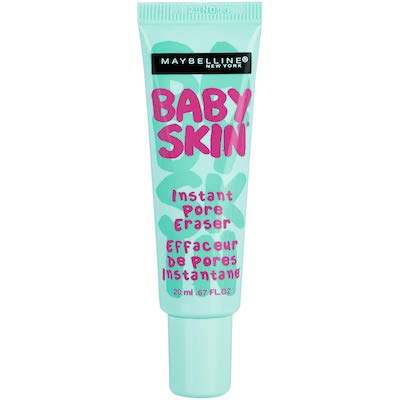 An absolute classic within the affordable range, the Baby Skin primer by Maybelline reduces the appearance of enlarged pores for long-lasting results.
Mind you, I used to hold shifts up to 15 hours and this primer never once made my makeup move, cake, or shine throughout the day.
It is affordable, compact-sized, and an ideal agent to combat daily shine while on the move.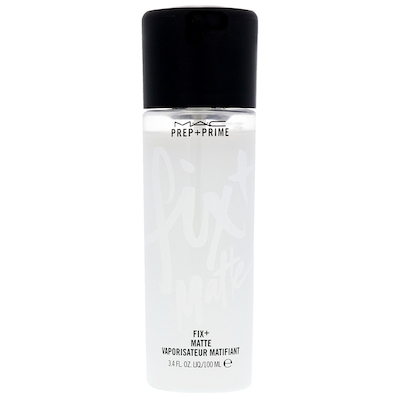 The Mattifying Mist by MAC has been my savior in my constant shine battle since I found out about it earlier this year.
It has a weightless and ultra-refreshing formula that can be used both as a primer and a setting spray to refresh your face throughout the day.
It effectively minimizes the pores and instantly blurs any imperfections you may have on your skin.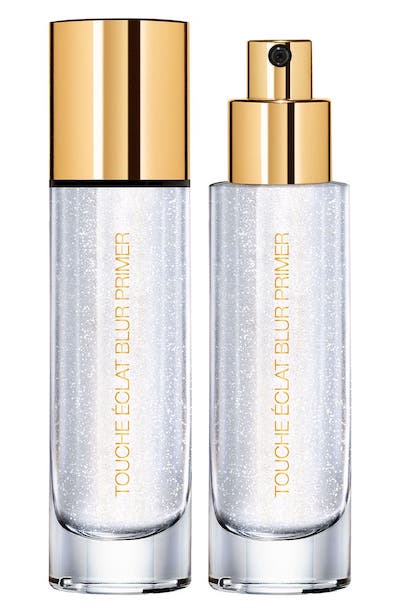 When I first saw this I thought it was a gimmick just because everyone and their grandma hyped about it online.
Personally, I am not really a fan of Yves Saint Laurent and I know I'm probably the only one saying this.
So after all this time, I finally tried it and must say this primer definitely changed my mind a to the positive side about this brand.
It is actually a really good lightweight primer that evened out my skin tone and definitely shrunk my enlarged pores, creating a smooth surface that helped my long-wear makeup last even longer.
It provides an illuminated but mattified complexion and it is probably one of the better primers I've ever tried.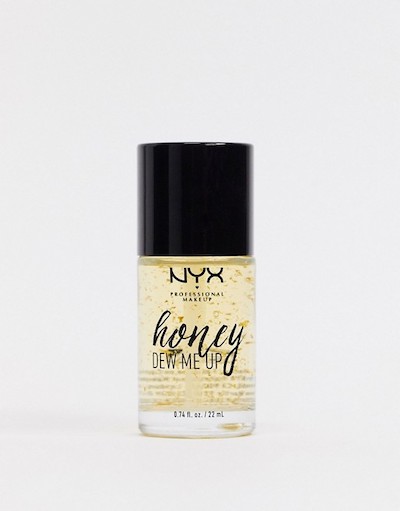 Although this is targeted for drier skin types, I actually think that oily skins can also benefit from this particular primer as it will give your skin that dewy glow without making it shiny or greasy.
It features a mini scoop for convenient use with a formulation that irresistibly reminds me of the high-end L'Or Radiance Concentrate by Guerlain.
This primer will make your foundation will stick to it like glue and will definitely make your complexion to appear rejuvenated and glowy.
The gold flecks create a luminous, healthy-looking complexion and besides this, it is also incredibly easy to blend and can minimize the appearance of redness on the face.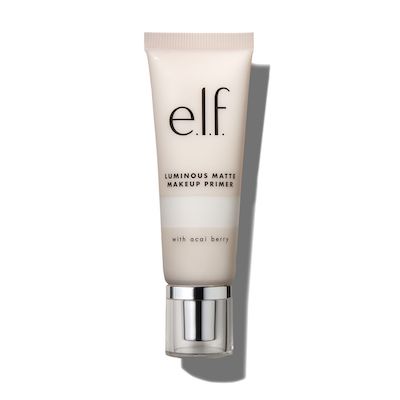 Okay, the drugstore brand e.l.f is coming for blood, or so it seems like!
This primer and the incredibly attractive price it sports made everyone to just sit down and write a review about it.
It moisturizes the skin and prepares it for long-wear makeup, leaving a smooth, flawless, and mattified finish behind.
For $9.60! Get your hands on this baby without waiting any longer.
What is Oily Skin?
Oily skin is a skin type that is determined by the number of overactive sebaceous glands present in the area that produce large amounts of sebum.
Oily skin type is most common in adolescents and young adults due to the hormonal changes we experience during puberty and this often leads to an increase in sebum production.
This process is mainly influenced by the male hormone testosterone which becomes active during this time of change.
While oil production might slow down for some people after puberty, this isn't always the case.
Oily skin is very closely associated with acne, or blemish-prone skin because the excess of sebum can easily clog the pores and trigger an inflammatory response by the immune system that will manifest itself in acne breakouts on the surface of the skin.
It is also a challenging skin type to deal with if you are a makeup lover as the oil always seems to find a way and come through no matter how much you are trying to get rid of it and ruin your makeup midday, making your face appear shiny and greasy.
However, having oily skin offers its own benefits and it is not a secret that people with oily skin types tend to develop fine lines in wrinkles much later compared to people with dry skin.
Yup, as much as you may hate your oily skin now, you will most definitely be grateful for it later on in life as the natural lubrication and moisture the sebum provides you with is exactly the reason your face will appear much younger when you are in your 40s.
However, oily skin can be controlled and in case you are wondering how in the world can you do that, check out my article on how to control oily skin as well as the type of foods to avoid if you have oily skin.
What Does a Makeup Primer Do?
Primers are basically a makeup base that helps your foundation and the rest of your makeup products to be applied easily and stay on your skin longer without creasing.
While a moisturizer softens and hydrates the skin and sunscreen protects it from harmful UV rays, these are not the same as a primer.
Primers prepare your skin for your favorite tinted moisturizer, BB cream, or foundation, giving it something to hold onto so it can last throughout the day.
They are available in cream, gel, spray, and powder formulations.
Primers also often come formulated with silicone-based polymers, like dimethicone, which is an ingredient that makes the skin silky smooth, creates a subtle glow, and forms an occlusive (protective) barrier.
Primers also work to fill in fine lines and wrinkles and give your skin a plump look.
However, silicones are greatly discussed whether or not they can aggravate skin concerns such as acne, rosacea, eczema or overly sensitive skins.
They are what you may call "a known allergen" in cosmetic products.
If you struggle with certain skin conditions, always check your primers by doing a patch test on the inside of your wrist or behind your ear by using a tester before purchasing the entire bottle.
Do You Need A Primer If You Have Oily Skin?
If you have oily or combination skin, prepping your skin before applying your foundation is essential if you hope to create a streak-free base that stays in place all day and prevents it from wearing off.
A mattifying primer will provide that perfect and flawless base for applying makeup and minimize the appearance of large pores in the process.
A primer as a prepping base in your makeup routine is somewhat of a tailored product and shouldn't be seen as a "one size fits all" type of thing.
It doesn't mean that it will necessarily work for your skin type until you try it out and see what it does regardless of what it says on the packaging.
A little tip for oily skin types is to look for primers that contain willow bark extract for natural shine control, low concentrations of salicylic acid to reduce the look of pores, or silica to improve the overall skin texture.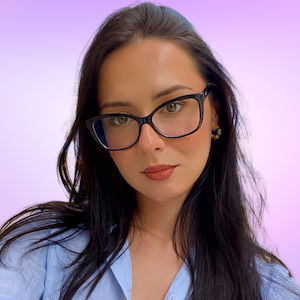 My name is Simone and I am a certified skin specialist. I created this website to teach my readers how to take great care of their skin and I also like to occasionally share my honest opinions on skincare products I've tried. You can learn more about me here.
The Acne Solution: Your Ultimate Guide To Flawless Complexion
An extensive, no-nonsense course showing you how to never have acne again, from a licensed Esthetician specializing in oily/acne-prone skin.