Ever heard of polyglutamic acid? Me neither.
But that was only up until The Inkey List (which is becoming one of my routine staples) came up with their serum/treatment and I thought what the heck, let's try it out.
First things first, I have to say that I am not usually as reckless when it comes to the things I apply on my skin; however, this was one product that I didn't really bother checking the ingredients before purchasing, but I should have.
This will be my Inkey List polyglutamic acid review, and I'll tell you everything about this product and my experience using it.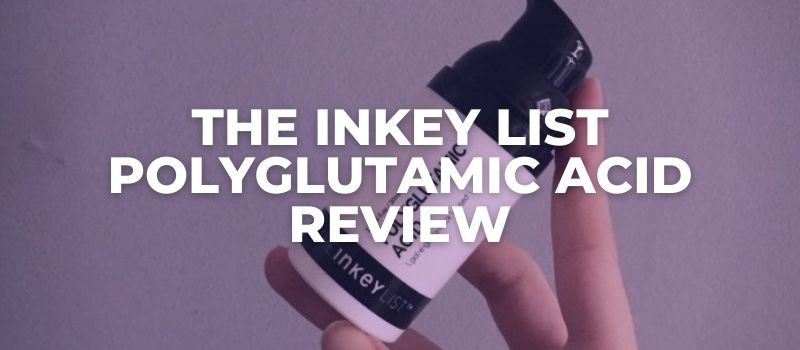 NB:
What if I told you I can show you how to never have acne again?
If you have acne and want it gone
,
read this message
.
What Is Polyglutamic Acid?
Polyglutamic acid (PGA) is a water-soluble peptide and a humectant derived from the fermentation of Bacillus subtilis bacteria. Still, it can also be produced from the mucilage of fermented soybeans.
This is a very new and apparently very promising, versatile ingredient. PGA can serve many purposes beyond cosmetics and medicine because it's edible, water-soluble, non-toxic, and biodegradable.
In cosmetic products, PGA is most often compared to hyaluronic acid because it is a great humectant, however, it can absorb moisture up to 5,000 times its own weight compared to hyaluronic acid that can hold up to 1,000 times its weight in water.
That being said, these two ingredients shouldn't be seen as competitors because they work even better as a team.
When used together, hyaluronic acid and PGA can be the recipe for ultra-hydrated skin.
Polyglutamic acid may inhibit the enzyme hyaluronidase which breaks down hyaluronic acid in the body. Therefore, it can be quite the complementary ingredient to increase hyaluronic acid production, thus contributing to more hydrating, plumper-looking skin.
The Inkey List Polyglutamic Acid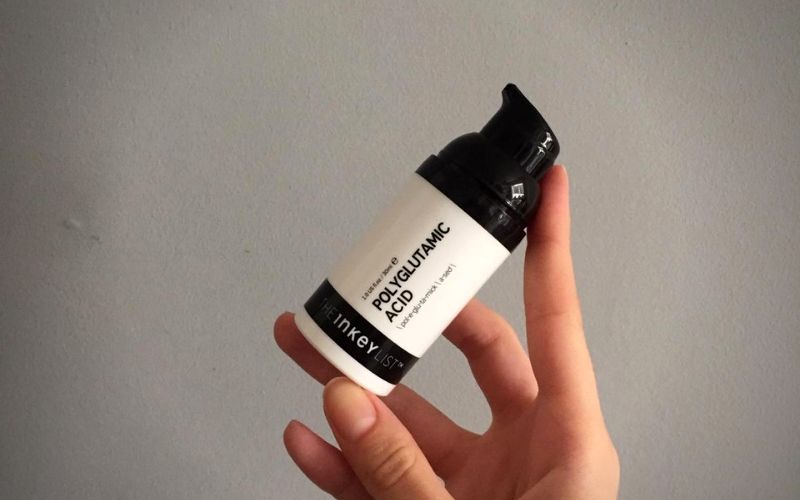 The Inkey List Polyglutamic Acid is a serum/treatment used in the morning and evening. The product is relatively affordable and it costs $15 on Sephora for 30ml.
The Inkey List suggests the polyglutamic acid to be used either as a serum and followed by a moisturizer or after your serums as a treatment and then followed by a moisturizer.
I used this product as a treatment after my hyaluronic acid serums for about two weeks, so let's dig a little bit deeper before I talk about my experience with it.
Ingredients
"Aqua (Water), Dimethicone, Butylene Glycol, Bis-PEG-12 Dimethicone, Glycerin, Polymethylsilsesquioxane, Polysilicone-11, Phenoxyethanol, Sodium Acrylate/Sodium Acryloyldimethyl Taurate Copolymer, Isohexadecane, Propanediol, Coco-Glucoside, Sodium Benzoate, Hydroxyethylcellulose, Polysorbate 80, Ethylhexylglycerin, Potassium Sorbate, Decyl Glucoside, Dimethylacrylamide/Acrylic Acid/Polystyrene Ethyl Methacrylate Copolymer, Sorbitan Oleate, Trisodium Ethylenediamine Disuccinate, Polyglutamic Acid, Caprylyl Glycol, Hexylene Glycol, Oryza Sativa (Rice) Bran Extract"
Phew! Boy, I didn't even realize that polyglutamic acid has this many ingredients, which if I'm gonna be honest I am not a fan of.
I always prefer a shorter ingredient list on a product as this usually means less potential for irritations or unwanted reactions from certain ingredients.
Anyhow, since I didn't check the ingredient list before purchasing (as I should have), I didn't realize how low Polyglutamic Acid is on the ingredient list, which doesn't really make sense because the product is literally named Polyglutamic Acid and then you see this very ingredient at the bottom.
Furthermore, I didn't notice that dimethicone is second on the ingredient list, which I also didn't realize until I opened the product and dispensed a small amount on my hand.
I could immediately notice the silicone texture and before I even flipped it I knew silicone was somewhere high on the list.
I don't have an issue with silicones being used in cosmetics and I think that they have great moisturizing properties and are cheap and efficient ingredients to formulate with, however, my skin doesn't get along with silicones and I never liked them.
If you can tolerate them, that's great, they are amazing, but if you can't, you should stay away from them.
Consistency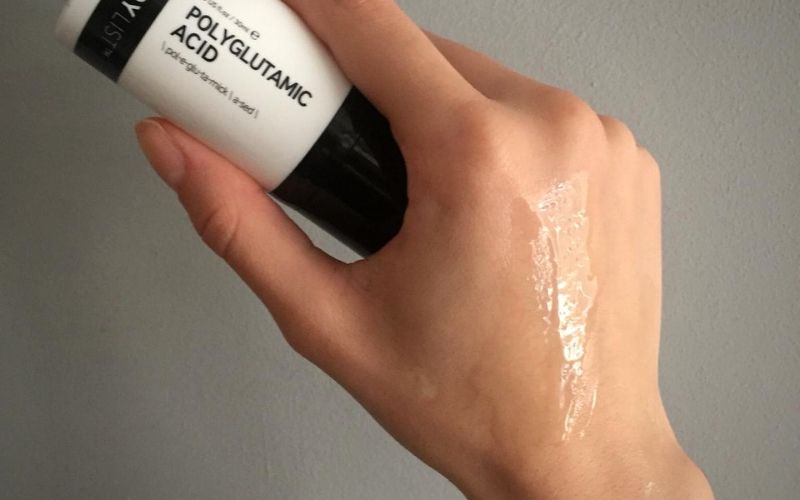 As I already said above, the polyglutamic acid has a velvety texture and that's also the finish it leaves once it dries on the skin.
This is typical for products that contain high concentrations of silicone and it's something I don't personally like.
I feel like this velvety texture makes my skin look super oily and it also makes my pores look much bigger than they are throughout the day.
Scent
I already mentioned in my Instagram story that I wasn't a fan of the scent once I received the polyglutamic acid as it has a really strong, sort of acidic scent that goes away after a while but it's strong right off the bat.
My husband also tried this product and the first thing he complained about once he started rubbing it on his skin was the strong, acidic scent he felt.
Performance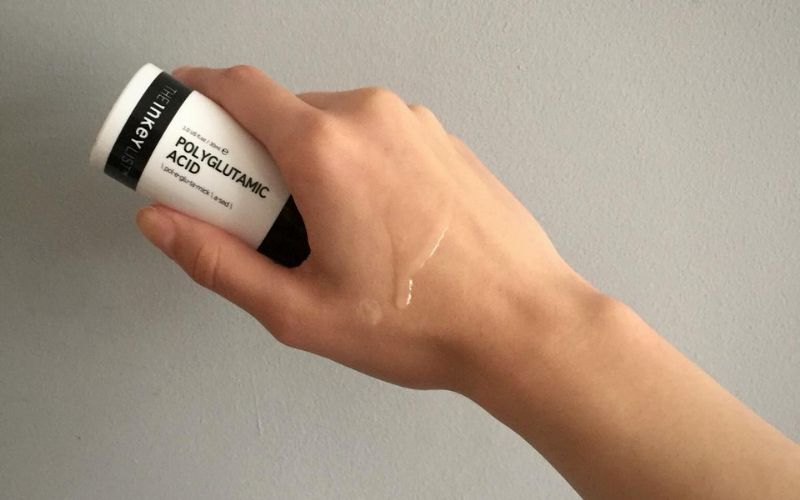 I don't like giving bad reviews on products and I always choose to hold off and focus on praising something that actually works for me instead.
However, once I bought and tested this product for a good two weeks, I feel obligated to give my opinion on its performance.
I didn't like how this product performed for me and there was something here that bothered my skin because I did get a flare-up after about two days in.
I suspect it's the silicone, but again, I can never know for sure because as I always like to mention – a shorter ingredient list usually helps you figure out what might be causing the problem. In comparison, a longer ingredient list makes this a little more difficult.
Also, I didn't enjoy the strong scent and the velvety texture due to the high concentration of silicone in this product. Again, I don't have anything against silicones; they just don't work for my skin.
I also regularly make my husband try products I'm buying because he has dry skin and I have oily skin, so I need to know how the product performs for both skin types.
He said that he liked it but it didn't make him feel any different after the first few uses. I also didn't notice any significant difference in his skin after using the product.
On the other hand, he's lucky that his skin isn't acne-prone like mine so he didn't get a flare-up or anything, but he complained about the strong scent and it was impossible to make him continue to use it again after a few days.
I regret saying this because Inkey List is truly becoming one of my favorite brands and I actually stopped purchasing products by The Ordinary because of them, however, the polyglutamic acid was a total flop for me and I will not be repurchasing this product in the future.
Again, I am not saying it's a bad product because it didn't do any harm to my husband's skin, however, I would advise oily and acne-prone skins to skip this one.
The Inkey List Polyglutamic Acid Pros:
Good for dry skin
Spreads on the skin easily
The Inkey List Polyglutamic Acid Cons:
Strong acidic scent
Not the best option for oily/acne-prone skins
Polyglutamic acid is at the bottom of the ingredient list
Where to buy The Inkey List Polyglutamic Acid?
You can purchase the Inkey List polyglutamic acid on the following websites:
Polyglutamic Acid Alternatives
And here are a few other polyglutamic acid alternatives:
---
---
My name is Simone and I am a certified skin specialist. I created this website to teach my readers how to take great care of their skin and I also like to occasionally share my honest opinions on skincare products I've tried. You can learn more about me here.
The Acne Solution: Your Ultimate Guide To Flawless Complexion
An extensive, no-nonsense course showing you how to never have acne again, from a licensed Esthetician specializing in oily/acne-prone skin.