Vivant Skincare is a professional skincare line formulated by Dr. James Fulton, a dermatologist and medical researcher that co-founded Retin-A, the world's most effective topical treatment for acne and skin aging.
Widely available through estheticians, the line focuses on skin concerns such as acne and aging, and it has a wide variety of products containing mandelic acid, benzoyl peroxide, and vitamin A derivatives.
One of their most popular products is their 8% Mandelic Acid 3-in-1 Serum, which I have previously featured in my articles, and personally love due to its ability to reduce acne, refine skin texture, and fade post-inflammatory hyperpigmentation.
I recently had the honor of being given professional training by a European representative, which helped me understand the products better.
Through this training, I experimented with a few more Vivant products, including the Green Tea Antioxidant Cleanser and the Derm-A-Gel, which I will review in this article.
So, without further ado, let's get into it!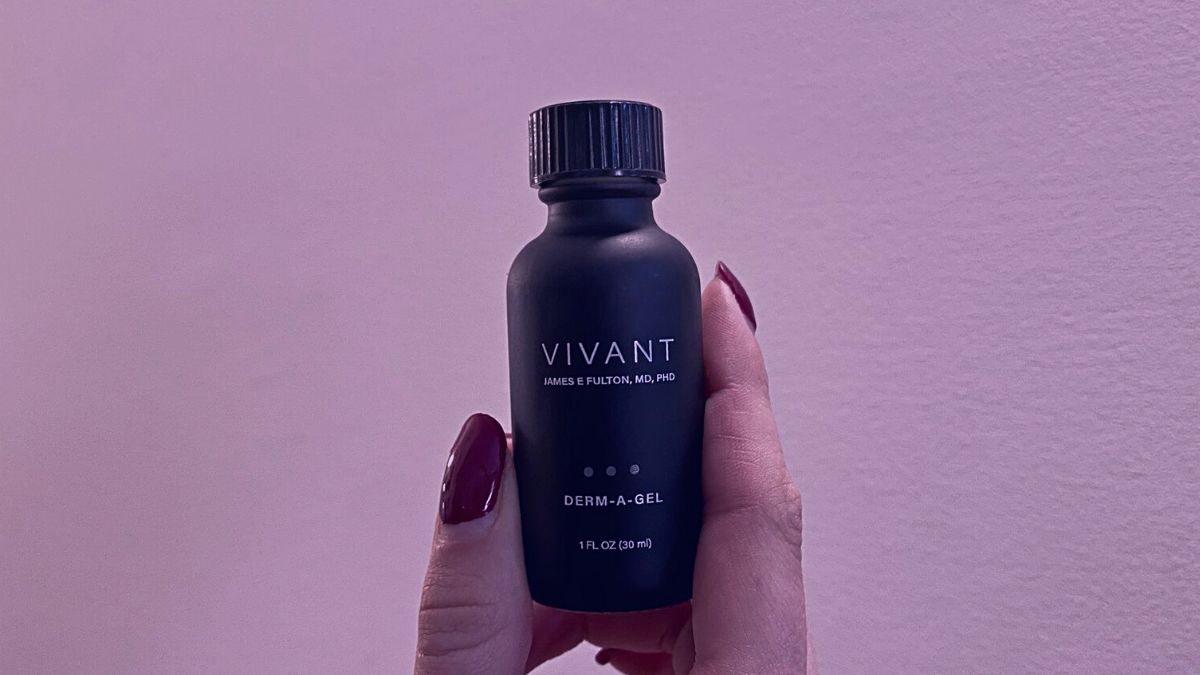 NB:
What if I told you I can show you how to never have acne again?
If you have acne and want it gone
,
read this message
.
What is The Vivant Derm-A-Gel?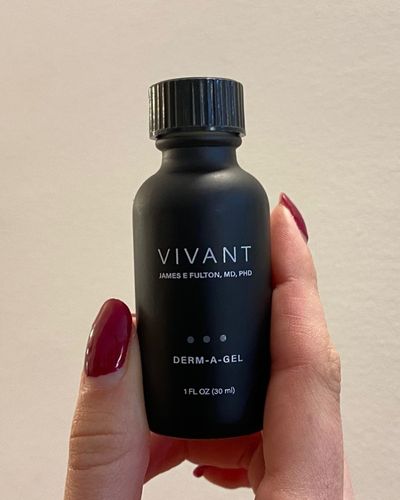 The Vivant website describes Derm-A-Gel as a targeted corrector serum for skin new to vitamin A treatment.
They also explain that the serum has a patented, lightweight formula that boosts cellular metabolism reduces fine lines, promotes a more even skin tone, and clears blemishes while nourishing the skin with anti-inflammatory and moisturizing ingredients.
Ingredients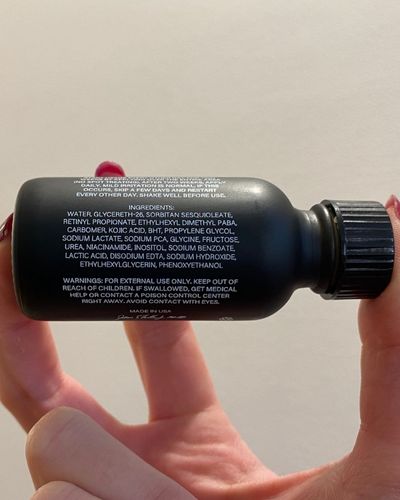 The Derm-A-Gel is a retinoid that contains vitamin A propionate, a component developed by Dr. James Fulton that increases cellular turnover without causing side effects often associated with retinoids.
Dr. James Fulton developed vitamin A propionate to be close enough in molecular structure to retinoic acid, which is the main component in tretinoin or Retin-A. This allows the ingredient to reach deeper levels of the skin, bind to retinoid receptors in the skin more quickly, and "instruct" the cells to behave in a younger way.
This means the skin cells will regenerate quicker and shed dead skin cells more quickly, allowing healthy and clear skin cells to replace the discolored or damaged ones on the skin's surface.
Additionally, the serum also contains pigment-inhibiting kojic acid that helps fade post-inflammatory hyperpigmentation, along with lactic acid to gently exfoliate and hydrate the skin, urea, which is a natural compound that promotes rehydration on a cellular level.
Finally, Derm-A-Gel also contains niacinamide, which is one of my favorite ingredients due to being an efficient barrier-strengthening antioxidant that helps reduce redness, soothe sensitivity, and minimize breakouts.
All in all, the Derm-A-Gel is packed with active and beneficial ingredients that work together to gently but effectively improve the skin's texture, clarity, and tone.
Scent
The scent is definitely my least favorite thing about the Derm-A-Gel, as the serum has something that should resemble a citrusy scent but is rather strong and kinda unpleasant.
Derm-A-Gel doesn't contain added fragrance or fragrant components, which is why I believe the scent comes from the blend of active ingredients in the serum, as this is often the case with active skincare products that don't contain additional fragrances to mask the smell of raw ingredients.
This is just a warning because I've seen several customer reviews that have expressed concerns about something potentially being wrong with or that their Derm-A-Gel serum is faulty or expired because of the scent, but I can assure you that this is normal and nothing to worry about regarding safety.
However, if you are particularly sensitive to scents, it's something to keep in mind before purchasing the Derm-A-Gel.
Consistency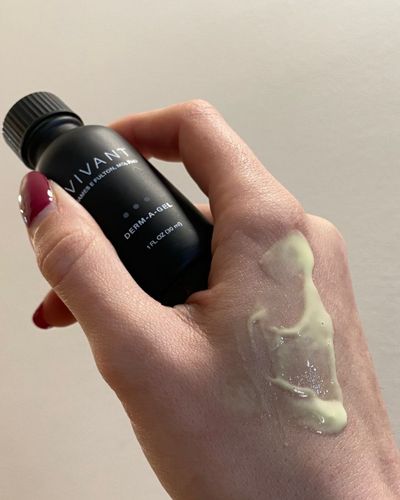 The Derm-A-Gel has a thicker, milky consistency and leaves a beautiful glowy layer on the skin once it settles.
Performance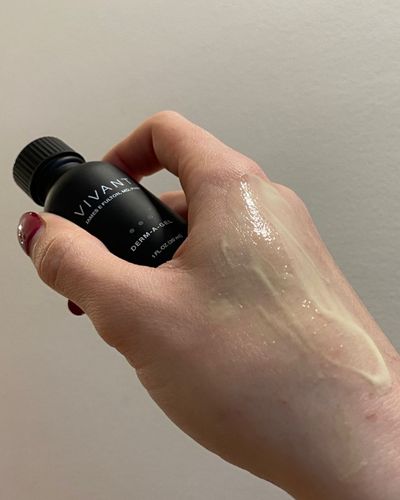 First off, I am going to start this review by explaining a little bit about my skin type and skin concerns so that you have an idea as to how the Derm-A-Gel may perform on you if you have similar or the same skin type and concerns.
I have very oily skin that's highly prone to clogging and acne. I am also in my late twenties, so I am taking some preventative anti-aging steps by introducing more antioxidants into my skincare routine, as well as anti-aging components like vitamin A, and of course, wearing sunscreen daily.
However, I am not currently dealing with sensitivities or active breakouts because I have a pretty set routine that works for me, so I am using the Derm-A-Gel on clear and balanced skin.
That said, let's start with one of my main concerns before starting to use this product: purging.
We are all concerned about starting a component that induces initial purging, especially if we have finally gotten our skin in order after dealing with acne for a long time.
I saw a few reviews on the Vivant website that the Derm-A-Gel did induce purging for some users, and there was a particular one I remember because it explained how their skin was clear before starting it, and then they experienced a purge for a few weeks from using it.
Thankfully, I didn't experience this at all. I was expecting it, and I was fully prepared to up my hydration game and focus on repairing my skin barrier, as these are the two best ways to survive the dreaded purge, but none of that happened.
I immediately started using the Derm-A-Gel every evening instead of easing in by using it a few times a week, as my skin is pretty used to retinoids; however, I did experience mild peeling around the mouth and on the temples, which, again, is pretty normal with new retinoids, because every brand formulates their retinoids differently.
Nevertheless, my skin improved quickly and became pretty normal after a week or so of using it.
Additionally, I did also experience some mild dryness, especially after cleansing, but that's something I can easily manage with hydrating toners and moisturizers.
Other than that, my skin accepted this product pretty quickly and was starting to improve in texture in the following weeks.
Additionally, I noticed that my pores appeared smaller, some of the post-acne red spots on my cheeks looked lighter, and the texture from the atrophic acne scars on my cheeks became smoother and more even.
That said, I don't expect this product to get rid of my atrophic scarring because this concern requires professional treatments like microneedling or laser to be completely eliminated, but, nevertheless, I did see a slight improvement in their appearance.
Finally, I also noticed that some lines around my eyes and the single horizontal line on my forehead that's had me contemplate Botox for the longest time were also slowly becoming less noticeable.
So, I think it's safe to say that this product is doing its job when it comes to anti-aging and evening out the skin's texture.
Overall, I am pleased with my results and the performance of the Derm-A-Gel, and I highly recommend it to anyone dealing with acne, texture, scarring, and mild lines.
It's also an excellent product for retinoid beginners as it is super gentle and didn't cause me any major side effects besides mild peeling and some dryness that quickly resolved itself as my skin adjusted to the formula.
That said, since it's a retinoid, and as multiple users on the website noted in their reviews, the Derm-A-Gel might cause you some initial purging, so this is something to expect and be prepared for if it happens.
Other than that, if you're looking to introduce a retinoid into your routine and need something that addresses both acne and aging concerns, the Derm-A-Gel is definitely worth a try.
Where to Buy the Derm-A-Gel?
Vivant is a popular brand among estheticians in the US and can be purchased from any professional that carries the line. Additionally, their products are also available to US customers through their official website and Amazon.
On the other hand, if you are in Europe, you can purchase Vivant products by contacting Allure Beauty, an aesthetic salon in Ukraine that can send you any Vivant product after having a consultation with their professionals.
My name is Simone and I am a certified skin specialist. I created this website to teach my readers how to take great care of their skin and I also like to occasionally share my honest opinions on skincare products I've tried. You can learn more about me here.
The Acne Solution: Your Ultimate Guide To Flawless Complexion
An extensive, no-nonsense course showing you how to never have acne again, from a licensed Esthetician specializing in oily/acne-prone skin.