DMK is a skincare brand founded by Danne Montague-King, a scientist that takes a different approach to traditional skincare products and utilizes enzymes to treat common skin woes.
Now, this brand can only be purchased through a certified DMK professional due to the potent actives in the products and a particular way of use for maximum benefits.
I was recommended a few DMK products by a colleague esthetician and decided to review them on my website to help people understand the brand better and give some more information on some of their most popular products for oily skin and acne.
The first product I will review in this DMK series is the Pore Reduction Plus, a lightweight serum that helps minimize the look of enlarged pores and soothe inflamed, irritated, and sensitive skin.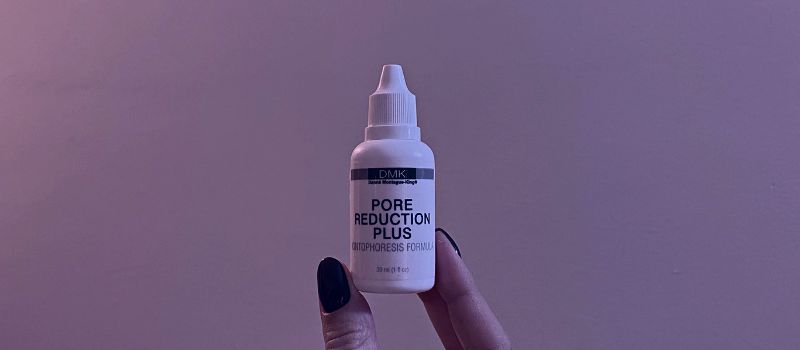 NB:
What if I told you I can show you how to never have acne again?
If you have acne and want it gone
,
read this message
.
What is DMK Pore Reduction Plus?
DMK's official website describes the Pore Reduction Plus Drops as a lightweight serum designed to visibly reduce enlarged pores without stripping the skin of its natural oils or causing an increase in oil production.
The solution helps clear the pores of gunk, dead skin cells, and oil stuck inside and allows them to refine naturally and balance out sebum production to prevent further clogging.
DMK's website also says the Pore Reduction Plus Drops are suitable for acne and congested skin, as well as sensitive, reactive, and inflamed skin.
Ingredients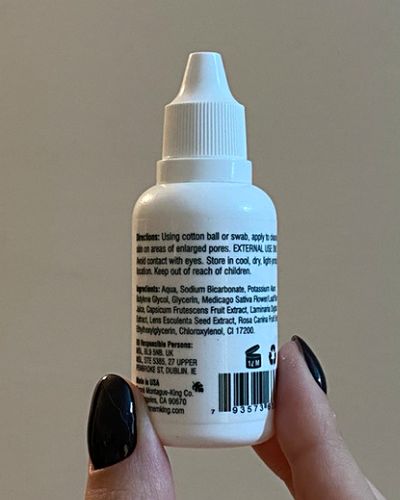 The ingredients of the Pore Reduction Plus Drops are pretty impressive in a couple of ways.
For one, if you've been following me for a while, you probably know that I appreciate a short and straight-to-the-point ingredient list that doesn't contain unnecessary filler ingredients that don't do anything for the skin but are generally used in skincare products to improve the formula and feel.
Now, the Pore Reduction Plus Drops have none of that, no unnecessary silicones, perfume, alcohol, or anything that could potentially be a problem for any skin type, but particularly skin that's sensitive, reactive, and inflamed.
The drops/serum contains thirteen ingredients in total that include hydrating glycerin, antioxidant dog rose extract, moisturizing and skin-soothing lentil extract, as well as kelp, which is a marine plant extract that contains high levels of vitamins like A, C, and D, as well as all the B vitamins, and trace minerals like calcium and magnesium. Talk about a powerhouse ingredient list right there.
Additionally, the drops also contain baking soda, which is an ingredient that can be used for its abrasive nature and serves as a scrub, but in the case of the Pore Reduction Plus Drops, it's used as a liquid to balance the skin's pH.
Finally, the Pore Reduction Plus Drops also contain something called Medicago Sativa Flower/Leaf/Stem Juice, which is commonly known as Alfalfa grass juice and is one of the most nutritionally valuable plants.
Alfalfa is packed with phytonutrients, among which are vitamins and minerals. Thanks to the presence of Chlorophyll, small quantities of vitamin A, and several enzymes, it forms the base of healthy skin.
This isn't an ingredient you often see in skincare products, so reading about its benefits excited me to try the Pore Reduction Plus Drops serum.
All in all, this lightweight solution is jam-packed with powerhouse ingredients that can offer fantastic benefits no matter the skin type or skin condition.
Soothing, calming, and full of vitamins, minerals, antioxidants, and pH balancing, this is a well-rounded serum anyone can benefit from.
Scent
The Pore Reduction Plus Drops have no added fragrance or fragrant components; therefore, the product doesn't have a particular scent.
Consistency
The Pore Reduction Plus Drops have a very lightweight and watery consistency and absorb into the skin within seconds of applying them.
Once applied, the solution leaves a smooth, almost matte-like finish on the skin's surface. This product has no ingredients that can leave a film or make the skin greasy, so the finish is pretty natural.
Performance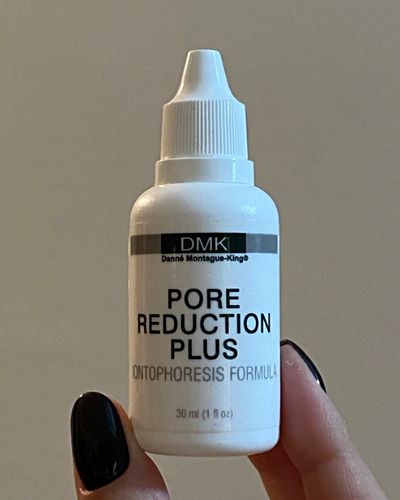 The DMK Pore Reduction Plus Drops is a product you can only buy through a trained professional that carries the line in their salon.
The reason for this is that their products are full of active ingredients that you can't really figure out how to use on your own, and many times these products can be combined in specific ways for optimal results.
Every skin has its individual needs, so the way I use my Pore Reduction Plus Drops might not be the same as what you would need, which is why you have to get a consultation and basically be taught how to use it so that your skin and individual needs are met.
All that said, although I am an esthetician, I don't work with DMK products because they aren't available in my country, and I got the Pore Reduction Plus Drops from my colleague who is a trained DMK provider and recommended them to try.
Now, as for my skin type and skin condition, I have very oily skin that's extremely prone to clogging and acne. I am not currently dealing with sensitivities or active breakouts because I have a pretty set routine that works for me, so I am using the Pore Reduction Plus Drops on clear and balanced skin.
So, the first thing many people think of when a skincare product says it's "pore-reducing" or "pore-blurring" is that instant blurring effect usually provided by ingredients like silicones that basically fill the pores to "make them disappear."
Right off the bat, the Pore Reduction Plus Drops isn't a product that provides that type of action, or an instant action, for that matter.
This is a serum that gives results over time, which I personally love because this also means long-lasting results, and not something that will disappear and bring your skin back to normal after you cleanse.
And I like the Pore Reduction Plus Drops because after a week or so of using it twice a day as part of my morning and evening routine, I did notice that my pores looked smaller, cleaner, and tightened.
I also love how lightweight this serum is and that it leaves a natural, not fully matte but pretty close, finish on the skin's surface.
The serum also absorbs incredibly quickly, so I follow it up with a moisturizer in the evening and sunscreen in the morning, seconds after applying it, because I don't want to leave it on my skin for too long, as this may cause the moisture to evaporate.
When it comes to makeup, the Pore Reduction Plus Drops sits incredibly well on the skin and doesn't cause any liquid complexion product to pill or ball up.
I also love that it lasts for a long time because it is quite pricey, and although worth the price, I typically don't go heavy on the application because I want it to last, so I only use three drops for the entire face, one on my forehead, and one on each cheek, close to my nose where my pores tend to be the most prominent.
I find that I really don't need to overuse the product because the results will be the same; I will only be wasting more product, which will cost me more money.
All in all, the Pore Reduction Plus Drops serum is a great product to have if you're dealing with enlarged or congested pores and can be an excellent hydrating and skin-improving addition to your skincare routine.
I highly recommend it!
Where to Buy the DMK Pore Reduction Plus Drops?
As I already mentioned above, DMK products are carried exclusively by estheticians and can't be bought online.
Therefore, the best way to purchase it is to search for a DMK provider in your area or close to your location and set up an appointment for a consultation.
In case you can't find a certified provider in your area, you can at least look for somewhere close, and request an online consultation, given the provider is offering that as an option.
They can then have the products shipped to you.
Again, I purchased this product through my colleague, who had it shipped from another European country to where I live.
DMK products are widely available in the US; however, if you're in Europe and your country is a member of the European Union, you will probably have an easy time finding a provider.
On the other hand, if your country is not a member of the European Union, there are certified DMK providers in Serbia, Norway, and Ukraine, which is how you can get them easier.
---
More DMK Skincare reviews:
My name is Simone and I am a certified skin specialist. I created this website to teach my readers how to take great care of their skin and I also like to occasionally share my honest opinions on skincare products I've tried. You can learn more about me here.
The Acne Solution: Your Ultimate Guide To Flawless Complexion
An extensive, no-nonsense course showing you how to never have acne again, from a licensed Esthetician specializing in oily/acne-prone skin.