Vivant Skincare is a professional line formulated by Dr. James Fulton, a dermatologist and medical researcher that co-founded Retin-A, the world's most effective topical treatment for acne and skin aging.
Widely available through estheticians, the line focuses on skin concerns such as acne and aging, and it has a wide variety of products containing mandelic acid, benzoyl peroxide, and vitamin A derivatives.
One of their most popular products is their 8% Mandelic Acid 3-in-1 Serum, which I have previously featured in my articles, and personally love due to its ability to reduce acne, refine skin texture, and fade post-inflammatory hyperpigmentation.
I recently had the honor of being given professional training by a European representative, which helped me understand the products better.
Through this training, I experimented with a few more Vivant products, including the Green Tea Antioxidant Cleanser and the Derm-A-Gel, a retinoid that has helped me immensely on my acne journey and a product I happily recommend to anyone dealing with this inflammatory condition.
However, in this review, I will focus on a similar product called Derm-A-Renew. With a slight difference in ingredients and the concerns it addresses, I have been using this retinoid/peptide combo for a few months now, and I am ready to give my thoughts on it.
So, without further ado, let's get into it!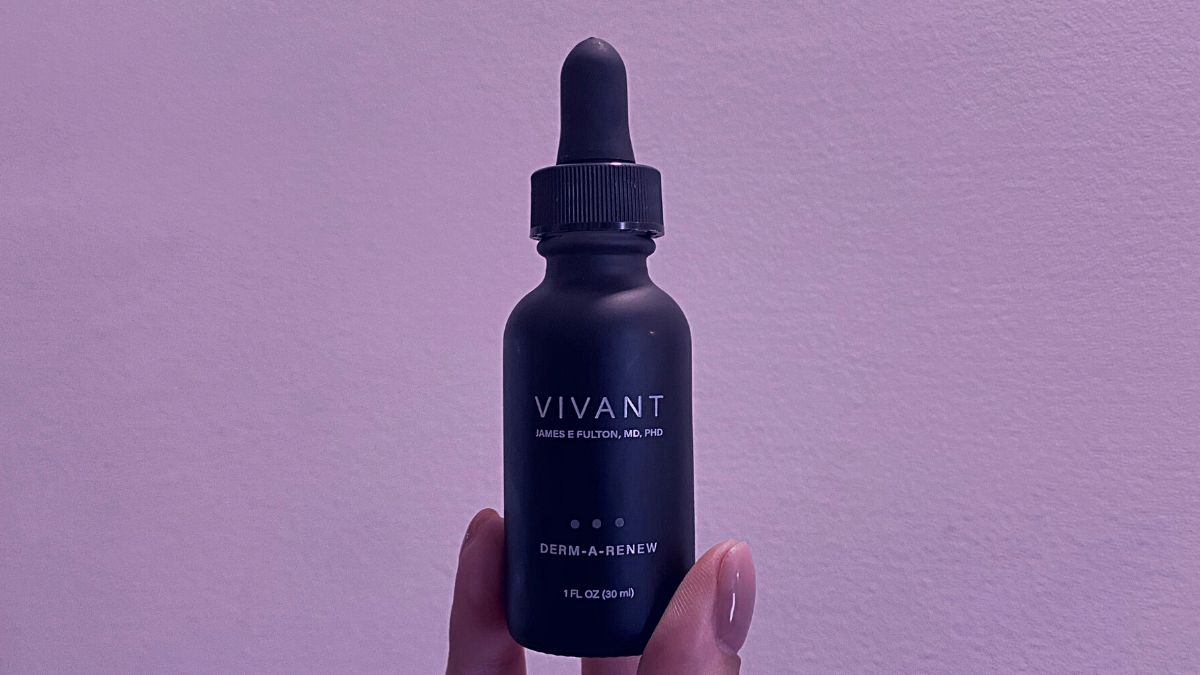 NB:
What if I told you I can show you how to never have acne again?
If you have acne and want it gone
,
read this message
.
What is The Vivant Derm-A-Renew?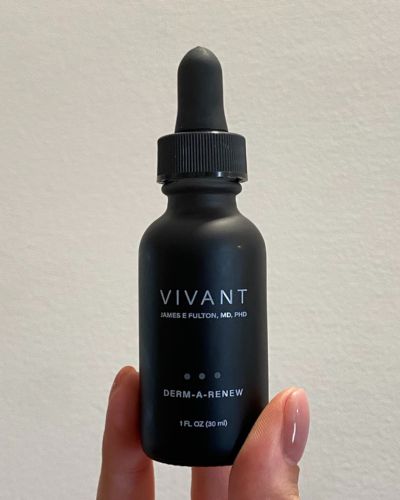 Vivant's official website describes the Derm-A-Renew as the first choice in your anti-aging arsenal. A gentle and luxurious serum that contains the transformative strength of vitamin A with the added boost of peptides to reveal a more luminous and youthful skin appearance.
Ingredients
The Derm-A-Renew is a retinoid and peptide combo that contains vitamin A propionate, a component developed by Dr. James Fulton that increases cellular turnover without the side effects often associated with retinoids.
Dr. James Fulton developed vitamin A propionate to be close enough in molecular structure to retinoic acid, which is the main component in tretinoin or Retin-A. This allows the ingredient to reach deeper levels of the skin and bind to retinoid receptors more quickly, and "instruct" the cells to behave in a younger way.
This means the skin cells will regenerate quicker and shed dead skin cells more efficiently, allowing healthy and clear skin cells to replace the discolored or damaged ones on the skin's surface.
Additionally, the formula also contains oligopeptides, which are small chain amino acids that stimulate the skin's natural production of collagen, hyaluronic acid, and elastin, all of which are components crucial for healthy, youthful, and plump-looking skin.
Furthermore, the serum also contains pigment-inhibiting kojic acid that helps fade post-inflammatory hyperpigmentation, along with lactic acid to gently exfoliate and hydrate the skin, urea, which is a natural component that promotes rehydration on a cellular level, and niacinamide, which is one of my favorite ingredients and an efficient barrier-strengthening antioxidant that helps reduce redness, soothe sensitivity, and minimize breakouts.
All in all, the Derm-A-Renew is packed with active and beneficial ingredients that work together to gently but effectively improve the skin's texture, clarity, and tone.
Scent
If you have already read my Derm-A-Gel review, you have probably noticed that I had some remarks about the potent scent that made the product smell unpleasant.
Now, while the two products are very similar, one thing I noticed about the Derm-A-Renew is that it doesn't have that strong scent. In fact, it has no scent at all, so I was definitely more pleased to use this product over the Derm-A-Gel over this factor.
Consistency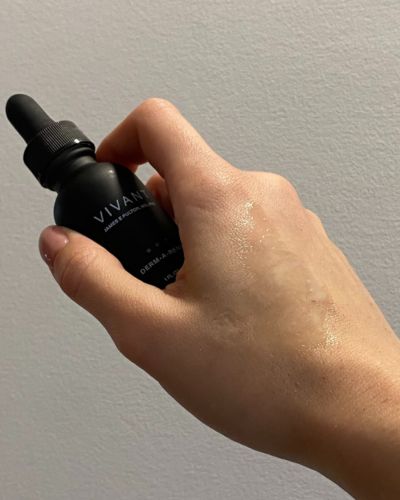 The Derm-A-Renew has a lighter consistency compared to the Derm-A-Gel, which has a thicker consistency, but both formulas are milky and leave a beautiful glowy layer on the skin once they settle.
One thing I noticed about the Derm-A-Renew is that it glides on the skin easier, while the Derm-A-Gel tends to dry out a little bit quicker, so you have to be quick when rubbing it in to get even coverage before it fully dries out.
On the other hand, the Derm-A-Renew takes a little longer to absorb; therefore, you should wait at least 5-10 minutes before following up with your moisturizer so that you make sure the product is fully settled and won't be moved around with rubbing, as this could give you uneven coverage.
Performance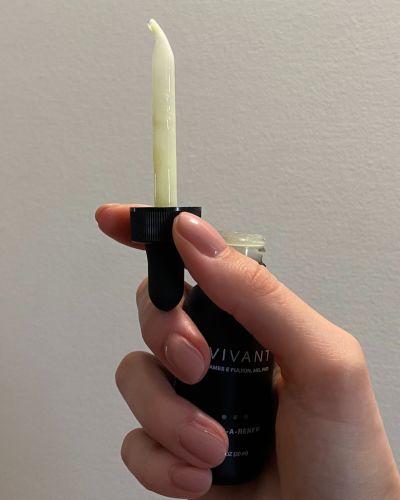 As always, let me start describing my experience with the Derm-A-Renew by explaining a little more about my skin type and concerns so that you have an idea of how the product may perform on your skin if you have a similar skin type and concerns you want to address.
I have very oily skin that's highly prone to clogging and acne, and I am also in my late twenties, so I am taking some preventative anti-aging steps by introducing more antioxidants into my skincare routine, as well as anti-aging components like vitamin A, and of course, wearing sunscreen daily.
However, I am not currently dealing with sensitivities or active breakouts because I have a set routine that works for me, so I am using the Derm-A-Renew on clear and balanced skin.
I started using the Derm-A-Renew because they didn't have the Derm-A-Gel in stock at the time I was making the order, and the products are pretty similar to one another.
Therefore, while my skin was used to the Derm-A-Gel, switching from it still brought on the most minimal flaking around my mouth, which is pretty standard for me whenever I try a new retinoid.
However, my skin got used to it quickly, and after the first week of flaking, it looked and felt normal again.
Additionally, I didn't experience any purging from making the switch, which is always a concern when trying a new retinoid, but at this point of regularly using retinoids for a long time, my skin barrier is strong, which means it doesn't freak out as easily when exposed to a new product compared to how it used to when it was damaged during the time I had acne.
Finally, by using the Derm-A-Renew for some time, I noticed that the single horizontal line on my forehead that's had me contemplate Botox for the longest time, which I also mentioned in my Derm-A-Gel article, is now fully gone, and my existing texture from old acne definitely looks much better.
The Derm-A-Renew also helped improve my skin's tone and clarity and gave me an overall glowy complexion that makes me feel a lot better about wearing a lightweight tinted moisturizer instead of feeling like I have to cover up my imperfections to oblivion with a heavy layer of high-coverage foundation the way I used to.
Vivant Derm-A-Renew vs. Derm-A-Gel for Acne
The Vivant Derm-A-Renew is a fantastic option for those with sensitive and reactive skin dealing with mild acne and signs of skin aging, such as lines, wrinkles, and spots.
On the other hand, the Derm-A-Gel is more suitable for moderate to severe acne and skin that's oilier, coarser, and more resilient, as well as younger skin that doesn't need the extra peptide boost.
Since there is a major price difference between the two products, with Derm-A-Gel costing $74 and the Derm-A-Renew costing $122, you can opt out of the extra benefit if tackling signs of aging isn't a priority at the moment and you're looking for something that's better for acne and with a more approachable price.
While it's never too early to start incorporating anti-aging practices into your skincare routine, everyone has a different budget, and the two products are very similar, meaning you can opt for one that suits your lifestyle and addresses your concerns better.
Where to Buy the Derm-A-Renew?
Vivant is a popular brand among estheticians in the US and can be purchased from any professional that carries the line. Additionally, their products are also available to US customers through their official website and Amazon.
On the other hand, if you are in Europe, you can purchase Vivant products by contacting Allure Beauty, an aesthetic salon based in Ukraine that can send you any Vivant products after having a consultation with their professionals.
My name is Simone and I am a certified skin specialist. I created this website to teach my readers how to take great care of their skin and I also like to occasionally share my honest opinions on skincare products I've tried. You can learn more about me here.
The Acne Solution: Your Ultimate Guide To Flawless Complexion
An extensive, no-nonsense course showing you how to never have acne again, from a licensed Esthetician specializing in oily/acne-prone skin.