The key to giving your mature skin a youthful and radiant appearance is to form a solid skincare routine that caters to your aging skin.
In case you didn't know, the skin becomes drier with age, and dry skin is more likely to show more prominent signs of aging, such as lines and wrinkles.
Dry and aging skin also tends to be thinner with smaller pores and looking smoother. This is why fine lines and wrinkles will appear more exaggerated, especially if you are wearing makeup.
Which is why having a great skincare routine that's focused on hydration and nourishment will help keep noticeable dryness and signs of aging at bay.
In this article, I will explain what is the best skincare regimen for aging skin, and I will teach you how to keep premature aging at bay by using the minimum number of products and utilizing a few useful tips.
Let's start from the beginning.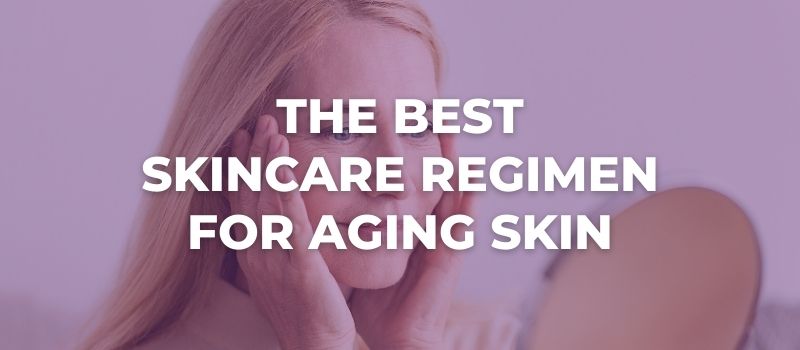 NB:
I can show you how to never have acne again.
If you have acne and want it gone
,
read this message
.
Wear Minimal Makeup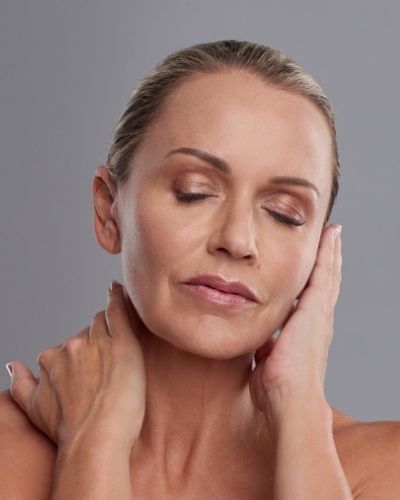 There are quite a few benefits of wearing minimal makeup.
Obviously, the first benefit would be the cost because you won't be spending money on a bunch of different products that won't be doing your skin any favor.
But besides that, wearing a minimal number of products such as a lightweight foundation, a little bit of natural-looking blush, and soft eye makeup will not only accentuate your natural beauty but will actually look pretty compared to a high-coverage foundation that cakes up and settles into your lines and pores making them appear more prominent.
Lastly, minimal makeup is easier to remove at the end of a long day.
Products with light coverage require very little work to be removed, and you will be saving your skin from unnecessary friction, pulling, and tugging.
A great tip for effortless makeup removal is to use a cleansing balm that will easily melt even the most stubborn waterproof mascara without irritating the skin.
Use a Gentle Cleanser
Once you remove your makeup, you now want to follow it up with a gentle cleanser that will remove even the tiniest residues left on the skin.
For this, you want to pick a cleanser that doesn't foam up excessively and won't leave your skin dry and dehydrated after using it.
It would help if you also avoided cleansers containing harsh ingredients such as alcohol denat, witch hazel, and fragrance as they could dry out and irritate the skin.
Opting for a gentle gel, cream, or milky cleanser that you can use once or twice a day is the best way to go.
Use an Exfoliating Treatment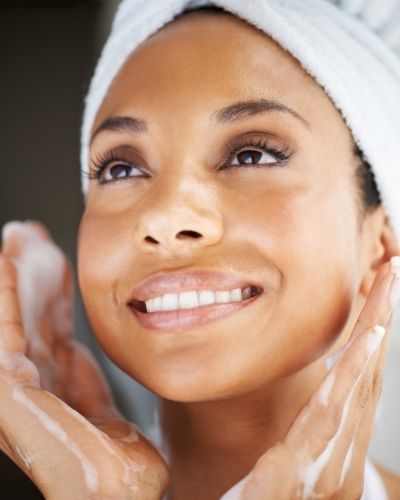 Exfoliation is a step that happens regularly in every good skincare routine.
By using products that contain enzymes or hydroxy acids to gently dissolve the bonds that hold dead skin cells together, you will be revealing a brand new layer of skin that looks smoother, brighter, and more radiant.
However, be mindful of over-exfoliating your skin because it could lead to irritations and a compromised skin barrier.
To avoid this, use a gentle exfoliating product no more than two or three times a week. Also, stay away from using scrubs that contain any types of granules or nut kernels, as these could be damaging to the delicate facial skin in the long run.
Treat Your Skin With a Retinoid
Retinoids are a big family of compounds that are derivatives of vitamin A and can be made naturally or synthetically.
The use of retinoids has long been studied, and it has been concluded that they can deliver many amazing skin benefits.
Out of all of the anti-aging "miracle" creams and ingredients available on the market today, retinoids are the only ones scientifically shown to work on a molecular level to change the skin dramatically.
Some benefits of having retinoids in your skincare routine include:
stimulating collagen production
smoothing and evening out skin texture
brightening hyperpigmentation and evening out the skin tone
dramatically reducing fine lines and wrinkles
minimizing enlarged pores
healing moderate to severe forms of acne
Retinoids come in different strengths, and you can find over-the-counter options as well as stronger, prescription-strength options for different purposes.
Consider starting with an over-the-counter option and use this treatment in the evenings when you are not exfoliating your skin.
Use a Hydrating Serum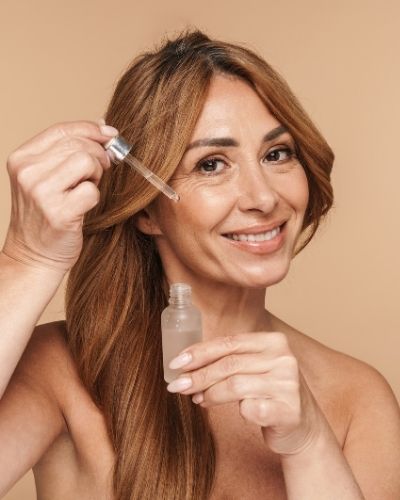 Having a hydrating serum in your skincare routine can really help nourish dry and dehydrated skin back to life and make it look plump, glowy, and healthy.
Consider adding a lightweight serum that contains simple, hydrating, and strengthening ingredients such as hyaluronic acid and niacinamide.
You should always layer your hydrating serums after applying your actives.
Also, if you are already using actives such as enzymes, exfoliating acids, and retinoids, avoid adding a serum that also contains some of these actives.
It's best to focus on a simple and hydrating product and isn't going to overwhelm your skin.
Always Use a Moisturizer
The sole purpose of a moisturizer is to slow down transepidermal water loss, prevent skin dryness, lubricate, and soften the skin.
This is why you should follow up your hydrating serums and treatments with a moisturizer on top to create that protective seal and keep moisture into the skin.
If you are using hydrating serums and not applying moisturizer on top, all these benefits will most probably evaporate through the skin and leave it dry and dehydrated.
Don't Forget Sunscreen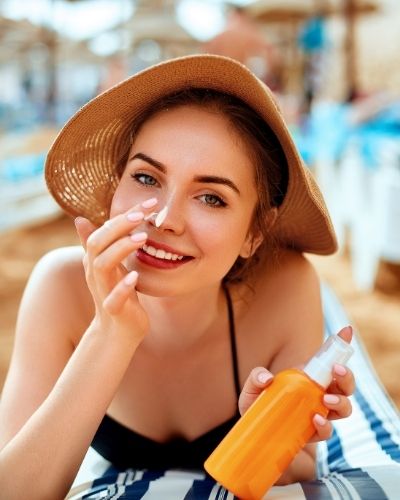 Sunscreen is a must in every skincare routine, but it's imperative if you are focusing on anti-aging skincare.
The UV rays are the number one factor that causes depletion of collagen because they have the unique ability to harm the collagen-producing cells known as fibroblasts.
Loss of collagen will result in thinning, saggy, and droopy skin, as well as other prominent signs of aging such as lines and wrinkles.
This is why it's important to make sunscreen the last step of your morning routine and protect your skin from premature aging.
Also, avoid mixing your sunscreen with other products such as oils or moisturizers, and make sure to wait until it fully dries on the skin before applying makeup.
Best Products For Aging Skin
Here is a list of the five best products for aging skin that you are going to love:
Neutrogena – Melting Balm To Oil Makeup Remover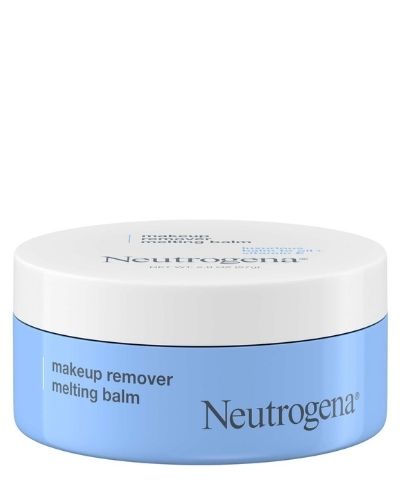 The Neutrogena Melting Makeup Remover is an excellent and affordable makeup removing balm that transforms into oil when you rub it on the skin.
It removes makeup effortlessly without you having to drag or pull the skin and cause unnecessary friction, and it is also free of alcohol and fragrance, making it very suitable for the removal of eye makeup, too.
However, this balm is rather heavy and contains many oils, including coconut oil, which can be problematic for skin prone to breakouts.
If your concern is skin aging, but you are also prone to breaking out, you should opt for using micellar water to remove your makeup instead.
La Roche Posay – Toleriane Hydrating Gentle Cleanser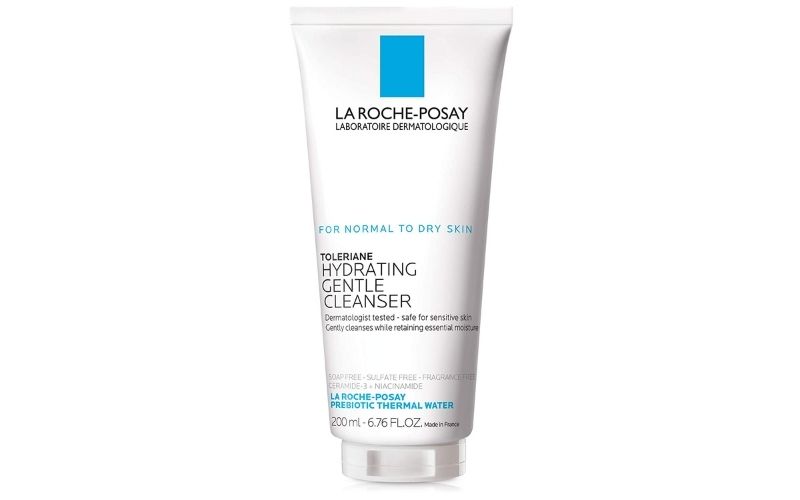 The Hydrating Gentle Cleanser from La Roche Posay's Toleriane range is an excellent cleanser for everyone that struggles with dry and irritated skin.
Besides that, it can be used as a first cleanser to remove makeup as it is extremely gentle and won't sting the eyes.
The Hydrating Gentle Cleanser contains LRP's exclusive Prebiotic Thermal Water as well as skin-replenishing ceramides, hydrating glycerin, and soothing niacinamide.
It has a milky texture that glides on the skin without causing any friction and transforms into a soothing lather when in contact with water.
Paula's Choice – 2% BHA Liquid Exfoliant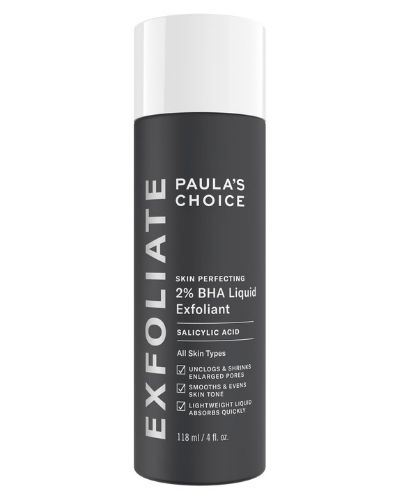 The 2% BHA Liquid Exfoliant is a gentle exfoliating solution suitable for mature skin prone to mild breakouts and blackheads.
It contains green tea extract, a skin-soothing ingredient, and butylene glycol, which is an excellent hydrator.
Once you apply it to your skin, you will see an immediate glow, and your skin will feel soft and smooth the next morning.
However, even though the packaging says that you can use it up to twice a day, I personally do not recommend using this product more often than 2-3 times a week.
La Roche Posay – Redermic [R] Anti-Wrinkle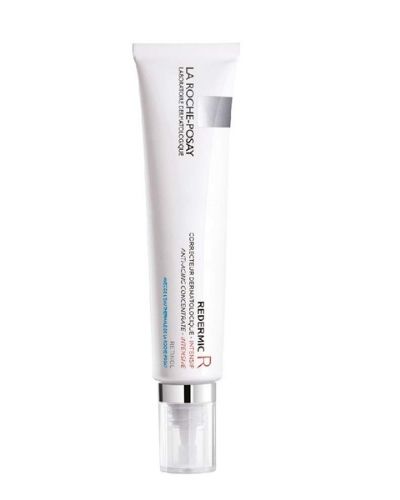 The Redermic [R] Anti-Wrinkle Treatment is a lightweight face cream that contains 0.3% retinol along with the soothing and skin-restoring adenosine and retinol linoleate to help optimize the formula and minimize the risk of irritation, burning, and extreme peeling.
Start by using it 2-3 times a week and never combine it with exfoliating products.
Paula's Choice – Youth-Extending SPF 50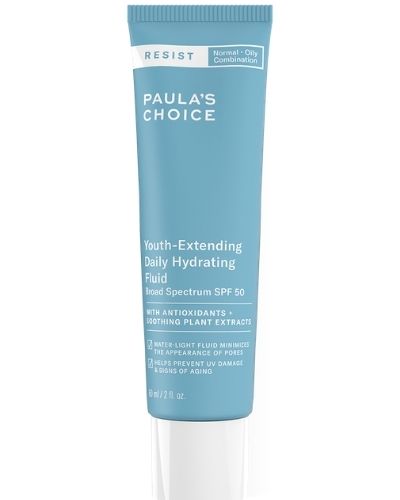 The Youth-Extending Daily Hydrating Fluid SPF 50 is a Paula's Choice bestseller for a few good reasons.
It's a hydrating and lightweight sunscreen that's suitable for anyone with dry, dehydrated, combo, sensitive, and aging skin, and it has a high sun protection factor.
Besides that, it doesn't leave a white cast, it sits well under makeup, and it's easy to reapply during the day. It also leaves your skin glowy and beautiful.
However, this sunscreen isn't great for anyone with oily skin, so if that's you, you should definitely look into the Super-Light Wrinkle Defense SPF 30 instead, as this one has a matte finish.
I also have a comparison review between these two that you can check out here.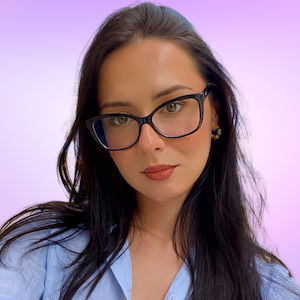 My name is Simone and I am a certified skin specialist. I created this website to teach my readers how to take great care of their skin and I also like to occasionally share my honest opinions on skincare products I've tried. You can learn more about me here.
The Acne Solution: Your Ultimate Guide To Flawless Complexion
An extensive, no-nonsense course showing you how to never have acne again, from a licensed Esthetician specializing in oily/acne-prone skin.