I am always on the lookout for a good moisturizer that won't leave my skin excessively oily, and most importantly – won't break me out.
Which is why whenever I see a moisturizer that claims to be oil-free, my eyes start gleaming with the familiar sparkle that means "I am totally buying this right now."
This was the case when I heard about Paula's Choice Oil-Free Moisturizer from the CLEAR line designed for acne-prone folks.
I already love the Anti-Redness 2% Exfoliating Solution from the same line, so I thought the moisturizer was going to be a great addition to my skincare routine.
Finally, after using it for well over a year on and off and combining it with other skincare products, I have my opinions about it.
In this article, I will talk about Paula's Choice Oil-Free Moisturizer and how this product performed on my oily and acne-prone skin.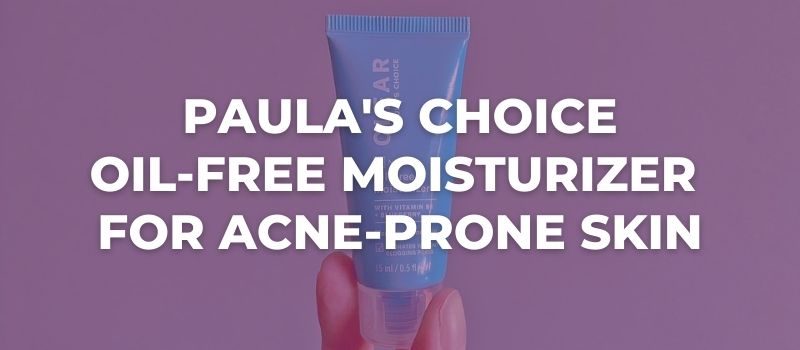 NB:
What if I told you I can show you how to never have acne again?
If you have acne and want it gone
,
read this message
.
Paula's Choice CLEAR Oil-Free Moisturizer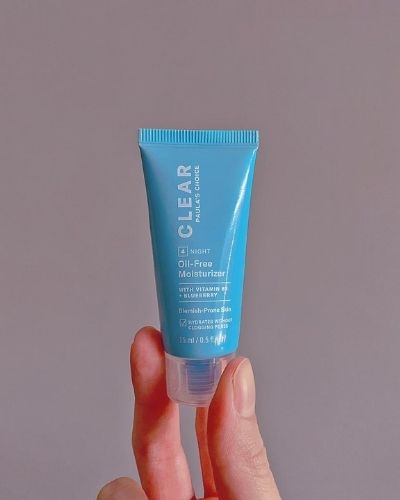 The official Paula's Choice website says that the Oil-Free Moisturizer provides soothing hydration that won't clog pores or cause breakouts. It has a weightless consistency and is specially formulated for blemish-prone skin.
Ingredients
The Oil-Free Moisturizer contains many beneficial ingredients, including antioxidants, skin-replenishing ingredients, hydrating ingredients, and soothing ingredients.
Some of these include niacinamide, which is an excellent brightener that balances oil production and strengthens the skin barrier, ceramides which are a family of waxy lipids naturally found in the skin; blueberry fruit extract, which has great antioxidant properties, adenosine which is one of the best skin-restoring ingredients found in products, hyaluronic acid, soothing licorice extract, panthenol, arginine, peptides, etc.
These are all excellent ingredients that work to target and repair various skin concerns, including dull skin, dehydration, compromised skin barrier, aging skin, irritation, etc.
Upon checking out the product for the first time, I immediately knew this would be a very soothing product that can be used by any skin, no matter how sensitive or damaged the skin is.
It doesn't contain fragrance, alcohol, or other irritating agents such as witch hazel; however, it does contain a few ingredients I was worried about.
These include thickeners such as stearates and carbomers, silicones such as xanthan gum, and texture enhancers such as Cetearyl alcohol.
Cetearyl alcohol, in particular, is an ingredient my skin doesn't agree with. This ingredient always breaks me out, especially when it is high up on the list, which means it is present inside the product in a high concentration.
Cetearyl alcohol is a fatty alcohol, an emollient that softens the skin and leaves it looking smooth. However, it could cause clogging in skins that can't tolerate it.
It's not necessarily dubbed as a comedogenic ingredient, and it's usually not problematic, which is why many people, myself included, don't realize it could be causing them an issue right off the bat.
Besides Cetearyl alcohol, my skin also has an issue with stearates and silicones, and for some reason, it always rebels against them.
Although I knew this product would be extremely gentle, I was also worried about how my skin will react to a few of these ingredients.
Consistency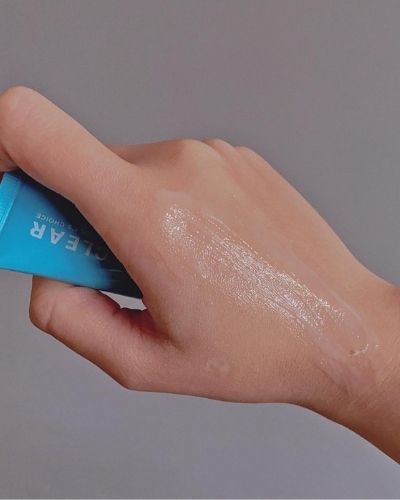 The Oil-Free Moisturizer has a gel-cream texture. It glides on the skin with ease, and it also spreads easily; however, it doesn't have a very elegant finish.
It almost feels like it's sitting on top of the skin like silicone.
It has a slightly sticky feeling after a few minutes of applying it, and it doesn't settle matte, which means it would be better to use it in the evenings than during the day.
Scent
The Oil-Free Moisturizer doesn't contain any added fragrance or fragrant components; however, it does have the faintest smell of silicone that fades away immediately after applying it.
Performance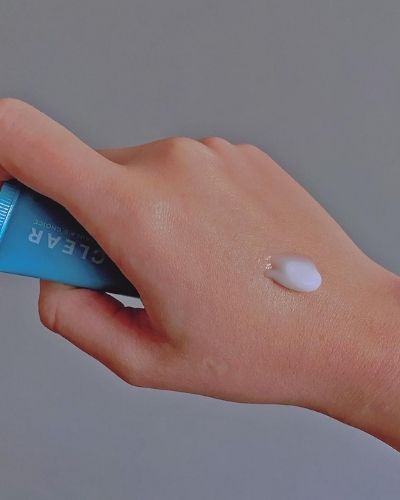 My skin is oily and acne-prone.
Having a good skincare routine helps a lot, but by default, it's prone to congestion, breakouts, post-inflammatory redness, texture, and dullness.
My routine consists of frequent exfoliation with salicylic acid (I'm currently using the iS CLINICAL Active Serum) as well as other brightening agents, including azelaic acid, retinol, and an enzyme mask.
When I first added the Oil-Free Moisturizer to my skincare routine, I used it with the Anti-Redness Exfoliating Solution; however, I've been trying different exfoliating products since then.
I'm going, to be honest here, and I will say that there are a few things I like about this moisturizer and a few others I don't.
The first thing I like about it is how easily it applies and how very little I need to cover my entire face. I usually use about a pea-sized amount, and that's enough for me.
I also like that it doesn't contain fragrance and doesn't have an overpowering scent.
But that's pretty much it.
The things I don't like about this moisturizer are the clogging ingredients it contains despite the claims that it's formulated for acne-prone skin.
I also don't like the silicone feel and the fact that it just sits on top of my skin and makes it oily only a few minutes after applying it.
It has some blurring effect initially, but this quickly disappears once my skin starts becoming oily. It also doesn't sit well under makeup.
Lastly, this product did break me out a little bit in areas where I usually break out (my temples and jawline).
This is why I won't be repurchasing it, even though I used up a couple of travel-size products and have a couple more sitting unopened.
And all this is why I cannot, in good faith, recommend this product to anyone with oily and acne-prone skin.
I didn't have a great experience with it, and I don't recommend it. I know some people loved it according to the reviews on their official website; however, I also saw negative reviews, and some of them explained the same issues I experienced.
PC Oil-Free Moisturizer Pros:
Great for sensitive skin.
It could work for dry skin that's not prone to breakouts.
It has a few excellent ingredients.
Easily accessible.
PC Oil-Free Moisturizer Cons:
Contains clogging ingredients.
The texture isn't elegant.
It makes my skin excessively oily.
Doesn't sit well under makeup.
Broke me out.
I don't enjoy having it on my skin.
Where To Buy?
You can buy the Oil-Free Moisturizer on:
What's The Best Moisturizer For Oily & Acne-Prone Skin?
My current favorite moisturizer for oily and acne-prone skin is the La Roche Posay Toleriane Sensitive Fluide.
This is a moisturizer that's specially formulated for very oily skins that get clogged and breakout from literally anything.
It is formulated with only ten ingredients, including water, caprylic/capric triglyceride, which are lipids important for skin's health, soothing propanediol, brightening and balancing niacinamide, and a few other humectants and stabilizers.
It's also safe for fungal acne, which is another problem triggered by many skincare products marketed towards acne-prone skin.
And lastly, it's exceptionally good for ultra-sensitive skin. It's formulated without fragrance or fragrant components and drying alcohols.
The only downside of this product is its small size. It comes in a tube of 40ml, and it's quite pricey for its small size ($30).
But on the bright side – you won't be needing much of this product if your skin is super oily and a little more than a pea-sized amount is enough.
Another tip for making the most out of it is to apply it on damp skin as this allows the emulsion to spread easier and last longer as you will require less product.
RELATED: Best moisturizers for acne-prone skin.
My name is Simone and I am a certified skin specialist. I created this website to teach my readers how to take great care of their skin and I also like to occasionally share my honest opinions on skincare products I've tried. You can learn more about me here.
The Acne Solution: Your Ultimate Guide To Flawless Complexion
An extensive, no-nonsense course showing you how to never have acne again, from a licensed Esthetician specializing in oily/acne-prone skin.